Rielly Returns as Leafs visit Mullett Arena for the first time: Leafs Tailgate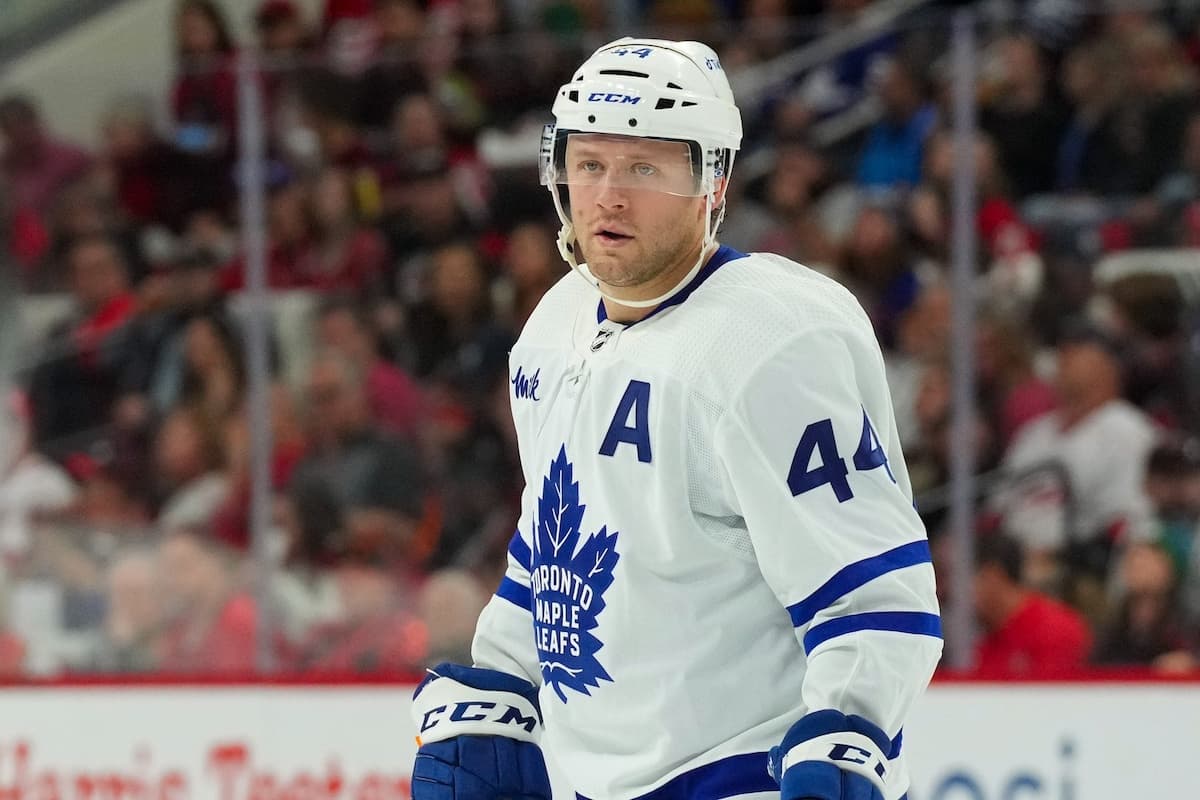 Photo credit:James Guillory-USA TODAY Sports
After missing 15 games with a knee injury, Morgan Rielly is set to make his return to the Maple Leafs (22-7-6) lineup tonight when they visit the Arizona Coyotes (12-16-5) at Mullett Arena.
Incredibly, Toronto didn't skip a beat in his absence going a ridiculous 12-2-1. The 28-year-old has been out of action since November 21st when he tweaked his knee in a random collision with Islanders forward Kyle Palmieri.
Also, don't forget about Conor Timmins either. The 24-year-old makes his return to Arizona after he was traded to Toronto on November 23rd.
The Leafs, who are much lighter in the pocket today following two separate fines, are coming off a 5-4 OT victory in St. Louis on Tuesday night. This will be their second of three on the road to finish off 2022.
Meantime, the Coyotes, who upset Toronto 4-2 at Scotiabank Arena on October 17th, have been surprisingly competitive so far this season. They're coming off an impressive 6-3 win at home against the Colorado Avalanche on Tuesday night.
Arizona has won three straight meetings with Toronto.
Beware.
Time: 9 PM ET (Sportsnet Ontario)
Starting Goalies:
TOR Matt Murray – CONFIRMED (8-2-2, 2.34, 0.925)
@
ARI Karel Vejmelka – CONFIRMED (10-9-4, 3.09, 0.910)
Projected Lineups:
Three Storylines:
WECOME BACK, MO
Indisputably, Morgan Rielly's presence will be felt the most on the man advantage. The Leafs are 2 for the past 13 overall on the power play and 8-for-47 since he went down on November 21st. Simply put, they've looked dysfunctional and out of sorts lately, which is crazy, considering how hot the team has been. Hell, they've even been tinkering with a five forward first unit. Well, I'm here to inform you that you likely won't be seeing that tonight at ASU. Personally, I'd be shocked if Rielly isn't in his familiar spot quarterbacking PP1. As he should be. Time to get back to business.
BE READY
On paper, it's a mismatch. On the ice, it's not. As evident earlier in the season, anyone can beat anyone on any given night in the NHL. Furthermore, in recent memory, the Coyotes have played everyone hard, including the Maple Leafs. Not to bring too much focus back to that in game in October – because the Leafs are a much different team now – but they slept walk for 55 minutes of that one. It was painful. If you tune into Leafs Morning Take, I mention the PTSD from that loss at least once a week with Jay Rosehill. I never want to see an outing like that again. Yes, stinkers happen, but it was just the way they carried themselves that night that really grinded my gears. At any rate, the start's important tonight. Don't give the opposition any hope. The longer Arizona stays in the game, the more confidence they'll get and the drunker the frat boys in attendance will get. They've beaten some quality opponents this season, so the Leafs better be ready to play.
THE MELK MAN
The sample size is small, but make no mistake about it, tonight's projected starter for the Yotes, Karel Vejmelka, has owned Toronto through two appearances against them in his career. He's 2-0-0 with a 1.50 goals against and 0.959 save-percentage. Furthermore, he's stopped 71 of a possible 74 shots. The 26-year-old made 26 saves in the first meeting of the season. Knowing all that, the Leafs just need to keep it simple. They've been playing with so much confidence offensively, the chances will come. Bottom line, they need to bear down. Keep peppering him, and rest assured, the dam will break.
BETTING:
(As of Noon EDT)
Prop Play:
Auston Matthews Over 4.5 SOG (-130)