Sam Lafferty on John Tavares' wing: So crazy it might just work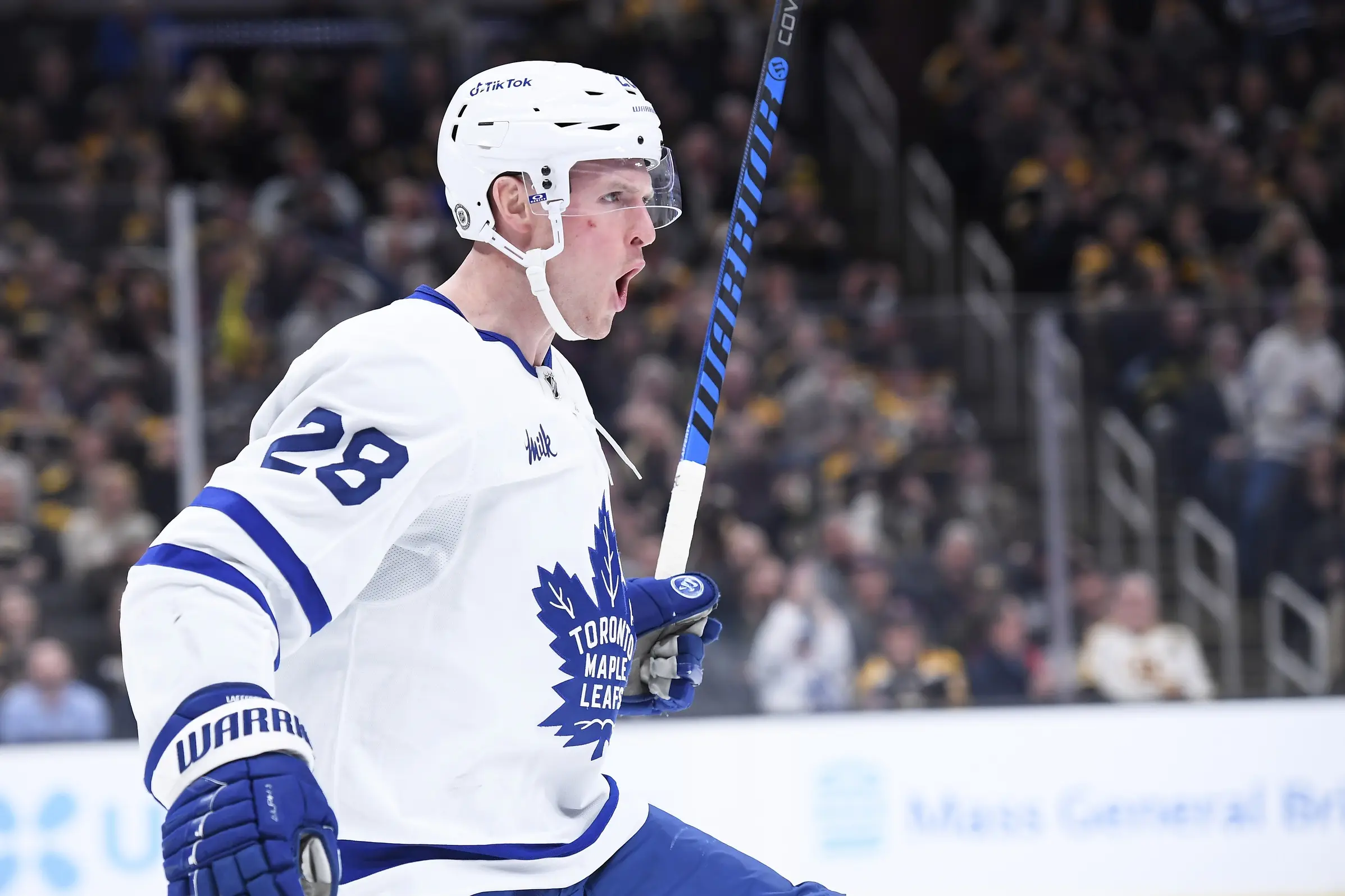 Photo credit:© Bob DeChiara-USA TODAY Sports
Yesterday was a big day for Maple Leafs fans, or at least the ones who are starved for hockey content by this point in the offseason. Yesterday, GM Brad Treliving, head coach Sheldon Keefe, and the team's core players met with the media, and today the whole team is taking the ice for the first day of training camp. Before I even tease the topic I'm going to talk about, I'm going to share some of the line rushes Keefe has going this morning.
Tyler Bertuzzi – Auston Matthews – Mitch Marner 
Matthew Knies – John Tavares – Sam Lafferty
See anything that sticks out? 
Of course, we all expected Bertuzzi to ride shotgun with Matthews and Marner. With the departure of Michael Bunting this past offseason, there's a gaping hole on the left side of that first line that would best be filled by a player who's shown he can reach 30 goals and 60 points. No surprises there. It's also pretty cool seeing Knies get a shot with Tavares right out of the gate. Perhaps a reward for setting him up for the Game 6 overtime winner against Tampa Bay? Looks good.
But what about that business to Tavares' right? 
With the Maple Leafs undergoing a massive overhaul of their forward depth this past offseason, there are endless combinations as to what they could do with the new wave of players coming in. We've already seen chatter over William Nylander starting the season at centre, and between the additions of Bertuzzi, Max Domi, and a full season of Knies, they have a wealth of options to work with in their top-9. That said, I don't think anyone expected Sam Lafferty to be part of that wealth. 
Acquired in the trade that also brought Jake McCabe to Toronto from the Chicago Blackhawks, Lafferty is a speedy, energetic forward who's frequented the bottom-six for most of his career. His career high in points is 27, which he achieved this year. Overall, not a guy you'd expect to see taking line rushes with Tavares. 
But hear me out – before dismissing the idea because he hasn't historically been a point producer at the NHL level, consider a few things. 
First of all, Tavares is no stranger to playing with wingers who aren't necessarily looked at as superstars. No, he's not in his mid-20s anymore, but his production has remained consistent all throughout his career. For a good chunk of his time with the New York Islanders, he had Josh Bailey on one side and Matt Moulson on the other. Now, no disrespect to either of these players – Moulson scored 30 or more goals three times with the Islanders, and while Bailey is more of a 15-20-goal guy, he's had his moments as well, namely a 71-point campaign in 2017-18, Tavares' last season with the Isles. That all being said, neither player is a William Nylander or a Mitch Marner type. 
Second, Lafferty's speed is among the best on the Maple Leafs. In terms of straight up, head-down speed, I'd go as far as to say he's the fastest skater on the team. He's got a knack for getting to the net and banging in greasy goals, and to add to his hound dog mentality he threw 125 hits last season, which would have been good for third on the Maple Leafs over the course of a full season. 
He logged a decent amount of ice time with the Blackhawks, a notably much worse team last season, averaging 15:07 of TOI (time on ice). Those kinds of minutes match up with what you'd expect out of a middle-six player, even with the drop-off to 13:15 TOI once he was traded to the Maple Leafs. And while his final point tallies aren't reminiscent of a second line player's, he did score 12 goals last season. To me, Lafferty is easily capable of hitting 15 goals next season, perhaps even 20 IF he plays alongside Tavares for a full season. 
The only issue I see with this format is that it leaves the Maple Leafs without a proper checking line. If the lines I listed above make up your top-six, then I would imagine the third line is something like Max Domi, William Nylander, and Calle Jarnkrok. The latter has good defensive instincts; the other two not so much. The end result here would be David Kampf centering the fourth line, and as much entertainment as he's going to provide this season, I don't think you want to be sending Ryan Reaves out to shut down opposing team's top players. The Knies-Tavares-Lafferty unit is better defensively than the other names I just listed, so maybe you equalize their ice time and give them the tougher matchups. Tavares doesn't necessarily have to be the second line centre.
The question is, would that be a worthy sacrifice in order to make up what would be the deepest offensive top-9 in the league? It's something that will only be answered with time. 
It was initially easy to look past Lafferty's game; he was somewhat invisible when he was first traded to Toronto. But consider that the Maple Leafs had added a whopping six players at the trade deadline, and in the midst of that, he was constantly being shuffled around the lineup. Third line, fourth line, even as a healthy scratch at times. When you don't have an opportunity to develop chemistry and your linemates are constantly changing, all you can really do is skate fast and keep up with the play – which he did. 
Now, Lafferty's got the opportunity to start the season with a clean slate. A full training camp along with preseason and 82 games ahead of him, as opposed to jumping onto a moving train like he did last season. I think you're going to see him get into a good rhythm this season, whether he sticks with Tavares or finds a home in the bottom-six. The Leafs running these line rushes doesn't remotely mean they're going to be doing so on opening night. And even if they do, adjustments are always going to be made one way or another. 
But, the idea of having an energy bug like Lafferty on that second line with a consistent 70-80 point centre in Tavares and a bright young rookie in Knies? Not a bad one by any means. And even if he's not your conventional second line winger, I think it's a bit of a sneakier play than most would believe.