Getting Sam Lafferty rolling will do wonders for the Leafs' bottom six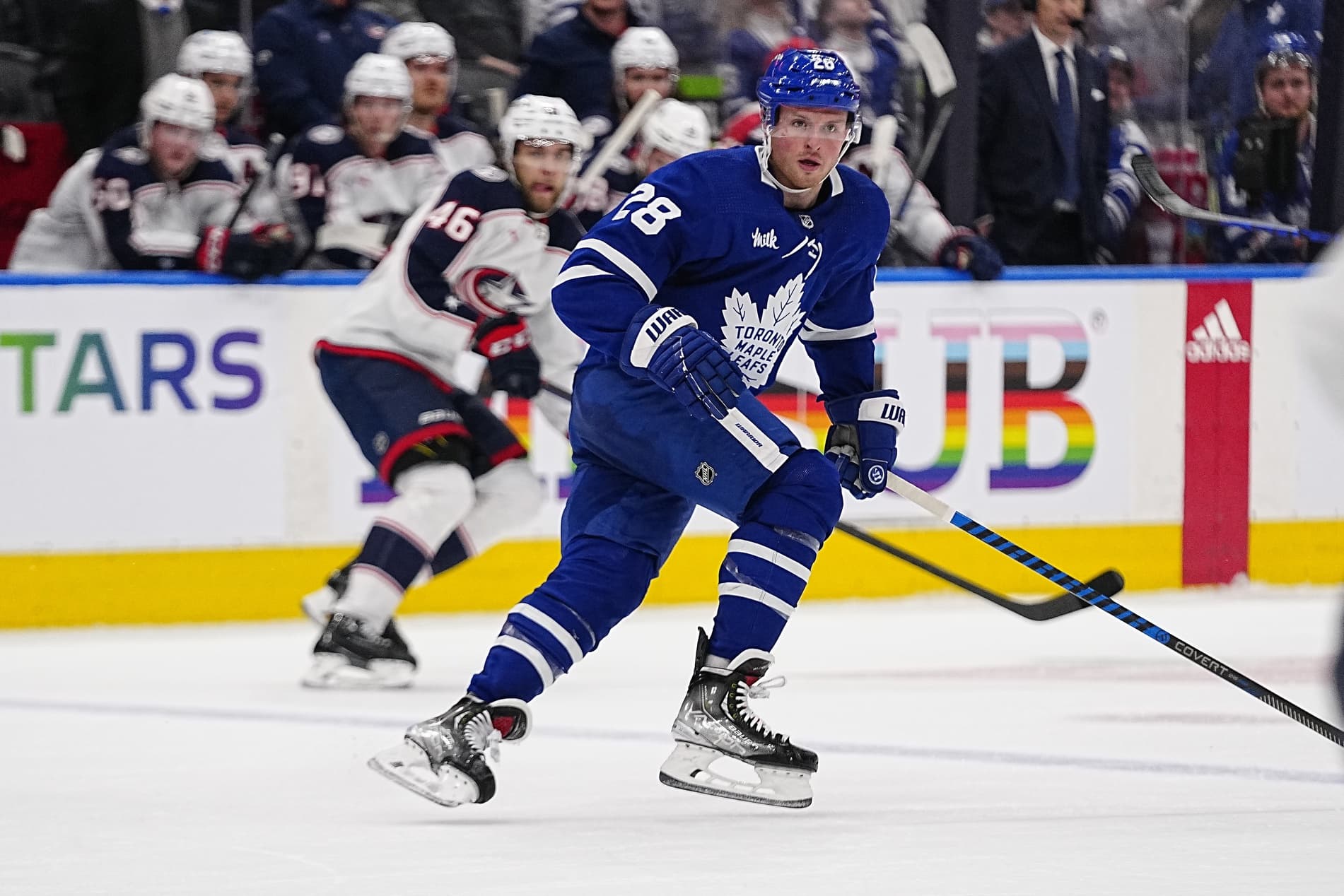 Photo credit:© John E. Sokolowski-USA TODAY Sports
When the Leafs initially made the trade that brought in Jake McCabe and Sam Lafferty, there was plenty of excitement in regard to the impact both players would make on the team.
After all, they gave up quite significant assets for two players that would remain under contract beyond this season and came with a much-needed boost in terms of sandpaper playstyle. With Jake Muzzin sidelined indefinitely and Pierre Engvall shipped off to the Islanders, their absence would seemingly be filled by the arrival of the two former Blackhawks players.
Up to this point, McCabe has been as advertised and has quickly cemented himself as one-half of the Leafs' shutdown pair alongside TJ Brodie. The fact that the Leafs will have him under contract for another two seasons with a retained cap hit of $2 million means he will be a bargain for the foreseeable future.
The same cannot be said for Laffery, who has yet to make a noticeable impact at both ends of the ice.
At the time of writing, Lafferty has played 17 games with the Leafs and has only amassed five points in that span (two of them coming in their win over the Blue Jackets on Tuesday). His average ice time has been reduced by over two minutes compared to when he was in Chicago, his hits per game have taken a hit (1.52 down from 1.84), and has seen an uptick in defensive zone starts which limits his ability to make an offensive impact.
The effort has certainly been there and he has earned the trust of Sheldon Keefe to be used both in his own end and shorthanded, but a dropoff in offensive production since arriving is overshadowing the positives he provides and has had some fans questioning why the Leafs gave up assets for him in the first place.
Most of Lafferty's underlying numbers at 5v5 have also taken a hit when compared to his time in Chicago:
| | | | | | | | | | |
| --- | --- | --- | --- | --- | --- | --- | --- | --- | --- |
| SAM LAFFERTY | CF% | FF% | SF% | GF% | XGF% | SCF% | HDCF% | HDGF% | PDO |
| Blackhawks | 46.44 | 46.18 | 45.11 | 35.85 | 42.78 | 43.75 | 41.20 | 34.48 | 0.968 |
| Leafs | 41.11 | 41.86 | 43.48 | 46.15 | 41.77 | 43.89 | 46.51 | 55.56 | 1.008 |
While he may have been on the ice for a bit more goals in general and in high-danger areas on account of the Leafs being a far superior team to the Blackhawks, the possession numbers and expected goals for going down are a worrying trend no matter how you slice it. Even though he has been utilized more in defensive situations, his possession numbers are near the bottom amongst all Leafs players this season that have played at least 100 minutes or more at 5v5. What that means is the Leafs get hemmed in their own end the majority of the time and the offence dries up when Lafferty is on the ice.
All of which is to say that Lafferty needs to start rolling soon or else he runs the risk of falling down the depth chart of the main roster.
While Noel Acciari only has three goals since arriving in Toronto, he at least has maintained his hitting output and has been effective at taking faceoffs. Zach Aston-Reese has finally started seeing some offensive production go his way to go along with his high volume of hits, improving his stock just in time for the playoffs. David Kampf has a grip hold on the fourth-line centre role in spite of his shooting percentage taking a hit. And Alex Kerfoot remains an important piece in the Leafs' bottom six despite his scoring numbers taking a hit from the previous year.
All four of these players bring a key element to the table to have secured a spot in the lineup down the stretch and going into Game 1 of the postseason. By contrast, Lafferty has not shown enough of the key attributes that made the Leafs want to get him in the first place. It certainly doesn't help that Engvall has registered three more points in three fewer games played compared to Lafferty.
Lafferty's spot in the lineup for the playoffs is not in jeopardy just yet, but it will be harder to justify his continued usage if this trend continues, especially if Matthew Knies is able to join the Leafs and make an immediate impact.
So for him to maintain his slot on the pecking order now and next season, the Leafs will need to put him in a spot where they can get the most out of him. Perhaps one way would involve him being stapled to Ryan O'Reilly on the third line, which could allow Lafferty to utilize his speed and grant him more chances to lay the body since O'Reilly is one of the best two-way players in the league. Slotting him with the likes of Mitch Marner and Calle Jarnkrok on the PK could also help generate some additional offensive, especially given that Lafferty is among the league leaders in shorthanded points with five.
Above all else, the Leafs need to find a line combination that he feels comfortable on at both ends of the ice. It's hard to get a rhythm going when you are constantly moving up and down the lineup, including a brief stint on the second line with William Nylander. But once Lafferty is able to find his place in the lineup and remains part of a line for a significant stretch of time, perhaps that could help him start producing and make the bottom six even tougher to play against.
He may not have been the primary piece in a trade that brought in McCabe, but Lafferty has struggled to find his footing since coming to Toronto and certainly has a lot more to give. His scoring output has regressed, is throwing fewer hits per game compared to when he was a Blackhawk, has seen his ice time shortened significantly, and some of his underlying metrics have taken a hit.
Lafferty certainly has the tools to be a critical component of the bottom six due to his speed, tenacity, puck retrieval, and defensive prowess which is why he has started the majority of his shifts in his own end. But the Leafs would benefit from him getting on a roll down the stretch because it would help make the third and fourth lines more difficult to contain.
If not, it will be harder to rationalize having Lafferty on the team next season with a $1.15 million cap hit.