Schenn to make second home debut Friday, Matthews and Marner rest day: Leafs Practice Notes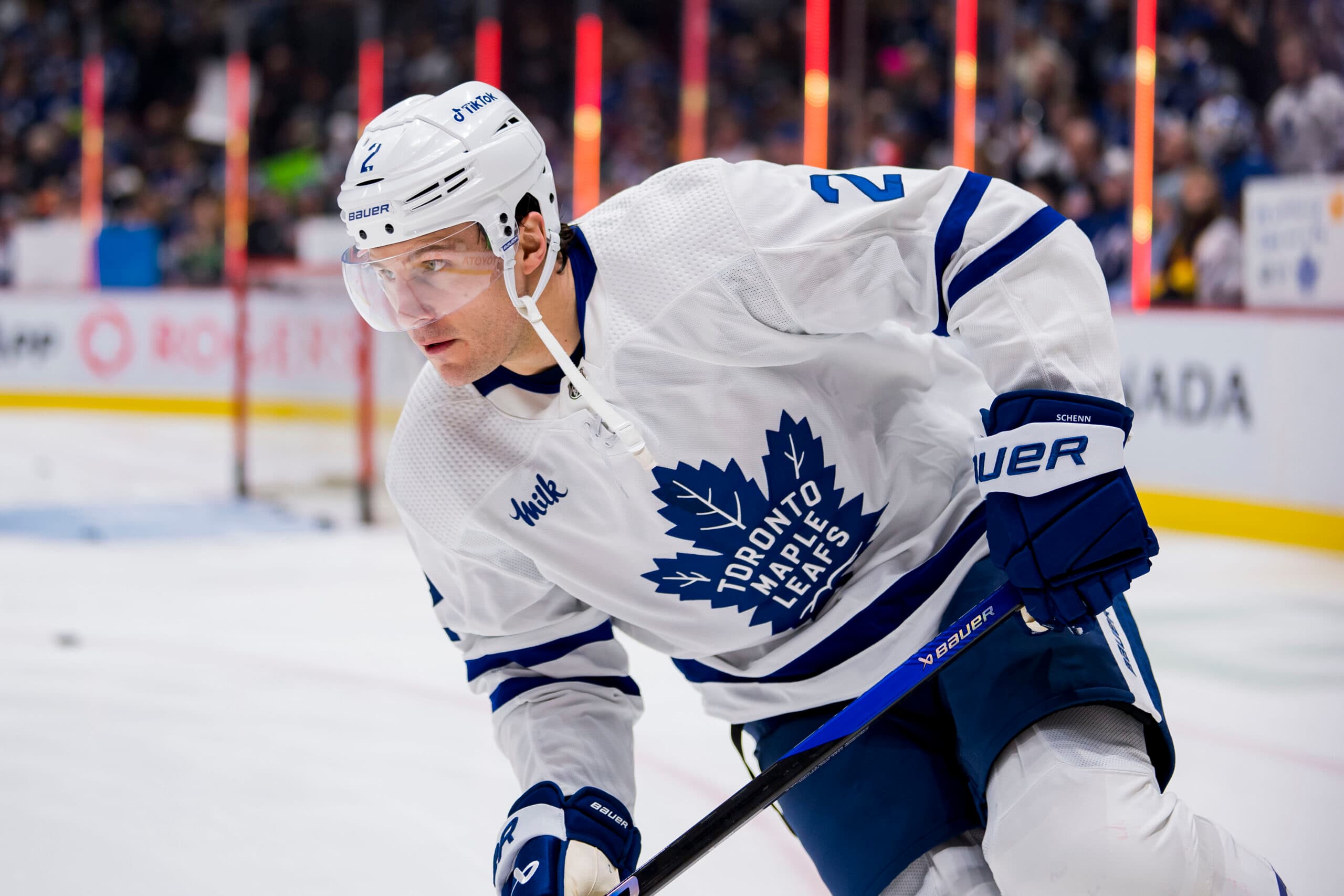 Photo credit:Bob Frid-USA TODAY Sports
The Maple Leafs got back to practice on Thursday following a hard-fought game against the Avalanche the night prior.
Let's begin with the most important news; Auston Matthews and Mitch Marner were absent from practice, taking a rest day after logging big minutes against Colorado.
Toronto has a back-to-back coming up (at home vs. Hurricanes Friday, in Ottawa on Saturday) so this was likely to have both players ready and rested for two important games down the stretch.
In terms of everything else, though, it looks like we're getting a familiar face back in the lineup on Friday against Carolina.
Luke Schenn, who hasn't played since March 4th due to the birth of his child, was skating alongside Jake McCabe during Thursday's practice.
And as Maple Leafs head coach Sheldon Keefe confirmed post practice, Schenn will make his long-awaited return to Toronto (in a Leafs jersey) on Friday.
With Keefe placing the 33-year-old beside McCabe, that ultimately pushes Justin Holl out of the lineup. I wonder if Toronto really likes the way Mark Giordano and Timothy Liljegren have played together, and Holl just trades lineup spots with Schenn.
Either way, the Maple Leafs' second defence pairing is one that isn't to be reckoned with. Both players are physical, very difficult to play against, and likely won't give up much around Toronto's net.
Everything seems to be confirmed except the goaltending, which Keefe has elected to not reveal prior to this weekend's back-to-back.
Both Ilya Samsonov and Matt Murray will play this weekend, but who'll play when is yet to be seen.
If it were me, I'd put Samsonov up against the Hurricanes on Friday, just to see how he handles another tough team that could likely have a deep playoff run. Then, give Murray the start against his former team, the Ottawa Senators on Saturday.
Or, this could go the other way.
Have Murray face the tougher matchup in Carolina (see how McCabe-Schenn play in front of him), and then give Samsonov an easier (but still difficult) game against Ottawa. Either way, each goaltender — whenever they play — will have their work cut out for them.
The final note of the afternoon is that Toronto will ice 11 forwards and seven defencemen once again on Friday, before returning to 12 forwards and six defencemen on Satruday.
A nice gesture to the people who've not liked the 11F/7D lineup as of late. Though it does beg the question — will we see Toronto try it more down the stretch or could this be the final goodbye to the 11 forward, seven defencemen lineup?
Only time will tell, I guess.
Both Toronto teams will wear their St. Patrick's Day gear on Friday in what is technically a double-header as the Marlies play at Scotiabank Arena earlier in the day at 1:30 p.m. EST. A fun-filled afternoon if you need some plans for St. Patrick's Day.
For the Maple Leafs, though, both games — against Carolina (on Friday) and Ottawa (on Saturday) — will begin at 7 p.m. EST.