Several Maple Leafs players chasing milestones in 2023-24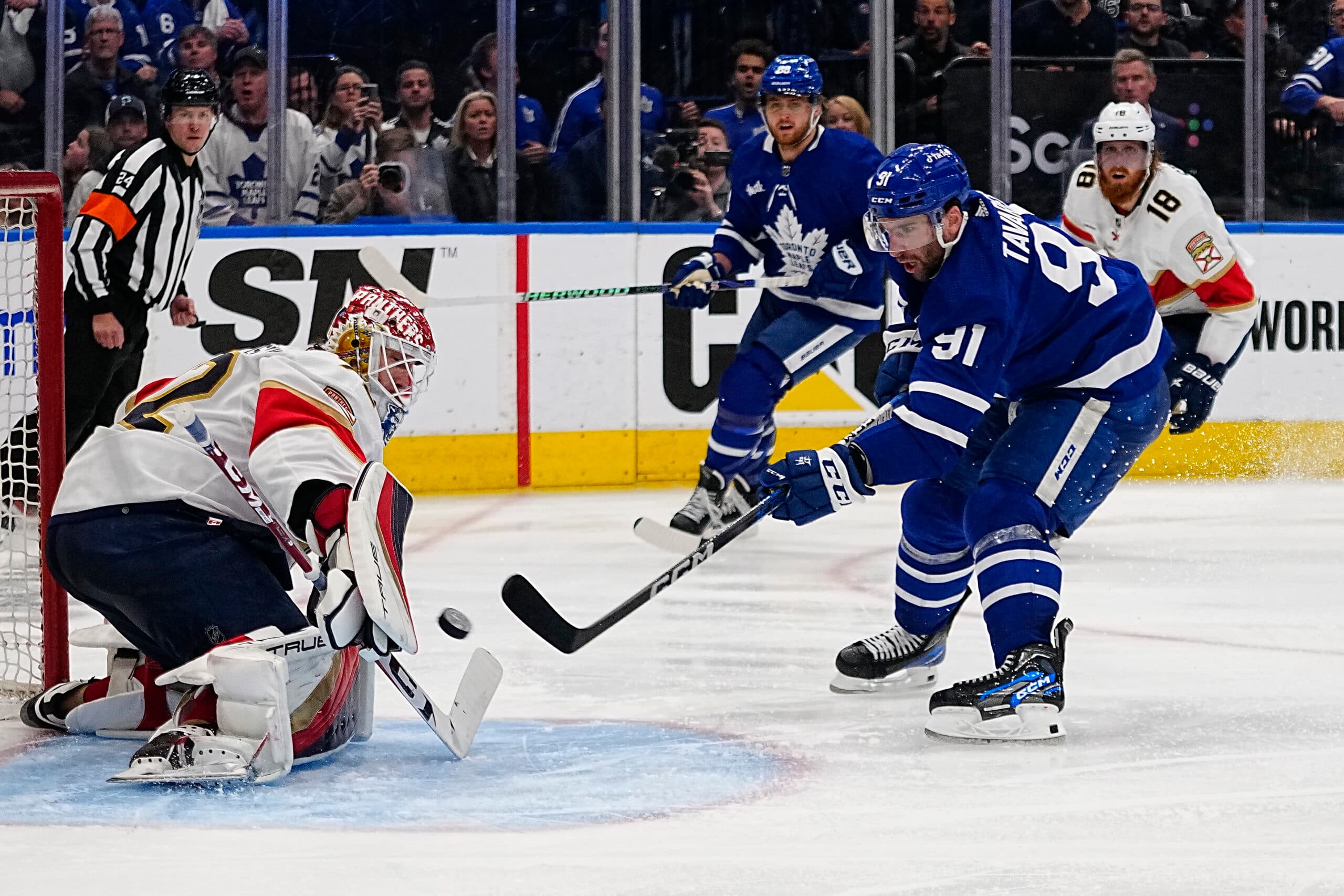 Photo credit:John E. Sokolowski-USA TODAY Sports
The start of the 2023-24 NHL season is a little over two months away, and while the primary goal for the Maple Leafs will be to build on their curse-breaking 2023 playoffs, there are several players who have some individual milestones that we'll probably see at some point this season. 
The 2022-23 season saw John Tavares and Mark Giordano hit the 1100 career game plateau, with Tavares hitting 400 career goals as well as Mitch Marner hitting 500 career games, and points simultaneously. William Nylander also had his first 40-goal season, hitting 400 points and 500 games last season, and Auston Matthews hit 500 points as well. 
Beyond the team's star players, Morgan Rielly reached 400 career points, Calle Jarnkrok scored 20 goals for the first time, and David Kampf eclipsed 100 career points. 
While there's probably some sort of milestone each individual player will be chasing in 2023-24, here are some of the more notable ones to keep an eye on this season.
John Tavares – 1000 career points 
For somebody who's been a near point-per-game player across five years with the Maple Leafs, Tavares has taken a little more criticism than he's probably deserved to, mostly due to it being the back half of his contract carrying an annual salary of $11.7 million. While he's probably slightly overpaid at this stage of his career, he's been remarkably consistent each year, all while carrying the pressures of being the captain of a Toronto sports team during two lengthy droughts. 
Not to mention, he's responsible for ending one of those droughts, scoring the overtime winner in Game 6 of the first round to get the Maple Leafs out of the first round for the first time in 19 years. 
After recording 80 points in 80 games in 2022-23, Tavares sits at 975 points for his career. Thus, barring a season-ending injury or the wildest drop-off in franchise history, he is well on pace to hit the 1000 point milestone in 2023-24. With 354 points in 360 games with the Maple Leafs, hitting the milestone would put him 26th in franchise scoring all-time. Expect this one to happen sometime near the end of November or the start of December. 
Auston Matthews – 600 points & 300 goals
In a supposed down year for Matthews, he finished the season with 40 goals and 85 points through 74 games. Obviously, anything less than the 60-goal performance in 2021-22 is going to seem like a drop off, but 85 points while playing through an ongoing wrist issue throughout the season is still a tidy bit of work for him. 
Finishing the 2022-23 season with 542 career points all time, Matthews passed several household names last season including Tim Horton, Lanny MacDonald, Tomas Kaberle, and Rick Vaive. He currently sits 11th all time, just behind teammate Mitch Marner, who has 554. Simultaneously, he's currently tied with Vaive for fifth all time in goals for the franchise at 299. His first goal in 2023-24 will be the 300th of his career, and assuming he can manage 34 goals this season, he's well within reach to pass Rick Vaive on the all-time list and jump to fourth. Coincidentally, his lowest single-season total is 34, which was in 2017-18, so it would take a legitimate down-year not to reach that. So, one goal and 58 points this season? I'd take that bet.
Mitch Marner – 600 points
Since making his debut in 2016-17, Marner has led the team in points in four of his seven seasons in the league, falling short to Auston Matthews in the other three. The core four, more specifically these two players, have taken their fair share of heat due to lack of performance in crucial playoff games. But, strictly from a skill standpoint, the two of them are on track to be some of the greatest Maple Leafs to play the game. 
Marner fell one point shy of 100 points in 2023-24, but he hit the 30-goal mark for the second year in a row and finished with 99 points through 80 games. Having hit the 550-point plateau in the same season, he's 46 points shy of 600, which he'll probably hit mid-season. He probably gets it first, considering the head start he has on Matthews, but the race for both players is going to be fun to follow.
William Nylander – 500 points
If you've consumed any William Nylander content since the season ended, 90% was more than likely contract-related. His negotiations have started awfully slowly with new general manager (GM) Brad Treliving, but unless things take a serious turn for the worse and he ends up being dealt before the season starts, he's on pace to make some ground on the all-time list himself. 
Nylander, who currently sits in 20th all time in scoring, had a career year in 2022-23, scoring 40 goals for the first time in his career and ending the season with 87 points in 82 games. While his talent has always been acknowledged in Toronto, he's frequently found himself second fiddle to Matthews and Marner, and it seems as though last season was an effort to show people that he deserves to be in the same conversation as his teammates. Well, that's how I would imagine it, anyways. In reality, I bet it hasn't even crossed his mind. 
Ilya Samsonov – 100 career wins
Matt Murray dominated most of the goaltending-related headlines last season after former GM Kyle Dubas traded for him last summer, and he had the type of season we all expected him to. Up and down, injury riddled, and overall not terrible but not great. That type of performance is passable for a backup goaltender, but let's just say the Maple Leafs are lucky that Ilya Samsonov had the season he had.
With a record of 27-10-5, complemented by a goals-against-average (GAA) of 2.33 and a save percentage (SV%) of .919, Samsonov was lights out for a good chunk of the season. The decision he made to bet on himself and take a one-year deal with the Maple Leafs after the Washington Capitals elected not to tender him an offer proved to be a good one, and while his ongoing arbitration with the Maple Leafs has taken up most of the headlines, he'll almost certainly have a contract done for the season. And when that happens, the race to 100 wins will begin. He has 79 career wins right now, and with 27 last season, Samsonov should hit the mark unless he takes a massive step back. 
Matthew Knies – First NHL goal
It feels weird to be talking about Knies scoring his first NHL goal considering how well-accustomed he looked in the playoffs, but he's yet to score his actual first NHL goal. He has one in the playoffs, but none in the regular season yet. 
Unless Knies looks terrible in training camp and they feel he needs to begin the season in the AHL, he's likely to score his first NHL goal pretty quick out of the gates in October. I can't imagine the Maple Leafs don't give him a shot in the top-six, so with the likely opportunity to play alongside the core four, this one should be hit pretty quick.