Sheldon Keefe committed to finding what works for Maple Leafs defence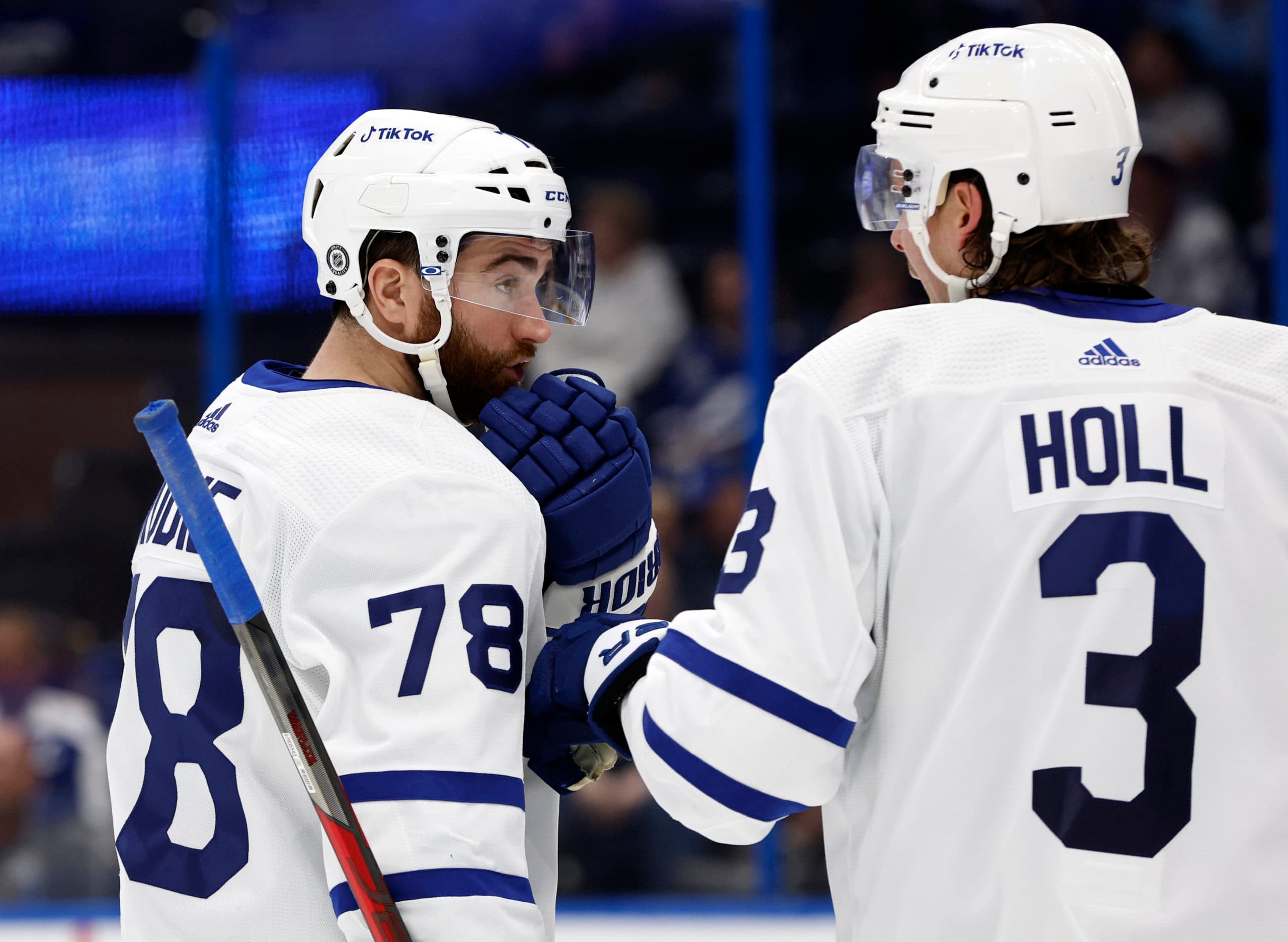 Photo credit:Kim Klement-USA TODAY Sports
11 games remaining means 11 games for Sheldon Keefe and the Maple Leafs to tinker with their defence pairings before the playoffs begin.
Once Jake Muzzin returned to Toronto's lineup, it became inevitable that a player deserving of a lineup spot would be scratched. First, it was Ilya Lyubushkin on Tuesday vs. Florida, and then it was Timothy Liljegren on Thursday against Dallas.
"We don't have a lot of time," said Keefe on figuring out the defence pairings as the clock ticks down on the season. "We try to be mindful of what the schedule and the opponents are going to bring and how that might factor in. But generally speaking, no matter who's in of our seven, we think we have three pairs that we don't hesitate to put in any real situation."
Looking at Toronto's defence pairings on Thursday night, the most interesting is Mark Giordano paired up with Justin Holl. Liljegren had been with Giordano for most of the games since the 38-year-old joined the team from Seattle, and they looked really good.
And in Thursday night's game against Dallas, it didn't seem like the two of Holl and Giordano meshed well together.
But like Keefe said — these are just tests to see who works better with who — before the playoffs begin in May.
"We gotta try some things and make sure that by the time these 12 games expire that we know what we want to go with." said Keefe on Thursday.
At this point, I believe the Maple Leafs most concrete pairing is Morgan Rielly and Lyubushkin. The two play together incredibly well, with Rielly being offence-first and Lybushkin being the heavy rugged defenceman needed on the top pair. Although their underlying stats don't show too well, these two players dominate on the ice and work very effectively with each other.
I wouldn't be upset if Toronto entered the playoffs with these two on the top pair. But, I also wouldn't be mad if Brodie was back alongside Rielly either.
The mystery lies within the Maple Leafs' bottom four. Rasmus Sandin is still a long ways away because of an injury, so he's out of the picture at this point. Assuming Rielly, Brodie, Giordano, and Muzzin have regular roles, that leaves two open spots for Liljegren, Holl, and Lyubushkin,
I'm intrigued to find out who fits alongside Muzzin. It's clear at this point that Holl won't work there, and watching on Thursday, Brodie looked pretty solid alongside the 33-year-old. The two don't have much offensive potential, but they're both very good on the defensive side of the puck, as well as in the transition.
Once the Maple Leafs find a top-four that they like, the only part that's left is the third pairing. Giordano is on the left side, but who'll be on the right?
I'd like to point out that in the 26:48 that Holl and Giordano have played together at five-on-five, their CF% and xGF% are both below 50%. The on-ice save percentage when they're both on the ice is the lowest on the Maple Leafs (of players that aren't rookies) at 75.00, too. It doesn't look good.
There's a few more games to test that pairing out, but again, with the way Giordano has played with Liljegren, this should be a no-brainer.
If I had to predict what Toronto's defence pairings looked like ahead of the playoffs, this would be my guess:
Rielly-Lybushkin
Muzzin-Brodie
Giordano-Liljegren
Extra: Sandin, Holl
Heading into Toronto's next game against Montreal on Saturday, all signs point to Holl getting scratched. Lyubishkin and Liljegren have already sat out once since Muzzin's return and it's only fair that Holl takes a seat next.
And if he does get scratched, it's always possible that the Maple Leafs' defence pairings could become more clear sooner rather than later.
(Stats via NaturalStatTrick.com)
POINTSBET IS LIVE IN ONTARIO
PointsBet Canada has officially launched in Ontario! Get a $25 free bet just for 
signing up right here!