Sheldon Keefe's never satisfied mentality could take Leafs to the next level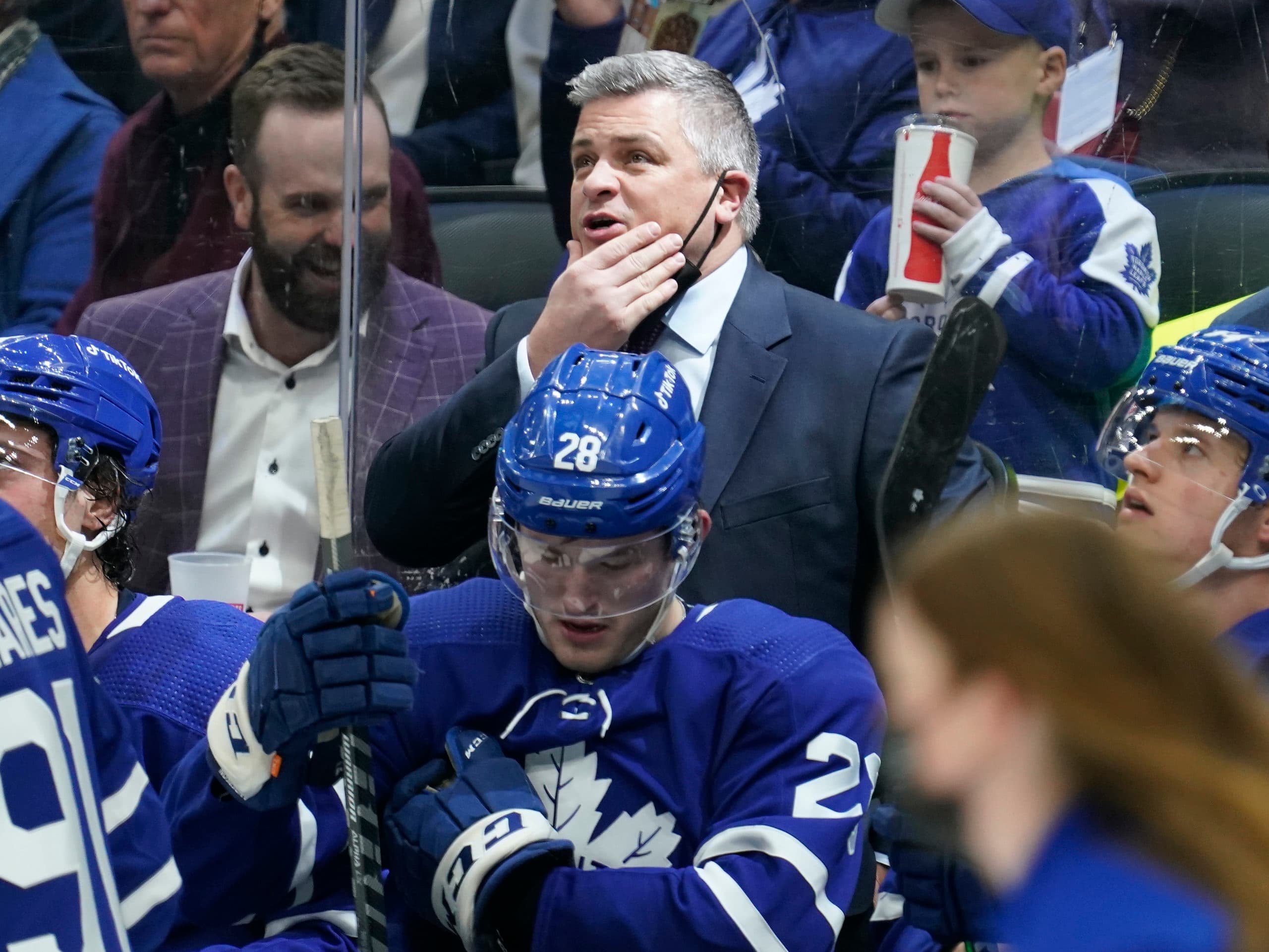 Photo credit:John E. Sokolowski-USA TODAY Sports
What kind of coach do you think of when I say Sheldon Keefe's name?
The 41-year-old has been the Maple Leafs' bench boss for just over two years and carries a 86-38-15 record in the regular season. However, the one hump he's yet to get the team over is the first round.
Keefe has done it in the AHL, winning a Calder Cup with the Toronto Marlies in 2018. But in the NHL, he's only been able to have regular season success.
When I think of Keefe as a coach, I think of someone who's never satisfied.
If you remember back to the All or Nothing series, there was a part where Keefe felt like he's losing the team. Toronto was winning games, but not in the ways that he wanted.
He preached playing the right way.
That might be playing in systems, having compete, or just making the correct play. Keefe makes it known if he doesn't like his teams performance, even if it's a win.
On the Maple Leafs' most recent road trip, Toronto lost a lead quite a few times. Keefe, though, thought the team played well in the circumstances.
"No." Keefe said after Saturday's win over the Blues when asked if he was concerned with the amount of leads given up on the road trip. "It's not indicative of who we've been all season long. I think each game has had its different circumstances, and I also think we're just getting back into it here. I think each game has been a different animal. I mean, I think today's game, I don't know, when's the last time, if ever, has @Jack Campbell in a Leaf jersey given up five on 22 shots?
"I think it was indicative how we played as a group. I thought we actually played quite well tonight. Even through the third period, we've talked about our third periods, but I thought we had a really good third period. Controlled the play, didn't give up very much at all, and then it just so happens when you control play like that, a bounce goes your way. I think each game, and each lead we gave up on this trip, some different circumstances around it. I look more at the greater sample of who we were before the break, and we'll get ourselves back to that."
Every game isn't going to be perfect. No game ever is.
Keefe, though, answered this question in a very thoughtful way. He notices when the team pushes back, or when Campbell doesn't play the best game.
It's a long season and you're not always going to get everything you want. But it's understanding when the team played well, and when they didn't. ***If Toronto doesn't have a good game, but still win, Keefe can show them how to be better in certain ways.
I like to think of it as a winning mentality.
When Keefe shows that he's not satisfied, it brings me back to the way Kobe Bryant or Michael Jordan acted. Both players were not satisfied until the job was done, and that job was winning a championship.
It's also similar to the Toronto Raptors championship run.
I can vividly remember Kyle Lowry's mentality after they won games. Players would be happy and celebrating, but Lowry was focused on what was next.
Lowry knew there was more.
And that's the same scenario that I think Keefe is working with right now. He understands the task at hand and has a certain energy towards him that speaks differently.
Keefe knows the job isn't done until the Maple Leafs hoist the Stanley Cup.
As much as I can say he has that mentality, the players on the team need it too. They have to believe it. If there is some that don't, it's going to make the journey a lot more difficult.
For the last two years, Keefe has instilled the mentality — to never be satisfied until the job is done.
It's now time for the players to fulfill their end of the bargain.