Split series with the Riveters, Jackson debut, and more Howard dominance: PHF Weekend Roundup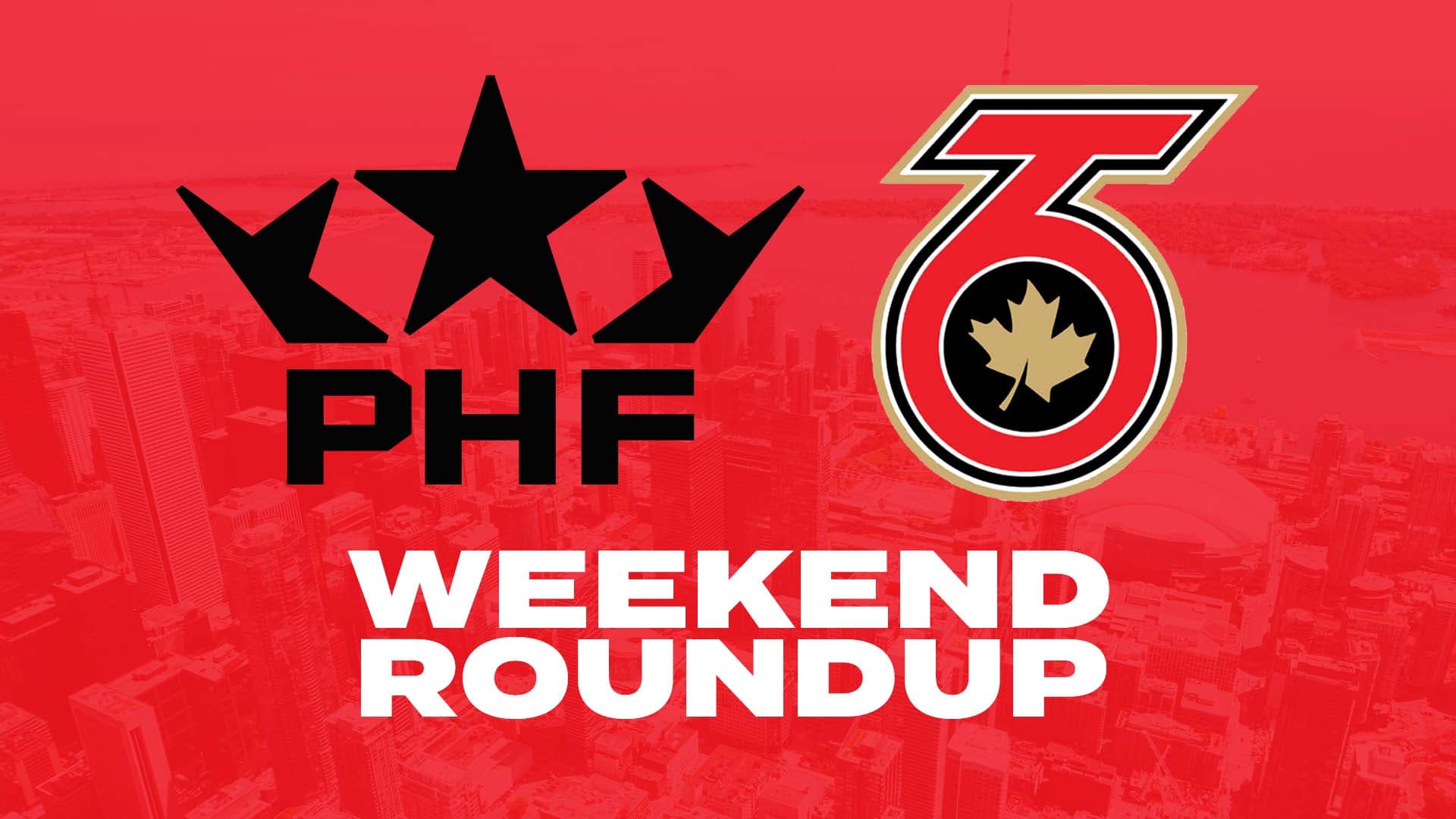 Photo credit:Nick Barden
The Toronto Six were away this weekend in New Jersey, playing the Metropolitan Riveters at their home rink at American Dream in East Rutherford. Does playing pro hockey in a gigantic mall sound like a cool idea to you? It did for the Metropolitan Riveters, as they converted this rink, within a mall that also hosts a Dreamworks-themed waterpark where you can ride Shrek… themed rides, from their practice facility to their permanent home rink.
It honestly looks like a pretty awesome place to watch a hockey game.
After a perfect opening weekend
, and then a week off, the Six played two games at the Riveters' ice and, while things didn't go totally according to plan, it's hard to ask for perfection when away from home. As noted in the broadcast, the Six actually are perfect when at home, so if they're going to lose, they're going to do it when away.
Saturday November 19th
The Six went with this 11F-7D lineup, a fairly common occurrence for this team over their years, with a solid core of strong two-way defenders to play. This comes after going with 12F-6D in their previous game, and 12F-7D in the game before that, which is definitely not allowed and coach Geraldine Heaney was suspended 1 game for violating that particular rule.
This shakeup wasn't exactly a success though. After an even 1-1 first period where the Six lead shots 11-8, the 2nd period was a bit of a disaster. It started great, with this great Brittany Howard breakaway goal:
Afterwards, though, they couldn't stay out of the penalty box, giving up 3 powerplays. And, while they were only victimized on one of those 3, the tide for the period was pretty much entirely in the Riveters' hands, as they scored 3 goals to take the 4-2 lead going into the 3rd period.
In that third, the Riveters predictably gave up a lot of shots, 13 against, and after taking a 5-2 lead early in the 3rd, the Six looked to threaten a comeback with a goal from Emma Woods to make it 5-3, but after pulling the goalie late in the 3rd, Riveters captain Madison Packer buried the empty netter to make it a 6-3 final for Metropolitan.
Here are you 3 stars for that game.
I thought Kelly Babstock was an unstoppable force in the offensive zone and definitely would have been my pick for 1st star. Here's a highlight of here charging to the net to create 3 scoring chances, with the final  one going to the back of the net:
In other notable things, Toronto Six goalie Carly Jackson made her team debut, coming in relief for Elaine Chuli after that 5th goal against. Last season's MVP had a tough outing and was due for a swap, as much to get her to safety and spark the team than to do with her performance. Jackson faced only 4 shots in the 15ish minutes of ice time she played.
Sunday November 20th
Despite the loss on Saturday, coach Heaney rolled with the same lines and pairings for this game on the back to back. The only change, though it wasn't shown below, was that Carly Jackson made her first start for Toronto.
This game started off much stronger for the Six, as Leah Lum gave them the opening goal, finishing off a Teresa Vanisova breakaway.
The Riveters caught back up with a shorthanded goal from Sarah Bujold, her 3rd goal of the weekend. However, the Six answered. The Lum-Laskova-Vanisova line wouldn't be stopped today it seemed, scoring the 2-1 goal from Vanisova.
Once again, Sarah Bujold tied the game up for Metropolitan, her 2nd goal of the day, this time on the powerplay. But, once again, the Lum-Laskova-Vanisova line gave Toronto the lead again, with Lum burying her 2nd of the night, giving Toronto the 3-2 lead. Brittany Howard added a goal on the next shift to get the insurance goal to make it 4-2. Finally, Emma Woods added a 5th goal, assisted by Lum, to seal the deal.
Here are your 3 stars for the night, all well deserved:
Carly Jackson played great in her first start, stopping 25 of 27 shots on goal, for a 92.6% save percentage. Defender Emma Greco also had a quietly great night, putting up 2 assists.
Final Thoughts
For an away weekend, a trading of somewhat lopsided wins isn't the worst thing. The team showed a lot of resilience to recover after Saturday's tough loss to give a great Sunday win, with 5 even strength goals.
The Six are up next on the road again in Buffalo this weekend to take on the Beauts and the current Toronto Six franchise scoring leader, Mikyla Grant-Mentis, who moved back to Buffalo this offseason.