Standouts and disappointments from the Leafs rookie tournament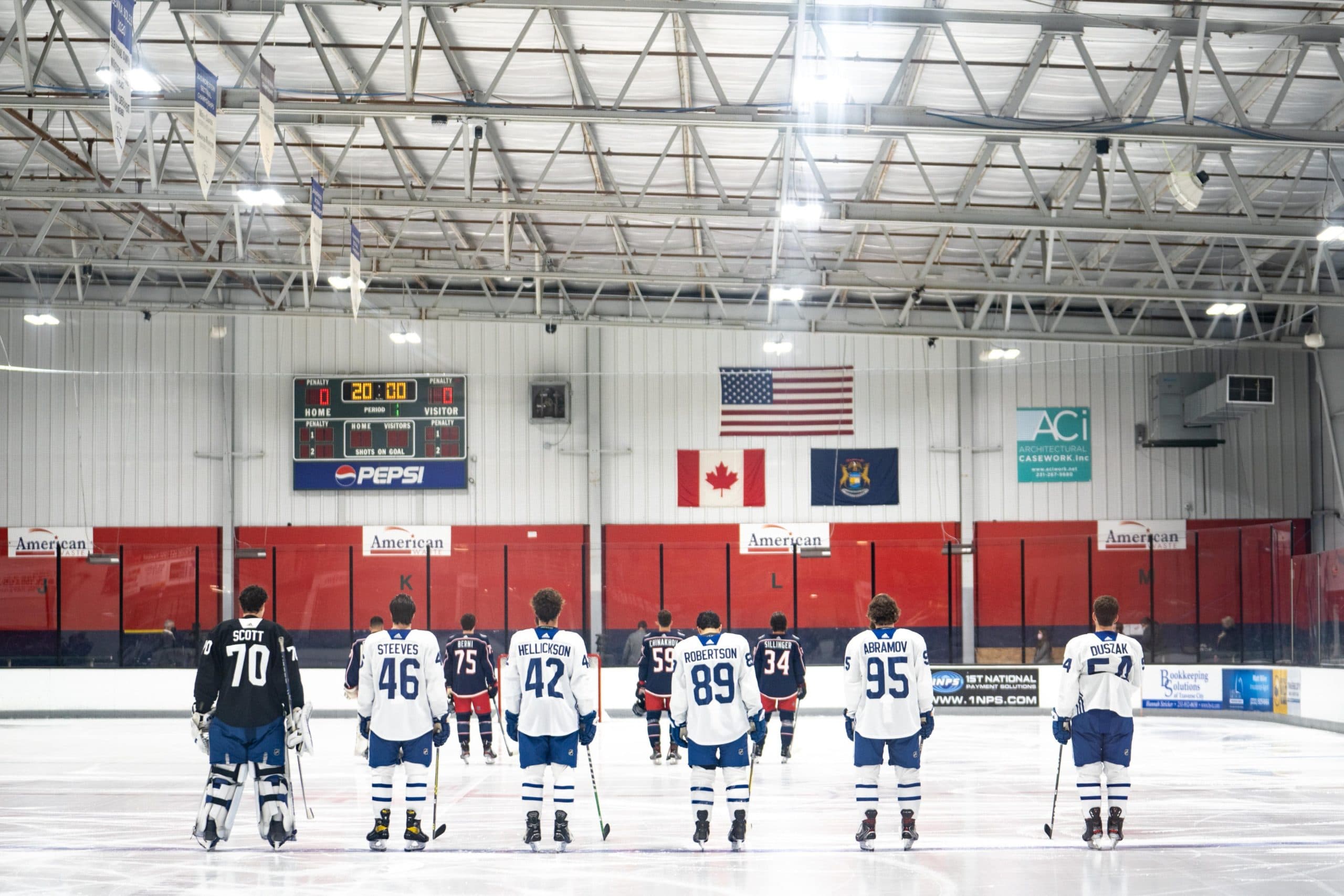 Photo credit:@MapleLeafs
The Traverse City rookie tournament is in the books for 2021. The Toronto Maple Leafs finished the five-day tournament with a 2-0-2 record, with plenty of exciting action leading into the start of the main training camp on Thursday.
The group of 28 players featured numerous draft picks, AHL signings, and free agent invites, all of which looking to start off the season on a high note. For someone like @Nicholas Robertson, this tournament was more about getting his feet wet before battling for an NHL roster spot. For others, like invites Braeden Kressler and Colby Saganiuk, this tournament was about showing the Leafs what they're made of and why they are worthy of either an entry-level contract prior to the OHL season or a draft selection next summer.
Let's dive into some of the standout and disappointing performances from this year's Leafs rookie tournament.
Nick Robertson
There really isn't a ton to say about Nick Robertson here. Simply put, he's a level above the rookie tournament at this point and he wouldn't be attending if not for an injury-riddled campaign last year. He was dominant, pushing play up the ice and generate lots of chances in the offensive zone.
Robertson finished the four-game tournament with three goals and five points, as well as 11 shots on goal. He was active and showed the confidence and rhythm in his game that was lacking at times a season ago. Robertson also showed off the chippier side of his game when he cross-checked a Columbus player high in a scrum at the end of regulation in the final game of the tournament, earning him 17 minutes of penalties.
@Semyon Der-Arguchintsev
SDA had easily the most fascinating tournament of the Leafs group.
Through the first three games, Der-Arguchintsev had his moments but did not look like the dominant player he should be at this event. As a player that had success in limited action in the KHL and AHL last year, I had high expectations for him to set the bar high in Traverse City and those weren't met. That is, until Monday's game against Columbus.
Der-Arguchintsev completely flipped the script in that final game. Two goals and an assist, plus nine shots on goal made him one of the most dangerous players in the game (though the shot total is inflated from a flurry in front of the net). It took a few games for SDA to find his groove again, but there are promising signs if he can maintain that momentum from Monday's game into training camp.
Matt Hellickson and @Joseph Duszak
The top pairing for every game of the tournament for the Leafs, the Hellickson and Duszak duo were fantastic for Toronto.
As the oldest player on the Leafs roster, Joey Duszak did everything you wanted to see from him. He looked a class above the competition, scoring four assists and the late tying goal against Columbus. I'm still curious as to why they had Duszak attend, but the early start should give him an advantage heading into the main camp as he looks to battle with the likes of @Alex Biega, @Brennan Menell, and @Mac Hollowell for minutes on the Marlies right side.
Hellickson, meanwhile, was a pleasant surprise. A new addition to the organization on an AHL contract, the New Jersey Devils draft pick showed an offensive game that you wouldn't anticipate from his numbers at Notre Dame. Hellickson scored a goal in each of the first three games, ending in a four-way tie for the team lead. It was a very strong start for him in the organization as he looks to earn a spot on the Marlies opening roster, rather than the Newfoundland Growlers.
Curtis Douglas
Listed at 6-foot-8, 250 pounds, Douglas was another pleasant surprise this weekend. He was a positive influence both at 5v5 and on the penalty kill, using his long reach to break up plays and turn them the other way. While his agility and speed was definitely lacking, Douglas showed much better playmaking ability than I anticipated and confidence in his shot.
Still very much a long term project, Douglas showed enough where I would be comfortable with him either as the Marlies 4C or beginning in a higher leverage situation as the Growlers 1C. There are tools there that make him an intriguing new big body to develop with the departures of Justin Brazeau and Hudson Elynuik.
William Villeneuve
While Villeneuve did pick up two assists, his performance was much closer to that of an invite than that of a prospect one year out from having his exclusive rights expire. Villeneuve is a high risk, high reward defenceman, but we didn't see enough of those game-breaking plays from him that made him the worthwhile swing in the 2020 draft.
Factor in his horrendous 2-on-1 defence against Columbus, it's no secret there's a long way to go for Villeneuve. The Leafs will lose his exclusive rights in June and there is plenty of time to earn an ELC in the upcoming QMJHL season, but a lacklustre Draft+1 season was only reinforced with an underwhelming rookie tournament showing.
James Hardie
This one may simply come down to a lack of opportunity, but I was excited to see what Hardie could show at development camp and the rookie tournament and I can't remember a single play from him.
I feel very strongly that the Leafs should sign some of their invites to contracts far more often (
you can read more about it here
), and heading into these two weeks I thought Hardie was a shoo-in to be signed. He was over a point per game in his draft year scoring 34 goals and was brought into the Marlies on an amateur try-out with a handful of other OHL players early on in 2021.
Throughout camp, though, not much was seen from Hardie and 2021 draft-eligible Braeden Kressler was the invite to receive ELC hype. Kressler picked up two primary assists playing with Nick Robertson and Mikhail Abramov in the first development camp scrimmage and followed it up with a strong rookie tournament as well, scoring a goal and an assist in three games.
Hardie, on the other hand, did not get any action with the Leafs top prospects and only played two rookie tournament games, both of which were on the fourth line. I'll still be keeping an eye on him in Mississauga this season, but I was disappointed to not see more of an impact from him these two weeks.
On the flip side, though, I do want to see Kressler join the Leafs at main camp and be signed to an entry-level contract.
That does it for development camp and rookie tournament from me, I hope you enjoyed all the content the past two weeks. On to training camp and the preseason we go!