Start planning the parade: Muzzy's Muzings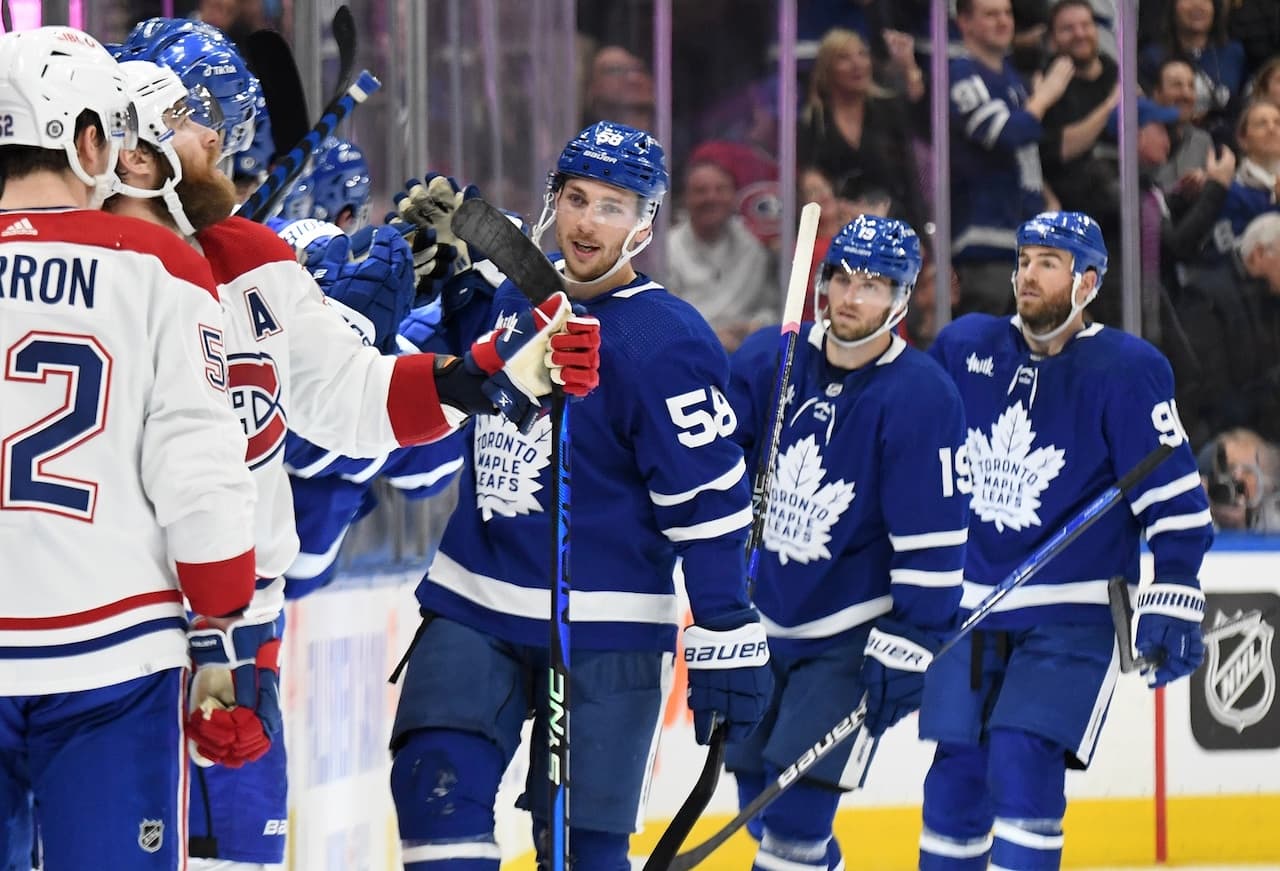 Photo credit:Dan Hamilton-USA TODAY Sports
Welcome to Toronto, Ryan O'Reilly and Noel Acciari.
Michael Bunting scored twice as the Leafs thumped the Canadiens 5-1 in their first outing since Friday night's blockbuster trade with the St. Louis Blues.
O'Reilly, who's an Ontario native, picked up an assist in 16:12 of ice in his debut. The 32-year-old centered John Tavares and Mitch Marner. Meantime, Acciari, who logged 14:22 centered the fourth line alongside wingers Zach Aston-Reese and Alex Kerfoot.
Joseph Woll made 29 stops for his first victory of the season. Additionally, Auston Matthews and Rasmus Sandin notched two assists apiece while Pierre Engvall tallied a goal and an assist.
Toronto improved to 3-1-0 since the All-Star Break. They'll wrap up their four game season series with the Canadiens on April 8th at Scotiabank Arena.
MUZZY'S MUZINGS:
THE DEBUTS
Considering the quick turnaround, I thought both Ryan O'Reilly and Noel Acciari came as advertised. Firstly, on ROR: I like the fit centering John Tavares and Mitch Marner. Additionally, I think people get too wrapped up in deployment. Winger, centre, who cares. This is the NHL; these guys can adapt and play wherever. Any way you slice it, the Leafs now boast an abundance of depth up the middle, probably the most they've had since Nazem Kadri was still in town. As for Acciari, I like what he brings to the table in the bottom-six. I know O'Reilly's getting all the spotlight (understandably so), but I wouldn't sleep on the other guy they brought in. Acciari's a gamer. Thumbs up all around.
GO LEAFS GO
Similar to the New York Rangers, who've been incredible since their blockbuster acquisition of Vladimir Tarasenko, the Leafs were buzzin' off the hopper and pretty much for the majority of the night. Honestly, it was like they were shot out of a cannon, or something. But seriously, how do you not get jacked up for a game following a trade like that? I know it was Montreal, who's one of the worst teams in the league, but Toronto looked like a team rejuvenated and jolted by a big move by their GM. Kyle Dubas stepped up to the plate, and so did his team on Saturday night.
WOLL WAS A WALL
In his second appearance of the season, I thought Joseph Woll was very solid. He wasn't overly tested, but when called upon, he looked confident and steady. With the constant uncertainty surrounding Matt Murray, there's a legitimate chance that Woll plays a bigger role than anticipated down the stretch. Furthermore, he's had an outstanding year, and quite frankly, I think he deserves this opportunity anyway. There's no such thing as too much goaltending.
HIGHLIGHT OF THE NIGHT:
WHAT'S NEXT?
 The Leafs will play the second half of their back-to-back on Sunday night at the United Center in Chicago. Of course, Toronto smashed Chicago 5-2 at SBA this past Wednesday.