'Swiss Army Knife' Alex Kerfoot is early fit for Maple Leafs' 2nd line centre role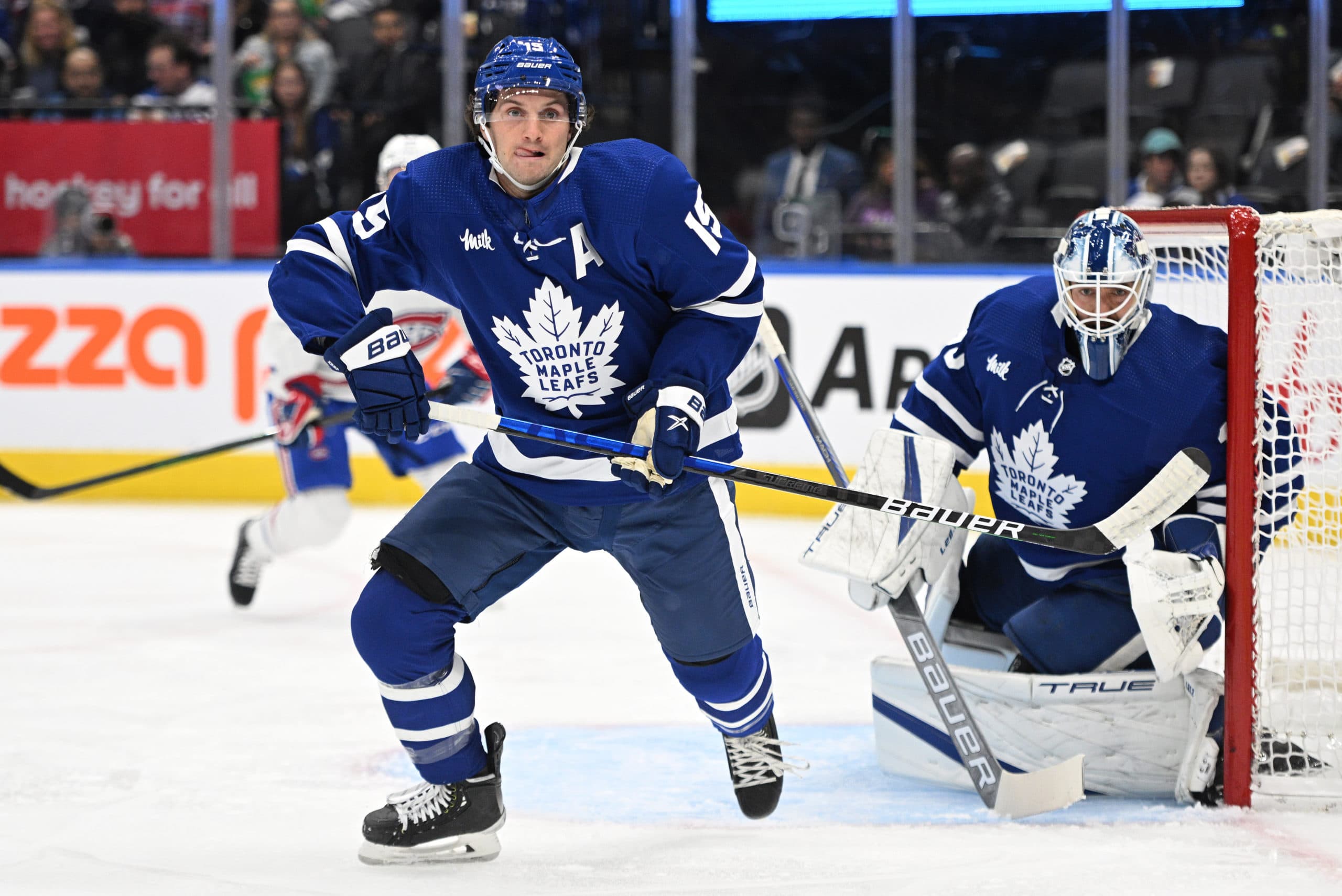 Photo credit:Dan Hamilton-USA TODAY Sports
Wednesday night was supposed to be where the Maple Leafs began to figure out which player fit in John Tavares' second line centre role. But clearly, the hockey gods had other plans.
Already missing a few defencemen due to injury — Toronto was blindsided — losing two more defenders in Jordie Benn and Carl Dahlstrom.
"Benn has a groin injury, Dahlstrom has a shoulder injury." Said Maple Leafs head coach Sheldon Keefe on Wednesday night. "We don't know the full extent to this point, but both guys will miss some time, we just have to see how much."
There was plenty of anticipation for this game and for good reason. Like I mentioned, this was supposed to be a game where Toronto was pointed in the right direction in terms of their second line centre.
Instead, two of their potential candidates spent half of the game on defence.
"In d-zone, it's not too different than being a centreman or being the low forward," Alex Kerfoot said after Wednesday's game. "It's just reading and reacting. You play three-on-three, four-on-four in the summer, you play all different positions, so just trying to do your best out there, not skate backwards as much as you can, and get the puck up the ice and play on offense."
Although we didn't get a full glimpse of Kerfoot at centre, a lot of us already know what he can bring there.
During his time with the Maple Leafs, the 28-year-old has been a very reliable forward, being great in both the offensive and defensive zones. He didn't play much centre last year with Tavares and David Kampf taking up two spots, but like a few Maple Leafs have said, Kerfoot is Toronto's Swiss Army Knife.
In the moments where he did get to play at centre on Wednesday night, he did so very confidently. Some might say that it was because Kerfoot has played the position for a long time, while others might argue that it was because they were playing against Montreal's AHL team.
Either way, I believe Kerfoot has the best chance at second line centre at the moment. With the way he played last season and his play early in preseason, it only makes sense that he's the fit.
There are some other players who are up for the role, such as Calle Jarnkrok, who also played defence on Wednesday. However, I'm not too sure he has the speed to play alongside a pairing like William Nylander and Denis Malgin (or Nick Robertson).
It can be argued that Tavares doesn't have the speed either, but adding that element to that line could make them effective while the 32-year-old is out.
Jarnkrok and Kerfoot weren't the only players getting looks at centre on Wednesday night, though.  Pontus Holmberg played a majority of the minutes between William Nylander and Malgin against Montreal. He looked very effective for most of the night.
The 23-year-old has shown throughout training camp that he can be relied upon at both ends of the rink — in an important role, too.
I don't believe Holmberg is in any position to be the Maple Leafs' second line centre with Tavares out, given his lack of experience at the NHL level. However, I do think this showing has given Toronto confidence that he could be relied upon in an NHL role, if needed.
Albeit, the 23-year-old could steal a spot as the fourth line centre. If not that, he'll play a massive role on the Marlies this season.
There was one other player who got to have an opportunity to play down the middle on Wednesday, and that was Malgin. He, in fact, took some shifts there later in the second period between both Robertson and Nylander.
Giving him this opportunity only made sense, since Malgin is a natural centreman. Though I'm not too sure he fits Toronto's needs in that position with Kerfoot already on the team. But clearly, they did want to give him a look.
He's been playing a lot on the wing since Maple Leafs' training camp opened up, and that's likely where he'll stay. Unless they need a centre on the fourth line, however I don't believe there'll be a scenario such as that in the coming weeks.
I mean, I could be wrong — look at Toronto's defence at the moment.
There is still plenty of time to figure out who fits best in Tavares' role — four games to be exact. And I'm sure some players will get plenty of looks, it's just a matter of who makes the most sense.
And to me, that's currently Kerfoot.