Team Canada women storm through ice hockey round robins undefeated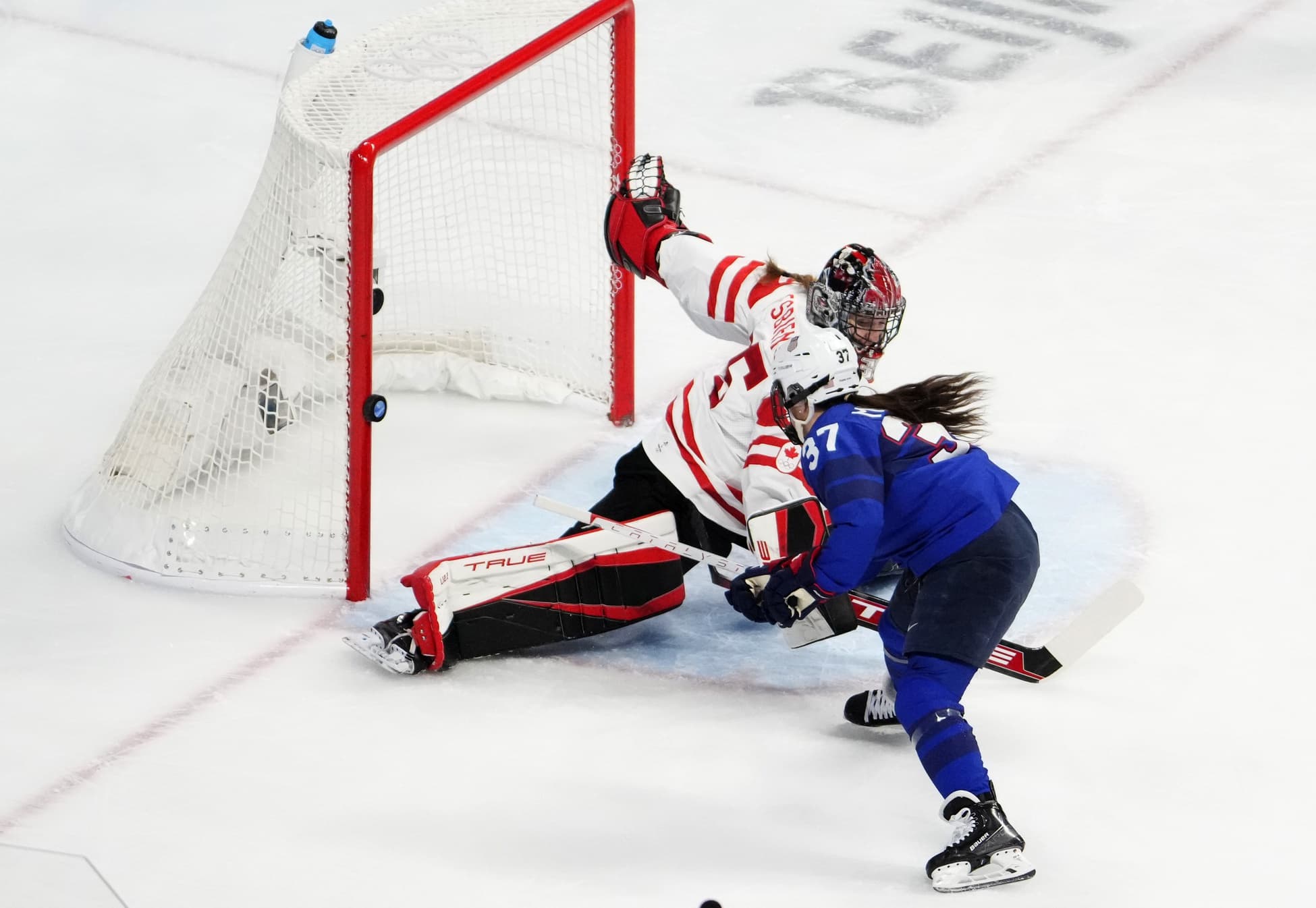 Photo credit:Rob Schumacher-USA TODAY Sports
After announcing the roster officially in early 2022

, excitement has been building for the women's hockey team that will represent Canada at the Olympics again. After losing last year's Gold medal game for the first time since 1998, Team Canada is definitely hungry for the ultimate success in this year's tournament.
Canada was in a stacked Group A for the tournament, along with USA, Finland, the Russian Olympic Committee, and Switzerland. Let's give a quick recap of how their round robin games went, setting up their run for Gold starting tonight at 11:10pm Eastern.
Game 1: Canada vs. Switzerland
In their tournament debut, against possibly the weakest team in their division, the "on paper" version of this game was clearly in Canada's favour heading into it. Thankfully, the result on the ice was heavily in their favour as well, with a dominant 12 to 1 victory.
Team Canada veteran sniper Natalie Spooner stole the show with 2 goals and 3 assists, matched by Olympics rookie Claire Thompson, a defender, with a goal and 4 assists. Ann-Renee Desbiens made 14 saves on 15 shots in the game. Canada conversely pelted Swiss netminder Andrea Brandli with 70 shots and 12 goals.
Game 2: Finland vs. Canada
In another blowout victory, Canada's scorers were absolutely on fire against a FInland team that decided not to bring Noora Raty to the tournament, and may have been regretting that decision after allowing 11 goals. Finland used both goalies, Meeri Raisanen to start who allowed 7 goals on 35 shots, and then Anni Keisala for the 3rd period, who allowed another 4 goals on just 13 shots. While Canada obviously still dominated this game, the actual on-ice play wasn't nearly as tilted in Canada's favour as it was in Game 1. Ann-Renee Desbiens was a fair bit busier in this one, as she stopped 28 of 29 shots.
There was hardly a Canadian player who didn't excel in this game, but it was highlighted by another great game from Natalie Spooner with 4 points, and hat tricks by both Brianne Jenner and Sarah Nurse.
Game 3: Canada vs. ROC
Canada's third game of the tournament was a contentious one. The ROC team had not submitted all of their test results prior to the scheduled puck drop, causing a delay. The Canadian team was uncomfortable with the potential risk of positive cases on the ROC team, and decided that both teams should wear KN95 masks for the game. Brianne Jenner of Team Canada said (
source from John Molinaro's article at CBC
):
"I didn't expect this but we have said all year that nothing fazes us and this didn't faze us. Our GM said we were wearing masks and we were like, 'OK, let's go win a game in masks.' Not a big deal for us, we have been training a lot in these. Just another opportunity to prove that we could get the job done.

"Maybe you lost a puck or two at your feet, but we don't want to use it as an excuse, we want to come out and play a good, solid game. We had a couple of shifts we definitely want back but mentally we did a really good job adapting."
Ultimately, the masks didn't prove an issue for Canada as they sailed to another impressive victory, beating ROC 6-1. The team from Russia actually abandoned their masks partway through the game, in a somewhat disheartening display of a lack of sportsmanship, after Canada got out to a big lead early in the game. Canada kept theirs on, and still got the W.
Canada went with backup goalie Emerance Maschmeyer for this one, and she stopped 11 of the ROC's just 12 shots on goal. Canada chased the Russian netminder Darya Gredzen, but neither were able to put up much of a fight against Canada's potent offense.
Rebecca Johnston and Erin Ambrose had strong games, and Sarah Nurse continued her excellence, each with a goal and an assist in this one.
Game 4: Canada vs. USA
This game was obviously the highlight of the preliminary round, as Canada faced their forever rivals from south of the border. Canada got the scoring opened with a powerplay goal from Brianne Jenner, but the Americans came back to take the lead on goals from Dani Cameranesi and Alex Carpenter. The Canadians wasted no time tying the game back up though, responding just 26 seconds after the Carpenter goal with another one from Brianne Jenner.
The Canadians continued to hold their lead and added 2 goals to it, with one from Jamie Lee Rattray and another from Captain Marie-Philippe Poulin, shorthanded.
Ann-Renee Desbiens stopped a whopping 51 shots in this game, showing just how hard the Americans were working to get this win, but they fell short by 2 goals.
Around the Tournament
Canada obviously finished 1st in their group,
all of whom advance to the quarterfinals
. USA and Finland also advanced, with USA finishing second and Finland winning the 3-way tie for third over ROC and Switzerland on, I assume, goal differential.
In the other group, only the top 3 advance, and Japan came out on top for the first time ever in their Olympic hockey history, men or women, with 9 points. Czechia finished second with 7 points and Sweden edged out China and Denmark with 6, 5, and 3 points respectively. This was obviously the much more competitive grouping.
In last year's Olympics, the top scorer was Switzerland's Alina Muller with 10 points, so we're already off to a very high scoring start.
Upcoming Schedule
Canada takes on Sweden in their Quarterfinal match tomorrow morning at 8:10am, while the Americans take on Czechia tonight at 11:10pm.
The following game day will have the other quarterfinal matches between ROC and Switzerland, and Japan and Finland.
All games are available for streaming on CBC Sports.