Robertson rides pine, Kings crown Leafs: Muzzy's Muzings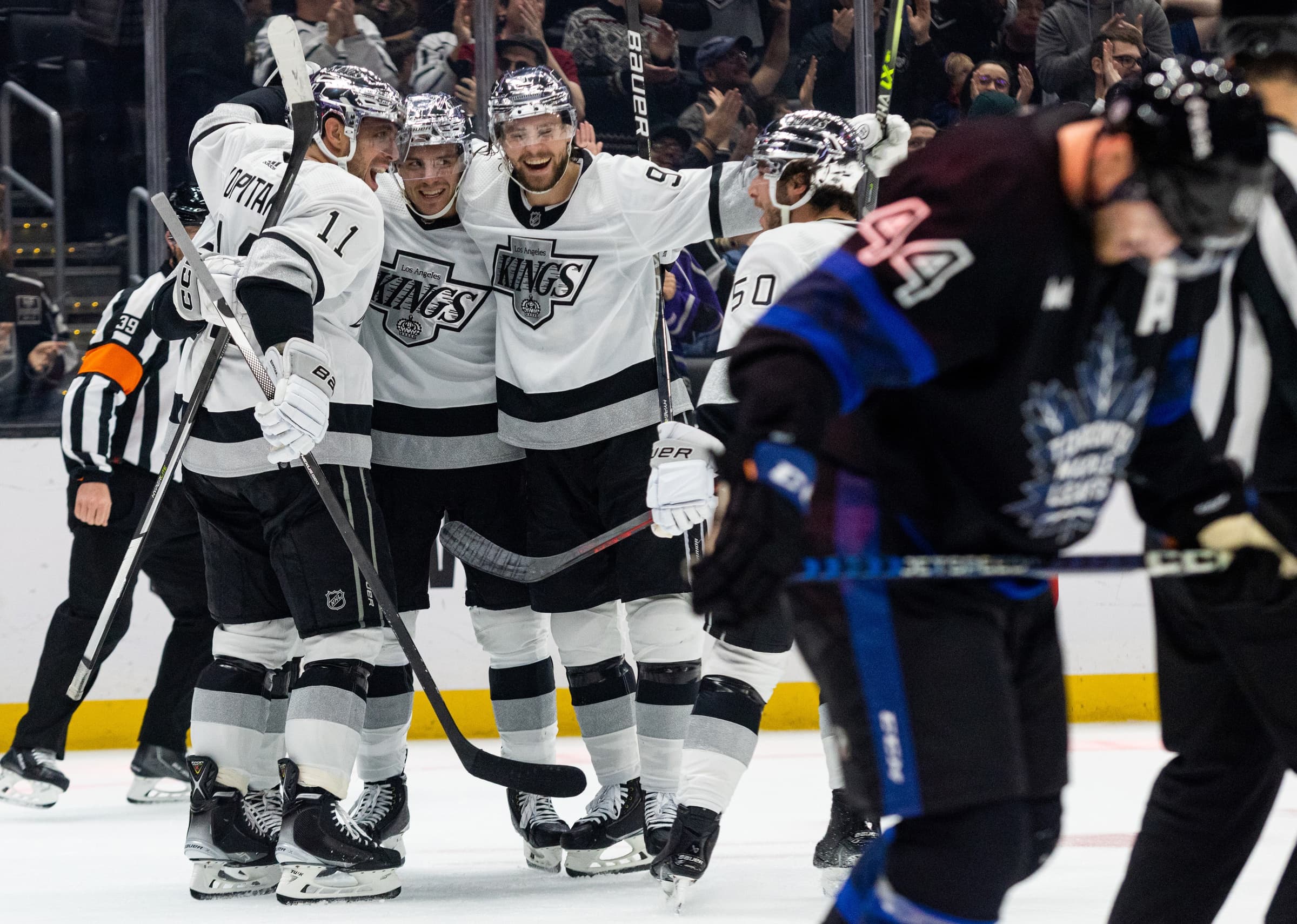 Photo credit:Jason Parkhurst-USA TODAY Sports
Not even the Bieber-themed jerseys could pull the Leafs out of their early season slumber.
Suffice it is to say, it was another long night at the office for Sheldon Keefe and company.
Kevin Fiala tallied a goal and an assist while Anze Kopitar notched two helpers as Los Angeles doubled up Toronto 4-2. The Leafs, who've now dropped three in a row, fell to 1-2-1 on their five-game road trip. They're 4-4-1 overall.
Los Angeles went 2-for-6 on the power play. John Tavares and Pierre Engvall supplied the offence, Ilya Samsonov made 25 stops in the loss.
Muzzy's Muzings:
 U-G-L-Y
No need to sugar coat things: One team played with desperation, one did not. Honestly, they're making mistakes that my beer league team would make, which is mildly concerning considering they're a professional hockey team. It was the same old story; They lacked the jam and urgency necessary and required to win in the NHL. Plain and simple. Also, it's crazy, on a nightly basis, I keep asking myself where this team would be right now without Ilya Samsonov? Scary stuff. At some point, something has to give, right?
JUSTIN HOLL/PIERRE ENGVALL
I'm sorry, it's just not working. And I get it, they're trying their hardest, they really are. But sometimes, you got to call a spade, a spade. I don't care what the data suggests or whatever, neither guy deserves to be in the lineup right now. The pizzas and apple turnovers are getting out of hand, it's costing these teams wins and points. For my money, it's very comparable to the first half of the Blue Jays season where the bullpen pissed away a bunch of games.
ROBERTSON BENCHING
Whether it was warranted or not, I thought it was fascinating that Sheldon Keefe decided to make an example of the youngster tonight. He played just 6:32 and was stapled to the bench for the majority of the night. Again, can someone tell me how Pierre Engvall continues to evade punishment, especially after serving up the pizza he did tonight. On top of that, there's a laundry list of names – outside of David Kampf – who are providing next to nothing right now in the bottom-six, pick on one of them? Astonishing development.
SHAKY PK
It's early, but it was another tough outing for the PK as they surrendered another two power play goals. Furthermore, Toronto has now allowed 9 PP tallies in 35 total times short so far this season. Unsurprisingly, that ranks in the bottom-10 of the league.
FIRST GOAL
On a positive note, for the first time in seven games, the Leafs scored first, even though they probably didn't deserve to. Yay.
Highlight of the night:
John Tavares has four goals on the season, all have come on the power play.
What's next?
The Leafs will get right back at it on Sunday night when they visit the Anaheim Ducks to wrap up their five-game road trip. Toronto took both meetings last season outscoring Anaheim 9-4.
PSA: Don't forget to check out 'Leafs Morning Take' with yours truly and Jay Rosehill every Monday to Friday morning LIVE at 11 a.m. ET on The Nation Network YouTube page.