The 11 forward, 7 defencemen experiment and why it might not last much longer for the Maple Leafs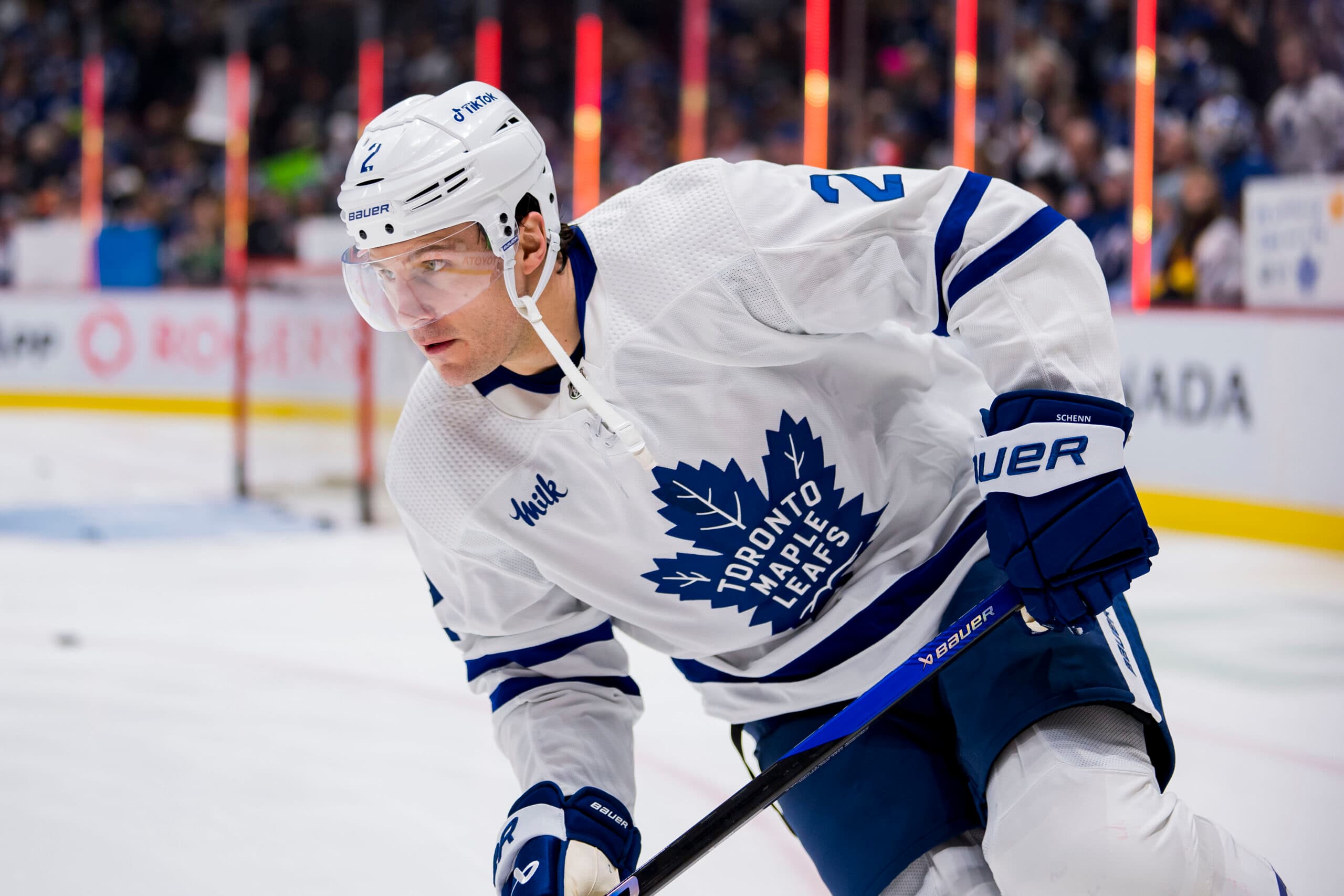 Photo credit:Bob Frid-USA TODAY Sports
The 11 forward, seven defencemen format — love it or hate it — was eventually going to be a reality for this Maple Leafs group.
With the acquisitions of Jake McCabe, Erik Gustafsson, and Luke Schenn in the last week, it was almost certain that Maple Leafs head coach Sheldon Keefe would roll out 11F and 7D at some point, just to get each of the three players acclimated quicker.
"I don't love it," Keefe told reporters in Edmonton last Wednesday. "It's an option for sure, I don't think it's option A, but we wouldn't rule anything out."
In their game against the Oilers, Timothy Liljegren fell awkwardly into the boards. The 23-year-old took one more shift before heading to the dressing room, though he did return before the game concluded.
Toronto wanted to give him a rest for the next few days, which set up both Schenn and Gustafsson to play in their first game on Thursday in Calgary The 11 forward and seven defencemen format was born.
McCabe-Brodie
Giordano-Holl
Rielly-Schenn
Gustafsson
The two newest players, Schenn and Gustafsson, each played less than 11 minutes against the Flames. There was one mistake that
Gustafsson made while on the power play
, losing the puck at the blue line, allowing Calgary to score short handed.
Though after that, Toronto began to find their game, and it eventually led to a defensive clinic in the third period.
The Flames pushed incredibly hard in the final frame, especially after a Calle Jarnkrok goal, but they couldn't seem to penetrate the Maple Leafs' defensive wall.
| | | | |
| --- | --- | --- | --- |
| 5v5 vs. Calgary | CF% | xGF% | SCF% |
| Jake McCabe | 55.17 | 57.45 | 65.00 |
| Luke Schenn | 36.84 | 60.56 | 40.00 |
| Erik Gustafsson | 45.83 | 26.83 | 35.29 |
| Morgan Rielly | 43.24 | 44.21 | 37.93 |
| TJ Brodie | 48.39 | 54.18 | 60.00 |
| Justin Holl | 42.86 | 58.45 | 63.64 |
| Mark Giordano | 47.62 | 57.29 | 58.33 |
"It was our best third period of the season," said Keefe to reporters after Thursday's game. "Go out, get the goal to get the lead, and then just how we defended I thought was exceptional."
The same lineup was rolled out on Saturday against Vancouver, though it didn't give the Maple Leafs the same results.
Toronto wound up only scoring one goal and gave up four to the Canucks in two periods of action. The defence could've been much better, but overall, each of the new acquisitions didn't struggle too much.
| | | | |
| --- | --- | --- | --- |
| 5v5 vs. Vancouver | CF% | xGF% | SCF% |
| Jake McCabe | 45.83 | 37.08 | 54.55 |
| Luke Schenn | 72.73 | 76.52 | 76.92 |
| Erik Gustafsson | 55.00 | 41.96 | 50.00 |
| Morgan Rielly | 57.14 | 37.72 | 52.17 |
| TJ Brodie | 72.73 | 71.61 | 80.00 |
| Justin Holl | 38.10 | 18.82 | 33.33 |
| Mark Giordano | 40.00 | 22.31 | 40.00 |
There are a number of benefits and disadvantages to playing with 11 forwards and seven defencemen. Both are very liable options, though in most cases, coaches usually find their way back to the regular 12 forwards, six defencemen.
The benefits
Having a large number of defencemen in one game can never hurt. If one player isn't playing up to the standards needed, coaches can immediately sit them for a little bit while getting another look at someone else.
It has worked really well for Toronto in the last couple of games because Schenn, McCabe, and Gustafsson are new. They need to get acclimated to the group as fast as possible, and playing them all together will do just that.
The Maple Leafs only have 19 games left and every one of those counts when it comes to getting new players comfortable.
Another reason as to why it works is because you have an extra defenceman, if one were to get injured mid-game, like Liljegren did against Edmonton. If one man goes down, there's still another one to send out there the next shift, which makes it more difficult for the opponent.
The disadvantages
One of the biggest problems the 11 forwards and seven defenceman poses is the lack of offense in a lineup. Just as good as it is to have seven defenders, it's likely a better option to roll a regular lineup.
If you have 12 forwards and one goes down, you then only have 11 players up front. Not the worst thing in the world. If you have 11 forwards and one leaves the game, you're then at 10, and that's when you're entering treacherous waters.
At the other end, if you lose a defenceman when you have six in the lineup, it's not the biggest problem to play the remaining five.
Another problem that comes with icing seven defencemen is the lack of organization within the defence pairings. There's always going to be one player rotating through and you'll never have a consistent six that go out onto the ice.
---
It's clear to me, and it should be clear to you, that this is only an experimental process for Keefe and the Maple Leafs.
Even he has said he doesn't love it, and when you have a coach saying that up front, before he even tries it out, it's likely not going to last for too long.
The only positive that I see with it for Toronto, is again, allowing players like Schenn, Gustafsson, and McCabe to get acclimated faster. If Keefe was to roll six defencemen, odds are that one of the new players would sit out.
That's not necessarily a bad thing, but when the clock is ticking on the regular season, you have to do what you can to make everyone comfortable.
And that's why I don't believe it'll last for much longer.
(Data sourced by NaturalStatTrick.com)