The 2021 Top 20 Leafs Prospects: #10 Mikko Kokkonen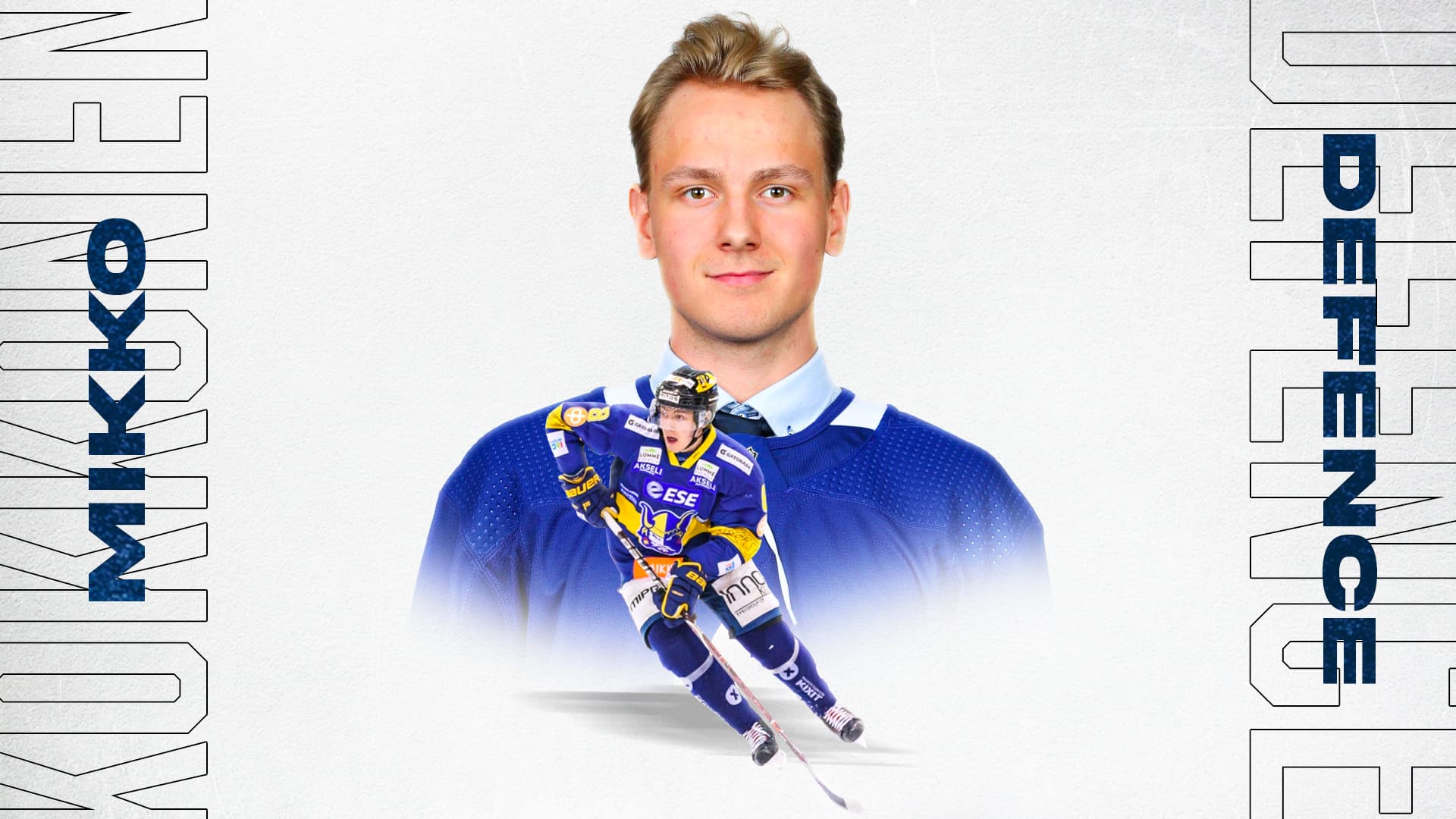 Photo credit:Nick Barden
If I were to ask you to picture the prototypical analytics age defensive defenseman, the image you would likely conjure up in your head would probably look an awful lot like 2019 Maple Leafs 3rd rounder Mikko Kokkonen.
Kokkonen doesn't blow you away with his dazzling speed, and he doesn't knock your socks off with a shot that explodes off his stick. What Kokkonen does do, however, is contribute to your team in the little areas and move the puck in the right direction for your hockey team. Kokkonen is a great example of an eye test vs. results type of player, and why it is important that teams trust the process of a player knowing that the results will likely follow. 
Additionally, it would be a glaring omission to not mention that the most impressive part of Kokkonen's game is that he has demonstrated all these positive attributes while playing against men. Despite the tougher competition oftentimes five to ten years his senior, Kokkonen has had no shortage of success (relatively speaking) at the pro-level.
Position: Right Defence
Age: 20
Height: 5'11
Weight: 194 lbs
Drafted: 84th Overall, 2019 NHL Draft by The Toronto Maple Leafs
2020-21 Teams: Mikkelin Jukurit, Liiga (50 GP)/Toronto Marlies, AHL (11 GP)
2020 Prospect Ranking: #8
Overview
Drafted in the third round of a 2019 draft that looks to be bearing a lot of fruit for the Maple Leafs (especially given that they didn't have a first-round pick), Kokkonen came with a lot of hype after being selected. As already mentioned, even during his draft year, Kokkonen was never one to blow scouts away with any off-the-charts tools. In terms of the way he goes about processing the game and making things happen, Kokkonen has primarily demonstrated a strong mental toolkit in his time with Jukurit of the Liiga and during his brief stint with the Toronto Marlies this spring.
Despite being named an alternate captain by his club this year, Kokkonen's boxcar numbers were pretty underwhelming this year while playing overseas, putting up just one goal and notching 10 points for his club. At a cursory glance, it looks like Kokkonen stagnated in some respects, with his point totals dropping year over year and the sheen of a new toy fading with him being one year older. By taking a deeper look, however, you'll see that there's ample explanation for his play last year. Most notably, Kokkonen's Liiga team was dreadful last year, finishing second last in the entire Finish League. It seems much more probable
 that Kokkonen caught a bad case of the "
stuck on a crummy team with little help
"-itis, as opposed to completely forgetting how to contribute last season.
The 'under the hood' numbers provide a similarly positive message for those willing to do a little research. Based on his advanced analytics, which can be found right on the
SM-Liiga's website
,
Kokkonen actually had a lot more of an impact than his point totals would suggest.
As has been
the case
in years prior
,
Kokkonen was amongst the strongest players on his team by the fancy stats. This year was no different for the 20-year-old Finn, as he led all Jukurit regulars in CF% while managing a significant, albeit not difficult, ~48% oZone start rate. 
Even beyond his time in Finland, Kokkonen shone at the 2021 World Juniors against his peers, logging important minutes for the Finish team in a top 4 role behind Winnipeg Jets first-rounder Ville Heinola.
Finally, during the last leg of his 2021 campaign, Kokkonen crossed the pond to play professionally on the smaller ice for the first time,
signing a PTO with the Toronto Marlies in mid-April
. With that jump, Kokkonen quickly began to see his positive contributions translate over to the score sheet, notching 7 points in just 11 games, and scoring his first-ever AHL goal.
The Tale of the Tape
In terms of describing the way that Mikko Kokkonen plays the game by the eye test, the best words that one could use would be opportunistic and instinctual. His senses on both sides of the puck are at least above average, with an impressive ability to slow things down on the defensive side of the puck. 
On offence, Kokkonen isn't an elite puck transporter, but he has shown that he can move at times. Watch in this clip as he is able to evade the forechecker and make a smart pass up the ice, ultimately leading to a goal for Jukurit.
Kokkonen also possesses a sneaky wrister that has some zip to it that he's used in the past. He's not really one to get to the dangerous areas of the offensive zone
by his own efforts, but when others can help get him there, his shot certainly looks like it can do some damage.
Expectations and Moving Forward
While some had Kokkonen pegged as a future top-4 defenseman, it seems unlikely based on his production in the Finnish league that he'll hit that lofty marker. Still, there's plenty of reason to have hope that Kokkonen will
eventually play in the NHL as a bottom four, defence-first defenceman that can slot in on the Penalty Kill and chip in offensively.
Over the summer Kokkonen opted to forgo a battle for playing time on a somewhat crowded Marlies blue line to play back home for the Lahti Pelicans,
a far superior team
in the Finish Liiga to his former Jukurit club. If Kokkonen can establish himself on a Pelicans blue line that struggled at times to keep the puck out of their own net, it's not difficult to envision him making a significant leap back onto the radar of the Maple Leafs brass, with an outside possibility of playing a depth role with the Maple Leafs in 2022-23.
What do the Scouts Say?
"He gets his stick in the passing lanes, cuts down the angles on the opposing rush and has shown that he has great defensive awareness for his age. Combined with the strength he's shown, Kokkonen looks to be a very promising defender with all of the right tools for the NHL." – Josh Bell, The Hockey Writers
Kokkonen's North American debut has been impressive. He was handed regular top-pairing duties and adapted rapidly, losing his jitters after a couple games and quickly gaining the confidence to explore the offensive side of his two-way game more than most expected. His 7 points in 11 games was the highest per-game pace of any Marlies defenseman, and his performance earned him more time on PP2 as his tryout went on. His calmness at both ends of the ice is evident in all situations. He signed a 2-year contract in Finland earlier this season, but this strong performance may throw a wrench in previous plans. The Marlies have a logjam but Kokkonen's quick assimilation while playing meaningful minutes makes him worthy of making room for. – 

Hayden Soboleski, DobberProspects
"Kokkonen is a reliable two-way defenceman. He is solid all-round, but none of his qualities really stands out. He is a decent skater with [a] pretty good

defensive game for a player of his age. For sure, his positioning is sometimes off and he could have even more intensity in his game, but these aspects should improve when he matures. His offensive game has translated pretty well to the pro game and while he isn't flashy, he plays a smart and solid passing game." –

FinnProspects.com
Mikko Kokkonen is no sure thing, and you won't be dreaming of his high-end ceiling, but if you're a big fan of high-floor prospects, Mikko Kokonen certainly has your name written all over him.