The 2021 Top 20 Leafs Prospects: #17 Pontus Holmberg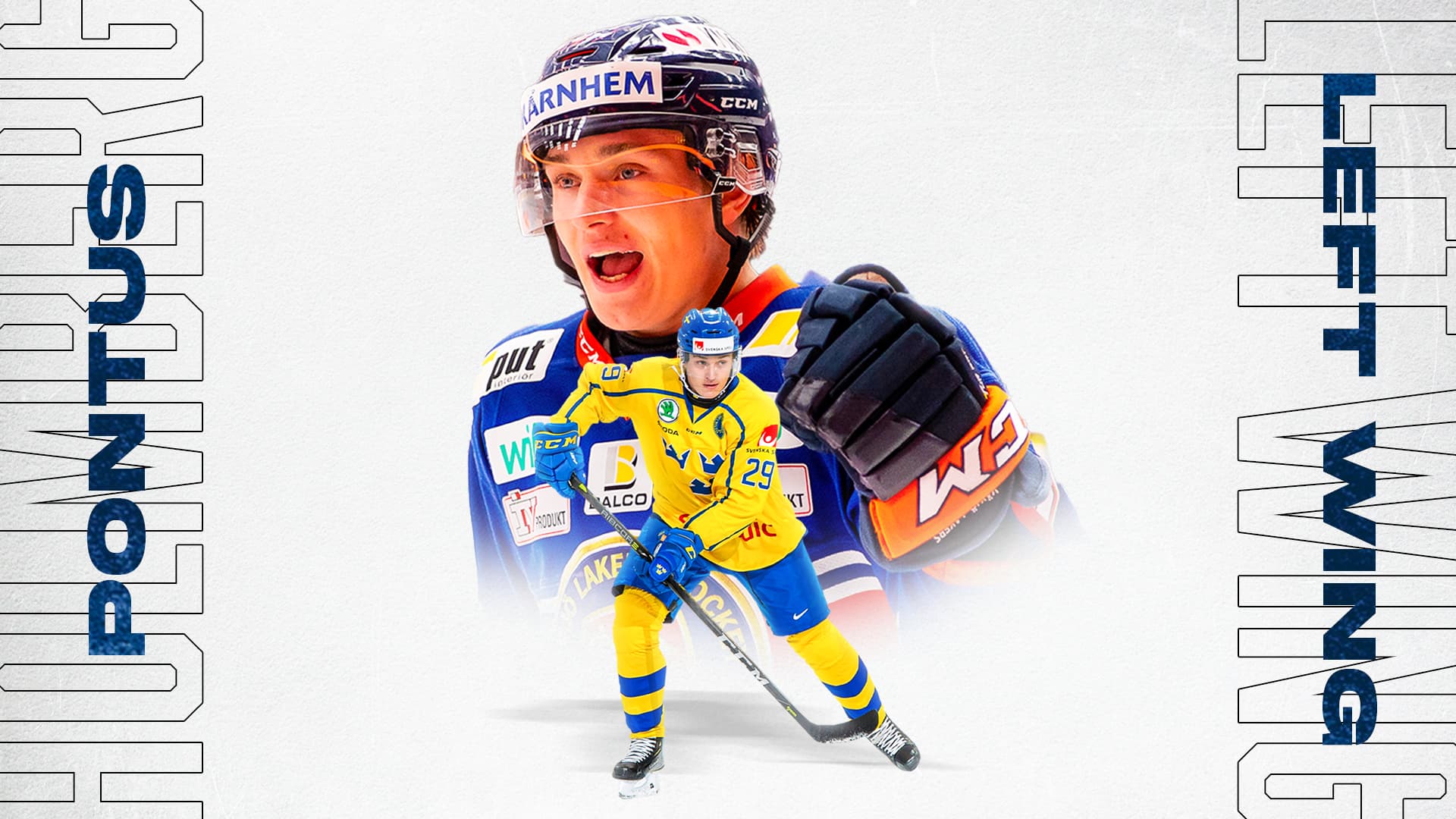 Photo credit:Nick Barden
@Pontus Holmberg burst into the consciousness of Leafs Nation during the SHL playoffs in May, playing his way to a league championship, playoffs MVP, and earning an entry-level contract with the Toronto Maple Leafs.
Despite this fantastic run to end the season in which he won multiple accolades and a vote of confidence from Leafs management in the form of a contract, Holmberg only rises two positions from last year's prospect rankings.
Let's dive into the latest potential Swedish late-round gem the Leafs have found.
Position: Centre
Age: 22
Height: 5'11
Weight: 179 lbs
Drafted: 156th Overall, 2018 NHL Draft by Toronto
2020-21 Team: Växjö Lakers HC, SHL
2020 Prospect Ranking: #19
Holmberg's career has been a fascinating one to this point.
He spent his first draft-eligible season primarily in the Swedish U20 league, where he scored at less than 0.5 points per game and went undrafted. The following season, a strong start to the year in the U20 league resulted in a call up to his hometown team, VIK Västerås HK, who play in the Swedish third tier.
Scoring 20 points in 36 games, his play was good enough to catch the attention of the Växjö Lakers, one of the top teams in Swedish hockey. He appeared in two games for Växjö in that 2017/18 season and signed on to join them full-time the following year. It was also enough to catch the eye of the Toronto Maple Leafs, who in that 2018 NHL draft traded into the sixth round to select Holmberg.
At the time, it was a bit strange to see the Leafs trade into the sixth round to draft an overage prospect playing in the Swedish third tier, but Holmberg's progression to this point has proven that gamble worthwhile for as late of a selection as he was.
Holmberg has spent the past three seasons with Växjö, consistently improving and producing more year over year as he continues to climb up their lineup. This past season was his strongest yet, scoring 23 points in 45 games during the regular season averaging 16:13 time-on-ice per game.
As previously mentioned though, his big breakout came in the playoffs. Holmberg found another gear, leading the SHL postseason in goals (7) and points (14) as Växjö claimed their third SHL Championship in team history. His performance earned him playoffs MVP as well as Swedish Forward of the Year, culminating in a two-year entry-level contract with the Leafs.
The end of the season was superb, but we shouldn't get ahead of ourselves here with Holmberg. He's a great story, having worked his way from his hometown team in the third tier to SHL playoffs MVP, but he's already 22 and has yet to consistently score at a high rate in the SHL.
Here is Holmberg's production compared to Pierre Engvall, someone the Leafs drafted late out of Sweden and made the NHL this past season (something most late-round picks don't achieve). The comparison is done using NHLe conversions from C.J. Turtoro (@CJTDevil on Twitter), as Engvall mainly played in the Swedish second-tier until his Draft+4 season.
As you can clearly see, Engvall's production through the first four seasons after his draft year were more productive than Holmberg's. The best direct comparison is their Draft+4 season, in which Engvall and Holmberg both played in the SHL. Engvall scored 20 points in 31 games in 2017/18, while Holmberg scored 23 points but in 45 games this year.
Holmberg's playoff scoring was very impressive, but he needs to carry that over into the regular season and consistently be at that next level to continue rising up the Leafs prospect rankings.
In terms of playstyle, Holmberg doesn't often dazzle with high-end skill or lightning-quick skating, but he does a lot of things well. That said…he did pull this one off just last week.
Holmberg is a cerebral, two-way player, making correct decisions and generating his offence primarily by being in the right place at the right time. He has been a positive impact defensive player in his SHL career, with a 59.8% even-strength goals-for percentage this past year (+6.53% relative to his teammates). The SHL also keeps track of Corsi on their website, with Holmberg's coming in at 55.6%. He was also a dismal 43.8% on the faceoff dot, which may mean a move to the left wing is in store for him in the next year or two.
Holmberg doesn't shoot often, having registered just 4.69 shots per 60 last year, a lowly 15th among Växjö players that played in 15 or more games. This shouldn't be a surprise either, given his career-high in goals at the SHL level is only nine. When he does put the puck on net, it's in high danger situations. Still, he could look to take the shot himself with more regularity than he currently has in his career.
Despite having signed a two-year entry-level contract with the Maple Leafs, Holmberg will not be playing with the Marlies this season. Instead, he will be honouring the one remaining year left on his contract with Växjö and will almost certainly join the Marlies at the conclusion of the Swedish season.
To this point in Växjö's preseason, Holmberg has taken a step up the lineup following his fantastic playoff performance to slot in at the 2C position. So far, he's been centring a young line with Philadelphia Flyers prospect @Olle Lycksell on the left and undrafted new signing Hugo Gustafsson on the right. As reigning SHL champions, you'll be able to catch a few of Holmberg's games on TSN this year during the Champions Hockey League competition, which begins later this month.
Pontus Holmberg's tremendous playoff run has raised his profile among Leafs fans, but a lack of high-end regular-season scoring and his advanced age compared to the rest of the prospects around him on this list prevent Holmberg from climbing up our prospect rankings more than just two positions. Should he continue his upward trajectory in the Swedish league and impress when he makes his Marlies debut next spring, don't be surprised to see Holmberg rise a couple more positions this time next year.
Statistics from EliteProspects.com, SHL.se, Pick224.com