The biggest surprises and disappointments of the Leafs season so far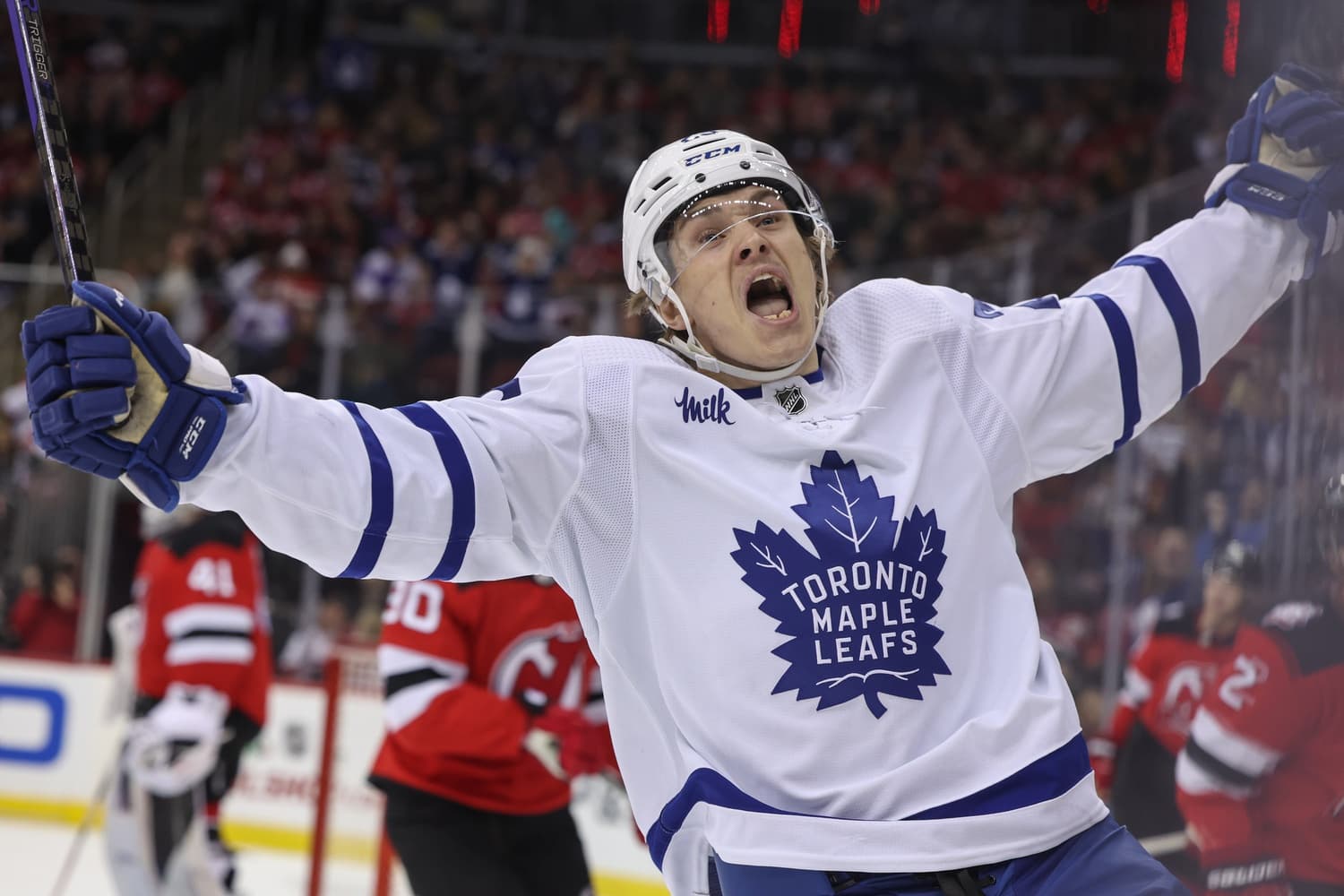 Photo credit:Ed Mulholland-USA TODAY Sports
As we continue the TLN contributors' walk down memory lane regarding the first half of the Leafs season, we've come to one of my favourite topics. Who has been the biggest surprise (usually who did we set the bar exceeding low for) and the biggest disappointment (meet your new scapegoat.)
For the Leafs and their strong first half the surprises have been plentiful, and the disappointments minimal, so keep that in mind as I don't think anyone is particularly beating up on the disappointments and the team gets a passing grade.
Here are the responses:
Biggest Surprise
Jon Steitzer:
Matt Murray is probably the safest answer here. It seemed like a lot of wishful thinking that he could string together anything resembling even a passable season as a backup and aside from the predictable injury, Murray's rebound year has been a pleasant surprise.
Mike Westlake:
I would say the biggest surprise this season has been our goaltending. During the majority of our season thus far it has been one of the most consistent (until lately). I was on the bandwagon idea that this team was going to struggle with goaltending issues but that simply hasn't been the case.
James Reeve:
Justin Holl. He started slow but certainly stood up when injuries really hit the team.
Nick Richard:
Even as someone who has been following Pontus Holmberg for some time and believed he would push for a regular NHL role at some point this season, he has been the most pleasant surprise. The maturity in his game has been evident since the preseason and he has really solidified the makeup of the Leafs' bottom-six, while showing flashes of being capable of more than that. He very rarely makes mistakes and very few of those mistakes are mental, helping him to earn the trust of the coaching staff and I suspect his role will only grow over time.
Joseph Zita:
Mark Giordano has been the biggest surprise for me this season simply because he was thrown into bog minutes when it seemed like half the blue line was injured and he was playing some of the best hockey we've ever seen from him. For a 39-year-old, he looked like he was in his prime and he's continuing to be an important piece on the blue line even with guts like Brodie and Rielly returning.
Nick Barden:
I'm a really big Pontus Holmberg fan. I knew he was going to be good, but I didn't think he'd fit right into the Leafs' lineup. He's been spectacular and I hope he can continue his strong play for the rest of the season and playoffs.
Bennett Jull:
Has to be Pontus Holmberg. He has seamlessly fit into the Leafs bottom 6, and has provided the Leafs with a very solid center option. He rarely makes mistakes, and his steady game has turned him into a legitimate every day NHL player, which nobody saw coming.
Steven Ellis:
Ilya Samsonov, for sure. What a bounce back it has been for him. I'm not too worried about the recent slump. It happens. But I think he has provided incredible value.
Dylan Murphy;
It's the goaltending for me. Easily the biggest question mark coming into the season, but both Samsonov and Murray have exceeded expectations and, despite recent lulls, have established themselves as one of the better tandems in the league. I wouldn't mind a veteran coming in as a third-stringer to keep Erik Kallgren in the AHL though.
Michael Mazzei:
This seems very obvious, but the goalie tandem of Murray and Samsonov has been a pleasant surprise so far. Both players had their warts and were coming off less than stellar seasons. But to this point, Murray and Samsonov have been mostly stellar when healthy (save for a few rough stretches in late December and to begin 2023). Kyle Dubas took a massive risk by going with this tandem in such a crucial season to the team's long-term prospects, but so far that bet has paid off in spades. Now if this leads to success where it matters, it will be further cemented because the Leafs have constantly come short with the second best goalie in a series. Could Murray-Samsonov be enough to get over the hump? Only time will tell.
Ryan Hobart:
Ilya Samsonov. I don't know what I totally expected of him but the consistent value he has provided has been a really welcome surprise.
Colin Hunter:
The biggest surprise this season, to me, has been Conor Timmins. With the other obvious options, such as the goaltending, there was always a possibility of strong results. For the circumstances that led to the acquisition of Timmins to have occurred is surprising enough. Add in the fact that he has played strongly as a player that was acquired for essentially nothing, and he's my pick for biggest surprise. (I promise I started writing this before the Flyers game)
Biggest Disappointment
Jon Steitzer:
While the Leafs have been about as good as anyone could hope there are definitely some disappointments like Muzzin's injury, and Kerfoot not being able to hold onto a center position that standout. The biggest for me has to be Nick Robertson's injury which is really making it hard to believe that he'll ever be a fit for the Leafs and his trade value has taken a hit as well. Robertson didn't really make too much of a case for himself outside of sheltered offensive situations with ideal linemates as well. He's still young enough that we can always hope the 2023-24 works out better for him.
Mike Westlake:
Morgan Rielly. The Leafs best streak of games have all mostly been without him in the lineup. Yes, he's been injured but at the same time he was having a weak start to the season. We'll see if his play improves as he gets back into game form.
James Reeve:
Hard to say. Malgin didn't live up to pre-season hype and his trade was likely deserved.
Nick Richard:
I'm going to go with a bit of a copout here and say that injuries have been the biggest disappointment so far this season. There have been a number of players who have missed time but two absences stand out for me. After a very difficult year last year, Jake Muzzin returned in the playoffs and showed why the role he played was so valuable to this team when the games mattered most. Unfortunately, another serious injury has put his career in jeopardy and left a hole in terms of stylistic play on the back end. Furthermore, Nick Robertson had a spectacular preseason and despite his struggles in the regular season, seemed to be working his way into a more prominent role as a potential option to fill the hole on the second line before he suffered yet another long-term injury that derailed his season. Time will tell what will become of Muzzin but Robertson will have his work cut out for him to get back to where he was earlier this season.
Joseph Zita:
I don't really know who has been the biggest disappointment for me this season, but i'll pick the Maple Leafs PK. Compared to last season, Toronto's PK is nowhere near as good and they currently rank 17th in the NHL and have been hovering around there almost all season long so far. They've been having trouble clearing pucks that need to be cleared out of their zone and it's been costing them goals.
Nick Barden:
I'm not too sure there is a disappointment yet this season. Every player has played fairly well. You could say one of the goaltenders, maybe? It's too early to even say they've been a disappointment. My answer is no one.
Bennett Jull:
I'll say Nick Robertson. I thought this would be his breakout campaign, as there was an opening on John Tavares's wing to start the season (there still is an opening, hint hint Kyle Dubas). He has shown flashes of his potential, including a big OT winner earlier on, but he has failed to cement his spot in the lineup. Injuries have yet again played a part, and yet again there appears to be an uphill battle for him to find his way back into the lineup upon his return.
Steven Ellis:
Morgan Reilly just looks lost at points near the net. And while he missed significant time with an injury, I almost would rather see Timmins go back to playing more.
Dylan Murphy:
Dryden Hunt hasn't mauled an opposing player yet like he did in that one clip where Colorado played Boston, so that's kind of disappointing I guess.
Michael Mazzei:
Morgan Rielly may be winning off the ice by getting engaged with Tessa Virtue, but has not be a strong showing for him on the ice. This is the first season of his eight year contract extension, and his point production has taken a massive nosedive. At the time of writing, Rielly has not scored a goal since Game 7 against the Lightning and has yet to find the back of the net in a regular season game since April 7th. While defenceman are not expected to score goals on a regular basis, this noticeable drop-off has been a big concern for Rielly. Durability has also been a major concern as he missed time due to a knee injury, and he has not looked stellar since returning. Defensive warts aside, Rielly has to be better for the the Leafs to continue to be a force down the stretch. The rest of the blueline stepped up big time in his absence and he will need to help keep up the pace and fast.
Ryan Hobart:
I'm definitely disappointed in Auston Matthews' lack of scoring, but the biggest personal disappointment was the injury to Nick Robertson. He had just started to find his form and then suffers a terrible injury that will keep him out a while, and make it hard for him to earn a place again.
Colin Hunter:
The biggest disappointment this season for me has been Nicholas Robertson. Now, this selection is not all due to his play – rather, the combination disappointment of mediocre play and yet another injury.

Robertson is/was a player with a ton of hype coming out of junior and has struggled to stay healthy at the pro level. Following an elite stretch of play in the AHL last year and early this year, it seemed that he was ready to be an NHL contributor. This hype was increased when he scored twice in his season debut for the Leafs. In the 14 games that followed, he only managed 3 assists in a variety of roles and eventually sustained another significant injury.

While I still do believe in Robertson being a valuable asset, and in him becoming an NHL contributor in the future, it's hard not to be disappointed in his early season results.
So Pontus Holmberg and the Leafs goaltenders seem to be leading the way when it comes to pleasant surprises. In contrast, the Nick Robertson injury and the defensive zone play of Morgan Rielly seem to be driving the disappointment side of things.
Be sure to take to social media and our comment section to let us know your picks for the biggest surprise and disappointment so far this season.