The Blues are back and the Devils streak continues: NHL Notebook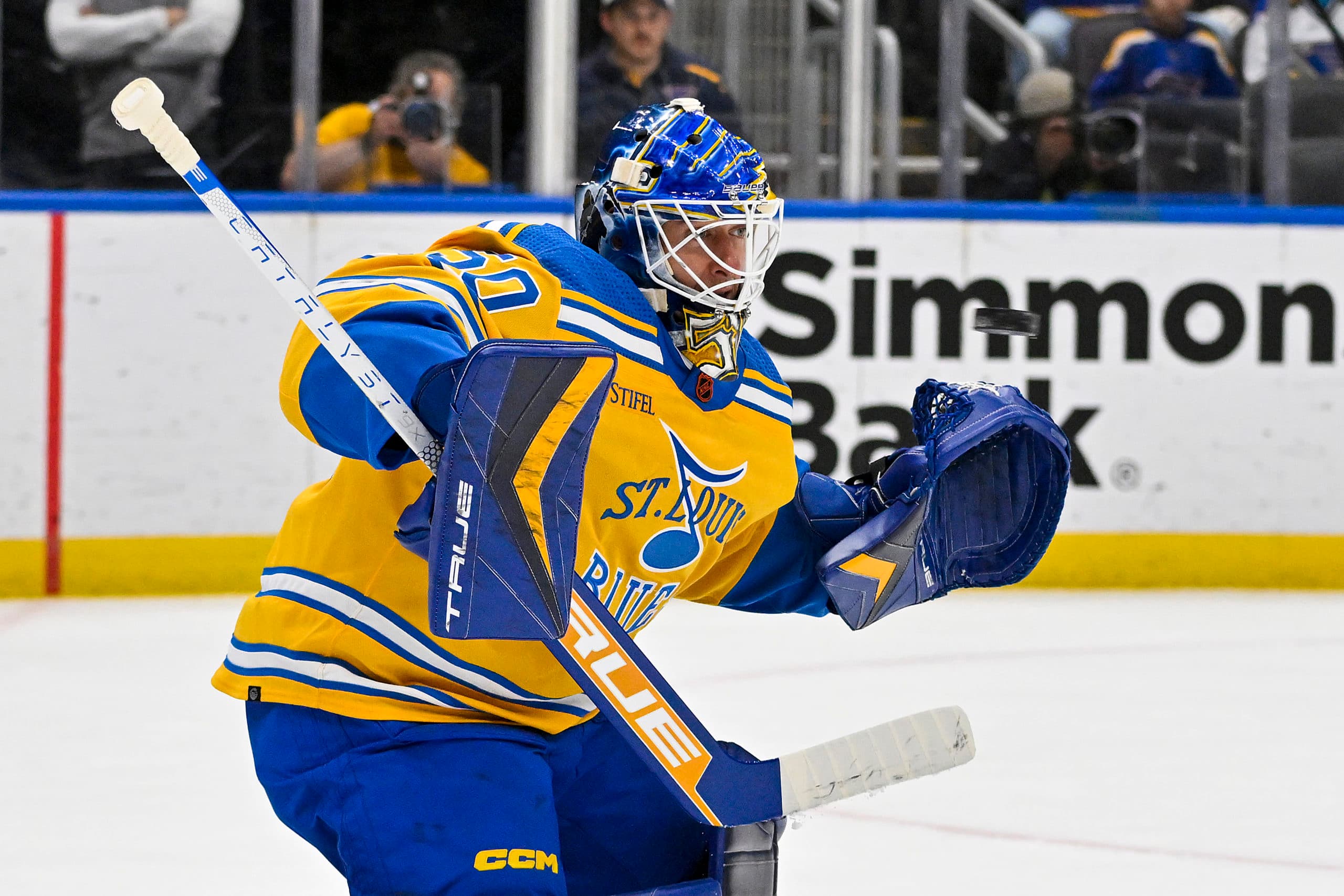 Photo credit:Jeff Curry-USA TODAY Sports
There have been plenty surprises during the first quarter of this NHL season. One of the big ones was the shockingly poor start for the St. Louis Blues. Well, now they're surprising everyone again by winning seven in a row. We were stunned two weeks ago with the start the New Jersey Devils had and it just continues to get better for them. It's starting to look like that team may never lose again.
Other news around the NHL this week includes the Wild and Rangers making a trade and the Hurricanes extending an up-and-coming goaltender.
Blues win streak
The St. Louis Blues are back. After losing eight straight games in regulation and falling to the bottom of the Central division, they have now won seven in a row and climbed up to fourth place. They are 10-8 on the season good for the first wild card position in the west.
This team was always too good to be at the bottom, but nobody expected them to bounce back this quickly. Jordan Binnington's play between the pipes has been a massive reason for their rapid turnaround.
He's started six of the seven games on this win streak and gave up more than two goals only once. His SV% over this span is .940.
Jordan Kyrou has finally arrived as well. He's scored three goals and six assists over the last seven games after only scoring four points in the team's first 11 games.
This was never one of the weakest rosters in the league so it's crazy to think they'll drop back near the bottom of the standings. They should continue to push for a playoff spot.
They are the first team in NHL history to follow an eight game losing streak with a seven game winning streak. They are now only five points out of first place in the Central.
Devill keep winning
Are the New Jersey Devils a legitimate Stanley Cup contender? Clearly at this point they look like one of the favourites. They are undefeated in the month of November and haven't lost since October 24th versus Washington.
Their 13-game win streak ties a franchise record. They will try to break it against the depleted Leafs tonight. They are basically a lock for the playoffs now. Some people thought they were a bubble team, but I don't think anybody saw this coming.
This is just one of those years for the Devils where everything is going right. Up and down their lineup pretty much every player is on pace for a career year. If their goaltending holds up and they stay healthy they will be an extremely tough out in the post season.
Other news
For the second straight year Wild general manager Bill Guerin has traded for an enforcer. Last season it was Nic Deslauriers, this time it's Ryan Reaves. He sent a fifth-round pick to the New York Rangers in exchange for Reaves earlier today.
Now on his fifth team, the 35-year-old Reaves has played in 12 games this season scoring zero points and earning 12 penalty minutes.
The Carolina Hurricanes extended goaltender Pyotr Kochetkov for four years at an AAV of 2M this morning. The Hurricanes third goaltender has played well in his limited opportunities for the Canes these last two seasons.
In four games this year the 23-year-old netminder is 2-0-2 with a .914 SV% and 2.00 GAA.
Both Frederik Anderson and Antti Raanta are UFAs at the end of the year. Kochetkov should be guaranteed to be on the NHL roster for the entirety of the 2023-24 season and this contract will be a massive steal if he's even just in a 1B type role.