The Buffalo Sabres are sticking with development this season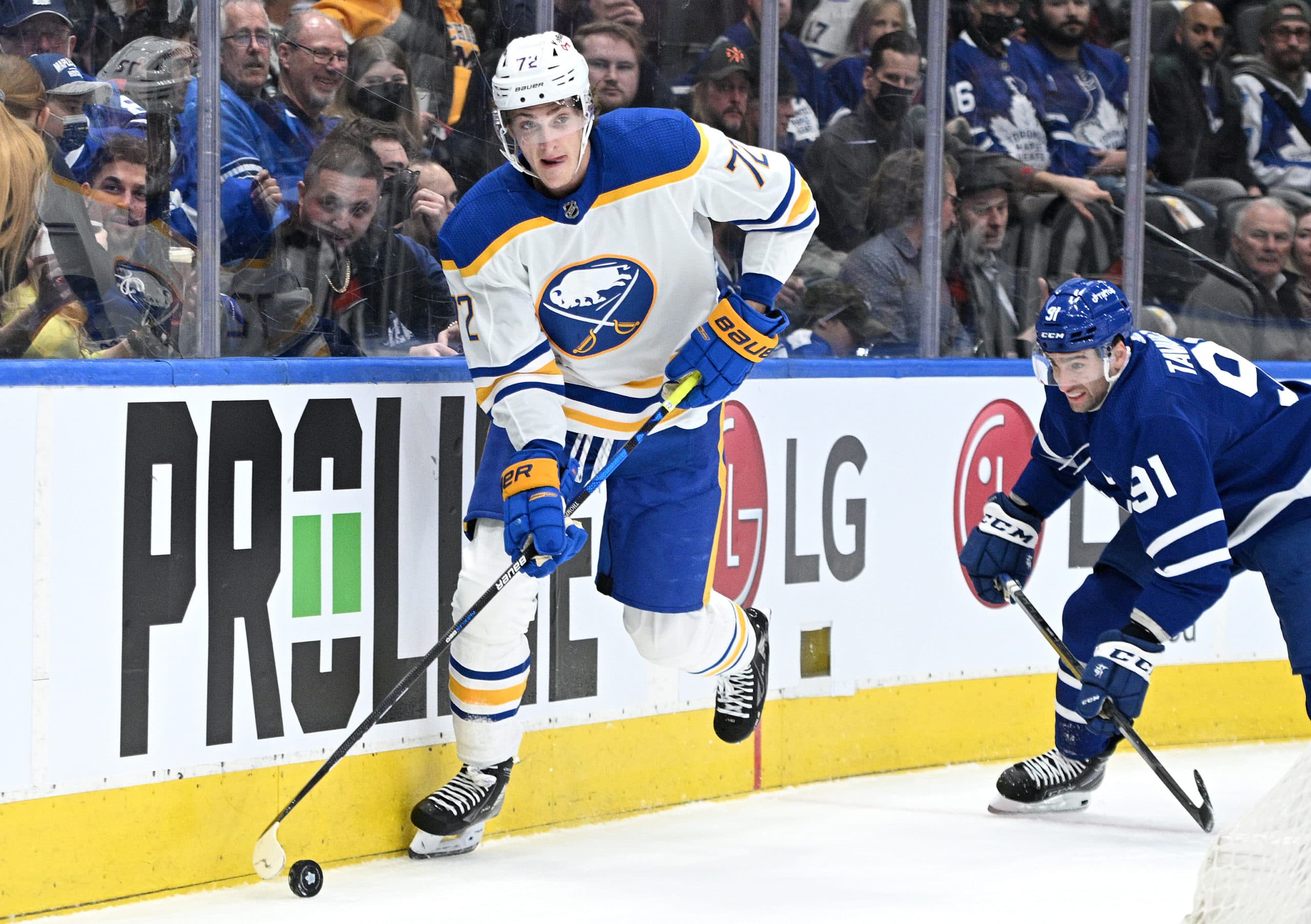 Photo credit:Dan Hamilton-USA TODAY Sports
Overview:
11 years is a long time. It's been 11 long years since the Buffalo Sabres made the playoffs, which is currently the longest active streak in the NHL. We have been through Eichel, multiple GM's and coaches, and yet how much closer are the Sabres to playing meaningful summer hockey? Is there light at the end of the tunnel?
Stats from last year:
Atlantic Standing: 5/8
Points: 75 (24th)
CF%: 48.50% (20th)
GF%: 44.13 (28th)
PP%: 21.2% (16th)
PK%: 76.4% (23rd)
Other than the power play, these numbers all need to improve if Buffalo wants playoff hockey.
Internal Moves:
Tage Thompson got paid. 7 years, $50 million dollars. Victor Olofsson got a 2 year $9.5 million dollar extension. Both players will be relied upon heavily.
Player Moves:
Buffalo stayed relatively quiet this summer, but still addressed a couple of key areas. Eric Comrie was signed to a 2 year deal. Sometimes in hockey, the perfect contract emerges. It's rare, but I believe this contract will be great for both parties. Buffalo gets a legitimate option to help Craig Anderson, and Comrie finally gets some stability. Peace of mind is priceless, particularly for NHL netminders. We could see the best Eric Comrie has to offer this season.
Buffalo also brought in Ilya Lyubushkin on a 2 year deal. He gets a pay increase, and gives the Sabres a legitimate right handed shot on the back end. The Russian Bear adds a needed physical element to a very young defensive core, and will help kill penalties.
Keys:
Buffalo has accrued many draft picks over the last couple years, and the development of those picks will be on full display this season. Many of the players Buffalo will lean on have yet to crack 100 NHL games.
Give credit to Buffalo. 11 seasons away from the playoffs would cause many to want to rush the project, but clearly they are sticking to development.
Rookies will need to be relied upon in a heavy way. Players entering their second, third, and fourth NHL seasons will need to play like veterans. It appears that Kyle Okposo and Jeff Skinner will be the only skaters aged 30 plus.
There is tons of offensive talent in the Sabres young forwards, and learning the defensive side of things will be imperative for their longterm success. Stops and starts in their own end, being mindful of defensive shape and structure, and learning how to penalty kill will need to be taught, and taught rather quickly.
The blue line, which is also very young, will be tested. How quickly can some of these prospects legitimately push the needle in the NHL? We shall find out.
What Success Will Look Like:
A successful season will see many of these young Sabres actually take steps and realize some of their potential.
Tage Thompson, Jeff Skinner, and Victor Olofsson need to score like an NHL 1st line. If any of them underperform, the pressure will mount on some of the younger forwards. They scored 91 goals between them last year, their goal this season should be to hit 100.
Hopefully Alex Tuch and Casey Mittelstadt can find some consistent health. It's been too long since both of them laced up for most of an NHL season. Good health would be a great start for both of them.
What steps will Peyton Krebs and Dylan Cozens take? Both are talented first round picks that have had a taste of the NHL. Could either of them vault their way into the top 6? A consistent NHL year providing solid secondary scoring is what each are striving for.
A couple of rookies are looking to make their mark, particularly Jack Quinn. Quinn was AHL Rookie of the Year last campaign, and put up 61 points in 45 AHL games. My bet is that Quinn earns a spot in the top 6 out of camp. A successful year for Quinn will come down to if he can score at the NHL level. Another rookie from the same draft, JJ Peterka, put up 68 points in 70 AHL games last year. Will he be able to carve out a roster spot? He has the ability, and I believe he will edge out some of the more experienced competition.
Behind these young guns are some dependable NHL veterans in Riley Sheahan, and Vinnie Hinostroza. If the Sabres determine that certain prospects need to develop more in the AHL, look for them to be capable 4th line players.
On the back end, it's the youth movement again. Mattias Samuelsson appears to be getting ready for top pair minutes alongside former 1st overall pick, Rasmus Dahlin. The very latest 1st overall pick in the NHL is Owen Power, and he looks set to play on the second pair beside Henri Jokiharju. All of these players are 23 or younger, which is a lot to ask from such a young group.
The Buffalo brass will find out what they have on their back end this year, for better or worse. I think they will cope just fine, with some expected growing pains along the way.
In net, could we see Ukko-Pekka Luukkonen force his way into the equation? The Sabres are very high on their top net-minding prospect, and his development this year will be crucial for their longterm success.
Projection:
7th place in the Atlantic, 77 points.
I have Buffalo just below 6th place. Some of their young core will step up and assert themselves, and I think they will be fun to watch. Unfortunately, having that amount of young players needing to take major steps will likely push them back to early golf next summer.
Possible lineup:
Skinner – Thompson – Olofsson
Quinn – Mittelstadt – Tuch
Krebs – Cozens – Peterka
Asplund – Girgensons – Hinostroza
*Okposo injured, Sheahan extra
Samuelsson – Dahlin
Power – Jokiharju
Bryson – Lyubushkin
*Pilut extra
Anderson – Comrie