The case for and against leaving Jared McCann exposed in the expansion draft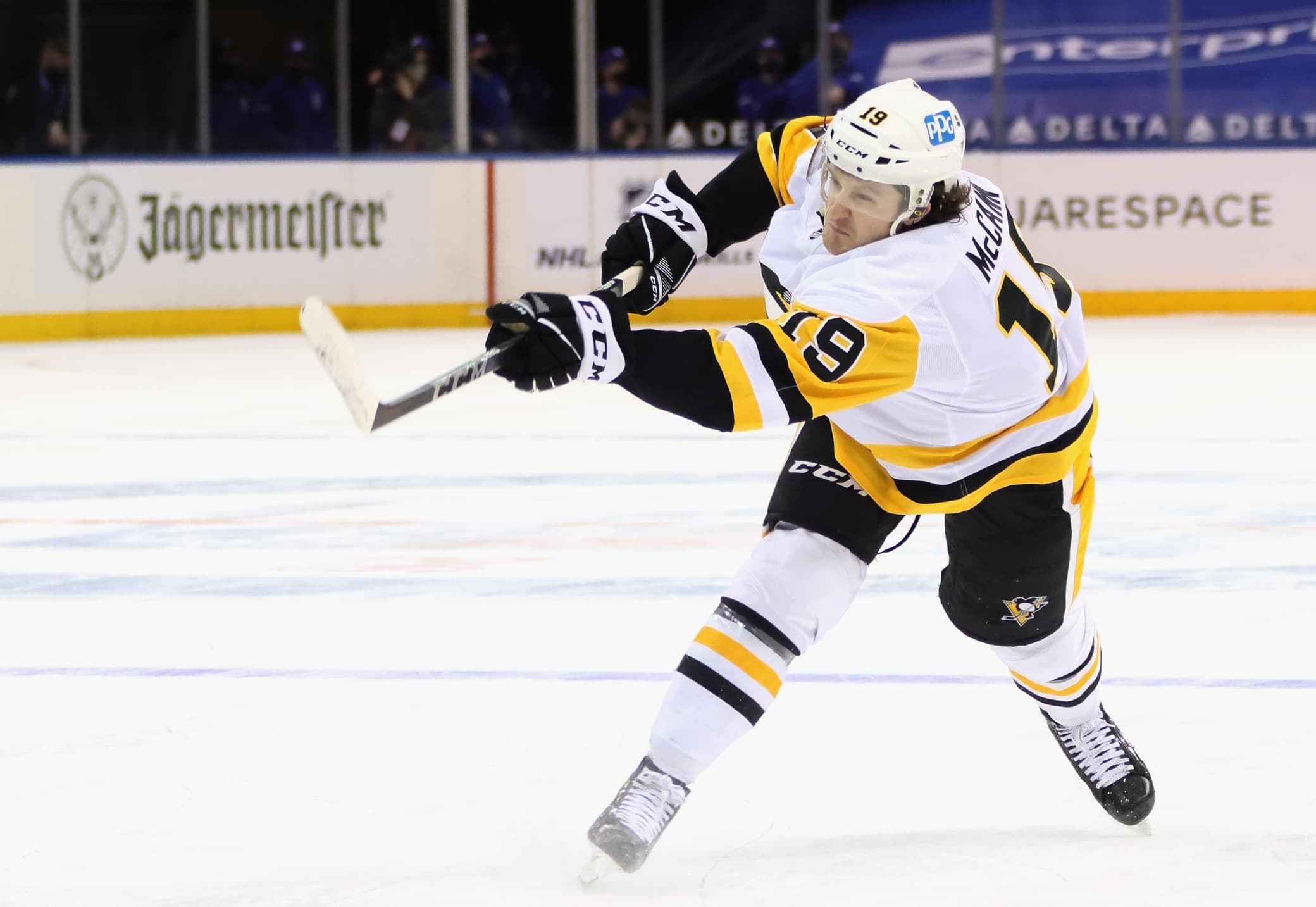 Photo credit:© POOL PHOTOS-USA TODAY Sports
The frustration stem from the decision to leave @Alexander Kerfoot unprotected when there were rumblings that he would be moved and with @Justin Holl being one of the four defencemen protected despite a regression in the latter half of the 2021 campaign. Under normal circumstances, this would not be a major concern given the team views itself as a contender looking to do damage in the postseason. With the Leafs, these are not normal circumstances, especially because they were fresh off their biggest blown lead yet and the fanbase's anger towards the team's shortcomings is at an all-time high.
Now, there's no question
losing a player of McCann's calibre stings
, even if he isn't high on the depth chart. But while we were unable to see how he would fair donning the Blue and White, there is an argument to be made that acquiring him was a necessary evil to ensure Kyle Dubas could make the offseason moves he wants to make. Without the benefit of hindsight into how the 2021-22 campaign unfolds for all parties involved, let's look at whether or not the Leafs made the right decision in leaving McCann exposed in the expansion draft.
The case against
The analytical community really loves what McCann brings to a team and is often regarded as one of the analytical darlings of the NHL today. Getting a player like that is not easy and getting him at such a low cost makes it all the better for a team that seems to value analytics. So with all this in mind, it makes the decision to leave him exposed to be seen as questionable.
In 43 games last season, he recorded 14 goals, 18 assists, and 32 points, which equates to 61 points across an 82 game season. By comparison, Kerfoot only registered eight goals, 15 assists, and 23 points in 56 games played. That alone makes McCann a more valuable asset given his $2.9 million AAV in correlation to Kerfoot's $3.5 million annual salary.
Here is how the two players stack up in a few underlying metrics at 5v5. Spoiler alert: it's not even close.
| | | | | | | | | |
| --- | --- | --- | --- | --- | --- | --- | --- | --- |
| Player | CF% | FF% | SF% | GF% | xGF% | SCF% | HDCF% | HDGF% |
| McCann | 54.66 | 53.85 | 53.32 | 69.23 | 54.54 | 56.17 | 54.49 | 68.97 |
| Kerfoot | 48.82 | 48.72 | 49.49 | 51.11 | 49.66 | 47.21 | 46.88 | 43.48 |
Further to this, the Leafs went with the 4-4-1 exemption method instead of going 7-3-1, which would have made more sense in my opinion. While using the latter option would leave Holl exposed and the player potentially heading to Seattle, it would also allow Toronto to keep both McCann and Kerfoot while providing them with the opportunity to further explore the trades that would involve Kerfoot going elsewhere to acquire more help.
There were also rumblings that Kerfoot was the player that the Kraken was initially interested in taking before the Leafs made the move to acquire McCann from the Penguins. If that were to be the case, it brings into question why Dubas didn't look to protect his newly added player and leave Kerfoot exposed to shed $3.5 million in salary. It certainly appears to be a masterclass in asset mismanagement by a GM who has had a mostly solid track record in regards to transactions (with a few exceptions).
So based purely on player talent and offensive output, a case can be made that the Leafs made a huge mistake in leaving McCann exposed and not attempting to try and keep him in the fold for the upcoming year. It's understandable why the fanbase is irate that the team prioritized Holl over McCann.
The case for
While it may seem ludicrous to leave a player like McCann unprotected given his recent track record, doing so minimizes the damage done to the roster when it was guaranteed that a good player would be lost to the Kraken.
Consider what the Leafs actually surrendered to initially bring him into the fold: Filip Hallander and a 2023 seventh-round pick.
Hallander could become a serviceable NHL player someday
but has not shown any signs that he could be anything more than a bottom-six forward. And a seventh-round pick has extremely low odds of translating into a quality player (although since this is the Leafs, the Penguins are now guaranteed to find the next Pavel Datsyuk with their selection). As it stands right now, the Leafs gave up very little to acquire McCann and then subsequently have him be the guy taken by Seattle. Given that there are rumours of
the Kraken's asking price on subsequent transactions being outrageous
, Dubas did fairly well in minimizing the damage.
You also need to consider the current state of affairs when it comes to the Leafs' roster heading into free agency. As it stands right now, they are set to lose @Zach Hyman, @Zach Bogosian, and @Frederik Andersen and are left with a gaping hole on the left wing, the right-side defence, and in goal. Although Kerfoot does not have the same offensive output as McCann, he makes up for it by being an effective penalty killer who was part of a short-handed unit that did (mostly) well in the latter half of the season. Holl has also found success in that role, with an added bonus of him being the only defender in the team's top four that is a natural right-handed shot.
Going back to the rumours of the Leafs shopping Kerfoot, they can still do that with it being confirmed that he wasn't selected by the Kraken. He can now be packaged off to bring back assets or a better player who could potentially be on the roster beyond the upcoming season. That is certainly a huge boost to a fanbase that is in desperate need of some good things happening to their team which has seen nothing but negative energy in the weeks since the most recent Game 7 loss.
You could make the argument that the Leafs essentially acquired McCann to bait the Kraken into taking a good player so that the roster could remain intact for the time being and Dubas could make the moves he wants to make in the offseason. It certainly seems to be the case given that there was no media availability for McCann and Dubas after the trade, which would normally happen a day or so after a player is added. So if the cost to do so was just a middling prospect, a future seventh-rounder, and McCann, that is far from the biggest loss compared to what other teams have suffered in the wake of the expansion draft.
The verdict
Based on all of the evidence presented, I fall somewhere in the middle on how I view this entire ordeal regarding the decision to leave McCann exposed. I understand why Dubas wanted to ensure that he could protect his roster and did fairly well in terms of who he had to give up, but it doesn't take away from the reality that the Leafs lost a good player who could have been useful next season and (potentially) beyond.
There is no doubt that McCann was the best player between himself, Kerfoot, and Holl so it's understandable why losing him hurts after only recently acquiring his services at a reduced cost. But the Leafs were in a tough spot considering there were going to be a few key players depart for free agency and a massive void would be left to fill. They could have gone the 7-3-1 route to try and keep McCann, but that would risk losing Holl who does have some value despite his regression and older age. And if the plan was to try and clear Kerfoot's cap hit, they would never get to explore what assets they could get back for him if he was left exposed and there weren't any better options besides him.
Let me put it to you in simpler terms: I get what Dubas was trying to do, but I am upset about it.