The case for keeping Källgren with the Leafs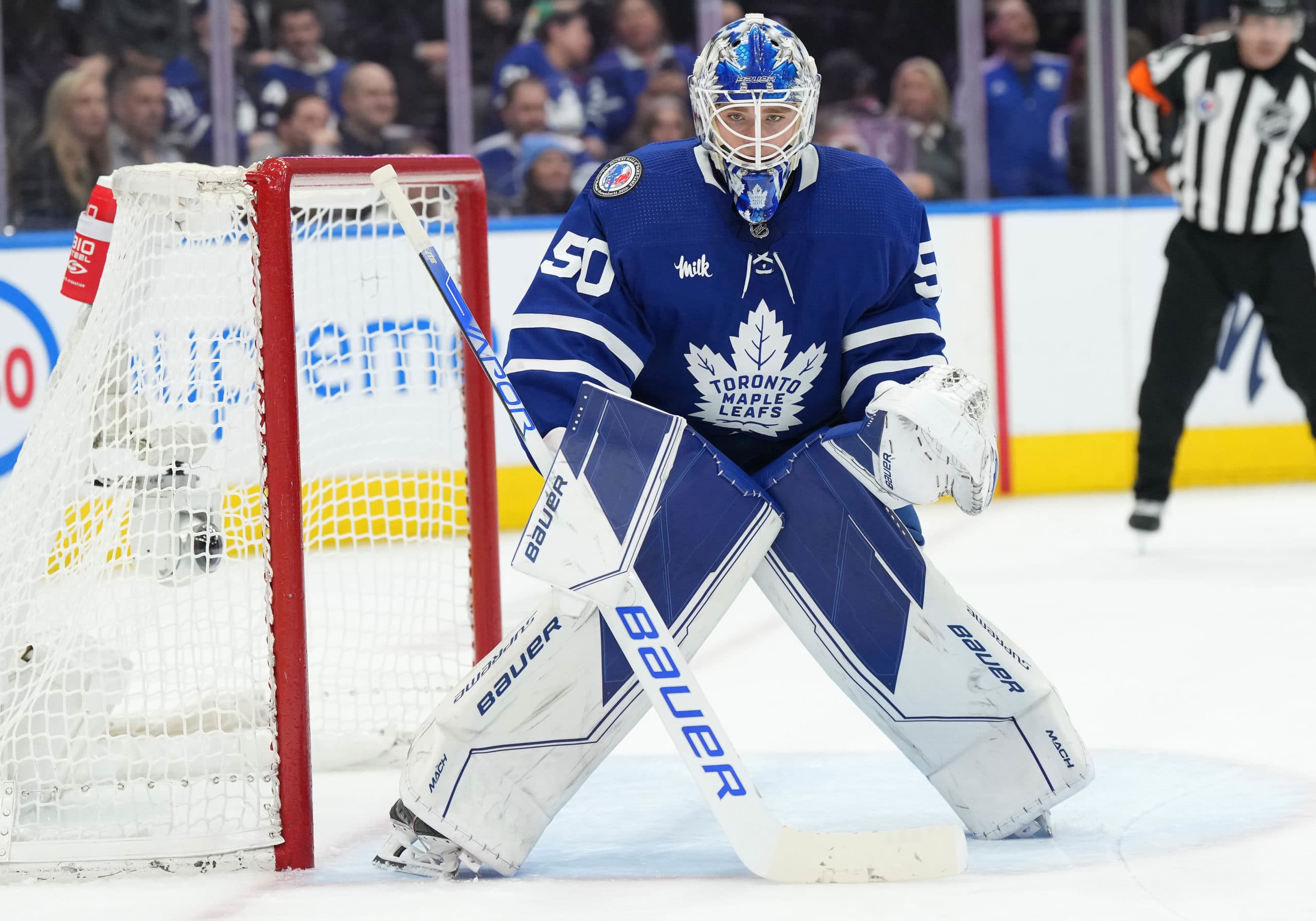 Photo credit:Nick Turchiaro-USA TODAY Sports
There's never a shortage of goalie discussion when it comes to the Maple Leafs.
When Matt Murray went down early in the season, Erik Källgren was called up to fill-in for the time being. That was, until Ilya Samsonov also suffered an injury, which then had Källgren tabbed as the starting goaltender for the foreseeable future.
Murray returned on November 15th and has since played six of Toronto's last eight games. He's been incredible during that span. And now, Samsonov is inching closer and closer to a return.
This is a very good situation for the Maple Leafs as both goaltenders are within the NHL's top-10 when it comes to save percentage. But it also begs the question: what will happen to Kallgren once both goaltenders are healthy?
Many might say to just send him back to the Marlies, however I'm not too sure it's that easy.
Joseph Woll has finally returned to game-action after missing the last eight months with a shoulder and ankle injury. He needs to play. Keith Petruzzelli, too, has earned his right to a longer stint with the Marlies after his strong play in the early goings of the season.
The AHL hasn't been kind to the 23-year-old since he returned from his stint with the Maple Leafs., though.
In his last five games, Petruzzelli has an .868 save percentage and only one win to his name. Before he signed his first NHL contract, the 23-year-old hadn't lost and had a .923 save percentage.
"He certainly should be confident, he's having a good season." Said Marlies head coach Greg Moore after their loss to Cleveland on Saturday afternoon. "If players get too focused on results and not how they're doing or what the habits are that they're working through, they mentally can get down a rabbit hole in a hurry.
"We'll just reinforce how he's playing and the things that Hannu Toivonen is working with him on to get better and make sure that those are the things he's evaluating himself on. Not just the wins and losses."
When Toronto signed Petruzzelli to a two-year entry level contract, they were making a bet on him. They saw his potential and where he could end up, then pounced on him before any other NHL team came calling.
With all of this being said, I personally don't believe there should be any situation where he finds himself back with the Newfoundland Growlers, unless his play in the AHL tumbles completely sideways.
Toronto already has two investments down in the ECHL with Dryden McKay and Luke Cavallin. You don't want Petruzzelli taking time from either of those two with the way they've played early on in the season.
That leaves the Maple Leafs with no choice but to have Källgren remain with the Maple Leafs for the time being.
There's obviously going to be some movement once Morgan Rielly returns to the lineup, but that's not for a while. I believe keeping Kallgren up in the NHL will allow Toronto to get a good look at Woll and Petruzzelli to see what they're capable of.
It will also keep the 26-year-old Swede ready if there's any other injuries that come about. But to send him down to the Marlies and see a shuffling of goaltenders, including Petruzzelli back to the ECHL, I just cannot see that happening.
Only time will tell, though.
Statistics via TheAHL.com, NHL.com, and Hockey-Reference.com