The case for the Leafs to go the "safe" route with their first-round pick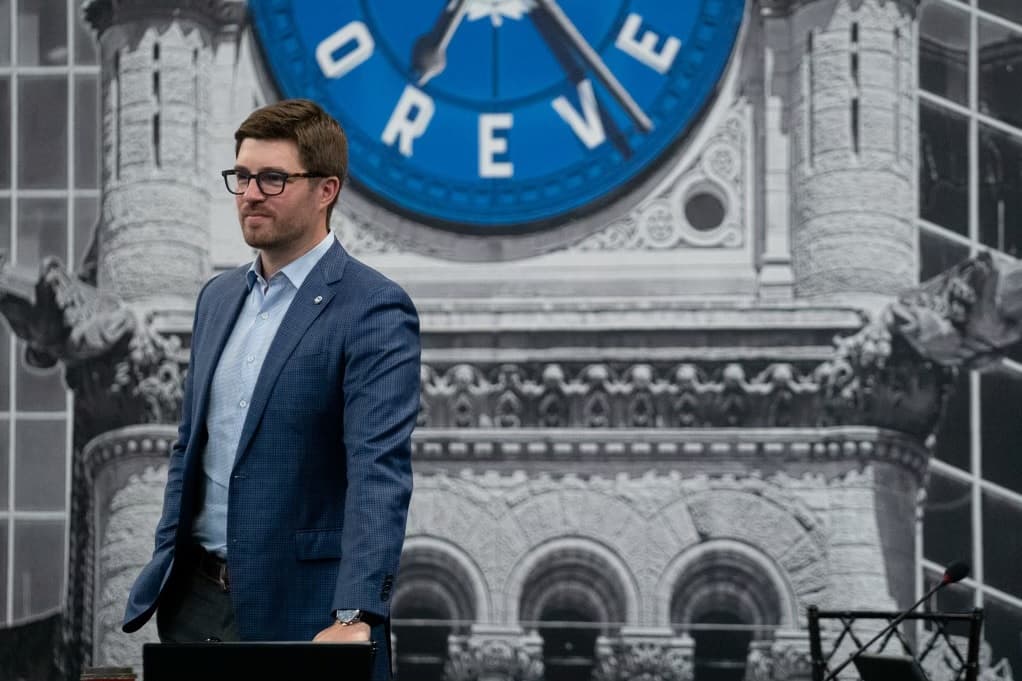 Photo credit:twitter.com/mapleleafs
To say that Kyle Dubas' reputation preceded him when he was appointed Leafs GM would be an understatement. Climbing the ranks from the Soo Greyhounds to what ultimately equated to an apprenticeship under the highly respected and revered Lou Lamoriello, Dubas made a name for himself as someone who put a greater emphasis on the analytical side of player evaluation, valuing raw skill above all else.
It was a welcomed change for Leafs fans who hungered for a new voice with a fresh perspective – especially at the draft table following three years of mostly fruitless drafts guided by former assistant general manager Mark Hunter, whom Dubas beat out for the GM job after the departure of Lamoriello.
Not only did those drafts produce little in the way of NHL contributors for the Leafs over time, but it was obvious almost immediately that many of the players they selected beyond the first round – where they nabbed stars like Mitch Marner and Auston Matthews with high picks and pounced on a sliding Timothy Liljegren – lacked much in the way of upside or high-end potential. More often than not, they opted for big, physically mature players rather than taking swings on smaller, more skilled players who were perceived to have greater risk/reward potential.
The first example that comes to mind for most people is the selection of Egor Korshkov with the first pick of the second round in the 2016 draft with Alex DeBrincat still on the board but that is an extreme example. Beyond that, however, the Leafs spent valuable picks on players like Eemeli Rasanen, J.D Greenway, and Keaton Middleton – all of whom were hulking, physical players who practically vanished off the NHL radar almost immediately.
Under Dubas, the Leafs have leaned heavily in the other direction at the draft table. Not only have they cashed in relatively high picks on undersized, imperfect players like Rasmus Sandin, Nick Robertson, Roni Hirvonen, and Topi Niemelä, but they have taken more than their fair share of swings on risk/reward players in the middle rounds. Players such as Semyon Der-Arguchintsev, Mac Hollowell, Mikhail Abramov, Nick Abruzzese, Dmitry Ovchinnikov, Ty Voit – you see where I'm going with this – might not represent much NHL certainty but they have at least shown enough progress and production since their respective draft years to remain relevant in the prospect pool.
The Dubas regime has done well to restock the pipeline with players who possess varying degrees of legitimate NHL potential but outside of selecting Matt Knies in the second round of last year's draft, they haven't necessarily added much in the way of surefire NHL contributors and there isn't a ton of diversity in terms of the types of players they have drafted. It is almost never a good idea to draft for need but organizational needs go beyond positions on the depth chart and for a club that has struggled to supplement its core with cheap, young talent, it might be time to place a greater emphasis on projectability at the pro level.
Given the current state of the Leafs' prospect pool and the number of high upside bets they have made in recent drafts, nabbing a player who projects pretty clearly as an NHLer in some capacity should be the focus with their first-round pick in the 2022 draft. Of course, it all depends on how things fall on draft night and if there is a player sticking out on their board when they step up to the podium, they should pick him. But if it ends up coming down to a decision between a player with a little more upside and a little more risk versus a player with a little less upside and a little less risk, I think it is time to seriously consider the safer bet.
Let me get this out of the way before I go any further: I am by no means advocating drafting the next Frederik Gauthier, but not all "safe" picks are created equal. Gauthier was a player who was never really considered a legitimate possibility to grow into anything more than a bottom-six checking center and his lack of footspeed and offensive ability were red flags even before he was drafted.
Every organization has to consider where they are in their competitive cycle and just what they need to be injecting into their system so certain teams will be more willing to swing on upside while others might be looking for a player who can be a complementary piece for them in short order to extend their current window, and that influences how each individual club will structure their draft board.
Using players
I have ranked around the Leafs' range
, a good example would be someone like Noah Östlund or Filip Mesar versus a player such as Owen Beck, Jimmy Snuggerud, or Tristan Luneau. While Östlund and Mesar almost inarguably represent higher ceilings, they don't have quite the same floor that the other three do and their timelines could prove to be longer. On the flip side, Beck, Snuggerud, and Luneau might never grow into first line or top pairing players but they all have different attributes that clearly project as NHL caliber and their developmental paths provide a bit more certainty.
Östlund and Mesar share a lot of similarities in that they are exciting offensive talents who are fantastic skaters, and they compete well off the puck, but they are also a bit on the smaller side and some scouts have raised concerns about the tendency they both have to play on the outside a bit too much. If everything clicks for them, they could both become effective top-six NHL forwards but there is also the chance that they turn into longer-term projects who struggle to break into the NHL.
Beck's production in the OHL this season was modest but he is a high-motor player who pushes the pace and plays a solid two-way game. He has some offensive skill but even if he doesn't grow into a top-six producer, there are enough traits in his game to carve out a role as a top-nine forward at the NHL level.
Snuggerud doesn't play with the same kind of pace but he is a big, strong body who plays on the inside with consistency and has a great shot. He showed an ability to mesh and produce with skilled players like Logan Cooley and Cutter Gauthier with the NTDP this season and much like Beck, should be a solid top-nine contributor even if he doesn't reach his ultimate ceiling.
On the back end, Luneau isn't the most dynamic player but he has good size, mobility, and puck-moving ability to complement a solid defensive game. He isn't likely to ever be a number one defenseman on a contending team but it is easy to envision him as a solid 4-6 guy because of the base of skills he already possesses.
Like Knies last year, just because those players are considered to have safer floors or clearer projections, that doesn't mean they lack upside. And just because there is a bit more forecasting of the future with players like Östlund and Mesar, that doesn't mean they are purely boom or bust prospects either. In the end, the decision will come down to weighing each player's ceiling against their floor at the pro level. Last year's selection of Knies, which was considered to be a bit of a departure for the Leafs, and his rapid ascension towards being NHL-ready could be just another step in an ever-evolving and more balanced organizational draft philosophy, or it could prove to be an outlier for a front office that will almost always bet on skill and upside.
History would lead us to believe that Dubas and his staff are more likely to opt for the upside of an Östlund or Mesar over the projectability of a Beck, Snuggerud, or Luneau but it will be interesting to see if they stray from that path and go the "safe" route when they're on the clock with their first pick in the 2022 draft.
PointsBet is live in Ontario. 
Get started here
.