The Current State of the Leafs Blueline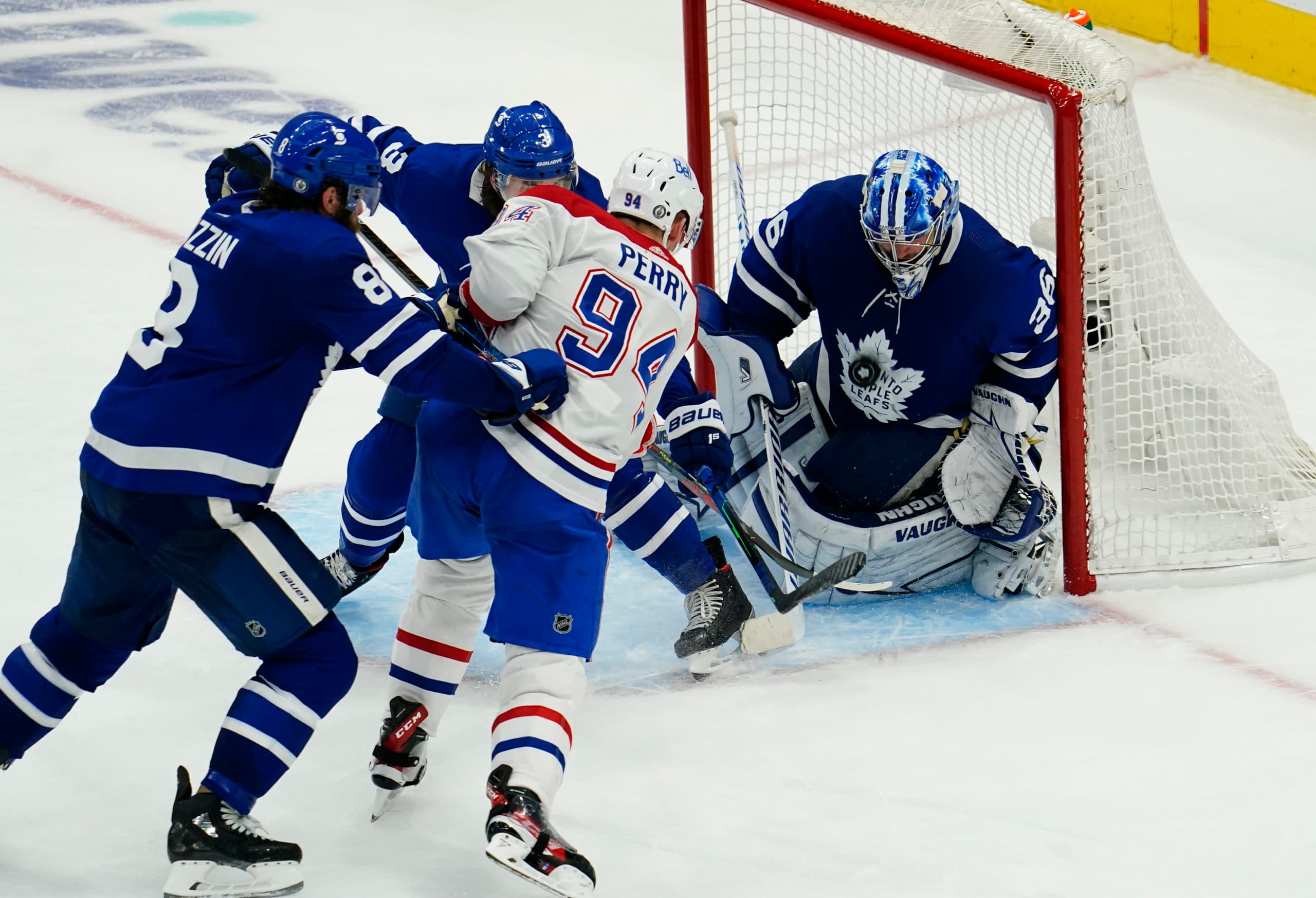 Photo credit:John E. Sokolowski-USA TODAY Sports
If there is one area of the Leafs roster that has remained untouched or ignored, depending on how you choose to perceive it, it's the defence. With the top four all slated to return (depending on whether or not you think the Leafs will re-sign @Morgan Rielly or have him play out the last year of his contract) at the moment it seems reasonable to assume that Rielly, Brodie, Muzzin, and Holl will be back, and quite possibly with the same partner they had last season. Even the bottom pairing seems to face limited changes as @Travis Dermott was a staple of the bottom unit, and while his partner @Zach Bogosian is the one departee, @Rasmus Sandin did see significant usage when he was healthy, and if he wasn't part of the Leafs full time plans last season, he is absoutely set to be a full fledged Leaf this season. Even the reserve list has some familiarity to it, in that Timothy Liljegren will still be fighting to crack the Leafs line up, and Brennan Menell will be playing the role of Mikko Lehtonen, and Carl Dahlstrom will be playing the role of Martin Marincin/Ben Hutton. It really comes down to the lack of Bogosian as the only significant change.
So that begs the question, why talk about the Leafs blueline in early August when there aren't new faces? Well, frankly, there isn't a whole lot else going on so why not talk about them? Secondly, it seems reason enough to assume that while the personnel are largely unchanged, the addition of Sandin and Liljegren to the top seven equation does call into question whether they will receive some veteran support in their development or whether they will co-exist as a very sheltered bottom pairing. There are reasons to be concerned about how Morgan Rielly will fit into the powerplay picture, and chase his most successful results, and it seems like last years remarkably injury free regular season (ignoring Sandin's situation) for the blueline isn't going to be repeatable and do the Leafs have enough defensive depth to feel comfortable with the group as it sits today?
Do the Classic Pairings still work?
Last season, as much as they could the Leafs relied on going back to the same top four pairings. Rielly and Brodie, along with Muzzin and Holl were absolute staples throughout the year, and it's hard not to argue they should be going back to that given that one of the key reasons for bringing in Brodie was to give Rielly a capable partner to work with.
The thing with the Rielly-Brodie pairing is that there was a significant step back for Rielly's offensive output at the same time that he took a giant step forward defensively.
Rielly's Corsi against had already begun trending down in the prior season after being paired with Cody Ceci, although his Corsi For was trending down as well. The Leafs clearly moving Rielly into more of an all purpose defender rather than what was seen in 2018-19 when Rielly had career highs for both Corsi For and Against, as well his career year for goals and points. You can see the Brodie improvemnt, as it gave Rielly his best defensive year, but it also had his steepest decline in offence, using Corsi as the measure.
When you look at the expected goals trade off, it shows Rielly has kept more of his offensive game over the past couple of seasons, but there has been a significant improvement defensively as he's been partnered with Ceci then Brodie. The decline in offence to get the defensive improvements seems much more acceptable.
Stepping away from the charts and going with the eye test, I'm willing to bet that most people aren't seeing the improvement in Rielly's defensive game and attribute these improved defensive numbers to his partners. I'd probably be one of those people. At the same time the eye test raises concerns about Rielly's offensive game, as he has become predictable in his offensive zone passing outlets, which has led to an increase in odd man rushes, and lacks the heavy point shot that would justify the volume of shots he attempts.
The question I'd ask from this is whether the Leafs would be in a better situation with Brodie playing with a stronger defensive partner than propping up Rielly. And would Rielly being a better defenseman if he's allowed to be completely offensive driven Rielly, like he was under Babcock, and given a partner that would support that play.
The results seem to support that the pairing generally works, but at the same time in the small (around 200 minutes) of ice-time that each player plays separate of their usual partner, they achieved better results. There are a variety of reasons for this, including that the Leafs experimenting with different partners towards the end of the season in throwaway games, or late in the game adjustments when the outcome (one way or the other) has led to score effects impacting the way we'd interpret that data. For that reason the emphasis should be on what happens together, and the main takeaway there should be that a Rielly pairing should be a bigger driver of offense.
Shifting over to the Muzzin and Holl pairing, the results show something slightly different, even if the pairings time together is remarkably similar…
Like the Rielly and Brodie pairing, the Muzzin and Holl pairing works pretty well together, but in their limited time apart, there is certainly a significant jump for Muzzin's rates and a dramatic drop for Holl's. I don't think we're stating anything groundbreaking by saying that @Jake Muzzin is a better defenseman than @Justin Holl, but there are concerns and opportunities that come from that.
The concerns that come from that difference stem from the fact that Muzzin is getting old, and his hard way of playing the game has meant that he has been increasingly injured, especially late in the season. Relying on a locked in Rielly-Brodie pairing and then having the steep drop-off to a second pairing of @Travis Dermott and Holl is not ideal. That's the kind of pairing that can make a second round playoff appearance a challenge and while Holl is a bargain and capable as a top four defenseman with the right partner, with a partner he is not familiar with or a partner that he has to support, he'll leave you wanting.
The opportunities that come from this are that we can see where Jake Muzzin can be a heavy lifting partner, and work with an inexperienced defenseman to give them a chance to succeed. The Leafs have a couple of those in the form of Rasmus Sandin and Timothy Liljegren. At least in the early days of the regular season, this seems like an opportunity to explore this possibility while finding a situation that works better for Holl.
That Holl opportunity could be putting him with a strong partner like Rielly and the Leafs accepting that they will be a high event pairing, but hopefully with the good outweighing the bad. Or they can put Holl where he'd excel away from Muzzin, and that's being half of a very good third pairing.
Dermott, the loss of Bogosian, and playing the kids
The make or break for the Leafs defense this year seems to be in the hands of the young, and still somewhat inexperienced Rasmus Sandin. If Sandin can live up to his first round pick billing, and achieve in the manner that Kyle Dubas and Sheldon Keefe believe he can, the Leafs will find themselves with four very strong defensemen, and two bottom pairing defensemen that you wouldn't mind inserting into the top four in the event of an injury.
Sandin shows a lot of the skills you'd want to see in a top four defenseman. He's cool under pressure and will move the puck smartly. He's positionally sound, and knows where he needs to be. And he's demonstrated the willingness to be physical when needed. Something that seems like an added bonus when it comes to the Leafs lineup. Most of Sandin's nine games of experience last season came against sheltered competition and the fact that his results against that competition are lower than tougher competition likely speaks to a learning curve still needed to be accounted for as he adjusts to the speed of the game at the highest level.
| | | | | |
| --- | --- | --- | --- | --- |
| Comp | TOI% | CF% | DFF% | GF% |
| All | 100 | 52.4 | 57 | 80 |
| Elite | 16.4 | 60.5 | 62.8 | 100 |
| Middle | 28.8 | 52.5 | 57.7 | 100 |
| Gritensity | 54.8 | 49 | 54.1 | 71.4 |
The same sheltering also applies to Timothy Liljegren, who is likely to be placed in a much more offensive defenseman role, than Sandin who seems destined for TJ Brodie style role for the Leafs. Liljegren will remain sheltered longer, and that might appear to make him look like the stronger prospect at times…
| | | | | |
| --- | --- | --- | --- | --- |
| Comp | TOI% | CF% | DFF% | GF% |
| All | 100 | 68.2 | 67.2 | 100 |
| Elite | 9.3 | 50 | 57.1 | 0 |
| Middle | 40.8 | 68.8 | 69.5 | 0 |
| Gritensity | 49.9 | 72.7 | 67.9 | 100 |
In Liljegren's 25 minutes of icetime last season, there are certainly reasons given to be excited, but like Sandin, it's going to come down to who he'll be partnered with. If they see time together, that seems like the Leafs will be putting a pressure on their top four to all play north of 20 minutes a night to shelter Sandin and Liljegren. If either Sandin or Liljegren are paired with Dermott on the bottom pairing, they get a slightly more experienced partner, but not one who is going to push them out of sheltered roles either. Instead a case should be made for finding opportunities with partners that can prop them up and get them opportunities in tougher situations.
As for Dermott, well, doesn't always seem like Dermott is getting the short end of the stick? Dermott remains a very good 5th defenseman, and is arguably the same calibre player as Justin Holl, but with the inconvenience of shooting left, when the Leafs and most of the NHL are desperate for right shot defensemen. The desire to see what the Leafs have in Sandin, Liljegren, and to some extent Menell as well, seems to have Dermott nestling into the role of being the odd man out as the 7th defenseman, but one who always seems to find a way back in based on the merit of his game. Shiny new toys like Menell and Liljegren aren't that different than the shiny new toys of Sandin and Lehtonen last season, and yet it was Dermott who played out the year on the bottom pairing with @Zach Bogosian.
Speaking of Zach Bogosian, his absence still feels like it needs to be addressed to some extent because as of this moment Jake Muzzin might be the only defenseman regularly looking to hit anyone on the ice. And while everyday toughness might be something the Leafs don't feel they need on their backend, having an option like Bogosian that could be inserted into the lineup needs to be considered as well.
The Depth situation
I don't know what really needs to be said beyond Brennan Menell playing the role of Mikko Lehtonen this season, and Carl Dahlstrom stepping into the Martin Marincin role. The Leafs still have an interesting depth option in Teemu Kivihalme as well, but the biggest differences come from Ben Hutton and Zach Bogosian departing, and honestly if the Leafs don't address those roles immediately, there will be bargain opportunities at the trade deadline. The Leafs have good enough defensive depth, and if things get really bad on the injury front where you've already moved past Kivihalme, Menell, and Dahlstrom in the depth chart, you're probably hooped for a while anyway and the lack of Ben Hutton isn't something you'll really notice.
The Hakstol/Chynoweth impact
With Dave Hakstol being the Leafs defensive coach for the past couple of seasons, and showing steady results during that time, there should also be a concern about the wild card factor of what that change means to the Leafs. While I've talked about the existing pairings being changed, the reality of the change could be even more likely when the guy working with the blueline is coming in with his own ideas.
I wouldn't be surprised to see somethings like Rielly being giving the green light more again, but also possibly a hesitance to put the kids in bigger situations. It's also entirely likely that Travis Dermott's clean slate could benefit him as well, while Justin Holl could experience the opposite.
Dean Chynoweth's experience with the Carolina Hurricanes is encouraging, and while that doesn't mean that Travis Dermott and Justin Holl will transform over night into Brett Pesce and Jaccob Slavin, there is reason to be optimistic about what can be learned from one of the best defensive units in the league. Toronto certainly has the talent to work with on the blueline, and with good results last season already, positive change while keeping the same group together can still be expected.
The long and short (mainly the long) of the situation is that the Leafs seem to be in a good situation defensively. Add in the fact that there seems to be more defensive responsibility embedded in the forward group, and it seems that an area that we are used to viewing as a weakness could actually be the strength of the lineup, which is strange when you consider how much the Leafs spend on their forwards.