The importance of how the Maple Leafs handle Jake Muzzin's load management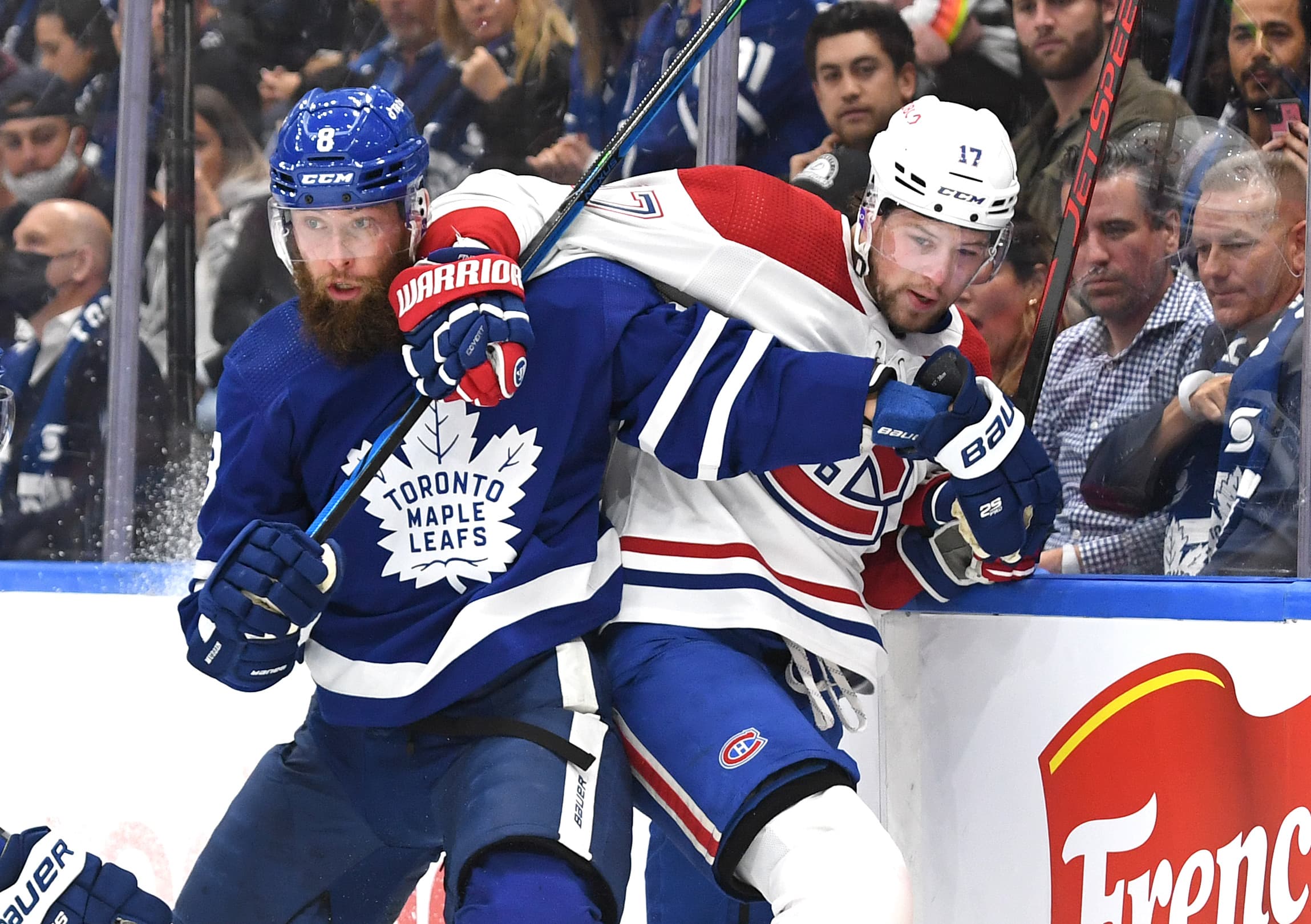 Photo credit:Dan Hamilton-USA TODAY Sports
Jake Muzzin is incredibly important to the Maple Leafs, but at the age of 33, it might be time to slow down.
When the Woodstock, Ontario native joined Toronto from the LA Kings, the organization was adding a rugged and physical left-shot defenceman. And ever since Muzzin has arrived, he's been just that.
183 games, 80 points, and 376 hits — a force to be reckoned with at times.
As the year's go on, though, it's evidently clear that Muzzin's play is declining. Many can see it on the ice — he's slower, less physical in some moments, and can sometimes be seen making poor decisions with the puck. This all was bound to happen with age, especially with the way he uses his body on the ice.
Entering this past season, it was crucial that he began on the right foot. And at times throughout the year, it seemed like he was playing great. However, during other segments, he was struggling a fair amount.
As you can see in the charts above, Muzzin had an incredible first two seasons with Toronto, being positive in every underlying statistic. His third year, though, was likely his most difficult yet — numbers wise and injury wise.
The 33-year-old had missed nearly two months of game action prior to Toronto's date with the Tampa Bay Lightning in the playoffs. Part of that was his concussions, another side was an upper-body he was dealing with throughout the month of April, where he still played six games.
It seemed like his year was coming to a screeching halt. That was, until he stepped onto the ice for game one against the Lightning.
The old Muzzin was back.
Beginning the series on the Maple Leafs' second pairing with TJ Brodie, Muzzin was doing everything from using his body, playing great defence, to even netting the first goal of the series.
The 33-year-old played in all seven games, being one of Toronto's best and most important defencemen. He was positive in every underlying statistic at even strength throughout the series, aside from SCF% (47.33) and HDCF% (46.81).
Muzzin also had the second-best xGF% on the Maple Leafs at even strength of 59.53, only trailing behind his defence partner. These numbers are much better than what he had throughout the regular season.
I believe it's worth taking a look at where this success came from because I, and likely many others, didn't see it coming when Toronto entered game one. And it begins with playing alongside someone like Brodie, who's one of the most reliable defenceman on the Maple Leafs.
Putting Muzzin beside the 32-year-old, especially when returning from a long injury, it was probable there'd be success. While Brodie can add some offense, he's incredibly reliable when it comes to being in the defensive zone, often making plays to keep the puck out of the net.
However, you cannot put all of Muzzin's success on Brodie. The reality is that the 33-year-old came in and made it clear that he was ready to put his body on the line once again.
So, what else can we say was part of the success when Muzzin returned to the lineup? Rest.
It may not be the entire reason for it, but when a player has missed some time due to an injury, or rest, there's a chance they can come out of the gate looking very good. Muzzin and the Maple Leafs took the time needed in April to let him heal as much as possible before the war against Tampa, and it paid off.
While there are so many moving parts to what could've possibly went right, it's worth noting that Muzzin has never played more than 55 games in a season with Toronto. Plenty of that is chalked up to healing injuries, but part of that could be because of rest, too.
When it comes to the success of Muzzin, I think it's only necessary that he does get the time off needed throughout the season. And if that's the case, he and the Maple Leafs could see a big return when it comes to the playoffs.
(Statistics via NaturalStatTrick.com & charts via Evolving-Hockey.com)