The intangible strengths and weaknesses of the Maple Leafs entering this season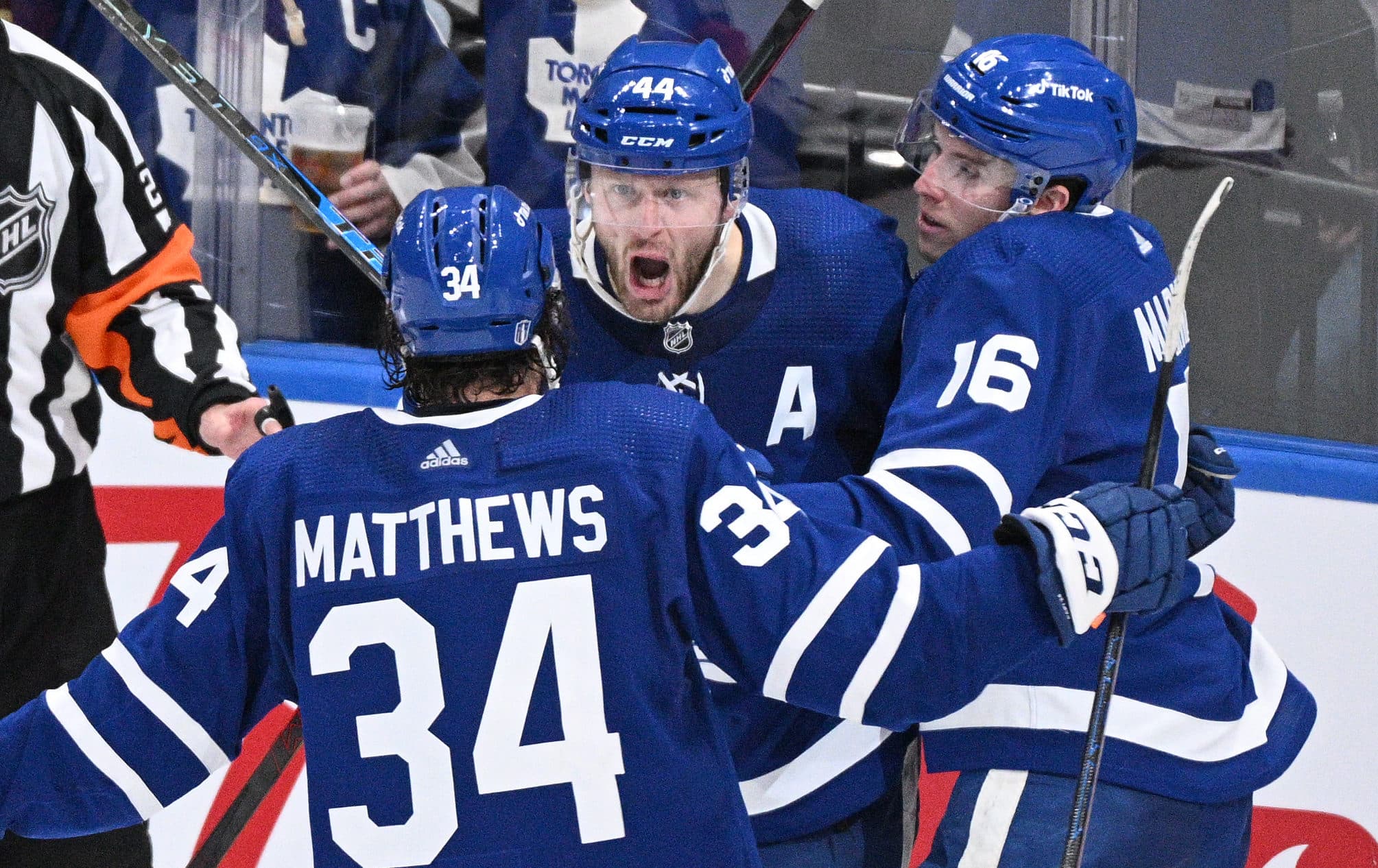 Photo credit:Dan Hamilton-USA TODAY Sports
It's clear that the Maple Leafs will be a different looking team when they step onto the ice in October, but will they be better or worse?
Everyone knows of the offseason Toronto has had — signing two goalies who've proved themselves before, yet have now fallen off the rails and are looking to find themselves again. Also not to mention that they've signed a number of defencemen, but still haven't inked Rasmus Sandin to a deal.
With the retirement of Jason Spezza, the loss of Ilya Mikheyev to free agency, and not re-upping Ondrej Kase in a RFA year, the Maple Leafs were primed to have some interesting forward additions. Those turned into Calle Jarnkrok, Nicolas Aube-Kubel, Adam Gaudette, and Denis Malgin.
This free agency left a lot of fans unsatisfied — wondering if this team would be better than the one which took the Tampa Bay Lightning to seven games. Now, though, more than ever, Toronto's strengths and weaknesses are glaring right at us.
The Weaknesses
There's a lot that can be put into this category — some could swing either way on the pendulum when it comes to this lineup of players, really.
We can begin with the depth scoring because, well, it was a clear problem against the Lightning in the playoffs, and it doesn't look to be fixed. Of the 25 goals scored against Tampa in May, only five came from depth players. Two of the players — who made up for three of the goals — have left Toronto to join different teams.
It's pretty clear that a number of players, including Pierre Engvall, will need to step up when it comes to playoff time in this season coming. What's also very telling is that among the forward depth additions this summer, there's only four playoff goals between them all, and Jarnkrok is the one who's scored them all.
This'll be one of the most interesting parts of the team throughout the season — witnessing whether the new signings can be good depth options or not.
When it comes to a position being either good or bad throughout next season, goaltending ranks high on the list. Bringing in Matt Murray and Ilya Samsonov, who haven't had the best last few seasons, was an interesting move. The play of these two, though, really could go either way.
Both have something to prove — Murray trying to return to Stanley Cup champion form and Samsonov finding his 2019-20 play where he had a .913 save percentage in 26 games with the Washington Capitals.
If the Maple Leafs are to have any success, one of these two goaltenders, or both, are going to be heavily part of it.
The Strengths
If there's anything the Maple Leafs shouldn't be worried about, it's their top-six forwards.
Auston Matthews is going to score his goals, Mitch Marner is going to be the prime set-up man, and Michael Bunting will be the annoying point-getter player he is. Many, though, are questioning whether John Tavares will have another great season or show signs of slowing down.
While he is getting older — now being 31-years-old — I believe it's worth noting that he had a career-high in assists last season with 49. Although Tavares doesn't look like the effective player he used to be, his game has transformed into doing the little things people don't see.
And then when you go and look at the scoresheet you say "Oh, Tavares had two assists tonight. I didn't even know that!"
William Nylander, I believe, is going to step up massively this year. The 26-year-old seems to be on another level entering every season and 2022-23 likely won't be different. Could we see 40-goal scorer Nylander this year?
The biggest question mark within the top-six is who's going to play second line left wing. Alex Kerfoot may likely be the sure option, but with someone like Nick Robertson circling in the waters, the position clearly will be up for grabs once training camp begins.
Another aspect of the Maple Leafs that has been a clear strength over the last year has been their defence. With a core consisting of Morgan Rielly, TJ Brodie, Mark Giordano, Timothy Liljegren, Justin Holl, Jake Muzzin, and Rasmus Sandin (once he's re-signed), Toronto seems to be in good hands.
Maple Leafs head coach Sheldon Keefe and his staff are likely going to examine who fits best with who throughout training camp. But this defence core should be one that's destined to have success this season, especially if Liljegren and Sandin are able to take steps forward.
---
So there you have it — the intangible strengths and weaknesses of the Maple Leafs heading into next season. This should be an exciting season for Toronto if everything clicks all at once. However, it also could be the "All or Nothing" year for Maple Leafs management to get this right.
It seems like a brand new team, though there are only a few new additions. With goaltending and depth scoring amongst the biggest problems needing to be fixed, the expectation is that all is figured out come the month of April.
If everything is all systems go by the playoffs, this could write the story of being a historic year for the franchise. But what is historic — getting out of the first round (finally) or going even further?
Would you be happy with a first round and bounce type of playoffs this season?
More from The Leafs Nation: