The lack of a contract and a healthy lineup are the only things preventing Joshua Ho-Sang from joining the Leafs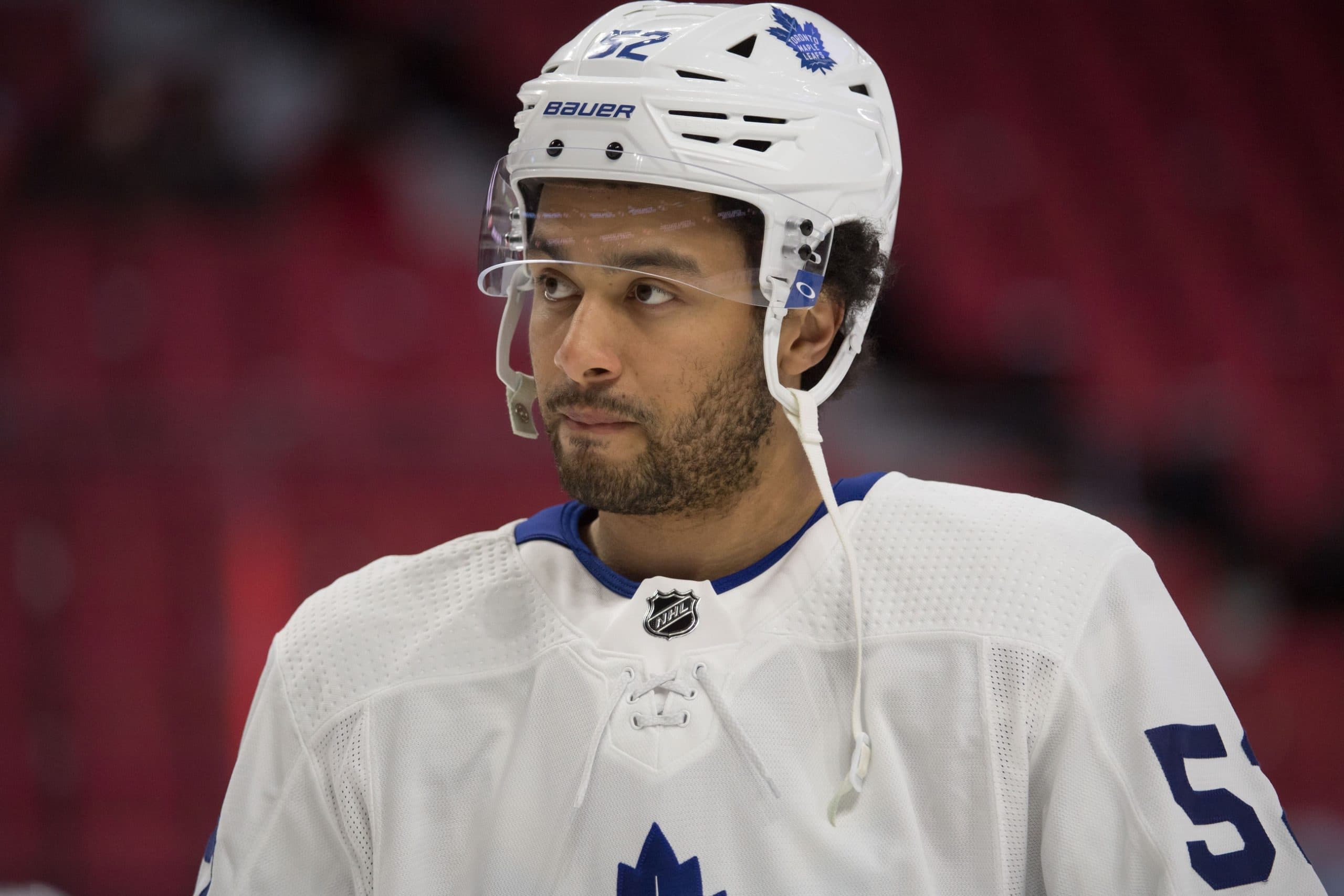 Photo credit:© Marc DesRosiers-USA TODAY Sports
As the Leafs approach the midway mark of the 2021-22 campaign, it is clear that the team is in a good place and has many tools needed to set themselves up for success in the postseason (knocks on wood). There is a lot to like about the current make-up of the team and how they have played through the first three months of the season, but that doesn't mean they are completely flawless.
A portion of the year early on saw the issues of the past few seasons emerge when
the secondary scoring was not holding their weight
when compared to the big four stars. Although we have seen the likes of @Ilya Mikheyev, Alexander Kerfoot, and @Ondrej Kase find offensive success throughout the year, it was hard not to wonder if what they currently have on the main team was enough to mitigate a scenario where the core pieces struggle to produce as they have in the past two playoff runs.
It would be safe to assume that in addition to
adding a top-four defenceman,
the Leafs would be wise to add some additional offensive depth as insurance for the off-chance of a repeat of last year's offensive no-show from @Auston Matthews and @Mitch Marner.
Last week
, I discussed whether @Phil Kessel would be a worthwhile addition to fulfill this need and while he could be an intriguing option, I concluded that the better option could be to look for cheaper options elsewhere or within the organization.
There just so happens to be a player who fits this mould perfectly who has been nothing short of brilliant with the Marlies so far.
Joshua Ho-Sang came into the organization last summer with his NHL future in doubt and taking this chance to revitalize his career with a team that values development just as much as on-ice success.
It was a golden opportunity
for him to turn his playing days around and
he was extremely grateful
to have such an incredible chance at redemption. It's safe to say that Ho-Sang has repaid the Leafs in the best way possible.
In 27 AHL games, he has recorded 11 goals, nine assists, and 20 points, which has him tied for third in Marlies scoring and sits six points behind @Brett Seney for the team lead. If Ho-Sang were to maintain this pace over the entire season, he would finish with 56 points, which would shatter his career-high of 43 points back in 2018-19 with the Bridgeport Sound-Tigers. It has been a season that is so impressive,
he is currently on the long-list for consideration of Team Canada's
roster for the upcoming Winter Olympics.
The Leafs have remained
patient throughout the season in giving him a chance to regain his confidence
and it has paid off spectacularly. But at this point, there is very little for Ho-Sang left to prove at the AHL level as he has shown to have been a dominant force since joining the Marlies. So it begs the question: what is stopping the Leafs from giving him a promotion to the big club?
Beyond the Leafs playing the long game with his development and regaining his confidence, the answer is simple: there are too many players with the main club. And the only path for Ho-Sang to make the jump is for either a bunch of injuries or a player lower down the depth chart being shipped off.
The easy target, in this case, would be @Nick Ritchie, but
his value amongst other teams is pretty low
considering he cleared waivers earlier this month despite being a first-round pick from eight years ago. @Pierre Engvall has been in and out of trade rumours for a while now, especially with Sheldon Keefe pushing him to be a better player. Having said that, I highly doubt the Leafs are in a rush to remove him because there is enough value that they are better off holding onto him. There is always the option to send @Kyle Clifford back to the Marlies since he has spent time at both the NHL and AHL levels, though he does provide some value on the defensive end and I would like to think that is why he is with the main club at the moment.
Beyond that, however, there aren't many other alternatives as you get to the likes of Kase, Kase, and @Michael Bunting, players the Leafs would rather keep than ship off. But considering how much offensive upside he has and a renewed sense of confidence, it would be in the Leafs' best interest to make room for the former first-round pick by either trade or reassigning one of Ritchie or Clifford to the Marlies.
While I understand that finding a spot for him in the lineup will be tricky once the Leafs are fully healthy, he can still make an impact despite some limited minutes. @Jason Spezza and @Wayne Simmonds have been an effective pair on the fourth line but have yet to find that constant presence that can compliment their playstyles. Ritchie has been a hindrance to the trio because of his lacklustre ability to move the puck up the ice and drive possession for long stretches. Ho-Sang could be that guy as he has shown numerous times throughout the year that he is effective at moving the puck in transition quickly to generate offensive chances. He has also been an
effective tool on the power-play
, with five tallies on the man advantage, and could be an invaluable weapon on the second unit.
So beyond
a recent injury that remains a mystery
as to how long Ho-Sang will be out of commission, it's hard to argue that the time is ripe to provide him with a new challenge and bring him up to the big club. He has proven to be an effective offensive player and has been one of the Marlies' best players since day one of the 2021-22 campaign.
Our very own Nick Barden said last week
that Ho-Sang doesn't have much to work on and it now comes down to whether the Leafs need him right now.
To me, Ho-Sang has done just about everything he can do with the Marlies to show that he is deserving of another crack at the NHL level. He is on pace to have a career year, his confidence in his on-ice ability and himself have skyrocketed, and is in the conversation to represent his country in Beijing next month. There is no denying that the path towards Ho-Sang cracking the Leafs' lineup won't be easy given that there are a few depth pieces in the way and where he will play is an unknown at this time. But even if he only slots in on the fourth line, the amount of value he will be able to provide is significantly higher than the likes of Ritchie, Engvall, and Clifford, so it is all worth it.
It is no longer a matter of if he will get a shot with the team, but when. Because it is long past overdue at this point: the Leafs need to give Joshua Ho-Sang an NHL contract.
All stats unless otherwise noted are from HockeyDB.
All salary information unless otherwise noted is from PuckPedia.com.