The Leafs 3 stars of the week: Auston Matthews climbing the Hart Trophy rankings, Mitch Marner nets four-goal game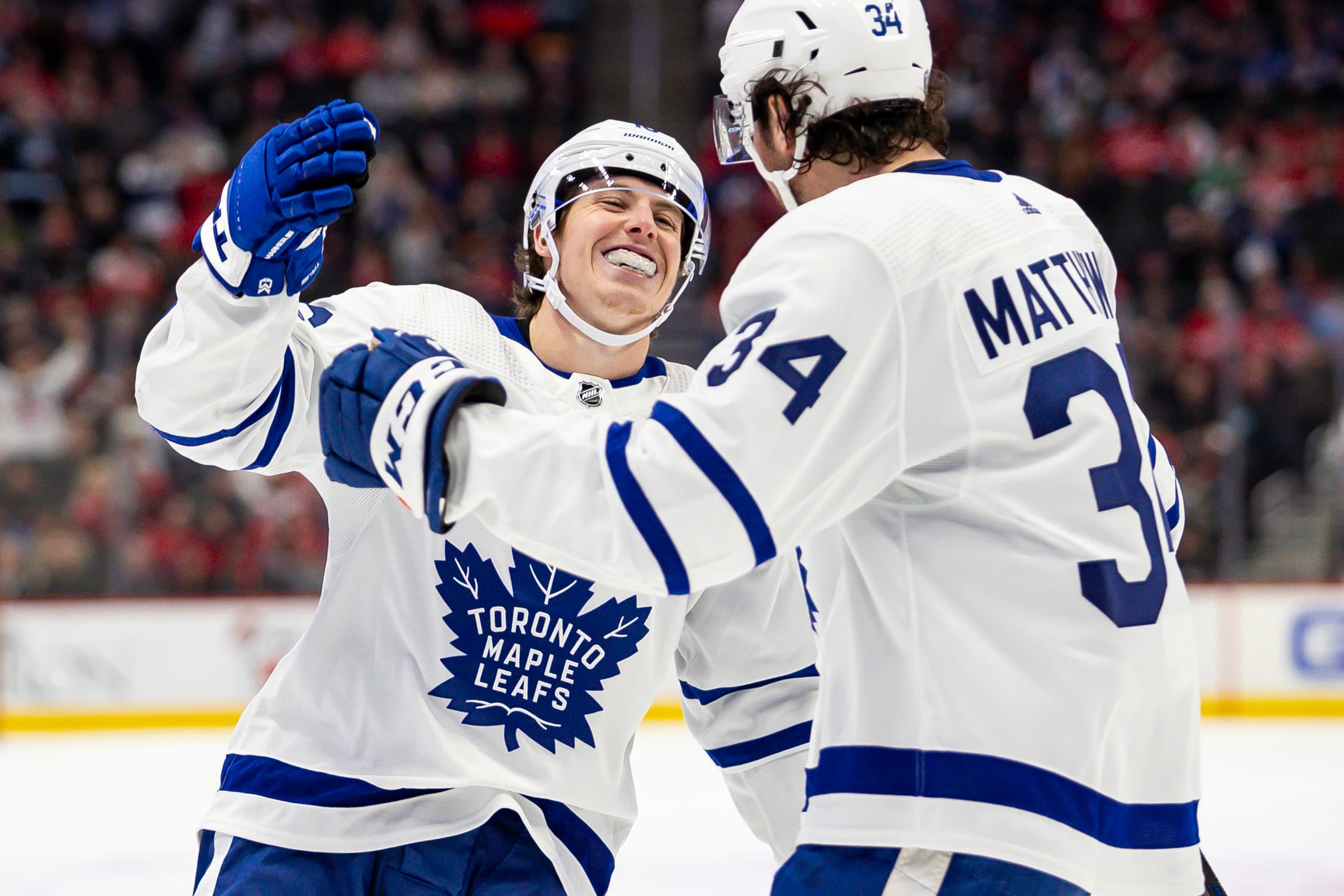 Photo credit:Raj Mehta-USA TODAY Sports
It was quite a busy week for the Toronto Maple Leafs last week as they had themselves a four-game week for the first time since the second week of December when they went 2-2-0 in those four games. They opened the week on Monday with a visit to Montreal to play the Canadiens for the first time since the home-opener and I don't think I should go into much detail about that game because it was arguably their worst game of the season. Goaltending was a mess, the defense was a mess, the offense had their chances of course, but couldn't capitalize on any of them as they fell 5-2.
They then had to shift their focus to Columbus within 48 hours as they were trying to avoid their first three-game losing streak since mid-October when they ended up dropping four in a row before they went on an absolute heater and won like 15 of their next 17 games. Well, it was a much better effort this time around compared to the game against Montreal, but they ended up losing their 2-1 lead in the third and Columbus ended up coming back to take the 3-2 lead and shut the door on Toronto's offense. This was the Maple Leafs' first three-game losing streak in four months.
After coming off another loss, the Maple Leafs were back on home ice to host one of the best teams in the entire league in the Minnesota Wild. This one was a bit of a snooze fest through the first 20 minutes, and I know I'm not the only person who thought that was the case. However, as the game progressed, both teams opened up a bit more and the shots were coming more frequently. Toronto ended up giving up the first goal but Auston Matthews quickly responded and scored his 35th of the season to tie it at one. It was a 1-1 game mid-way through the third period until Matthews decided to take control and scored his second of the game – and eventual game-winner – to give the Maple Leafs the 2-1 lead and ultimately the win.
They ended their week on the road in Detroit to take on the Red Wings for the third time this season, and all I got to say about this game is that it was a typical Toronto game. Completely dominate your opponent through the first 40 minutes, take a 7-2 lead into the third period, and then within a blink of an eye it's 7-6, and the Maple Leafs are on their heels. Well, it didn't stop there. Toronto made it 8-6 and then Detroit made it 8-7 but Toronto said enough is enough and ended up winning 10-7 in without a doubt the most ridiculous Leaf game I've watched that I can remember.
Record during week 20: 2-2-0 | Season record: 34-14-4 (72 points)
3rd Star: Michael Bunting – 4 GP – 2 G – 5 A – 7 PTS
Michael Bunting has quickly climbed the Calder Trophy rankings as of late, and his play from this past week – more so from Saturday's game against Detroit – has truly shown how great of a player he has been to this Toronto team this season as he is finding a ton of success on the first line with Auston Matthews and Mitch Marner. In the four games last week, Bunting registered two goals and four assists for six points. Although five out of the seven points he put up came in the Red Wings game, it's safe to say Bunting had himself quite the week/game without a doubt and is now top three in rookie scoring. His addition to the first line has been a treat to watch because he compliments both Matthews and Marner so well and also provides some skill too and not just grinding in the corners and the front of the net. With Bunting's six-point week, he has now improved his point totals to 40 points – 18 goals and 22 assists – in 52 games this season. For someone making $950K against the cap not only this season, but next season too, he has been without a doubt arguably the best bang-for-your-buck signing this past off-season. He is now on pace for 28 goals and 35 assists for 63 points.
2nd Star: Mitch Marner – 4 GP – 4 G – 5 A – 9 PTS
Just like Michael Bunting, Mitch Marner had himself quite the week, but more so quite the game against the Detroit Red Wings last night. In what seemed like a game where Toronto should've locked down once they were leading 7-2, Detroit rallied back and made things interesting. The Maple Leafs ended up picking up the 10-7 win on the road with a big thanks to this man right here, Mitch Marner. Not only did he register six points in a game where 17 goals were scored, but he scored his first career hat-trick and then decided to score a fourth in what was a wild game, to say the least. Marner had himself four goals and two assists last night and has now improved his point totals to 54 points – 21 goals and 33 assists – in just 43 games this season, which is incredible to me. Not only has Marner been racking up the points for the past month and a half, but he has been scoring at an unreal rate and already has hit the 20 goal mark with 30 games remaining. Marner is currently on pace to hit 36 goals this season and 92 points – which would be his second 90-point season during his career – and has honestly bounced back in a major, major way since coming out of the gates very slow to start the season.
1st Star: Auston Matthews – 4 GP – 4 G – 5 A – 9 PTS
There really isn't much to say about Auston Matthews, other than he is continuing to show us why he is without a doubt a top-three player in the NHL. Just like the other two players on this list I've talked about already, Matthews had a great week last week and an even better game last night as a lot of other Maple Leafs did too. With his nine points in four games last week, Matthews has not only shown how dangerous of a player he is, but he has taken the league lead in goals, crept into the top five in league scoring, and continues to show how much he's grown as a player on the defensive side of the puck, and the gif below shows that if you want to take a look. With his monster week against the Canadiens, Blue Jackets, Wild, and Red Wings, Matthews has now improved his point totals to 68 this season – 37 goals and 31 assists – in just 49 games, which puts him on pace for 60 goals and 50 assists for 110 points, and remember, he missed three games too so that isn't even on an 82-game pace.