The Leafs 3 stars of the week: Auston Matthews climbing the Rocket race, John Tavares continues to produce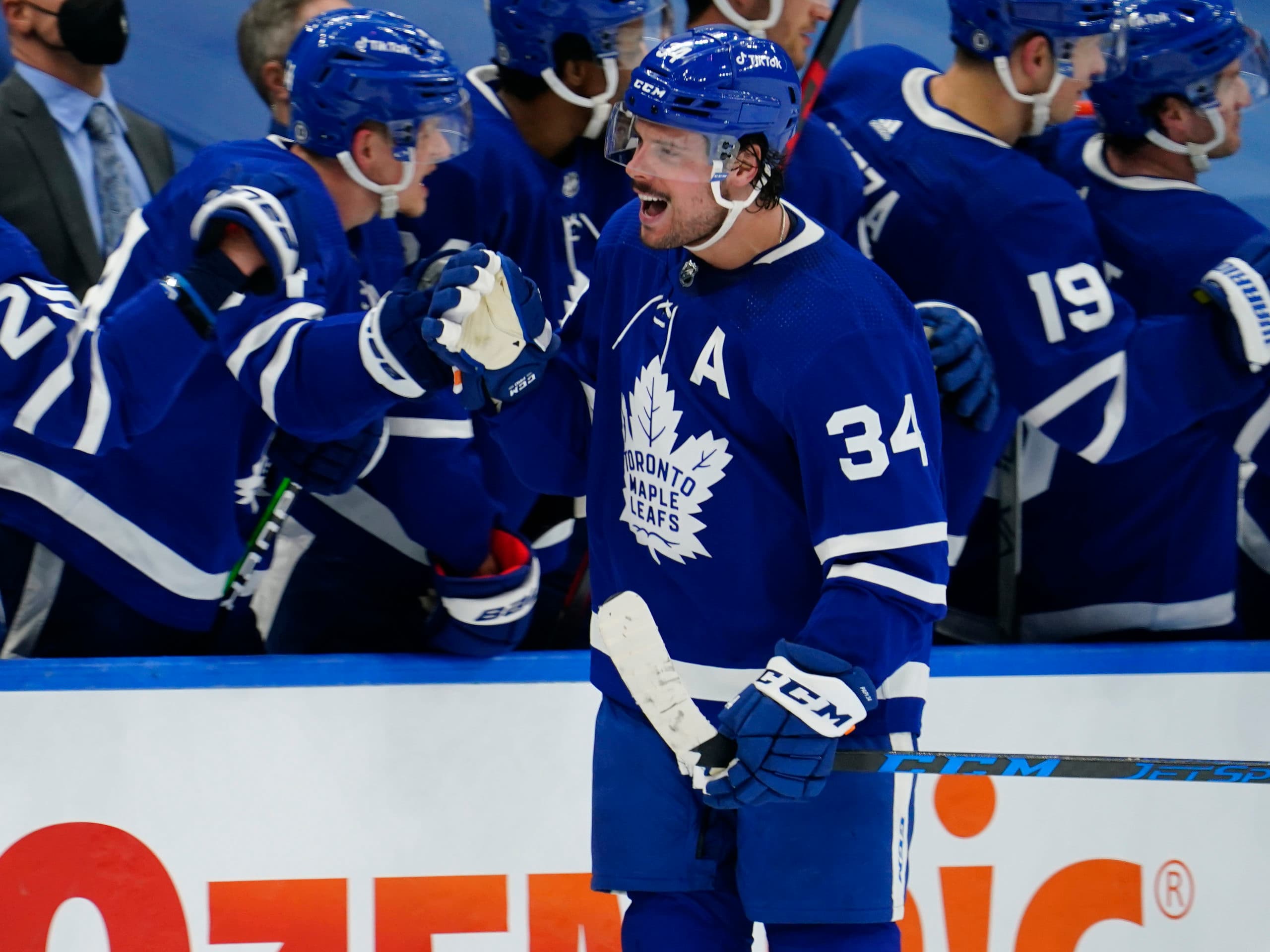 Photo credit:John E. Sokolowski-USA TODAY Sports
The Toronto Maple Leafs came out of the NHL All-Star break with three games on their schedule last week. After heading into the break on a five-game winning streak, they were looking to carry that momentum into these three games against the Carolina Hurricanes, Calgary Flames, and the Vancouver Canucks. Well, they kind of did, but then fell short in the last two games on the schedule out west.
They began their week hosting one of the best teams in the entire league in the Carolina Hurricanes and it was also their second meeting of the year after Toronto ended up on the losing side of things back in Carolina at the start of the season when they picked up a 4-1 loss. This time around was different. This time was one of the best games the Maple Leafs have played all year and it was great to see it against one of the very best. Toronto fell behind first as Carolina took a 1-0 lead, but then fought their way back and went up 2-1, but not until Carolina tied it up in the third and sent this game to overtime. In overtime, it was Mitch Marner who continued his goal-scoring and gave the Maple Leafs the 3-2 win.
Toronto then made their way out west to begin their three-game western road trip with stops in Calgary, Vancouver, and Seattle. They took on the Flames for the second time this season and it was not quite the game Toronto was hoping for. If you look at the final score which was 5-2, you'd think Toronto was outplayed by Calgary, but that was not the case. Well, I guess you can say they were outplayed for a short burst when Calgary just filled Toronto's net up, but other than that, the Maple Leafs looked like the better team in my opinion, but just ran into one of the best goalies in the entire league this season in Jacob Markstrom. It was also not one of Jack Campbell's best games, and I feel like a lot of us have been saying that lately which is not good.
They then ended their week in Vancouver to take on the Canucks who have had quite the turnaround under new head coach, Bruce Boudreau. However, just like the Calgary game, Toronto ran into another hot goalie in Thatcher Demko and just simply couldn't solve the netminder as they threw 53 shots at him and only scored twice. Petr Mrazek got the crease in this game and just like Campbell lately, he allowed some goals that you could argue he should've had, especially given Vancouver only had 24 shots and scored three times. All in all, the Maple Leafs fell short and are on their way to Seattle following a 3-2 loss in regulation.
Record during week 18: 1-2-0 | Season record: 30-12-3 (63 points)
3rd Star: Mitch Marner – 3 GP – 2 G – 1 A – 3 PTS
The third star of the week goes to the man who seems like he can't stop putting up the points, Mitch Marner. Since returning from his injury/COVID protocol, Marner has been on an entirely different level, and I'm pretty sure we're all aware of that by now because he has strung together a handful of great games for the Toronto Maple Leafs since mid-January. Last week in three games, Marner had himself three points – two goals and one assist – en route to the team's 1-2-0 record against the Hurricanes, Flames, and Canucks. On top of Marner racking up the points as of late, he has also been a very important piece to this team defensively, whether that's five-on-five or the penalty kill that ranks top five in the entire league. But one thing I am really enjoying from him as of late, and I'm pretty sure others are as well, is he's shooting the puck a lot more often and with confidence. Over those three games, he had a total of 20 shots which is an average of 6.6 shots per game. For a larger sample size, since his return to the lineup on January 15th, he has a total of 47 shots which is an average of 4.7 shots per game. Something that is great to see from Mitch Marner, that's for sure.
2nd Star: John Tavares – 3 GP – 0 G – 4 A – PTS
The second star of the week goes to John Tavares, who, as of late has been finding the scoresheet again and has been putting up the points. There was a little stretch of time when Tavares and Nylander were just not registering the same amount of points that they were earlier on in the season, but that has now come to an end as Tavares has himself a little four-game point streak and recorded four assists in the three games last week. He had himself a two-assist night against the Hurricanes en route to the 3-2 overtime win and he also helped set up that goal from Marner as well. Tavares then obviously recorded a single assist in both regulation losses to the Flames and Canucks to improve his point totals to 44 points in 44 games – 17 goals and 27 assists – which would be exactly an 82 point pace in a full 82 game season for the captain. One thing though that has been a recurring problem lately is his line – which consists of himself, Nylander, and Kerfoot – has been on the ice for a handful of goals against as of late and I know plus-minus isn't the greatest of stats to look at, but Tavares in his last 15 games (all in 2022) is a minus six and has had some games where he was a minus two and a minus three a couple of times.
1st Star: Auston Matthews – 3 GP – 3 G – 1 A – 4 PTS
The first star of the week is none other than the man who can't stop scoring goals and the man who is climbing up the Rocket Richard race as he now has 32 goals to his name this season and is just one behind the league lead which is shared by two players in Chris Kreider and Leon Draisaitl. Auston Matthews has been on an absolute tear as of late as well as Mitch Marner and they are a big reason why Toronto has a record of 10-4-1 (21 out of the possible 30 points) so far in 2022. Matthews opened up his week with a two-goal performance on fellow friend and former teammate, Frederik Andersen and officially had hit the 30 goal mark for the sixth straight season since entering the league in 2016-17. Matthews then followed up that impressive game with a single assist in their loss to the Flames and then scored yet another goal against the Canucks in their tough 3-2 loss on Saturday night. We know Matthews can put the puck in the back of the net, it's no surprise now, but he has been shooting the puck a lot this season and had himself 22 shots in those three games. You can tell Matthews is hungry to keep filling the net and help lead this Toronto team to greater things this season.