The Leafs 3 stars of the week: Auston Matthews hits 50-goal mark, Mitch Marner makes Maple Leaf history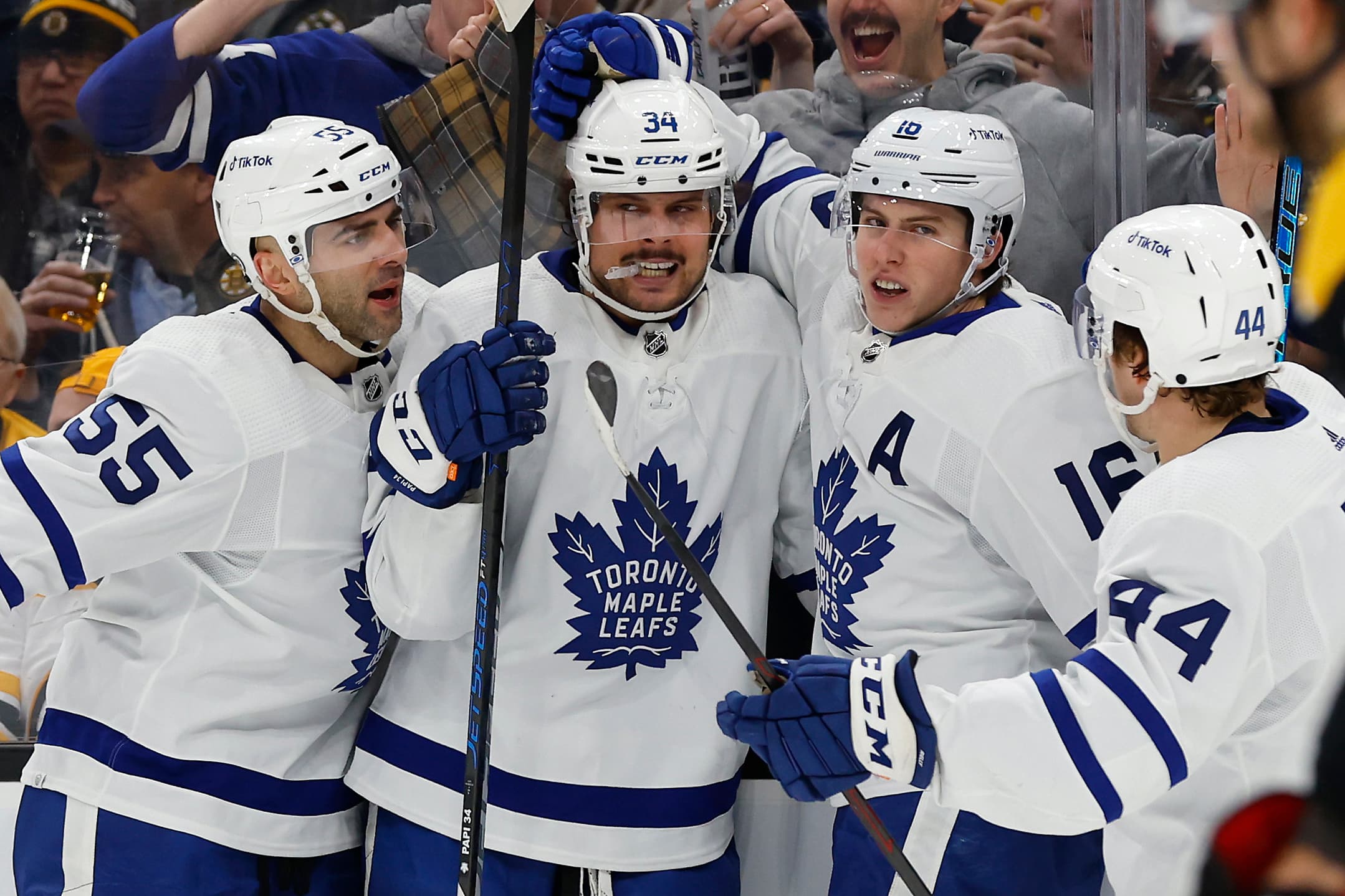 Photo credit:Winslow Townson-USA TODAY Sports
The week of the trade deadline was a pretty quiet one for the Toronto Maple Leafs with just two games on their schedule, one at home against the Devils, and one on the road against the Canadiens. They liked their game against New Jersey, as well as their game against Montreal, but left Saturday night upset without the two points given how well they played that night. Fast forward to the next week and Toronto has four games on their schedule, with two against some big Atlantic division teams in the Panthers and Bruins, so the Maple Leafs had to be ready for the week that was ahead.
They opened their week on Sunday night at home in a clash against the Florida Panthers for the first time this season, and following a loss to the Canadiens 24 hours prior, some of us were wondering how this team would come out and perform on the second half of a back-to-back against one of the best teams in the league. Well, the answer was they played great. Toronto got a solid performance from Petr Mrazek in the net, and pretty much an all-around good game from the entire team as they held the best offense in the league to only two goals and left Toronto with the 5-2 win.
Following a huge win over a great team, Toronto was en route to play the Bruins in Boston for the first time in the Sheldon Keefe era. For reference, this was their first game at TD Garden since October 22, 2019. Just like the game prior against the Panthers, the Maple Leafs played yet another solid 60-minute game and picked up another crucial win against a divisional rival with playoff implications. Although the Leafs did allow four goals, their play looked much better than the score showed. Their starter went down with an injury just six minutes into the first period, and their two top-four right-handed defensemen left the game with injuries as well. Toronto had a 6-2 lead heading into the third and then allowed two late goals with only four guys on the blue line. Can't blame them too much for that. All in all, they picked up a 6-4 win and have now strung together two wins.
Now on a two-game win streak, Toronto returns back home for another clash with the Winnipeg Jets. And if you remember what happened the last time these two teams played each other in Winnipeg, you had a feeling things might get spicy at some point in the night. Well, you weren't wrong, and things did get a little rough at times, but Toronto stuck with it after going down 2-0 and came out with a huge 7-3 win on home ice in front of the home crowd who also witnessed Auston Matthews hit the 50-goal mark this season.
The Maple Leafs were now finishing a pretty busy and successful week down in Philadelphia to take on the Flyers, and much like their start against the Jets on Thursday night, the Maple Leafs didn't quite have a good jump to begin the game and it kind of stretched into the second period at times. It looked like they really couldn't generate any high-danger chances and they were getting stuck in their own end at times against the Flyers. However, the game eventually opened up a lot more for both teams and Toronto started to generate a lot of chances as the game progressed. They picked up their fourth straight win by a score of 6-3 and are now headed to Tampa Bay to begin a back-to-back against the Lightning and Panthers Monday and Tuesday night.
Record during week 25: 4-0-0 | Season record: 44-19-5 (93 points)
3rd Star: Auston Matthews – 4 GP – 4 G – 2 A – 6 PTS
Entering this week of games for Toronto, the fans had one thing on their mind. Auston Matthews was going to hit the 50-goal mark this week and become the first Maple Leaf to do so since the 1993-94 season when Dave Andreychuk did it. Well, that's exactly what happened, but it didn't happen until Thursday night in Toronto against the Jets, so nothing better than scoring your 50th against the Jets, right? All jokes aside, Matthews continues his Hart Trophy-type season and had himself yet another very, very productive week for the Maple Leafs as he helped them go 4-0-0 while having some individual success as well.
He opened his week against the Panthers with a two-point performance which included a goal that came at the very end of the game with literally less than a second left on the clock as he put home an empty-net goal which set a new career-high for him with 48. He then followed that game with another multi-point game which included yet another goal to improve his total along with another assist which tied his career-high in assists with 36. So in two games last week, Matthews had himself four points while setting and tying career-highs, simply incredible.
After those two games against some big divisional rival teams, Matthews and the Maple Leafs traveled back to Toronto to take on the Jets and there was definitely a buzz in the air with the thought that Matthews was more than likely going to score number 50 that night in Toronto. Although he didn't score number 50 the way he probably imagined, he still scored it and did it in front of the home crowd. On top of his 50th goal of the season, he tallied yet another assist and gave himself three straight multi-point games as he keeps making his case for the Hart Trophy even stronger.
He ended his week in Philadelphia Saturday night doing what he does best, which is scoring goals. Matthews tallied number 51 on the year on a sweet feed from Mitch Marner as those two keep on dominating the league night in and night out and have been two of the best players in the league since January 15th. Yes, Matthews' offensive numbers look pretty but don't ignore his play on the defensive side of the puck as well. Matthews is currently doing it on both ends of the puck at an elite level and has been doing it for the entire season which is making his case for the Hart Trophy even stronger, as well as potentially being a finalist for the Selke Trophy too.
2nd Star: Morgan Rielly – 4 GP – 3 G – 6 A – 9 PTS
It was really quite the week for defenseman Morgan Rielly as he had himself a pretty dominant week of games. He's been playing at an elite level offensively pretty much all year and has honestly shown a lot of flashes from his 2018-19 season where he set a career-high in goals with 20 and points with 72. Rielly has seen a couple of different partners alongside him on that first pairing and right now, I'm liking what I am seeing from him and Ilya Lyubushkin, to be honest. We know that he and TJ Brodie also work really well, but with the current situation of defenseman on the Maple Leafs, I don't mind the Rielly – Lyubushkin pairing at all.
So enough of that, let's talk about the fantastic week that Rielly had himself that helped lead the Leafs to a 4-0-0 record against a couple of pretty good teams. He opened the week with a beauty of a tip-in goal against Florida along with tallying a couple of assists as well for a pretty impressive three-point night against a pretty darn good Panthers team. Florida is the best offensive team in the league, and on top of his offensive burst that night, he also helped limit them to only two goals in that game.
Following up his three-point night on Sunday, Rielly continued where he left off and scored yet another goal, this time against the Boston Bruins while adding another assist to his name which just keeps improving his point totals throughout the season. It feels like we've seen a different Rielly as of late on the offensive side and I for one am not complaining because we all know what he is capable of doing offensively when he has the puck. His game against the Jets was a little quieter, but still extended his point streak with an assist on Nylander's second power-play goal of the night, and that assist gave him 47 on the year which as of right now his second-best assist total in a season throughout his career.
So after three pretty darn good games from the defenseman, he said why not do it again. Rielly had himself another three-point night, this time against a poor Flyers team in Philadelphia as he potted home his ninth goal of the season along with two more assists which now gives him 49 on the year and a total of 58 points in just 68 games. With his current totals, he is currently on pace for 70 points in 82 games, and that would be two points shy from his career-high in points. So I'm all for him having another monster game down the stretch and eventually setting a new career-high in points.
1st Star: Mitch Marner – 4 GP – 1 G – 9 A – 10 PTS
What else is there to say about this man right here? No, like honestly. Mitch Marner has the most points in the entire league since January 15th when he returned to the Maple Leafs' lineup from his injury/COVID protocol, and not only has he been the best offensive player since then, he's also playing at a pretty elite level on the defensive side of the puck too and as I've stated many, many times, he has been a huge part of Toronto's penalty kill this season and is a huge reason why they currently rank inside the top five in the league.
His skating, offensive, and defensive awareness, playmaking abilities, and now even his shooting, are really, really being put on display this season after a pretty rough first-round series against Montreal last season. I know it's just the regular season and he, along with the entire team will have to do it in the playoffs for at least a round, but we have to give credit where credit is due and that is right now with the way Marner has been playing. He put that all on display last week in the four games on the schedule and registered a massive 10 points in those four contests and probably will earn himself at least a star of the week from the NHL with his play.
Marner opened up his week against the Panthers with an apple fest as he was just dishing out assists all night with three and was a key part of their huge win over a divisional rival. But as we all know now, Marner isn't just good at playmaking, he has taken his scoring to another level this season and set a new career-high in goals, and in Boston, he scored yet another one that was a beauty off a slick feed from Matthews. On top of his 28th goal of the season, Marner also registered an assist in their 6-4 win over the Bruins and has now recorded five points in just two games.
His last two games that week were basically the same as almost every single other game since mid-January. Points, points, and more points for the winger as he had himself another three-assist night against the Jets Thursday and reached the 50-assist mark for the third time in his career. He then decided to keep the apple tree going and tally two more Saturday night in their 6-3 win over Philadelphia and with his 10 point week, Marner now has 81 points in just 59 games – 28 goals and 53 assists – which is a 100 point pace for the rest of the season and a 113 point pace if he played in all 82 games and didn't miss the nine games already this season. Simply incredible stuff not only this week from Marner, but basically the entire season as he continues another dominant season alongside Auston Matthews, and on top of all that, Marner set a Leaf record with 60 points in his last 33 games which is now the most points in that stretch of games in Maple Leafs history, surpassing Darryl Sittler (58) and Lanny McDonald (57).