The Leafs 3 stars of the week: Auston Matthews hits 60-goal mark, Erik Kallgren earns two solid wins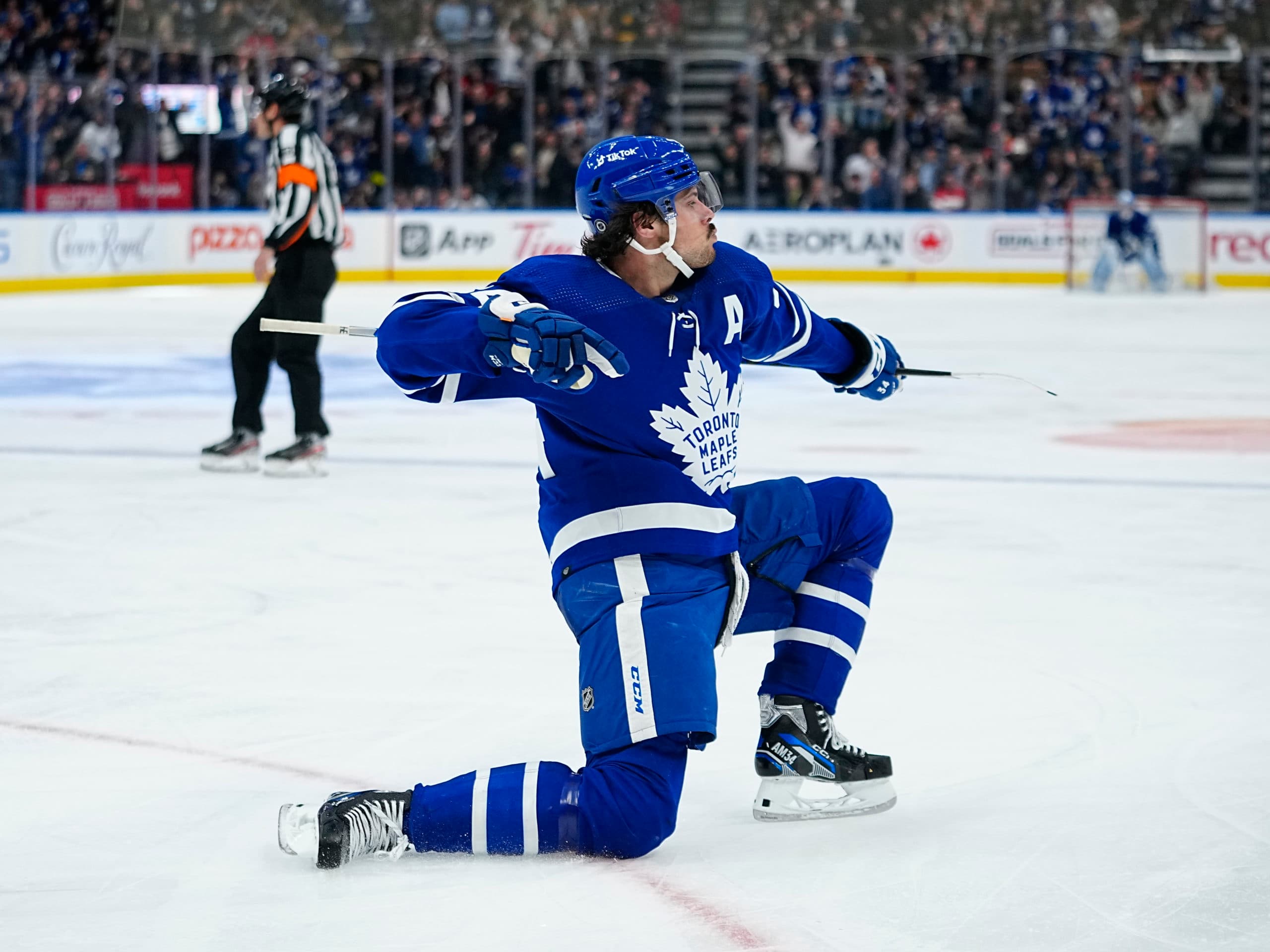 Photo credit:John E. Sokolowski-USA TODAY Sports
The final week of the 2021-22 NHL regular season has finally come and it has finally come to an end with three final games on the Toronto Maple Leafs' schedule as they prepare to enter their sixth consecutive postseason, hoping for a different outcome this time around after repeating history for five years in a row now. After what felt like a super long season, we finally had three games left to play before we can start the playoffs. Games between the Washington Capitals, Detroit Red Wings, and Boston Bruins were on the calendar for the Maple Leafs, and it included some potential playoff implications too.
The Maple Leafs opened their week last Sunday in Washington on the second half of a back-to-back after coming off yet another overtime loss to the Florida Panthers after blowing another multi-lead to them. This time, Toronto was on the receiving end of being down by multiple goals, but they rallied back throughout the second half of the game and ultimately tied it late in the third period at three to force the game into overtime. Although overtime didn't solve anything, the Leafs ended up taking care of business in the shootout as Kallgren led the way for the Maple Leafs as they left Washington with the 4-3 win.
After bouncing back from the overtime loss Saturday night and picking up a shootout win the next night, Toronto traveled back home to finish their regular season with two final games against Detroit and Boston. Now, with just two games remaining for the team, all eyes were on two stars, in particular, Auston Matthews and Mitch Marner to see if they'll both be able to hit two major milestones before the season's end. Well, as the title shows, you know one of them hit it and he was the main reason the Maple Leafs picked up their 53rd win of the season as Campbell stopped all the shots he was faced with and ended their season series against the Red Wings with a 3-0 win.
With the team on a two-game winning streak and picking up points in 16 of their last 19 games, the Toronto Maple Leafs were finally at game 82 and hosting one of their biggest rivals, the Boston Bruins. Now, given it was game 82, both sides sat a handful of everyday players with playoffs literally just around the corner, however, that didn't stop the Maple Leafs from continuing their best season in franchise history. After going down 1-0 early in the first period, Toronto rallied back to take a 3-1 lead heading into the first intermission, including the first career goal for Nick Abruzzese which was tipped in by a Morgan Rielly point shot. As the game progressed both teams had their chances to score but it really wasn't anything too, too special. Toronto ended up defeating the Bruins by a score of 5-2 and was headed into the 2022 NHL playoffs on a three-game winning streak and a date with the defending back-to-back Stanley Cup champions, Tampa Bay Lightning.
Record during week 29: 3-0-0 | Season record: 54-21-7 (115 points)
3rd Star: Erik Kallgren – 2 GP – 2-0-0 – 2.43 GAA – .921 SV%
It probably wasn't the way Erik Kallgren thought his NHL career would begin but it definitely wasn't taken for granted by him either. After Jack Campbell and Petr Mrazek, both went down with injuries at separate times this season along with both goalies playing poorly at times (mainly Mrazek) the Maple Leafs had no choice but to call up Kallgren and give him a shot. Well, after grabbing a shutout win in his first NHL start and following that up with a pretty remarkable win over the Carolina Hurricanes at home, Kallgren has had his ups and downs to begin his NHL career. But for someone who probably wasn't thinking he'd see any NHL action this year and someone who was their 4th/5th goalie to start the year, Kallgren has helped Toronto win some pretty important games this season.
Last week Kallgren was able to suit up for two games out of the final three on the schedule and after being in net in Tampa Bay for that pretty lopsided 8-1 loss, he was back in the net against the Capitals to begin last week just a couple of days after. Well, safe to say he had a very much-needed bounce-back game and helped earn his team the extra point in the shootout as he stopped every single shot except one, the very first one. Following that shootout win for Kallgren and the Maple Leafs, Kallgren got the nod again to start the season finale against the Boston Bruins at home as Jack Campbell and others were resting with playoffs around the corner.
Just like his game against the Capitals earlier in the week, Kallgren had himself another solid start that helped earn the Maple Leafs and himself a win that improved the season total to 54 wins and 115 points (both franchise records). Although he only got to start in 12 games this season and play in 14, Kallgren definitely gave the Maple Leafs some stability in the crease when things got shaky at times. And I know his season numbers aren't the prettiest with his save percentage below .900, but I feel like that is due to a couple of awful games from his team in front of him, including the 8-1 loss to the Lightning. So, after 12 starts (14 games) Kallgren finished his rookie season with a record of 8-4-1, a 3.31 GAA, and a ,888 SV% with one shutout as well, of course.
2nd Star: William Nylander – 3 GP – 2 G – 2 A – 4 PTS
It was yet another very productive week for William Nylander including another multi-goal game last week with Auston Matthews, Mitch Marner, and John Tavares all sitting out game 82 for "load management" with the playoffs right around the corner. The 25-year-old had an incredible season this year and it was honestly great to see given the amount of hate Nylander has received since his contract holdout and from the few fans that still like to bash him for no reason at all. Coming into this season Nylander hasn't played a full season since the 2017-18 season and it's pretty crazy to think about to be honest because we just wrapped up the 2021-22 season.
But within the last two seasons after being removed from a shortened season in 2018-19 due to him holding out from his contract negotiations, Nylander has had himself back-to-back seasons that were a better point-per-game season than his career-high seasons back in 2016-17 and 2017-18 when he put up 61 points. This season, Nylander was flirting with a point-per-game basically the entire season and had a legit sot at finishing the season over a point-per-game, and that would've been the cherry on top.
Entering last week, he had 76 points in 78 games, and that all quickly changed with his stellar performance in the three games against the Capitals, Red Wings, and Bruins. Although he went pointless in Toronto's 4-3 shootout win over Washington, Nylander had himself two games to be proud of afterward where he had himself back-to-back multi-point games for what seems like the 50th time this season at this point. He registered two assists in their shutout win over Detroit and then followed that up with a two-goal performance over Boston in game 82 and both goals were pretty slick I can't lie, even if both teams sat a bunch of their best players, it was still a set of gorgeous goals. So after finishing the season with back-to-back multi-point games and hitting the 80-point mark for the first time in his career, William Nylander is looking to continue where he left off from last season in the first round where he was Toronto's best player by far and we hope to see other top-end players in Toronto do the same for their team this year.
1st Star: Auston Matthews – 2 GP – 2 G – 2 A – 4 PTS
The historic season for the 24-year-old continued into the last week of the regular season and he did not disappoint the fans one bit. After coming out of the gates pretty slow to start his season after missing the first three games due to off-season wrist surgery, Auston Matthews has truly made a lot of fans forget about his slow start given the numbers he has put up ever since then. From hitting the 30-goal mark for the sixth straight season to hitting 40, then 50, and then breaking Rick Vaive's goal record, Auston Matthews then became the first Maple Leaf, and the first player since Steven Stamkos (2011-12) to hit the 60-goal mark in a season. And not only is he scoring goals like it's no one's business, but Matthews has also set a career-high in assists and points while playing a very, very good two-way game and being one of the best face-off men in the entire league.
It's been truly a historic season for Matthews and it's been awesome to watch along the way. Whether you're a Maple Leafs fan or just a hockey fan in general, I don't think anyone should be taking anything away from the type of season we just witnessed from him. Scoring goals in the NHL is already a difficult thing to do, and for someone to hit the 30-goal mark for the sixth time in six years since entering the league, and then quickly hit 40, 50, and then 60, it's honestly an MVP-type season from Auston Matthews. 60 goals and 106 points is arguably the best offensive season ever posted by a Maple Leaf in franchise history, and we all got to witness it.
Now, let's actually talk about his week last week. With the regular season coming to an end, he only suited up for two out of the final three games (Washington and Detroit) and with just those games remaining, you know he wanted to try everything in his power to hit that major milestone. Well, he did, but not against the Capitals as he registered two assists in their win that night, but then soon after once they got home to host the Red Wings, Matthews potted home his 59th and 60th of the season to finally reach just an incredible milestone. Auston Matthews set multiple records this season, and I mean multiple and it was amazing to watch. However, I feel like there are a lot of people that won't care about that unless he and Marner have a bounce-back first round of the playoffs and help lead this team past the first round this year for the first time since 2004.
POINTSBET IS LIVE IN ONTARIO!