The Leafs 3 stars of the week: Erik Källgren shines in debut week, Mitch Marner continues dominant season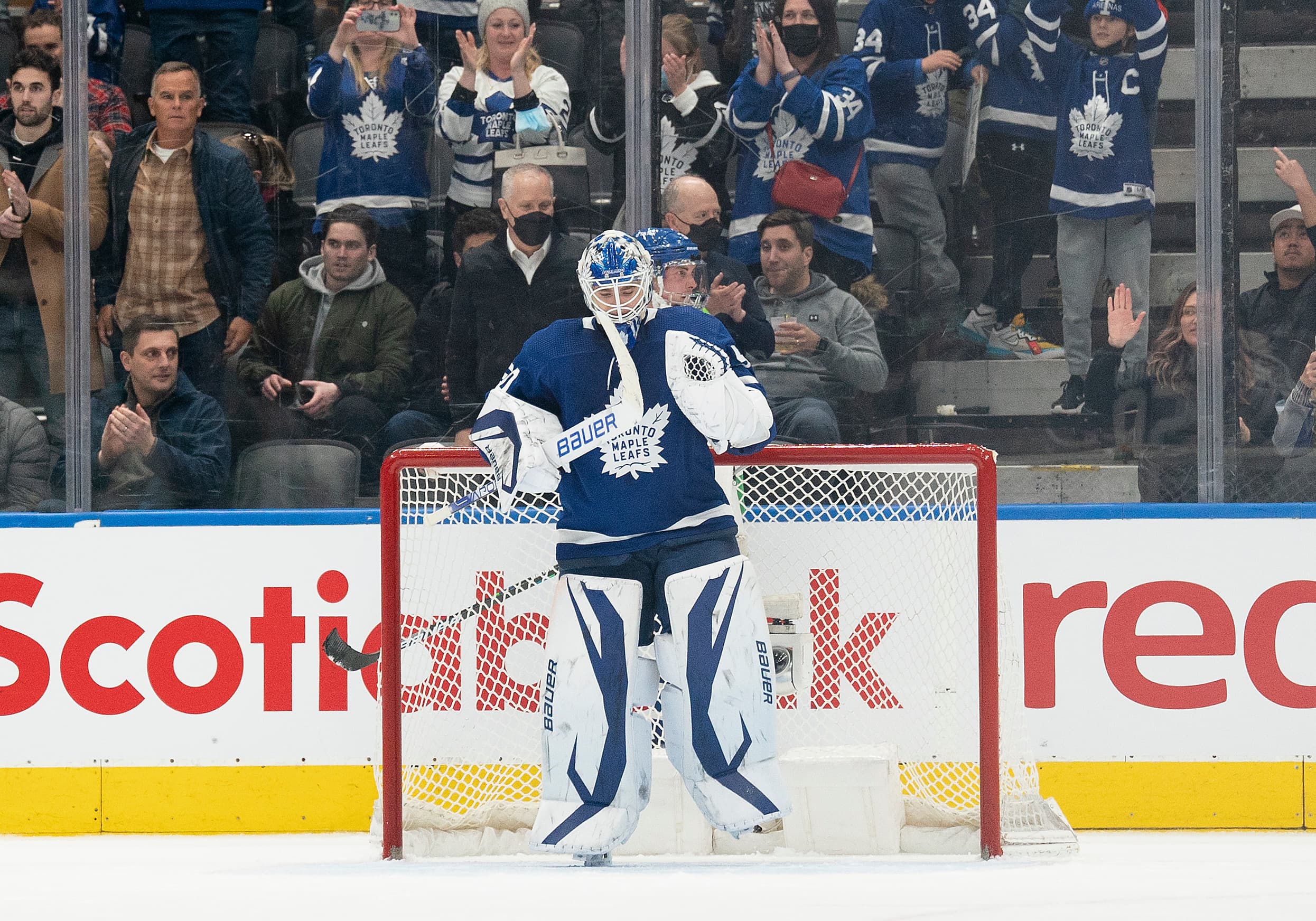 Photo credit:Nick Turchiaro-USA TODAY Sports
As we inch closer and closer to the NHL trade deadline, we start wondering what kind of moves teams are going to make. More specifically, what moves the Toronto Maple Leafs going to make given how their goaltending has been for the past three-ish months, as well as their poor play defending in front of their own net. There have been plenty of rumours around the team regarding potential forwards, defensemen, and goalies Toronto could be interested in. But for now, they have to roll with who they have on their squad.
Entering last week's set of games, we knew Jack Campbell was still going to be unavailable due to a rib injury, so it's Petr Mrázek's and recently called up Marlie, Erik Källgren's crease for now. After Källgren came in relief for Mrázek against the Coyotes on March 10th, Mrázek ended up getting the crease in the Heritage Classic game and it ended up being the wrong decision. Well, he actually looked pretty good in the first period but it all went downhill from there as Toronto ended up dropping another game by the score of 5-2.
After that loss, Sheldon Keefe and staff went with the decision to give Erik Källgren his first career NHL start against the Dallas Stars Tuesday night and it turned out to be a really, really good decision. Toronto played their best full 60-minute game in quite a while and really didn't give the Stars a lot of grade-A chances. With Matthews out due to suspension, it was time for Tavares and Marner to step up and that's what they did along with a very strong effort from Källgren that earned him his first NHL win/shutout in his very first start with a 4-0 win.
With a strong effort against the Stars who are fighting for their playoff lives, the Toronto Maple Leafs welcomed the Carolina Hurricanes into town on St. Patrick's day and boy was the arena loud that night. Carolina is not only one of the best teams in the Eastern Conference, but they're one of the best teams in the entire league and Toronto needed to replicate their game 48 hours prior if they wanted to walk away with the two points. Well, they did just that with another strong showing from Källgren in the net along with a very good penalty kill from the team. With Matthews still suspended, Tavares and Marner needed to continue to do what they were doing and they did just that helping the team pick up a 3-2 win in regulation.
Toronto ended their week on Saturday night in Nashville to play the Predators for the first time since the start of the season. Not only was this a Saturday night game, but this was also Toronto's last game before the NHL trade deadline, so a lot of questions and rumours were still up in the air entering the game. Källgren got the nod again to start and after coming off two very strong showings, he played a pretty good game again, but it was just unfortunate that Toronto couldn't solve the other goalie on the other end of the ice in Juuse Saros who is one of the best goalies in the league and he stopped 38 shots en route to a 6-3 win for his team.
Record during week 23: 2-2-0 | Season record: 39-18-5 (83 points)
3rd Star: John Tavares – 4 GP – 1 G – 3 A – 4 PTS
John Tavares was getting criticized a couple of weeks ago because he was not performing at the same rate he was at the start of the season. However, as of late he has started to find his game again and with Auston Matthews out of the lineup due to a two-game suspension, now was the time for Tavares to step up and help lead this team to victory. Before the Matthews suspension began last Tuesday, Tavares continued to put up points as he tallied an assist to that total in the Heritage Classic on an Ondrej Kase goal that gave Toronto the 1-0 lead at the time.
On Tuesday, it was the first game without Matthews in the lineup as Toronto went up against Dallas, so you knew it was kind of like a next-man-up mentality for this team with their best player out of the lineup. For Tavares, it was just an opportunity for him to get some of those extra minutes and help be a difference-maker. I think it's safe to say he thrived in that game and helped lead Toronto to a 4-0 win as he had himself a two-point game – one goal and one assist – and was just all-around a beast on the ice for the Maple Leafs.
He followed that game up with another solid effort against Carolina Thursday night and earned himself another assist which improved his season point total to 58 points – 20 goals and 38 assists – in 60 games. Without Matthews in the lineup it was kind of nice seeing Tavares play alongside Marner again, and to be honest, despite the Bunting – Matthews – Marner line having so much success, I wouldn't be opposed to trying Matthews with Nylander for a game and give Tavares and Marner another shot because of how poor the second line can be at times.
After two games without Matthews, Tavares was now put back on the second line with William Nylander and Ondrej Kase for their game against Nashville and I think everyone knows how that line did in that game. It just wasn't their strongest of games and Tavares ended the game as a -3 and recorded zero points en route to a tough 6-3 loss in the team's last game before the trade deadline rolls around Monday afternoon.
2nd Star: Erik Källgren – 3 GP – 2-1-0- 2.38 GAA – .932 SV% – 1 SO
Last week if I asked you who Erik Källgren is, you might've not known who he was. Well, fast forward a week later and four games played, now you do and you're probably loving him right about now. With the news of Jack Campbell's rib injury, the Toronto Maple Leafs recalled goalie Erik Källgren to the NHL to act as the backup to Petr Mrázek. Well, it didn't last long for Mrázek and he quickly became the backup to Kallgren last week as Källgren got his taste of NHL action and thrived in it. After coming in relief for Mrázek on March 10th, Erik Källgren made 10 stops on 11 shots as he recorded the loss in overtime to the Coyotes.
Fast forward to the Heritage Classic and Sheldon Keefe goes with Mrázek in net, but once that Dallas game came along on the schedule, he got the nod to get his first NHL start, and he did not disappoint, that's for sure. Källgren absolutely impressed everyone in his first start as he stopped all 35 shots the Stars threw at him and he – something Mrázek hasn't done for the majority of the season – gave Toronto solid goaltending for a full 60 minutes.
So after a pretty impressive win in his first start, it was a no-brainer to give him the crease against Carolina, right? Well, Sheldon Keefe agrees and gave him another start and just like 48 hours prior, Källgren gave Toronto another full 60 minutes of solid goaltending while Toronto was getting outplayed by a Carolina team at times, especially in the first period when the shots were 12-3 in Carolina's favour before Toronto's first goal. Through the whole game, Källgren made grade-A saves and gave Toronto a chance to win and that's what they did as they pulled out an impressive 3-2 victory while the 25-year-old netminder picked up his second win while stopping 34 of 36 shots that he faced.
After two solid outings and picking up his first two wins of his career, he got a chance to start in his first road game in the NHL and besides the tough loss for the Maple Leafs, Källgren still had himself a pretty solid game, despite allowing five goals. He stopped 28 of 33 shots and to be honest, two of them he had no chance at saving, it was just a tough game for the Maple Leafs trying to beat Saros as they were only able to beat him three times on 41 shots.
1st Star: Mitch Marner – 4 GP – 3 G – 3 A – 6 PTS
Whether Auston Matthews is in the lineup or not, it seems like Mitch Marner can't stop producing on the offensive side and he is continuing his dominant season as he recorded a six-point week – three goals and three assists – in four games against the Sabres, Stars, Hurricanes, and Predators. After a slow start to the 2021-22 season, Marner has quickly made a lot of people forget how slow he really was coming out of the gates to begin the year and ever since January, he has been one of the very best players in the entire league with his all-around play on both ends of the puck.
As we know, he had himself a six-point week last week and was able to grab at least a point in every single game he played in except the Heritage Classic game where he went pointless and was a -3 on the afternoon. Other than that poor game against the Sabres last Sunday, Marner had himself a pretty darn solid week with scoring goals, putting up points, continuing to shoot the puck regularly, being a key contributor on the penalty kill, and he's also throwing his body around a little bit more as well.
After going pointless against Buffalo, he bounced back with a two assist night against the Stars, en route to the shutout victory as well as scoring a goal against his former teammate and friend Frederik Andersen Thursday night in their 3-2 regulation win against the Hurricanes on St. Patrick's day. On top of back-to-back games with points and playing just an all-around solid two-way game, Marner topped it all off with a three-point outing Saturday night in Smashville in the tough 6-3 loss.
He had himself two goals as well as an assist which now improves his season point totals to 68 points – 26 goals and 42 assists – in just 53 games. He, along with Matthews are the only two Maple Leafs as of right now who have more than 60 points on the season, but John Tavares and William Nylander are not that far off from these two at all as they both have 58 points to their name respectfully.