The Leafs 3 stars of the week: Jack Campbell grabs two wins in three solid starts, Mark Giordano continues to be a staple on the blue line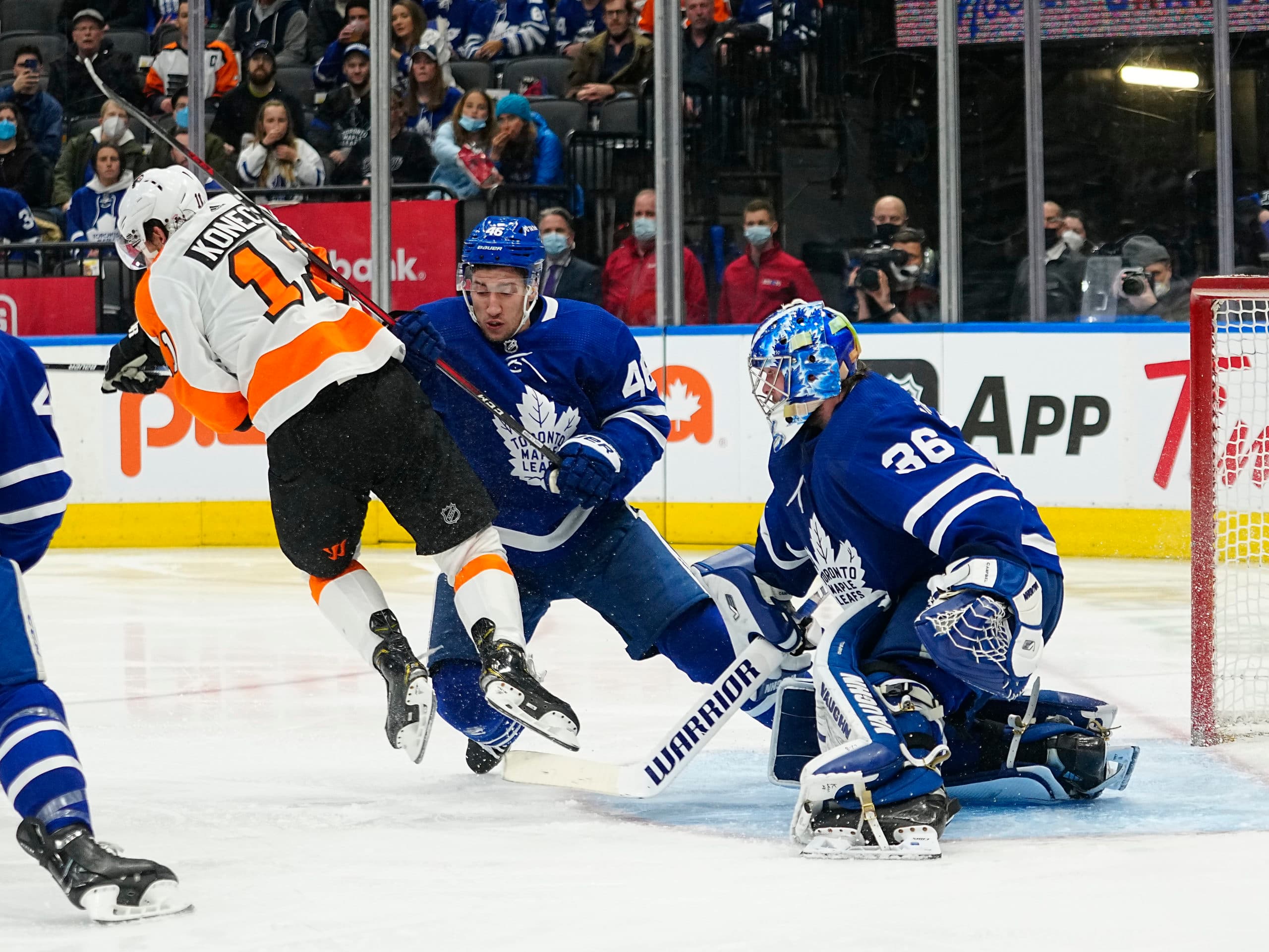 Photo credit:John E. Sokolowski-USA TODAY Sports
After coming off a three-game week where we saw the Maple Leafs lose yet another stinker to the Buffalo Sabres, flat out dominate the Washington Capitals on home ice, and then win a back and forth game in overtime against the Ottawa Senators, Toronto had themselves another busy week on the schedule with four games waiting for them, including two against two divisional rivals again.
The Maple Leafs opened up their busy week on Sunday at home against the New York Islanders, and boy was that a boring first period but good thing things started to pick up and the game got a little more entertaining as it rolled along. After what was a pretty even yet boring first period, Toronto controlled the rest of the game through the last two periods with a combined shot total of 28-20 and ultimately came away with a big win for the standings 4-2, and a big thanks to Jack Campbell for his performance because he made the stops when the team needed them.
Currently, on a three-game winning streak, Toronto stayed home and welcomed the struggling Philadelphia Flyers into town and this game was a tad different than the game they played prior. Somehow Philadelphia registered almost 40 shots (39) which I have no idea how they did that, but 37 of them were stopped by none other than Campbell as he gave Toronto a chance to pull away with a win this game. The funny thing was that it didn't look like the Maple Leafs were trying their absolute hardest out there, yet they came away with a 5-2 win, even being outshot 39-29 somehow against this Flyers team.
After winning yet again, the Toronto Maple Leafs are now on a four-game winning streak and have now won six of their last seven, but they now find themselves on the road playing this exact Lightning team they beat in their own barn not that long ago, so you know the defending back-to-back Stanley Cup champions are going to come out strong and more than likely not come out with an effort like they did that night. Well, that's exactly what happened, as the Maple Leafs absolutely got lit up for eight goals in an 8-1 loss that saw the game tied at zero through 20 minutes, so a lot happened in the final 40 minutes, including a combined 114 penalty minutes between the two squads. Safe to say things got chippy down in Tampa, and I don't exactly hate it because a lot of Leafs showed they can push back and stand the fight against other teams.
Now after a pretty lopsided loss on the scoreboard, Toronto wasn't quite done down in the Sunshine State as they had to enter FLA Live Arena to play the Florida Panthers for the second time there this season. Unlike the Tampa Bay game, it was much closer and Toronto honestly looked like the better team for pretty much the entire game as it was a pretty tight game for the most part, but things eventually opened up as the game progressed. Toronto took the early 2-0 lead and was looking like they might chase Sergei Bobrovskiy from the net again, however, that wasn't the case and he actually stood on his head for the remainder of the game while his team rallied and came back to force this game to overtime where they eventually pulled out the 3-2 comeback win.
Record during week 28: 2-1-1 | Season record: 51-21-7 (109 points)
3rd Star: Mark Giordano – 4 GP – 0 G – 3 A – 3 PTS
The third star of the week goes to someone who has been a joy to watch ever since being acquired by the Maple Leafs ahead of the trade deadline. It's Mark Giordano. Now Giordano earned himself a star last week too, and this week he's followed that up with another appearance because he has been such a staple on the back end for this team in a time where you need to play good hockey going into the playoffs. After acquiring the 38-year-old defenseman from the Seattle Kraken, there were some people who questioned this move simply because of one thing, his age. Well, Giordano has quickly shown that age is just a number to some and for him, it certainly is because he is still playing great hockey at his age and he has been a tremendous addition to this team.
Giordano played four games last week against the Islanders, Flyers, Lightning, and Panthers, and in those four games found himself continuing where he left off as of late on the offensive side of the puck but also being a great presence defensively too on a pairing with young defenseman Timothy Liljegren. Giordano and Liljegren have been a joy to watch together whenever they're out there on the ice together and they have been Toronto's best pairing despite being on the third pair. Now, of course, they'll have their bad games because everyone does, but for the most part, these two look like they have played for years together and it's been really fun.
So not only was Giordano good on the defensive side of the puck last week (minus the 8-1 game against Tampa Bay because yikes everyone looked off at times and the plus-minus doesn't help) but he also registered three assists in those four games to improve his point totals to 11 points – two goals and nine assists – in just 17 games. That is a 53-point pace for the 38-year-old veteran over an 82-game schedule and that's pretty incredible to think of, to be honest. And despite him having 11 points with the Leafs, six of those have come in the last five games, so you know he has been heating up at the right time with playoffs right around the corner. But, of course, the offense isn't everything given who else is on this team, but as I have said many times, Giordano's presence on the back end helps this team out so much because he can do a lot of different things, no matter how big or small they are, they always help teams win.
2nd Star: William Nylander – 4 GP – 2 G – 2 A – 4 PTS
It seems like this guy right here is heating up at the right time and that is absolutely fine to see because playoffs are just around the corner and of course, you want everyone on the team to contribute as much as possible in the playoffs. Nylander, as we all know has had his moments this season where he looks invisible out there on the ice for a game or two or he's getting his chances but can't seem to find the back of the net or find his way on the scoresheet with assists, however, as of late for the past month or so, Nylander has been on fire.
Entering these four games last week against the Islanders, Flyers, Lightning, and Panthers, William Nylander had himself 22 points – nine goals and 13 assists – in his last 18 games, and even more impressive had 13 points – six goals and seven assists – in his last nine games. And in those games last week he continued that with another four-point week – two goals and two assists – while setting a career-high in goals with 32. It's been truly a wonderful career year for the right-winger after all the heat he received years ago for holding out because his contract is truly looking like a great deal for Toronto right now.
Anyways, now with Nylander being put on the third line for what has seemed like a couple of weeks now, it has allowed the team to spread out the talent up front and it also gives Sheldon Keefe and the coaching staff ideas of what can work come playoff time as well different line combinations against the opponents after certain situations like power-plays, penalty kills, etc. And if we're being honest, I don't hate what the top-nine looks like right now because we know if it doesn't work in the long run, Keefe isn't afraid to put Nylander back in the top-six and swap him with someone.
1st Star: Jack Campbell – 3 GP – 2-0-1 – 2.30 GAA – .932 SV%
Jack Campbell has honestly played how you would want him and expect him to play ever since returning from his rib injury a couple of weeks ago, and last week in three games, he continued that and has given Leaf nation a sigh of relief. After playing absolutely out of this world for the first two and a half months, Jack Campbell had a major, and I mean a major dip in his production and he along with basically anyone else was unplayable at one point for this Toronto team, yet they still found ways to win games because of their offense but it was tough at times because they were giving up what felt like three or four goals a night for the longest time.
However, with Campbell's return between the pipes for Toronto, he has gone 6-0-2 in eight games and has had a save percentage higher than .900 in five of those games, which is something you would want from your goalie because Toronto's record with their goalies posting a save percentage higher than .900 in a game is incredible. Even if this team gets average or above-average goaltending in the playoffs, they can be a tough out in my opinion, but that's if they play how they have been playing as of late because if they start playing poorly and cant find ways to score goals come playoff time, you're going to need your goalie to be the better of the two goalies in that series if you want a chance at winning and moving on to the second round of the playoffs.
Now, enough about that, let's talk about Campbell's week last week and the three games he suited up for against the Islanders, Flyers, and Panthers. And before I start, I have no idea why Sheldon Keefe decided to start Campbell against the Flyers at home and go with Kallgren against Tampa Bay on the road just to go back to Campbell against Florida on the road, but it didn't go quite as planned with Kallgren in the net against the Lightning as we all know. However, with Campbell between the pipes in those two games along with the Islanders game, he grabbed himself two wins and an overtime loss to the Panthers while playing pretty damn well in the net for his team.
Over the three games, he posted a 2.30 GAA and a .932 SV% and despite allowing three goals in the overtime loss yesterday to Florida, Campbell posted a save percentage above .930 in both his wins last week (.931 vs NYI and .949 vs PHI) something to be very happy about, especially with playoffs around the corner and with how the goalie situation has gone for this team for the last three or four months.
POINTSBET IS LIVE IN ONTARIO!