The Leafs 3 stars of the week: Michael Bunting hits the 60-point mark, Mark Giordano helps lead Toronto to Saturday night win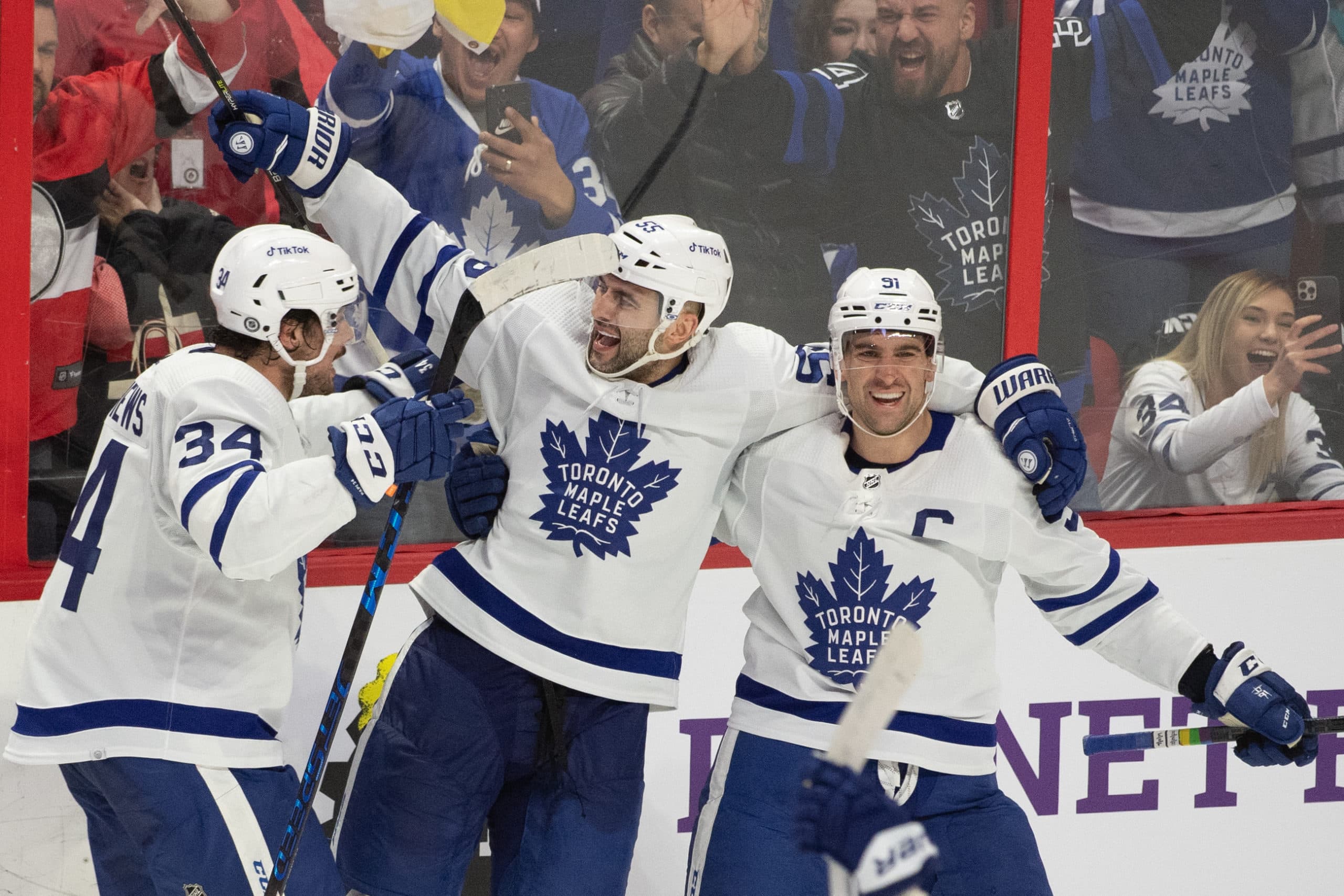 Photo credit:Marc DesRosiers-USA TODAY Sports
After what was a pretty memorable week for the Toronto Maple Leafs and Auston Matthews, it was right back to business last week with three games on their schedule with the playoffs just creeping around the corner. With three games on their schedule – two against non-playoff teams and one against a wild card team – the Maple Leafs were definitely looking to continue their momentum into these three games and continue how they have played for the past month and a half.
They opened their week on Tuesday night against a team they have had trouble with this season, the Buffalo Sabres. It's honestly strange Toronto has had trouble against the Sabres given where both teams are in the standings, but some teams just play other teams harder and have their number. Every team can beat any team on any given night in the NHL, however, it is quite annoying they keep losing to this Sabres team. Tuesday night wasn't any different, and they played one of their worst games in recent memory and just looked lazy and they lost 5-2 on home ice after a pretty good win the Saturday prior against Montreal.
So following up a pretty bad 5-2 loss to a Sabres team at the bottom of the standings, it would only be right if the Leafs followed that game up with an absolutely dominant performance against a Capitals team who has won five in a row at the time, right? Well, that's exactly what happened. Toronto came out of the gates flying controlling the entire first period but only up 2-1 at the end of the frame, but it was the second period where they did their damage. In the next 20 minutes, Toronto scored four goals and that's when we kind of knew it was over from there. Luckily they ended up holding the lead and they left Toronto with the 7-3 win as they were now en route to Ottawa to play the Senators in a Battle of Ontario.
Toronto was now focused on ending their week with a good performance against a struggling Ottawa team after an amazing game against the Capitals. Just like the Sabres game, it wouldn't come as a surprise if Toronto ended up losing this because they often lose against weaker opponents and it makes no sense whatsoever. However, last night was different and despite it being a back and forth game on the scoreboard, the Maple Leafs held it together and walked away with the big 5-4 win in overtime that tied their franchise record for wins in a season with 49.
Record during week 27: 2-1-0 | Season record: 49-20-6 (104 points)
3rd Star: Mark Giordano – 3 GP – 1 G – 2 A – 3 PTS
It was quite the week (more like a game) for the trade deadline acquisition, Mark Giordano as he helped lead his new team to victory last night as they grabbed a 5-4 overtime win. When Toronto acquired Giordano before the deadline, they were acquiring the player strictly for his defence and his reputation as the player he is known to be. What Toronto wasn't getting is someone who scored 70 plus points just a small handful of seasons ago when he won the Norris Trophy and someone who will consistently give you 40 points a year.
However, through the 13 games, he's played as a Leaf, especially last night in Ottawa, Giordano has been on fire offensively on a pairing with Timothy Liljegren, and they have also been quite the pairing for defence and defence alone as well, and that really great to see given the potential Liljegren has still. Last week in three games, the 38-year-old had himself a three-point night in Ottawa – one goal and two assists – which included the game-winning goal in overtime that helped Toronto complete the comeback and win their franchise-high 49 wins in a season in which they tied when they set that record during the 2017-18 season.
So after his three-point outing against the Senators, Mark Giordano has now improved his point totals with the Maple Leafs to two goals and six assists for eight points in just 13 games. That's a 50-point pace for the 38-year-old defenseman, and that's absolutely incredible to see from the veteran on the backend. As a trade deadline add, Giordano has supplied Toronto a little bit of everything, and he's going to continue to be a very important piece going down the stretch in the regular season and of course, into the playoffs against whoever they play.
2nd Star: John Tavares – 3 GP – 0 G – 4 A – 4 PTS
With all the attention on Auston Matthews and Mitch Marner who are both having historic seasons in their sixth year in the NHL, the captain John Tavares has quietly put together a pretty darn good season so far and he continued that into last week in the three games they played against the Sabres, Capitals, and Senators. Tavares, who has struggled at times this season, has looked like his true self as of late, and honestly for a long stretch now too and it's the perfect time to be doing that with the playoffs right around the corner for the Toronto Maple Leafs.
In the three games last week, Tavares had himself a four-point showing – zero goals and four assists – while being absolutely dominant in the face-off circle. Although he didn't score a single goal last week in any of the games, he still did everything right in every other department on the ice in my opinion. As I said, four assists, dominant in the face-off circle, moving the puck around nicely, and helping lead his team to victory will continue to go a long way for the Maple Leafs if they want to make a deep playoff run this year and finally break through the first round of the playoffs.
As seen below in the gif, here is one of Tavares' assists. where he assisted on Mikheyev's second goal of the night against Washington. This play pretty much started with Mikheyev's tenacity on the puck and his hard work on the forecheck, the puck ended up with Tavares below the goal line and he made a great heads up play realizing Mikheyev is streaking towards the net and fed him the pass which he buried past the goalie.
1st Star: Michael Bunting – 3 GP – 3 G – 1 A – 4 PTS
The Scarborough native finally, and I mean finally broke his goal drought last week and he didn't stop there as he found the back of the net a couple of more times to increase his point totals this season and make his case for the Calder Trophy even better. Michael Bunting was in a serious goal drought for a while, so serious that when he scored he threw the biggest monkey off of his back and was beyond relieved he scored for his team. After going 17 games without a goal, Bunting had himself quite the showing against the Capitals with two goals, while also playing with his pesky side and getting under the other player's skins.
Following up a great game against Washington after going pointless against the Buffalo Sabres, Bunting continued things into Ottawa last night and decided to have himself another multi-point night which helped him hit the 60-point mark in his first full season in the NHL. He added another goal to his totals this season and then midway through the third period he set up Marner at the net for his second of the night which tied the game at four at the time. And with those two points, Bunting hit and then passed the 60-point mark and became the sixth Maple Leaf to reach the 60-point mark, something only two other teams have done in the last 25 years in the NHL (2006-07 Sabres who had seven players and the 2000-01 Rangers who had six players as well).
With just less than 10 games remaining on the schedule for the Toronto Maple Leafs before they begin the playoffs in early May, the play of Michael Bunting, especially that entire line along with Auston Matthews and Mitch Marner is going to have to be their best line, just like they have been their best line during the regular season. Playoffs are a different breed, we all know that, and with the style of play Bunting plays with, I feel like – and I hope – it will benefit the entire line when it comes to playoff time. We've already seen Matthews, and lately, Marner, play with a different edge to them and they are being more aggressive on pucks, going into corners, finishing their checks, and it's very good to see that.
POINTSBET IS LIVE IN ONTARIO