The Leafs 3 stars of the week: Mitch Marner keeps producing, Jack Campbell picks up two solid wins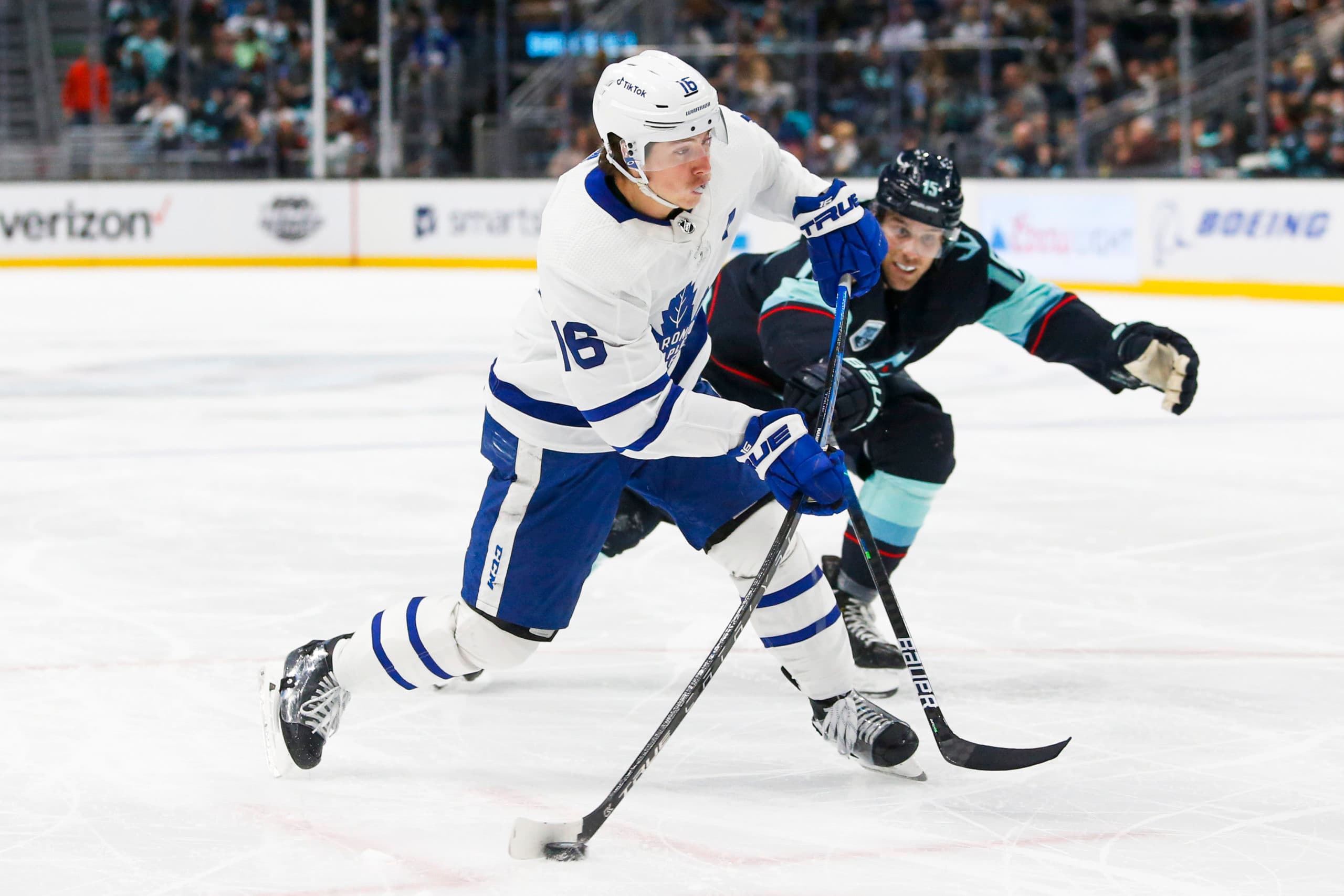 Photo credit:Joe Nicholson-USA TODAY Sports
The Toronto Maple Leafs were coming off two straight losses out west to the Calgary Flames and the Vancouver Canucks before they got last week's games underway. After going on a six-game winning streak, they began their three-game road trip out west with stops in Calgary, Vancouver, and lastly, Seattle. They went 0-2-0 through the first two games but quickly rebounded against one of the worst teams in the league in the Seattle Kraken with an impressive 6-2 win to snap their losing streak. Marner had an impressive game registering three points – one goal and two assists – while playing a key part on the team's special teams.
They then traveled back home to host the red-hot Pittsburgh Penguins for the third time this season and were looking to finally snag a win against them after dropping both games at a combined score of 9-2. Well, they did get their revenge and played a great game in my opinion. They pulled out the 4-1 win on home ice and displayed great hockey in all three zones on the ice. Despite the Penguins outshooting the Maple Leafs, it didn't feel like their chances were all that dangerous for Jack Campbell to track them. Well, other than a couple where he was a little squirrely in the net for.
With picking up two straight wins after dropping two straight games in Western Canada, the Maple Leafs hosted the St. Louis Blues for their second meeting of the season. Just like their meeting in St. Louis in mid-January, the Blues were the ones who opened the scoring first and the Maple Leafs had to play from behind. However, it wasn't that bad of an effort from Toronto last night and they honestly looked good for the most part. They just had a couple of brain farts that led to a couple of St. Louis goals and it was another night where Campbell could've had a couple of those shots that went in. The Maple Leafs ended up losing 6-3 after they were down 2-0 and then tied it 3-3.
Record during week 19: 2-1-0 | Season record: 32-13-3 (67 points)
3rd Star: Jack Campbell – 3 GP – 2 W – 2.67 GAA – .942 SV%
Now I know Jack Campbell hasn't quite been the same Jack Campbell that we saw at the start of the season, but he honestly had two strong games in my opinion against both the Seattle Kraken and the Pittsburgh Penguins. Although he did kind of have an iffy game against the St. Louis Blues, we shouldn't be all that worried about him because we know he has the capability of bouncing back after a loss and a tough stretch. In the three games he suited up for last week, he posted a record of 2-1-0 with a 2.67 GAA and a .942 SV%. If it wasn't for Campbell between the pipes against the Penguins Thursday night, who knows what that score ends up as. He made 45 saves against Pittsburgh and helped lead Toronto to the 4-1 win. Through the 36 games he's played in this season, Campbell now holds a record of 23-8-3 with a 2.41 GAA and a pretty respectable .922 SV% which ranks him top 10 in the league.
2nd Star: Auston Matthews – 3 GP – 1 G – 3 A – 4 PTS
It shouldn't come as a surprise anymore that Auston Matthews always ends up being one of the three stars of the week. He along with his linemate Mitch Marner have been playing exceptional hockey for the past month and a half it feels like and these two just can't seem to cool off. Matthews scored yet another goal last week along with three assists for four points in the three games between the Kraken, Penguins, and Blues. We all know Auston Matthews racks up the goals and has the capability of winning multiple Rocket Richard Trophies because we literally witnessed it last season, but Matthews has also been putting up more assists lately and has found his name in the top 10 of scoring in the league. On top of his elite goal-scoring, Matthews also has pretty underrated playmaking skills and as we all know, has been playing pretty good defensively this season and is a sleeper to win the Selke Trophy in my opinion. With his one goal and four points last week, Matthews has now improved his point total to 59 this season with 33 goals and 26 assists. His 33 goals rank him second in the league tied with Chris Kreider and only two behind Leon Draisaitl who has 35 and his 59 points rank him eighth in the league just behind Kirill Kaprizov in seventh who has 61.
1st Star: Mitch Marner – 3 GP – 1 G – 4 A – 5 PTS
The first star of the week goes to the man who has been named the first star for the fourth time in the last five weeks, it's Mitch Marner. I don't have to go into full analysis of how good of a season he is having, or at least how good he has been ever since returning from his injury/COVID protocol because i'm pretty sure we're all aware of that by now. It just honestly feels like we've seen a totally different Mitch Marner ever since he has returned to the lineup and it's been such a treat to watch because he has been such a tremendously important piece to this team in more ways than one. In the three games last week, Marner just continued to do what he has been doing since mid-January and that is racking up the points while playing a key role on the team's penalty-kill. Marner registered five points – one goal and four assists – in the three contests last week and pulled off arguably the assist of the year so far, actually, never mind, Zegras to Milano was pretty darn good, but you know what I'm saying. Ever since his return to the lineup against the Blues on January 15th, Marner has registered 24 points – 11 goals and 13 assists – in just 13 games. In those 13 games, he had himself an eight-game goal streak which included 10 goals, and also registered seven multi-point games in that eight-game stretch as well. All in all, Mitch Marner has been playing elite hockey for the last little while and he continued that last week with his five points in three games.