The Leafs 3 stars of the week: Mitch Marner sets career-high, John Tavares finding the scoresheet again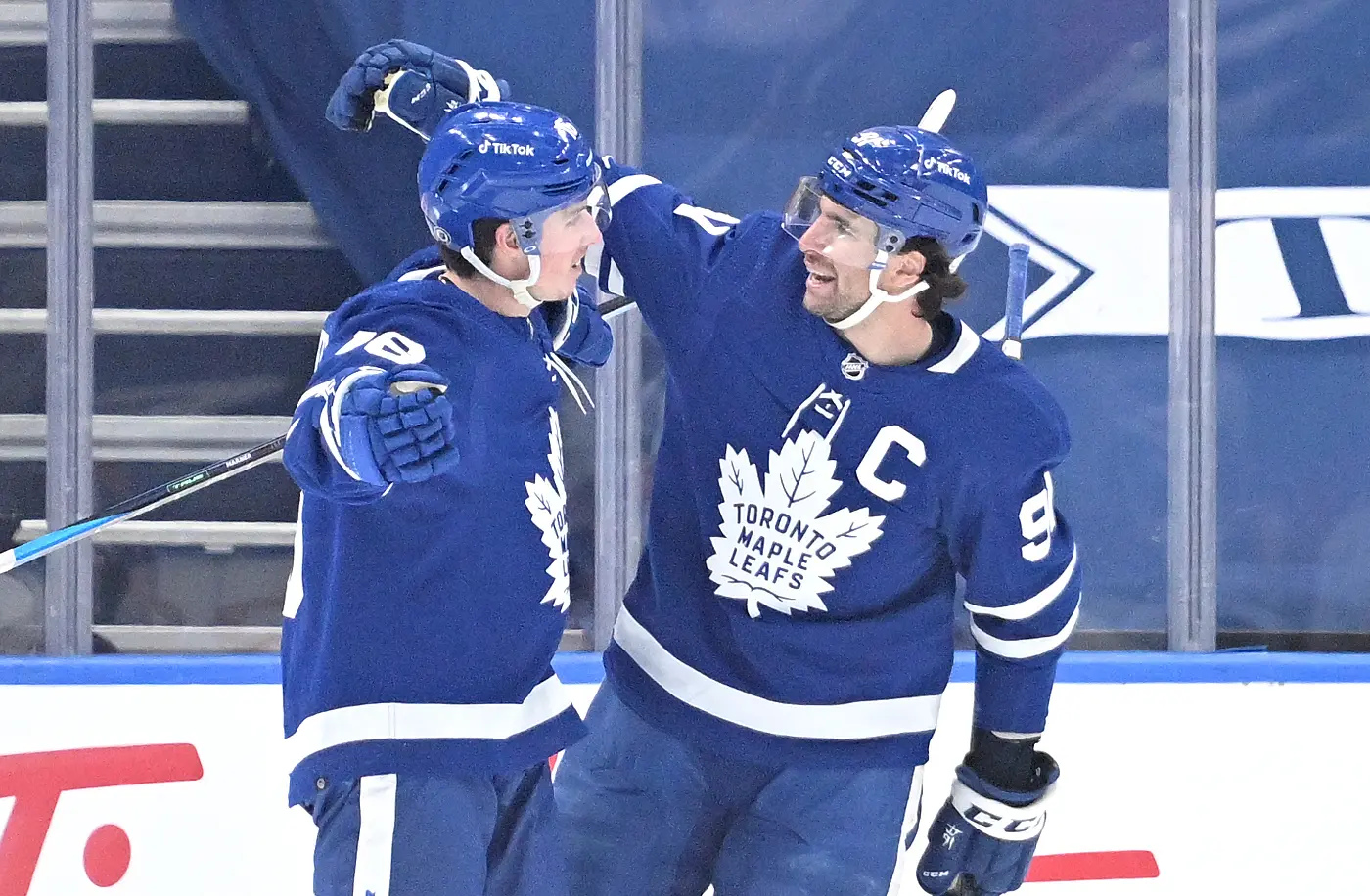 Photo credit:Dan Hamilton-USA TODAY Sports
After coming off week 15 of the season where the Toronto Maple Leafs only played two games due to their weird schedule given postponements from COVID-19 and attendance issues, they were scheduled to play just two games this past week yet again. They opened week 16 with a home game against the Anaheim Ducks on Wednesday and followed that up with a road game in Detroit to take on the Red Wings who were on the second half of a back-to-back.
Wednesday's game against the young and fun Ducks was a dominant game for the Maple Leafs in almost every possible way. They were the better team on special teams as they went 3/4 on the power-play and 2/2 on the penalty kill, but just like games prior, they found ways to choke a multi-goal lead and stress out their fans who were watching the games. They outshot the Ducks 44-20 and had a 3-1 lead at one point but eventually won the game in the shootout 4-3 after the Ducks tied the game at three just over halfway through the third period.
They ended their week against Detroit and if we're being completely honest right now, this was not one of Toronto's best games. They came out flat in the first period but then found their footing towards the end of the frame when they tied the game at one but then just like the first, they came out flat in the second and the Red Wings capitalized on a couple of goals in a short period of time. Detroit ended up with a 4-2 lead and then Toronto, led by Michael Bunting himself, ended up scoring five unanswered goals to take the 7-4 win on the road.
Record during week 16: 2-0-0 | Season record: 27-10-3 (57 points)
3rd Star: Michael Bunting – 2 GP – 3 G – 0 A – 3 PTS
After a hot start to the season for Michael Bunting, he has been faced with a couple of droughts this year and has had trouble finding the scoresheet at times. However, Saturday night's game for Bunting was not one of those games as he registered his second career hat-trick and first with the Toronto Maple Leafs en route to help lead the Maple Leafs to a 7-4 win over the Detroit Red Wings.
After what was a slow start to the game for Toronto and a second period where Detroit scored two quick goals, Bunting scored the lone goal for the Maple Leafs in the second period and was one of the only players in the top-six that looked like he had his legs all night. Bunting scored a nice tip from the high slot to bring them within one but not until Larkin scored on the power-play to restore the Red Wings' two-goal lead.
The third period came along for both teams and Toronto came out of the dressing room like a completely new team eager to get back in this game and leave Detroit with the two points. They came out flying and looked like the Maple Leafs that we're all familiar with. Bunting opened up the scoring with a beautiful goal in front of the net as he batted the puck past Nedeljkovic and followed that goal up with another one from a great pass from Mitch Marner which gave the Scarborough native his second career hat-trick and first with the Toronto Maple Leafs. Although he didn't find the scoresheet against the Ducks Wednesday night, Bunting was arguably Toronto's best player against Detroit Saturday night and was a big reason for their comeback win.
2nd Star: John Tavares – 2 GP – 2 G – 2 A – 4 PTS
It's been kind of a little dry spell for the captain, John Tavares as he has found it difficult to find the scoresheet recently after coming off a seven-game point streak where he registered nine points. From January 8th against the Colorado Avalanche to January 22nd against the New York Islanders, Tavares had only put up two points in six games and really didn't find the same groove he had earlier on with his linemates, Kerfoot and Nylander – before Keefe changed up the lines.
Well, during these past two games against Anaheim and Detroit, Tavares – along with the other big boys – have been electric for the Toronto Maple Leafs and have been a big reason why they're currently on a three-game winning streak. In the two games last week, Tavares registered four points – two goals and two assists – and has now reached the 40 point mark this season in 39 games. His first two points came against the Ducks both on the power-play as he set up Nylander with a gorgeous pass from behind the net after drawing in the Ducks and it gave Nylander room in front of the net to bury his 17th of the season.
Tavares wanted in on the action too and decided to score a power-play goal of his own in the game as well after the Maple Leafs pulled off a pretty nice play in the Ducks zone. They went from high to low with the puck and Marner fed Tavares all alone in the bumper position for the one-timer and it beat Gibson to give the Leafs a two-goal lead at the time. And just like that game against Anaheim, Tavares had a similar night against Detroit as he scored another goal and tallied another assist for yet another multi-point game this season.
1st Star: Mitch Marner – 2 GP – 2 G – 2 A – 4 PTS
What a story Mitch Marner has been since he has returned from injury/COVID protocol. In the five games that he's been back in the lineup since returning from the COVID protocol list, Marner has himself nine points – five goals and four assists – and has just set a new career-high with a five-game goal streak that he just set last night in Detroit over the Red Wings when he scored an empty-net goal to give Toronto a 6-4 lead at the time.
Although Marner's goal scoring as of late has been a huge plus for this team and is something a lot of people have been wanting for a while now, it's also his playmaking and defensive awareness when he's on the ice – whether it's five-on-five or on the penalty kill – that has made him a tremendous addition to the lineup after missing some time over the past month and a half with his injury/COVID.
Just like John Tavares, Marner registered a goal and an assist in both games last week over the Ducks and Red Wings and has really found his groove offensively since he's been back in the lineup as he now has reached the 30 point mark this season in just 31 games. He has seen a handful of different linemates over the last little while, whether it's been Bunting and Matthews or Tavares and Mikheyev or even others, Marner has been playing like the Marner we're all accustomed to and it has truly been a treat to watch if I'm being honest.