The Leafs are a golden opportunity for Joshua Ho-Sang to revitalize his NHL career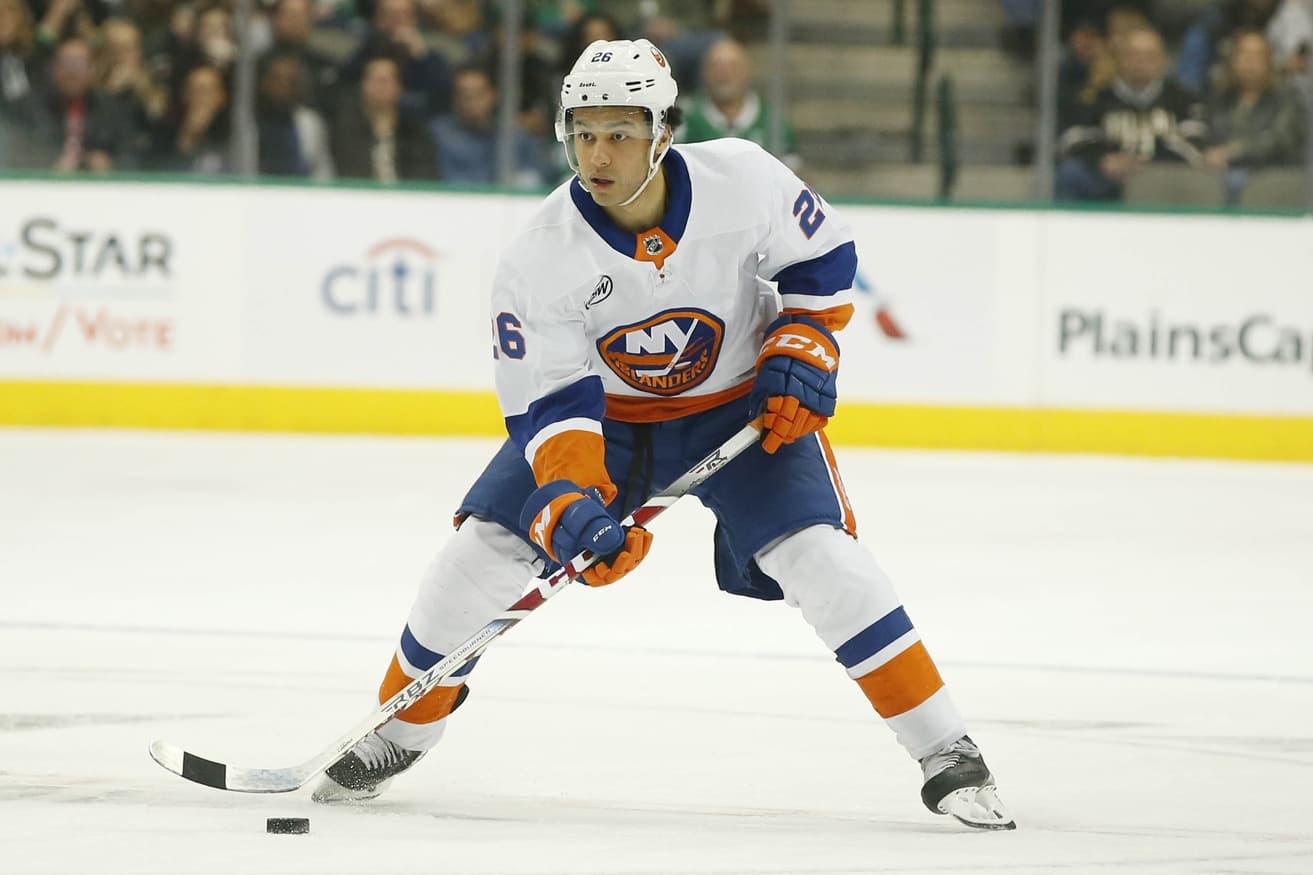 Photo credit:© Tim Heitman-USA TODAY Sports
Joshua Ho-Sang has been quite the
fascinating case study
of a player that never really got a chance to prove himself.
With an open spot on the second line and entering an organization that has a track record of giving players a new lease on life in the NHL, Ho-Sang has a golden opportunity to revitalize his career and live up to the potential he showed all those years ago.
His career to this point
Ho-Sang has not played in an NHL game since January 5th, 2019, yet his output was impressive despite a limited sample size. During his 53 career games, he recorded seven goals, 17 assists, and 24 points with only 15:11 TOI on average.
A rolling average of roughly 0.45 points per game does not sound remarkable at first glance (had it been over the entire 2021 campaign, he would fall close to 300th alongside the likes of Philip Danault, Miles Wood, and Joe Thornton), but
when compared to active players over the course of their entire career with a minimum of 500 points
, he would slot in 69th place (nice). There are no guarantees he can maintain, or even surpass, that average with more consistent playing time, but it is a solid baseline for what makes a reliable NHL forward as it currently stands.
Another area worth looking into is Ho-Sang's underlying metrics, which also look good in spite of a paltry sample size when compared to more established players. Below is a table of his career advanced stats at 5v5, with the numbers in italic indicating his personal best.
| | | | | | | | | | | |
| --- | --- | --- | --- | --- | --- | --- | --- | --- | --- | --- |
| SEASON | GP | CF% | FF% | SF% | GF% | xGF% | SCF% | HDCF% | HDGF% | PDO |
| 2016-17 | 21 | 52.06 | 49.51 | 49.14 | 57.47 | 48.53 | 50.35 | 47.58 | 53.85 | 1.017 |
| 2017-18 | 22 | 47.22 | 47.04 | 47.17 | 44.44 | 42.15 | 41.74 | 42.42 | 26.67 | 0.989 |
| 2018-19 | 10 | 58.99 | 60.61 | 60.95 | 75.00 | 60.28 | 53.68 | 57.58 | 0 | 1.022 |
Note: If you're wondering why his HDGF% in 18-19 was at zero, he was only on the ice for one such goal in those ten games.
The rolling average for all of these numbers would likely hover around 50% for each category, which is the baseline for a good NHL player. It makes it all the more baffling that he has not played a game in over two years when you see the progress made in his most recent stint.
Another invaluable method to measure a player's value is how these numbers translate into what he actually does on the ice. This video linked below does an excellent job of showcasing what Ho-Sang brings to a team with a good mix of his strengths and weaknesses. It's not a coincidence that the vast majority of the clips (from his most recent NHL stint) are of him doing good for his team; it's a testament to his natural skillset.
I come away from this video with two areas of Ho-Sang's game that will be his most valuable assets for the Leafs: speed and puck retrieval.  He always seems to have a good awareness of when swiping at the puck or blocking the passing lane to force a turnover. Once he has gained possession, his agility allows him to quickly speed down the ice to create a counter-attack that results in a good scoring chance for him or a teammate. Even if he's not in an ideal position to join the rush, Ho-Sang usually has a high hockey IQ of who to send the puck to ensure it results in a shot on goal.
Now, this isn't always the case given that he is prone to bobbling the puck on occasion. And the biggest fragility in Ho-Sang's game has typically been his defensive awareness (as was shown in the aforementioned video). It would be foolish to completely overlook the lapses that could surely be worked on to make him a more well-rounded forward. Having said that, the good does seem to outweigh the bad and he makes enough of a positive impact that should warrant him an extended stay in the NHL.
A chance to prove his worth
Heading into the 2021-22 season, the Leafs' forward unit went through some significant changes that further cement the reality that they will go as far as their big-for can take them, resulting in the likes of Thornton, Zach Hyman, and Nick Foligno departing. In their place were a bunch of question marks with plenty of intrigue and potential to possibly mitigate the loss of the aforementioned players.
Michael Bunting seems to have the makings of being a perfect replacement for Hyman, so he will likely find himself in a prime position to land in one of the top two lines. Ondrej Kase is a highly skilled player but is prone to injury and has no guarantee of appearing in over 50% of the Leafs' games. Nick Ritchie seems to have made strides in his game the past few years but he may be better suited for the third line.
Then you need to consider some of the returning fringe players that could be in line for more responsibilities. Nick Robertson has plenty of skill and already made his debut with the big club, but likely needs more time before he can lock down a permanent spot. Alex Kerfoot has had success on the second line as a winger, but him moving up would result in a gaping hole for the third line centre role. And Ilya Mikheyev has recovered well from a scary wrist injury, yet has also lost his ability to score on breakaways and odd-man rushes.
As you can see, there is plenty of intriguing options for who will take over for the two open spots in the top-six. Apart from Bunting, there is no clear answer on who will grab one of them with weeks to go before the start of training camp.
That right there is why Ho-Sang has a golden opportunity to get his career back on track.
Given that his PTO means he has to earn a spot in the lineup, one can only assume he will be working hard to gain the confidence and trust of the coaching staff. His natural gifts will make a worthwhile candidate to get a look on either the Auston Matthews or John Tavares line during the preseason. Should he make a good enough impression, Ho-Sang could find himself with a one-year contract and a chance to earn a bigger pay-day in the summer of 2022. Even if he does not secure a roster spot out of camp but makes a strong enough impression, he may get a two-way contract to
go the route of Alex Galchenyuk
of working with the development staff and growing into a more complete player before making his way back to the NHL.
Whichever way you slice it, Ho-Sang could not have found a better organization in the NHL to secure a second lease of his professional career than with the Leafs. He has the skill-set to be an everyday player but a combination of things both in and out of his control has prevented that from happening. It has resulted in a loss of morale that has put his NHL playing days in serious jeopardy of ending prematurely.
The current state of the Leafs opens up a prime moment for Ho-Sang to either crack the roster out of training camp and enjoy a career renaissance or earn some valuable time with the development staff to work out the chinks in his armour.
Should he succeed, the Leafs will gain a player who is not only a skilled playmaker with good speed and puck retrieval, but also
unafraid to speak his mind
and
help inspire the youth
. A low-risk, high-reward move that Kyle Dubas smartly pursued, which gives Ho-Sang a golden opportunity to revitalize his NHL career.