Prematurely judging the Leafs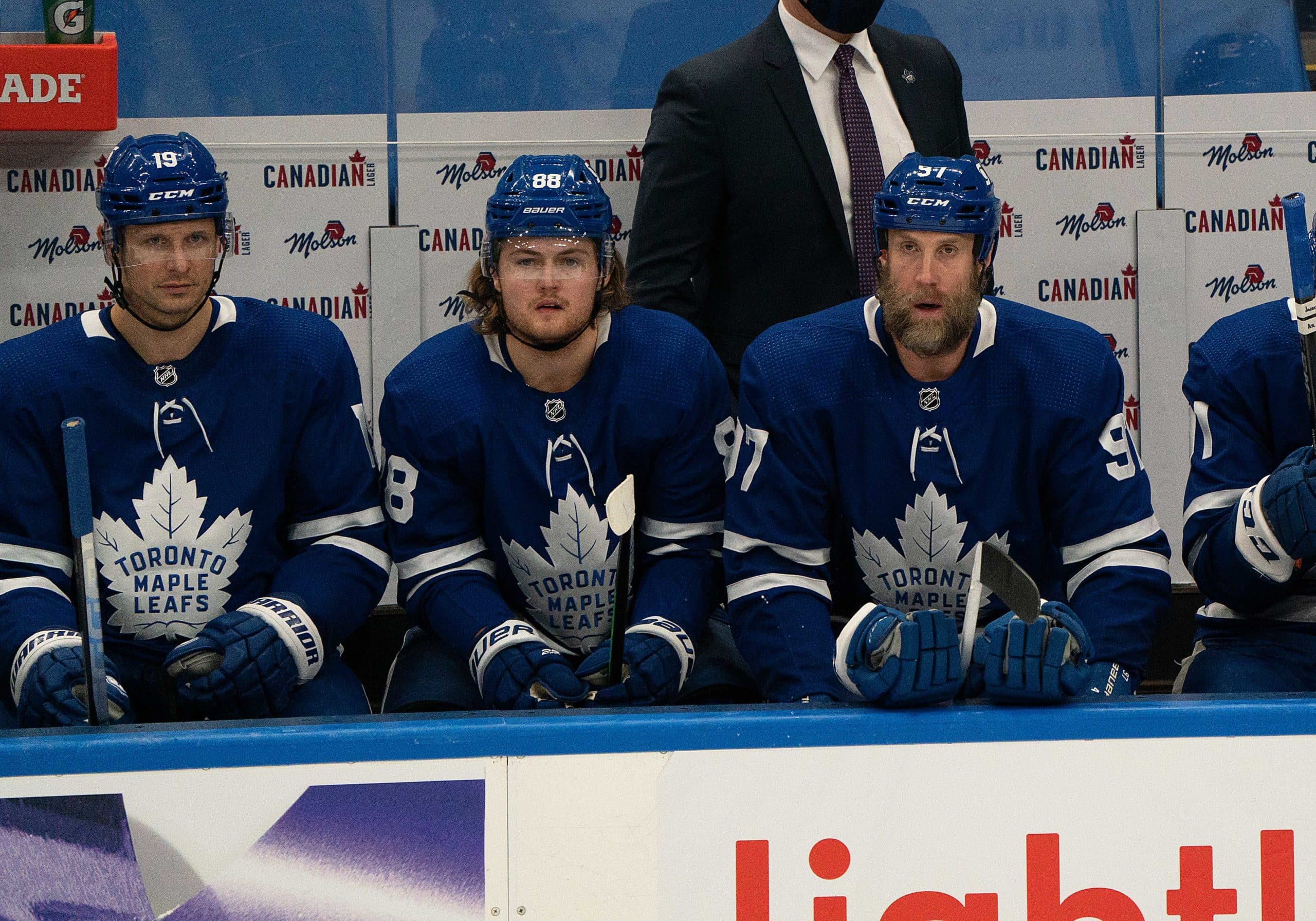 Photo credit:Nick Turchiaro-USA TODAY Sports
A tenth is when we can start getting judgy, right? I mean really we've all already been reactionary and judgy about the Leafs at points in this young season already, so why not formalize it six games in and start talking about who has impressed and who has disappointed? We all have opinions, so we've decided to air them publicly before enough games have been played for the numbers to be statistically meaningful. We can go 100% gut on this, so I've asked The Leafs Nation contributors, who has impressed and who has disappointed so far…
Brendan Mori:
Impressed:
John Tavares – JT looks like a completely different hockey player this season. Last season, Tavares had a laundry list of things come up, including the birth of his first son, being named captain of the team, suffering an injury at the World Championships, breaking his finger early in the season and seeing his head coach get fired in November. One year later, Tavares looks more like the player he was in his first season with the Leafs. He is flying around the ice once again, making nifty plays and lifting his linemates. Tavares also looks a lot more comfortable as the captain of this team.
Justin Holl – Coming into this season, I wasn't completely sold on him reprising his top four roll. So far so good for Holl this season however. He seems to have taken another step in his development, providing solid defense and he's even starting to chip in offensively now as well. Excited to see what Holl can do for the remainder of the season.
Auston Matthews – This guy keeps getting better and better with every season that passes. Yes the points aren't here (yet), but the progress Matthews has made in becoming a 200 foot player is absurd. He's been firing on all cylinders this season (although he's had some tough luck) and it seems like he has the puck on his stick for his whole shift. Hears to hoping he's back on the ice soon.
Disappointment:
Frederik Andersen – Fool me once, shame on you. Fool me twice… Shame on me. This is year five for Andersen in Toronto and every year it is the same thing. This rollercoaster needs to find some consistency and fast. Andersen has looked better in his last few starts, but this Jekyll and Hyde performance Andersen has needs to stop. If the Leafs want to do some serious damage in the playoffs, number 31 is going to have to be a big part in that.
Travis Dermott – For whatever reason, Dermott's play this season has bothered me. He hasn't played bad by any means, but I'm definitely expecting more from him, especially offensively. Far too many times has the play died on Dermott's stick in the offensive zone because he shoulder fakes until the lane is closed. I like what Dermott brings to the table, but the clock is ticking on him.
Joe Thornton – My disappointment is due to Thornton being on the top line with Matthews and Marner. It is pretty obvious to me that Thornton doesn't belong on that line. He struggles to keep up with them, and because he's always lagging behind, he rarely gets to set up in the offensive zone to "work his magic". One problem though is, where else do you put Thornton? With the way Keefe wants to construct the lineup, I have a hard time justifying putting him on any other line.
Scott Maxwell:
Impressed: The one player who has really stood out to me this season (at least as far as exceeding expectations goes) is Justin Holl. My biggest concern was that he was just a byproduct of playing with Jake Muzzin, and while that's still probably a strong influence, he has been extremely consistent on the backend this season, even in games where it looked like Muzzin was struggling. He hasn't had many headshake moments, and he's even chipped in offensively a bit as well. He's earned every penny of his $2 million contract thus far.

Disappointed: I use disappointed loosely because I wouldn't say that any player has performed below my expectations, but I guess the closest player for me that fits that bill is Wayne Simmonds. I'm perfectly fine with putting up with his inability to produce and drive play if he does other things that improves the team morale, but I don't know if I've seen enough from him in that regard to justify a 30% 5v5 xGF%.
Michael Mazzei:
Impressed:

Out of all the players on the Leafs roster, I have been the most impressed with Alexander Kerfoot so far. I liked they way he has been playing, especially against the Oilers the other night, and has slowly gotten more comfortable with the system. His struggles to begin his Leafs tenure were one of the biggest gripes about the Nazem Kadri 

trade

, and it makes sense given Toronto has invested a lot into Kerfoot. But while it's early, I think this will be the season Kerfoot rebounds and has a solid offensive season for the Leafs.

Disappointed: This might be controversial, but Jake Muzzin has been a bit disappointing to me. I am aware that his underlying metrics have been solid and that is a fair point. What I don't like is that it seems that he isn't driving the play as much and has made some costly mistakes defensively (ex: the tripping penalty that led to the game winner vs Edmonton). In fact, you could argue that Justin Holl is the one driving that pairing and not the other way around. The season is still young and there's plenty of time left for him to turn it around, but I haven't been impressed with Muzzin so far this season.
Nick Barden:
Impressed: John Tavares and Mitch Marner have been great so far in this season and haven't even played much together. The two have combined for 15 points in 6 games (each). Tavares, to me, looks like he did in his first season with the Maple Leafs — dominant. After last season's injury, which slowed him down, he looks like he's a new man. I mean he is a dad after all, so maybe it's his dad strength.

Dissapointed: It pains me to say this, but Morgan Rielly has disappointed me early on. We know that he's not the best defensively but right now he looks like the fourth-best defenceman on the team. Rielly has been on the ice for the most 5v5 goals against (of all defencemen) with six, plus he has an xGA total of 4.78, still at 5v5. Again though, he's also been for the most goals, so that also might tell you something different. Obviously, Rielly is a double-edged sword and he's not going to play great every night. However, right now (from the eye-test) he's not looking like the best defenceman on the ice, which he should be at all times.
Mer:
Impressed: Jack Campbell. Yes I know everyone expected me to say it, but it's true! He only had 1 game but that game seemed like the first time the Leafs actually played well. The first two games were shaky, but Campbell came in and settled the team right down. Things have felt much calmer for the Leafs since that win over the Sens. I'm excited to see what else he can do.
Zach Hyman, as always. He's the single most consistent Leaf. He gives it his all every game, he hunts pucks, he's a work horse. He's just reliable, all the time.
John Tavares. He's on another level so far this season, like he's got something to prove. I like it.

Disappointed: Freddie. Now, he is definitely improving and he deserves credit. But he started off pretty shaky, and the team looked shaky in front of him. He's turning it around, but I'm still a little hesitant about him.
Other than that I've been mostly pretty happy with the team! I agree that Thornton doesn't fit long-term on the top line, but all in all I'm impressed with what the Leafs are bringing to the table.
Brian
Impressed: Travis Dermott. I sometime feel like the biggest  Travis Dermott doubter around, but his play, especially Friday night against Edmonton, has been noticeably good this season. If this keeps up, I might come around on the "Travis Dermott is a top four defenseman" arguments I heard all offseason

Disappointed: Morgan Rielly. After watching him lug around deadweight like Matt Hunwick, Nikita Zaitsev, and Cody Ceci, Morgan Rielly's play alongside TJ Brodie early on has left me wondering if after spending the last five years almost begging for a partner to play alongside Morgan Rielly, how much longer before we can start questioning the one constant in all those pairings.
Mark Norman:
Impressed: John Tavares has looked phenomenal early on. From the very first shift of the season it has looked like he's had an extra gear and is setting the tone for how everyone needs to play if this team is to succeed. The offensive production, which has come mostly on the powerplay, is great, but where I've been really impressed is how strong he looks in puck battles and his attention to detail in his own zone. Currently his offensive results at 5v5 are suppressed: he has one point at 5v5 through six games with a 38.5% goals-for share (GF%) but a 50.4% expected goals-for share (xGF%), a differential which can explained by a 4.5% shooting percentage thus far at Fives. This will improve, and add to his powerplay production to keep him at-or-above a point-per-game pace.

Disappointed: I think 

Morgan Rielly

 has more to give, and I haven't liked his work in his own zone at all. Perhaps it was too much to expect to see immediate results with him only having played six games with a competent partner in 

TJ Brodie

, but Brodie has been far more noticeable for good things than Rielly to date. I think many of us expected Rielly to immediately transform into Norris candidate once the burden of having to constantly cover for an unreliable partner was lifted, but having a better partner doesn't necessarily improve your own decision making. For example, last night's lackadaisical return to his own zone on the Draisaitl shorthanded goal sticks out as unacceptable. I think he'll sort it out as he continues to build chemistry with Brodie.

 
Jon Steitzer
Impressed: I have a Shania like tendency to not be impressed easily, and things like John Tavares and Mitch Marner living up to their expectations is great, but I'll need a lot more than what we've had so far to be officially impressed. Instead in true old dude fashion I'll over praise someone who had the bar set so low for them that they should have cleared it no problem and go with the very obvious choice of Justin Holl.

I've always liked Holl, and have been excited about him since he's joined the organization, but admittedly thought that with the arrival of Bogosian, Brodie, and Lehtonen, not to mention with Dermott, Sandin, and Liljegren coming up from behind him as in house developing talents, that he'd find himself on the outside looking in this year, especially after underwhelming play over the summer. While as a collective fanbase we need to pump our brakes on the belief that Holl is anything other than a solid number option, who plays very favourably against Connor McDavid, there is also no doubt that he isn't going to be willingly offered up to the Seattle Kraken in the expansion draft either if he keeps this up.

Disappointed: I'm going to change it up and go with a coach and say Sheldon Keefe. I'm sure I'm willingly choosing to interpret the intent of the question differently than everyone else, but that's the beauty of being the guy who writes up the post.

All of the inconsistencies in the Leafs game still seem to be kicking around. They may be handling them better at times, but this still isn't a team that looks as dominant as they appear on paper. Frankly, I find his line combinations bizarre. Beyond the pairings of Matthews-Marner, Tavares-Nylander, and Mikheyev-Kerfoot, the third wheel on each of those lines seemingly was drawn from a hat with no rhyme or reason. It's hard to understand the under utilization of Zach Hyman, and the over utilization of Thornton and Vesey, and the decision to then split Nylander from Tavares when Matthews was out seemed even more bizarre, but largely because we are yet to see any situation in his career where Mitch Marner is the sole driver of a line's offence.

That said, the defense has looked better than I can ever remember, so I should probably dial back the concern on Keefe and go with my preseason prediction for who will disappoint and stick with Barabanov, who just hasn't been as noticeable as I would have liked.
Anyone we missed? Let us know.