The Leafs call up Erik Källgren, Matt Murray goes on the LTIR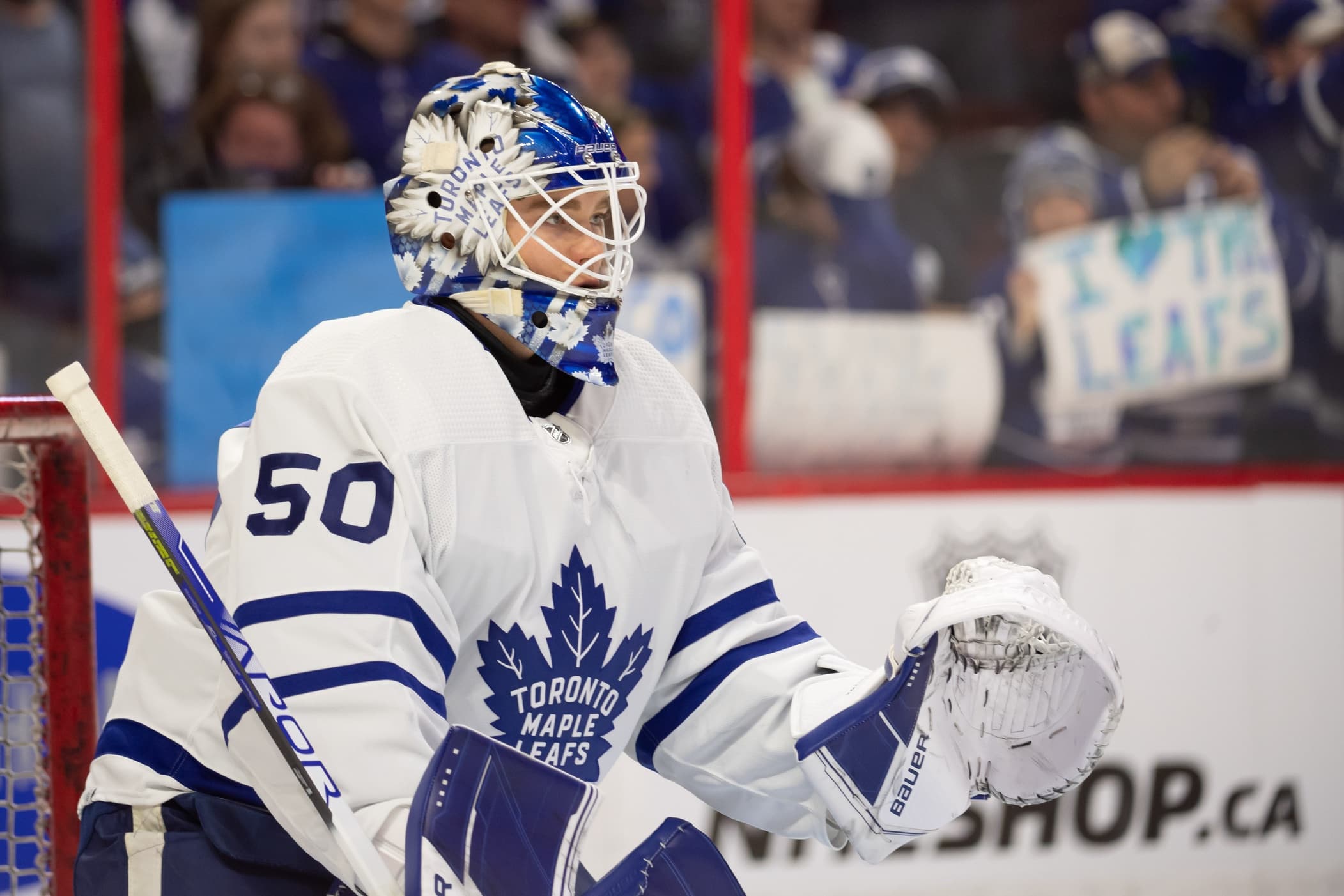 Photo credit:© Marc DesRosiers-USA TODAY Sports
After Matt Murray went down with groin discomfort during the morning skate on Saturday morning, it was unclear how severe it was and how the Leafs would be able to fill the void in the immediate and long-term future.
With roughly two hours to go until their game against the Senators, the solution became clear: Erik Kallgren is back.
As a result of this transaction, Ilya Samsonov will be the starter for tonight's game. Kallgren will likely serve as the backup because he played the previous night in Rochester and left midway through the second period after
a collision with Ethan Prow
.
Sheldon Keefe mentioned during today's pressers that
Murray's status was not yet determined
, but this move implies that the severity of the ailment will be enough to keep him out of the lineup for some time. In the event that he would need to be placed on LTIR in a corresponding move,
he would miss at least 10 games
and won't be cleared to return until November 8th against the Golden Knights at the earliest.
While bringing up Kallgren will provide some temporary relief, this will undoubtedly raise the urgency to find Wayne Simmonds a new home so that the Leafs are able to clear up a roster spot that could be used to sign another goalie should the injury woes continue. Denis Hildeby is the only other healthy goalie that is signed to an NHL contract and he is currently in Sweden playing with Farjestads BK (Joseph Woll is currently on IR).
They could use that freed-up space to sign one of Dryden McKay or Dylan Ferguson, though the Leafs may prioritize allowing them to develop and both of them are ineligible to sign ATOs. With no
free-agent goalies available
for Toronto to pursue, the only other option would be to acquire one via trade. So don't be surprised if the Leafs decide to make a trade to bring in a depth option in the coming weeks.
Because Murray will likely be unavailable for a while, Samsonov will almost certainly assume the starting role and gain the bulk of the starts. He had a solid preseason and is coming off his first win as a Leaf which came at the expense of his former team on Thursday night.
Murray's lone regular season game with the Leafs came on opening night against the Canadiens where he stopped 19 of 23 shots, registering a .826SV% and a 4.05 GAA. In the preseason, he went 3-0-0, denied 64 of 66 shots against, and recorded a .970 SV%. 
Prior to leaving the game against the Americans, Kallgren turned aside 16 of 18 shots and posted a .889 SV% plus a 4.35 GAA.
Update: The Leafs have made it official. Murray was placed on LTIR and will miss at least four weeks with an adductor injury.