The Leafs Fan's Guide to the 2022 World Juniors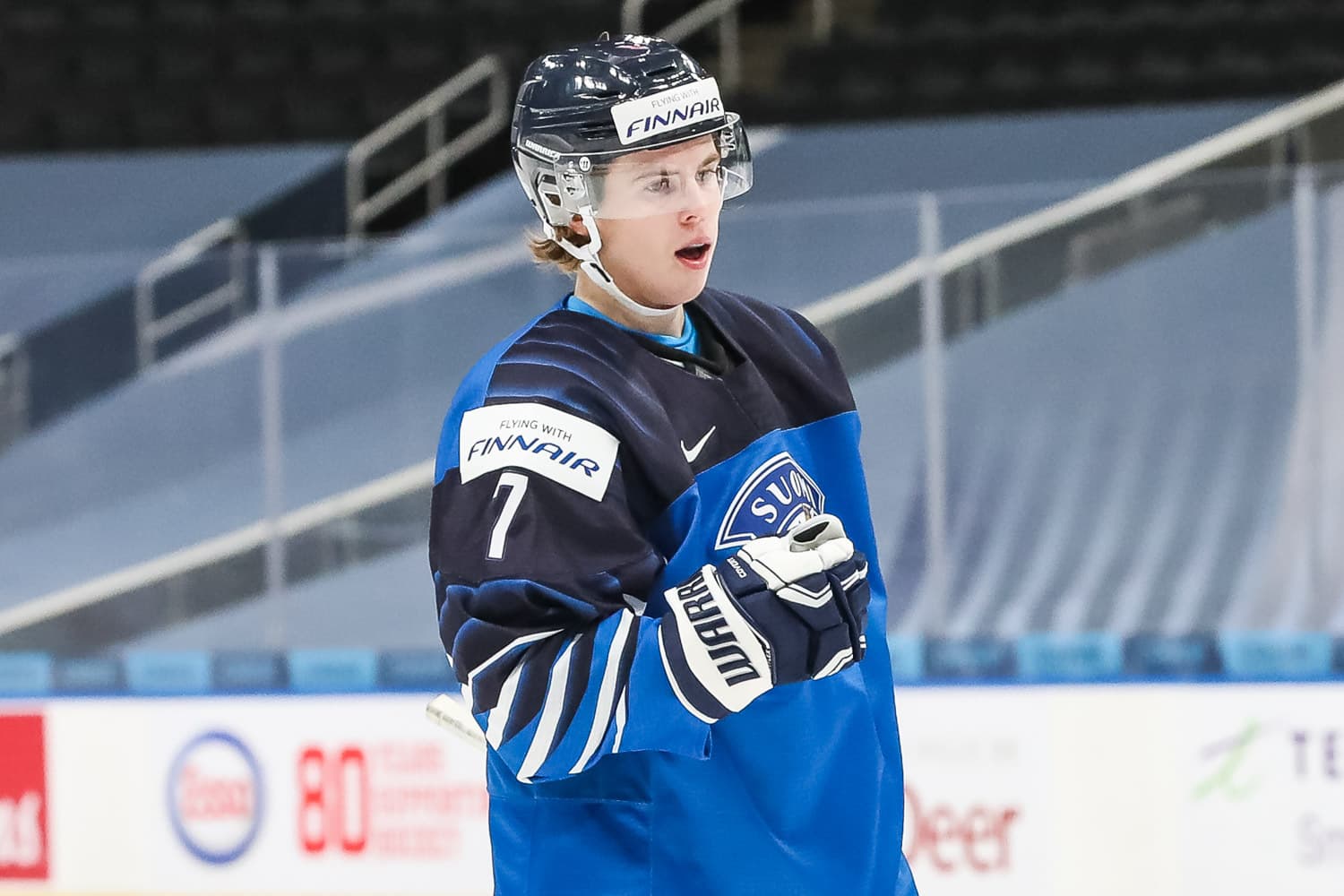 Photo credit:@leijonat
It's the most wonderful time of the year. We have finally arrived at everyone's favourite time on the calendar…the World Juniors!
Even as uncertain as this year's tournament seemed with COVID protocols and sports postponing games left and right, the 2022 World Juniors look ready to go ahead and commence on Sunday afternoon. There's plenty to take in for Leafs fans at the tournament, so let's dive right into everything you need to know heading into this year's World Junior Hockey Championships.
The Leafs Prospects
The Toronto Maple Leafs will have three prospects at the 2022 World Juniors, all of which will feature in major roles for their respective country.
Leafs fans, prepare to become Finland fans for the next two weeks as defenceman Topi Niemelä and left-winger Roni Hirvonen look to lead Suomi back to a medal. After winning bronze a year ago, Niemelä and Hirvonen return with letters on their chest for this edition of the World Juniors. Hirvonen will be team captain, while Niemelä will serve as an assistant.
You may already be familiar with both players from their World Juniors performances in 2021. Topi Niemelä, a 2020 third-round pick, far exceeded expectations last year to record eight points in seven games and earn himself Top Defenceman honours. Roni Hirvonen, meanwhile, scored six points but was big in clutch moments, including the late minute game-winner against Sweden in the quarterfinals.
It's no surprise that Niemelä and Hirvonen will once again play significant roles for Finland. Niemelä has built on last year's strong World Juniors performance to blossom into a high-end Liiga defenceman, currently leading the entire league in scoring among defencemen with 24 points in 31 games. Hirvonen has shifted to the left-wing and after some early-season struggles, has begun to heat up with 16 points in 28 games, including nine points in his last 10 games.
Over on Team USA, the Leafs lone representative from the 2021 draft is Matthew Knies, a power forward who has opened some eyes with his play as a freshman at the University of Minnesota. Building off of a strong finish to his draft year, he has 16 points in 18 games to begin his NCAA career. The second-round pick looks to slot in on USA's second line and powerplay, where Knies will be leaned on with his elite forechecking and strong shooting ability.
Team Canada
Most Leafs fans are based in Canada, so apologies to any non-Canadian fans (you can skip to the next part).
As per usual, Team Canada enter the tournament as favourites with top tier offensive depth, a strong blueline, and two more than capable options in net.
Beginning up front, Canada boasts the best offensive depth in the tournament. @Cole Perfetti is the lone returning forward and will be leaned on as a top-line scorer, arriving from the AHL's Manitoba Moose. High 2021 draft picks @Mason McTavish and Kent Johnson have been paired on the second line through camp and looked like a deadly duo in their pre-tournament game on Thursday against Russia.
But while those three already have the draft pedigree, much of the attention among Canada's forward group will go to two potential future first overall picks in Shane Wright (2022) and Connor Bedard (2023).
Wright enters the tournament as Canada's top-line centre, in between the aforementioned Perfetti and @Xavier Bourgault on Thursday night. Though his OHL scoring has been slightly disappointing this year, Wright's cerebral play and strong defence should make him an easy bet to remain as Canada's 1C throughout the tournament.
Bedard, on the other hand, is much more of a wildcard. Coming off of a stellar 15-year-old season in Regina, Bedard is the first 16-year-old to make Team Canada since @Connor McDavid in 2014. His opportunities are likely to be limited given his age, just as they were for McDavid. Bedard was Canada's 13th forward on Thursday but still managed to find the back of the net. It's important to keep expectations for him in check (McDavid only had four points in his 16-year-old World Juniors appearance), but it wouldn't be shocking to see Bedard steal a top-six spot.
On defence, Canada brings eight left-handed defencemen to the tournament, leaving 2021 8th overall pick @Brandt Clarke at home. Montreal's @Kaiden Guhle captains the team, but it will be reigning 1st overall pick Owen Power that anchors the top pairing. Filling the spots alongside Power and Guhle will be Anaheim's Olen Zellweger and Vegas' Lukas Cormier, both of which bring an offensive punch from the backend.
And finally, Canada has two strong options in the crease between returnee @Dylan Garand and 2021 15th overall pick @Sebastian Cossa. Both out of the WHL, it remains to be seen who will be Canada's starter once the elimination games begin. Garand is the returning player and has posted better numbers this season, but Cossa has the edge in draft pedigree and size.
Players to Watch
There are quite a few players to watch on each team over the next two weeks. Beginning with the draft eligibles, there are a surprising amount of draft-eligible prospects that will feature at the World Juniors for numerous countries.
In addition to Shane Wright and Connor Bedard with Canada, Group A will feature Finland's Joakim Kemell and Brad Lambert, Czechia's David Jiricek and Jiri Kulich, and even Austria's Marco Kasper and Vinzenz Rohrer.
Over in Group B, things are even more fun when it comes to draft eligibles. Matvei Michkov, the Russian running mate to Bedard for the 2023 1st overall pick, will feature on their top line. Danila Yurov, a top 10 talent in this upcoming draft, will also factor in for Russia. Slovakia brings a core including the likes of 2022 first-round talents Simon Nemec, Juraj Slafkovsky, and Filip Mesar, in addition to top 2023 prospect Dalibor Dvorsky. Even Czechia and the USA will have draft-eligible players in big roles, with David Jiricek and Logan Cooley respectively.
Among MVP candidates across the tournament, watch out for the incredibly dangerous first unit from Sweden. @William Eklund and @Alexander Holtz could easily be in the NHL right now, Simon Edvinsson looks like the next great Red Wings defenceman (as if @Moritz Seider wasn't enough), and Jesper Wallstedt may just be the best goaltender at the tournament.
Finally, while you're watching Team USA for Matthew Knies, keep an eye on 2021 2nd overall pick Matty Beniers and 2020 5th overall pick Jake Sanderson, who we will become all too familiar with when he joins the Ottawa Senators.
Between the three Leafs prospects playing in prominent roles, Team Canada's exciting blend of highly drafted 19-year-olds and young draft eligibles, and the tournament's all-around depth of talent, the 2022 World Juniors should be a very fun one for Leafs fans over the holiday season. Have a happy holidays, and enjoy your Boxing Day full of hockey!