The Leafs have reportedly inquired about Vladislav Gavrikov, Frank Seravalli notes this is a "win or go-home year for the entire front office"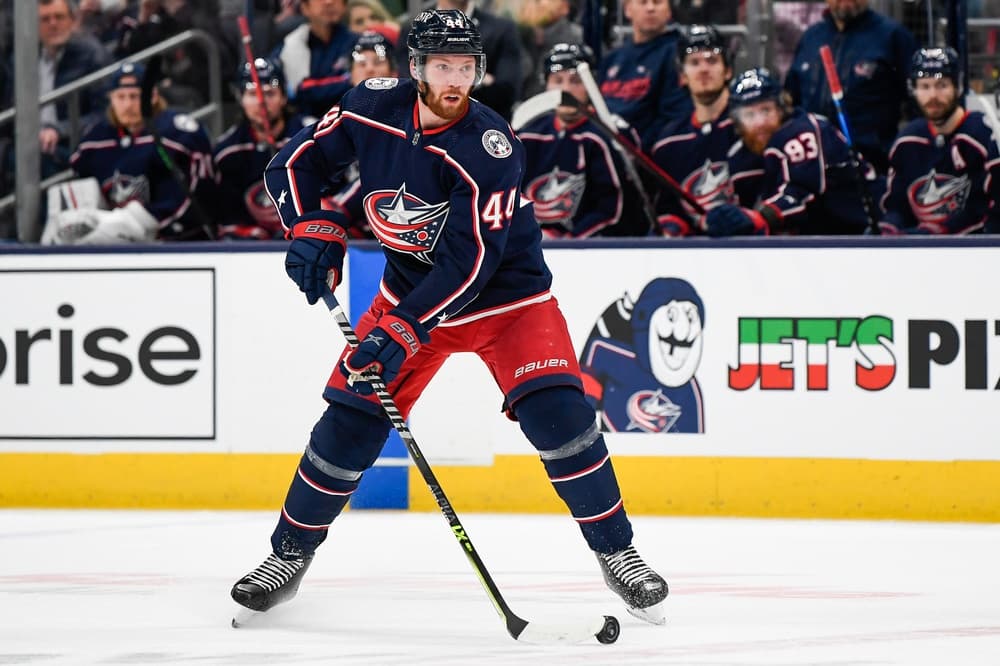 Photo credit:© Gaelen Morse-USA TODAY Sports
Vladislav Gavrikov has become the Topic Du Jour lately, as Elliotte Friedman mentioned during Hockey Night in Canada on Saturday that the Toronto Maple Leafs were among the teams who have reached out to the Blue Jackets about the shutdown defender.
"I do think Edmonton and Toronto are among the teams who have looked into Gavrikov," Friedman said. "What's interesting here is that Columbus is allowing teams to speak to Gavrikov as they try to facilitate, potentially, a trade for the free agent defenseman."
There's no doubt the Leafs have been impressive in both generating offense and limiting chances. Adding to their group of prolific scorers would neglect a back-end that has seen Morgan Rielly, T.J. Brodie and Jake Muzzin all go down with serious injuries. That's left the bulk of their defending to be done by two kids in Rasmus Sandin and Timothy Liljegren, as well as 38-year-old Mark Giordano.

They've performed better than expected, but not upgrading that position heading into the playoffs would not make much sense given that this is a win or go-home year for the entire front office.
The most interesting part of this note from Seravalli, of course, is that this is a win-or-go-home year for Toronto's front office. The Leafs have failed to advance out of the first round of the playoffs in six consecutive seasons and it seems there's more pressure than ever for Kyle Dubas to push all of his chips on the table so that the team can go on a deep playoff run this spring.
Since taking over as Toronto's general manager in the spring of 2018, Dubas has never shied away from making in-season additions to the team, but he's always maintained a big-picture approach rather than selling the farm for a single run.
The biggest pre-deadline move he's made came all the way back in January of 2019, when the Leafs sent prospect Sean Durzi and a first-round pick to the L.A. Kings for Jake Muzzin. Otherwise, it's been deals that don't involve major prospects, such as giving away two third-rounders for Jack Campbell, a first for Nick Foligno, and a second and a third for Mark Giordano.
Since getting shocked by the Blue Jackets in the first round of the 2019 playoffs, the Tampa Bay Lightning have been consistently in sell-the-farm mode for years. They moved two first-round picks in 2020 for Blake Coleman and Barclay Goodrow, they dealt a first- and a third-round pick in 2021 for David Savard, and they traded two first-round picks and three prospects in 2022 for Nick Paul and Brandon Hagel. The result has been back-to-back-to-back Stanley Cup Final appearances and two championships.
May 14, 2022; Toronto, Ontario, CAN; Tampa Bay Lightning forward Nick Paul (20) celebrates after scoring against the Toronto Maple Leafs in the second period of game seven of the first round of the 2022 Stanley Cup Playoffs at Scotiabank Arena. Mandatory Credit: Dan Hamilton-USA TODAY Sports
Despite the lack of playoff success, it's not difficult to see why Dubas has taken a conservative approach when it comes to his prospects. The Leafs' blueline has been decimated by injuries this season and Rasmus Sandin and Timothy Liljegren, who cost the team $2.8 million combined have both stepped up and played very well in larger roles. Though injuries have gotten in the way, the same logic has been applied to Nick Robertson, as Dubas has prioritized having entry-level talent complement the team's expensive core.
But if this is truly a win-or-go-home year for Dubas, getting value out of young players on cheap deals in the coming years won't be a priority. We could very well see him make his biggest in-season moves to date, especially considering he's in an arms race with the spend-at-will Lightning ahead of an inevitable first-round matchup with them coming in the first round. This year's first, next year's first, and prospects Matt Knies, Topi Niemela, Fraser Minten, and Robertson could all be on the table in order for the Leafs to finally get over the hump.
Seravalli noted in that aforementioned Daily Faceoff article that the Blue Jackets are hoping for the same return for Gavrikov that they got a few years ago from Tampa for Savard. Looking back at Tampa's in-season trades, the Savard one was easily the more regrettable, as he logged just 14:07 per night for them in the playoffs and walked in the off-season. In a similar situation, the Florida Panthers paid roughly the same price last spring for Ben Chiarot, and he was hardly a difference-maker in their run that ended in the second round.
There's nothing wrong with acquiring a shutdown defender to add depth to the blueline and Gavrikov could be a useful player if he's moved down the depth chart from his current top-pairing defender role in Columbus, but the Leafs should be aiming for more of an impact player at any position in a deal in which first-round picks are involved. A trade similar to the one the Edmonton Oilers made last spring, which saw them acquire Brett Kulak for a second-round pick and non-prospect William Lagesson, would be a better template for adding depth on defence.