The Leafs Nation Preseason Prediction Poll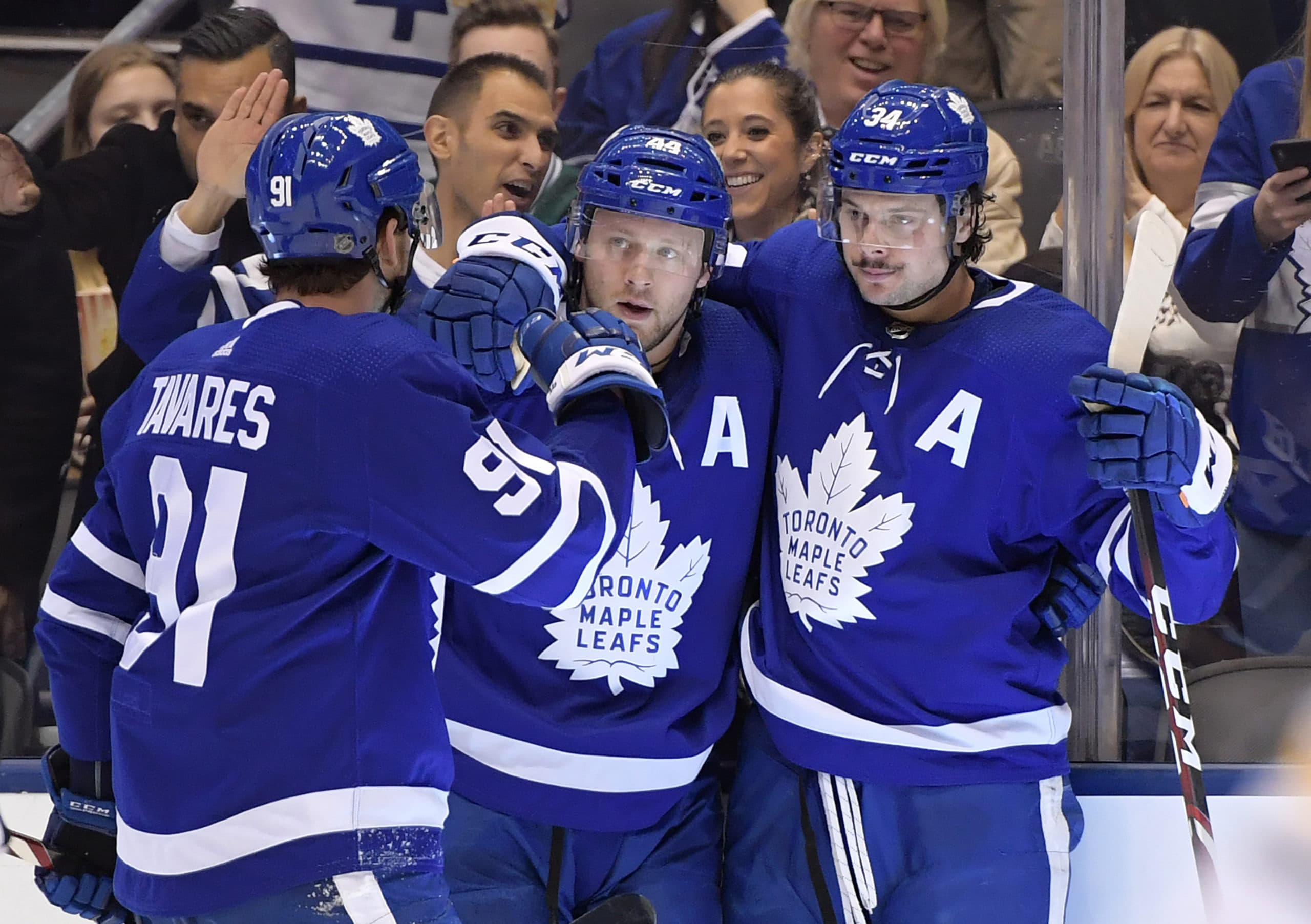 Photo credit:© Dan Hamilton-USA TODAY Sports
It's been a long off season. We've gone a long time without the joy of cheering the Leafs, blaming the refs, and laughing at the Habs. Tomorrow night that all comes back. We need this.
With the return of the season, we've decided to take a different approach to our annual predictions than we've done in the past. We're still asking the same questions, but we've also asked a few more, and rather than sharing the individual votes, we've rolled everything up into the official, guaranteed result predictions of the TLN team. Take these to the bank, but know if you win anything because of these predictions, we demand a cut. Similarly if you lose, remember, we don't know what you're talking about and these are for entertainment only.
First off we asked, how far the Leafs will make it this year, and the result was we all think the Leafs will do better than they have since the Quinn era. The majority of our contributors think they will match the Leafs best results since 1967, but no one was willing to step up and be bold and predict a Stanley Cup appearance or win. Perhaps we're cowards.
With the exception of one writer, we had unanimous support for the Leafs winning the division. We did have unanimous agreement of the Senators finishing dead last. There was a lot of back and forth between Edmonton, Calgary, and Montreal on who would be the 2nd place team, with Edmonton narrowly moving ahead of Calgary. Despite the fact that Vancouver wasn't seen as a playoff team by most of our writers, they were the only other team that received a vote for winning the division.
We asked if any of these three would find themselves outside the Leafs organization, or if they'd all make it through, and it's safe to say we think MLSE #trusts #the #process.
Leafs players:
No real surprise there. Well, maybe that Andersen got a vote. Goaltending is pretty important, and it seems based on some of our other questions, there are some varying opinions on Freddie Andersen. As for Rielly, all I can say it would be nice to see, but I feel pretty comfortable in my Matthews selection.
This one is on me for not specifying what was meant by rookie, and while some of these players may not have Calder eligibility, we'll comfortably look at the criteria as player looking to make a difference in their first full season. Hollowell might be a bit of a reach, but I think the Robertson vs. Lehtonen battle is in fact pretty accurate for who will be the top NHL newbie.
It's encouraging that we're expecting 7 different players to be pleasant surprises (of course, there's another side to that later.) The excitement around Vesey may be prompted by the fact he's playing with Tavares and Nylander. Barabanov on the other hand, is a bit more of an unknown who may truly surprise a lot of us by moving beyond the fourth line role he presently occupies.
Well, like I said, there are a lot of players we think could disappoint us. It's probably not a huge shock that a defensive defenseman leads the list, as Cody Ceci, Roman Polak, and others have blazed the trail for us to lean that way. The fact that we have 10 different names probably points to Leafs fans grinding their axes on a lot of different players instead of uniting against someone like Ceci this year.
Remember, we had someone also pick Rielly as the potential Leafs MVP, so it's interesting that the slightest of majorities of our poll participants don't even view Rielly as the best defenseman on the team. Perhaps the real shocker is that no one picked Martin Marincin as the top defenseman. Have they not seen the graphs from 2015?
Andersen responses were probably the most interesting part of this poll, and there's still more to come below. Someone viewed him as the MVP, someone thinks he'll be the biggest disappointment, but the majority of us think he'll be the starter when the season ends. The story only builds with the next couple of questions…
I guess we see Freddie Andersen going out on a high note, but there doesn't seem to be a lot of interest in bringing back a goaltender who has become increasingly inconsistent, is a little bit older, and certainly still won't be cheap to sign.
Additionally, some of us are also trading Andersen. Presumably the same two people who think Campbell will have the starter job at the end of the year. Dermott is the slight leader, but with Holl also having some representation here points to the Leafs needing to make a decision about their blueline. I'd argue that the depth is a good thing this year, and in fact if we did this poll a little later to allow for Saturday's game to play out, more of us would have said Pierre Engvall.
Dermott also was well represented in the expansion draft question, as was Kerfoot and Engvall, but the runaway leader seems to be Holl, and perhaps keeping Holl playing with Muzzin and having Jake prop him up is a good thing for the Leafs. Either way, we can probably count on an opening for Sandin or Liljegren next season.
I guess the better question would have been, what should Hyman be re-signed at. The general idea of bringing Hyman back has a lot of appeal, but term and dollars could change things a lot. I'm sure we'll explore that further in a post or twenty before the season is done.
We all expect Nick Robertson to play, we just don't expect him to be an everyday player this season. Initially it looks like Robertson will be in the press box, and it will probably depend on the play of Barabanov, Vesey, and possibly Spezza to establish how long it will be before Robertson gets his chance. Given our selections it doesn't seem like we're banking on Robertson grabbing the roster spot and not letting go, but this year should be a nice transition to pro hockey after only getting a small taste of it over the summer.
Like Robertson, Sandin will have a spot on the taxi squad. The Leafs will definitely get him into games, but how many and will he push his way ahead of anyone by the end of the year. Our thoughts are largely that there are bound to be injuries that make him one of the six best healthy defensemen, but not necessarily that the team will see him as one of the six best defensemen for their optimal lineup. We've also got three pessimists, who might in fact be realists.
Around the league…
Leafs fan fear of the Bruins is very real. Even in a season where they've been stripped down, and have Pastrnak injured to start the year, there is a belief they can still topple the improving Flyers and the established Capitals team. I'm assuming whoever picked Pittsburgh is counting on Ceci and Kapanen burning the Leafs in some way.
Okay, so here's the thing. We see the Bruins as possibly winning the East, we see the Lightning as winning the "Central", maybe we just really want to believe the Atlantic Division was so unstoppable that it was holding the Leafs back. Either that or this really isn't that strong a division and these three teams will be beating up on garbage.
Yep. We're all in on Kadri. I mean, the Golden Knights are for real too, but that Avs team is going to beat the snot out of a very easy division.
Yep, we've got a lot of Avs believers in our ranks. It's still a little cold that not a single one of our writers could drop a Leafs hot take, but here we are. The Bruins take is definitely a hot one.
Some final hot takes
To close out the poll, we asked our writers to share some additional predictions for the 2021 season. Here are some of the responses…
"Jack Campbell is the 1A by mid March."

"Jimmy Vesey and Zach Hyman finish within five goals of one another."

"Matthews for the Rocket isn't even bold so I'll say Liljegren plays in the playoffs."

"Stutzle will win the Calder."

"Joe Thornton has more points than Josh Anderson."

"Leafs will be hilariously active at the trade deadline."

"Laine will get traded in the middle of the season."

"Buffalo pulls ahead of a struggling Boston team and makes the playoffs."

"Leafs dominate in the North division, win by over 10 points."

"Auston Matthews wins the Art Ross Trophy."
I thank the TLN crew for participating in this survey, and look forward to covering the season with them. Tomorrow, it's hockey time <3 !