The Leafs need more out of their forward group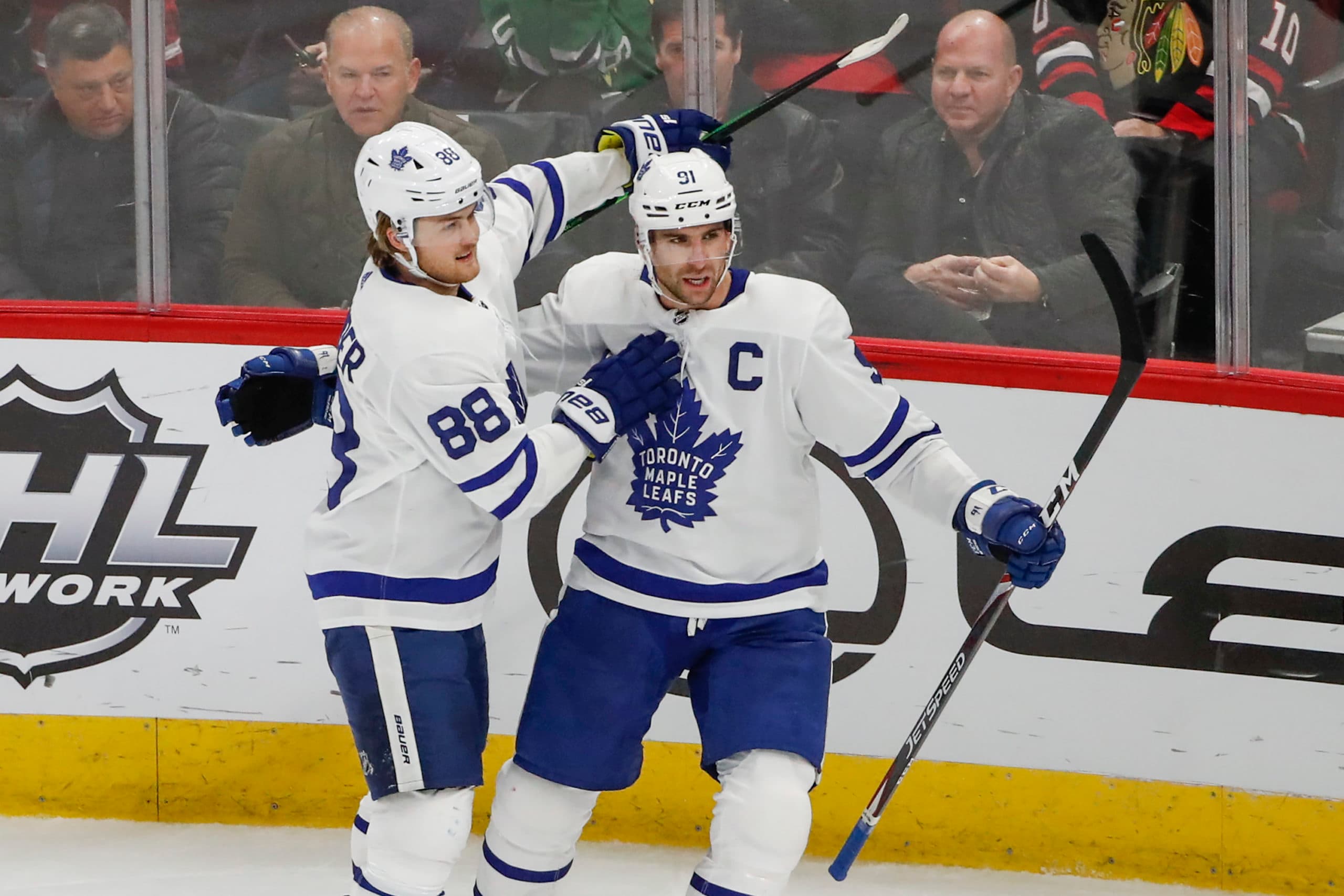 Photo credit:© Kamil Krzaczynski-USA TODAY Sports
The Leafs have gotten off to a fast start this season, currently leading the NHL with 24 points and a record of 11-3-2, mostly on the backs of an improved blue line and a couple of guys named Auston and Mitch. While the overall team results have been excellent, the process through which they have attained those results has led to some concerns now that a quarter of the season has passed.
One of the most dangerous scorers in the NHL since his career began, Matthews has taken his game to another level this season. He is currently leading the league in goal scoring with 13 goals in just 15 games and his 20 points are good enough for sixth best in the league but he has been even more dominant than those numbers suggest. Always a slick puck thief, Matthews has added a newfound physicality to his game and his commitment to the defensive side of the puck is ever-improving.
Last season was a tough one for Marner – at least by his standards – but he appears reinvigorated through the early part of this condensed campaign, currently third in NHL scoring with 23 points through 16 games. More than just the production, he looks more like the dynamic player Leafs Nation fell in love with during the first three years of his career and has consistently been a main driver for this team alongside Matthews.
The improvement from Toronto's revamped blue line has been discussed at length and though it hasn't always been perfect, there has been noticeable growth in the group's composure and ability to limit high-danger opportunities for the opposition.
TJ Brodie has held down the fort allowing @Morgan Rielly to play his high-octane, freewheeling offensive game. @Justin Holl has been great through the early part of the season, and might even be pulling some of @Jake Muzzin's weight on an effective shutdown pairing, where the opposite was true last year. @Zach Bogosian was a little slow out of the gate but he has stabilized the third pairing, playing a steady stay-at-home defensive game alongside a combination of @Travis Dermott and @Mikko Lehtonen. Dermott is once again posting excellent defensive numbers on the third pair and Lehtonen has looked much more comfortable in his last couple of games as well.
There have been other bright spots. @Zach Hyman has been doing his thing, wreaking havoc on the forecheck and making every line he skates on harder to play against. Prior to his injury, @Wayne Simmonds was bringing a unique blend of physicality and veteran leadership to a forward unit short on both while also rediscovering some of his net-front scoring presence. @Jason Spezza has given the Leafs everything they could ask for out of a player making the league minimum – never mind one that is 37 years old – and though it has slowed down a bit as of late, the Leafs' powerplay has been downright deadly.
Yes, there have been some solid contributions and occasional encouraging signs but the fact remains that the Leafs need more out of their group of forwards. More specifically, they need more out of @John Tavares and @William Nylander at even strength.
On the surface, both players appear to be off to fine starts this season. Tavares has five goals and 10 assists in 16 games, Nylander has four goals and eight assists in 16 games. Most of that production has come on a scorching hot powerplay unit, however, as Tavares and Nylander have combined for just three even strength goals so far this season.
The Tavares-Nylander duo has been a constant but the third part of that line certainly has not. They started the season with @Jimmy Vesey, both Ilya Mikheyev and Simmonds have played there, and now Keefe has tabbed Zach Hyman as the next man to try and find some chemistry on the Leafs' second line with @Joe Thornton back on the top line slinging passes to Matthews and Marner. The lack of continuity surely hasn't helped but the Leafs need more out of Tavares and Nylander, regardless.
The pair haven't played up to the bar they set last season, scoring almost one fewer goal per 60 minutes at even strength together than they did a year ago. It isn't just a matter of the pucks not going in for them, either.
The Leafs have six forward lines that have played at least 30 minutes together at even strength so far this season and the two groups that include Tavares and Nylander have the lowest expected goals for percentage out of the six. The pair has struggled to create scoring chances at the same rate that they did in 2019-2020, generating just 2.47 expected goals per 60 at even strength – down from 3.22 last season.
No matter who is riding shotgun as the third man on their line, they have simply not been good enough for a pair of players that combine for nearly $18 million on the salary cap and they will need to return to the form they displayed last season if the Leafs are going to continue to find success.
Tavares and Nylander aren't the only ones that need to contribute more, though. Sheldon Keefe entered the season with a distinct blueprint for his third line. He had planned to run a unit of Mikheyev, @Alexander Kerfoot, and Hyman as more of a traditional checking line but injuries early on threw a wrench into that plan. Keefe had a vision for what he wanted from his third line but as the lineup is currently constructed, whatever trio Kerfoot is centering lacks any clear identity.
Kerfoot currently owns the second lowest expected goals for percentage among all Leafs players that have played at least 50 minutes at even strength this season with a mark of 42.61%. Not exactly a number that screams "shutdown center".
In fairness to Kerfoot, he hasn't had much support from a rotating cast of wingers – most of which are likely better suited for fourth line duty in the NHL – but there isn't much about Kerfoot's game that has stood out in a positive way. He isn't driving offense, his line hasn't been effective from a defensive standpoint, he struggles mightily in the face off circle, and he doesn't bring energy with physicality or forechecking ability.
Even if Keefe can get back to using Hyman on that unit as he originally intended, whether or not Kerfoot will be able to give them what they are looking for in a third line center remains a very large question mark. The Leafs will have to find a way to insulate Kerfoot in order to get the most out of him and they may be forced to abandon their plans to deploy a traditional checking line.
Mikheyev has also struggled to produce offensively but he has been effective in other areas, most notably the penalty kill, and his cap hit is less than half of Kerfoot's $3.5 million. While the Leafs would obviously welcome a few more goals from the Russian import, he has been doing what has been asked of him for the most part.
Rumors have been running rampant regarding the Leafs' interest in adding to their forward group and though he likely isn't the answer to what ails this lineup, the Leafs did acquire some additional depth by trading for Alex Galchenyuk on Monday.
It has been a rough few years for the former third overall pick but the acquisition cost was minimal and he is no less likely to make an impact than Jimmy Vesey or @Alexander Barabanov who have struggled to find their place in the Leafs' lineup.
After getting the first crack at playing with Tavares and Nylander on the second line, Vesey has since plummeted all the way down to the fourth line and his roster spot could be in jeopardy with the acquisition of Galchenyuk and @Nicholas Robertson's return seemingly on the horizon.
The Leafs will continue to search for the right mix, both on the wing with Tavares and Nylander as well as on their third and fourth lines. Galchenyuk could be in line for a shot on the fourth line beside Travis Boyd and Spezza, or he may even get an opportunity on that second line, but chances are the Leafs will have to continue to look outside the organization to fortify their group. The need to add a more established scorer or another player that can help drive play in a similar manner to Hyman is becoming more apparent with each passing game.
Naturally, many will point to the offseason departures of @Andreas Johnsson and @Kasperi Kapanen as the source of Toronto's issues up front but neither of them made grand contributions to last season's team either so the Leafs aren't exactly missing something they had last year.
The Leafs have a sparkling record to begin the season but it isn't going to be sustainable with three of their five highest paid forwards in Tavares, Nylander, and Kerfoot underperforming. Matthews and Marner have been leading the way through the early part of this season but if the Leafs are going to compete for a Stanley Cup, they're going to need a lot more out of the rest of their forward group than they have gotten so far. At least in the case of Tavares and Nylander, the Leafs know they are capable of more.