The Leafs need to get Nick Robertson playing for the betterment of his development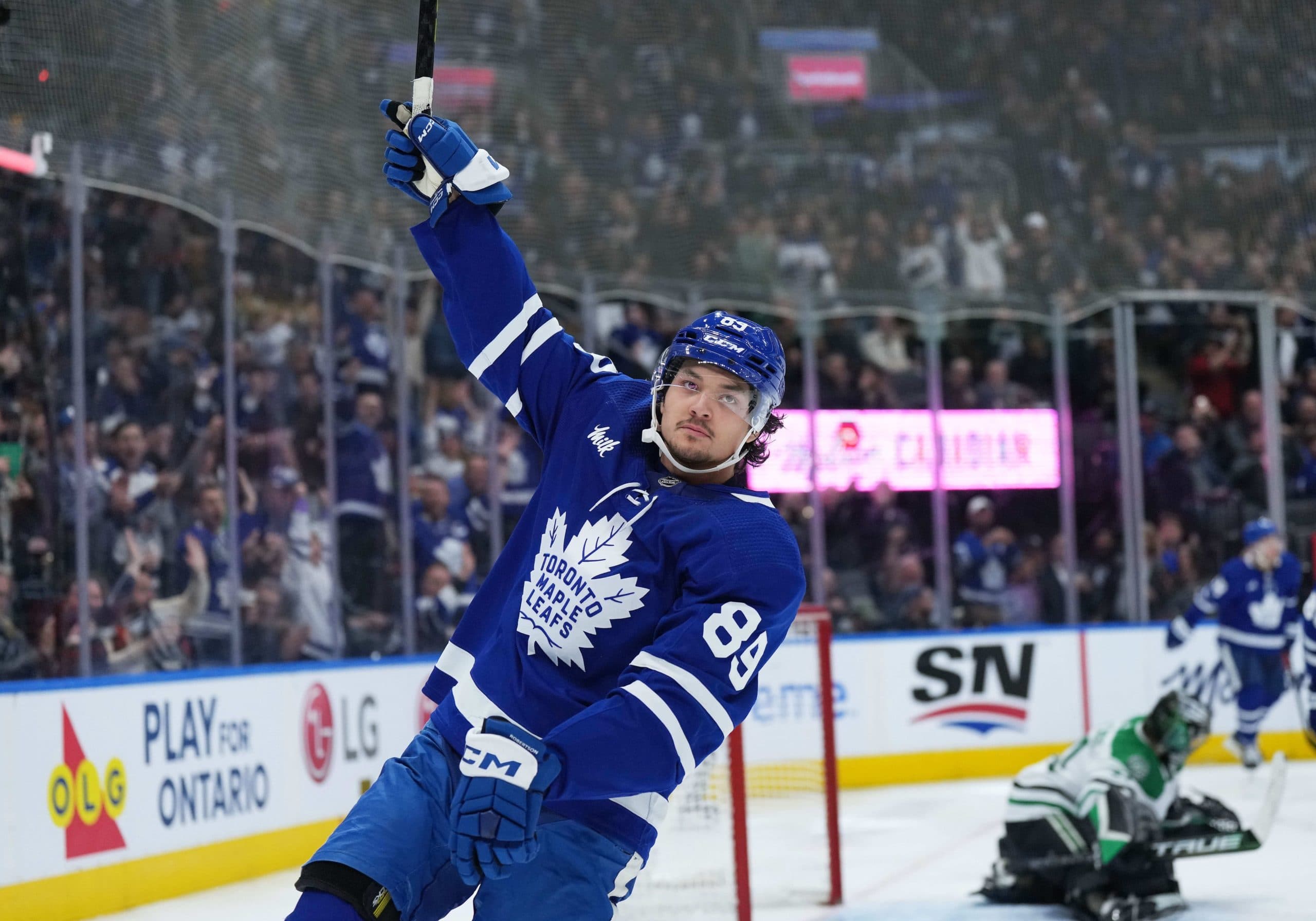 Photo credit:© Nick Turchiaro-USA TODAY Sports
When the Leafs took on the Islanders Monday night, Nick Robertson was a healthy scratch for a fourth consecutive game.
When he does get a chance to crack the lineup, he has barely been utilized as of late. Robertson has not played more than 13 minutes of ice time in his last seven games with three of them seeing him play less than 10 minutes. At the time of writing this article, he has not played in an NHL game in 11 days.
By no means has he been perfect in his first proper stint with the Leafs that was not interrupted by injuries, but he has recorded five points in his first 10 games and has the skill set to be a productive forward if given the chance. The emphasis should be on giving him a chance to play because of his importance to the team's long-term success, yet he has been forced to instead watch the action from the press box.
It is little wonder why this has become a hot topic and one that Sheldon Keefe has been asked about quite a bit over the past week.
Keefe's job is to put together the best lineup that can help the Leafs secure two points on any given night. Through the first month and a half of the season, a pattern has emerged that he is emphasizing constructing a lineup of well-rounded players who can contribute at both ends of the ice. It is an understandable approach given that this is a team that has aspirations of going deep into spring.
However, this has come at the expense of Robertson's development. Apart from his first three games which included a two-goal performance against the Stars, Keefe has barely utilized the 21-year-old forward. When he was inserted into the lineup of late, the Leafs are essentially down to 11 forwards all game long.
When asked why
Robertson has not seen much game-time over the past few weeks, Keefe emphasized that is purely based on the winger's performance instead of his age. The Leafs' coach has also mentioned the benefits of having Robertson remain in the NHL to stay prepared and work with the coaching staff.
Those are fair points as the
underlying metrics suggest
he has been
a net negative
while the time spent on the sidelines could help grant him vital lessons that will ensure his success at the NHL level.
Having said that, it can only take Robertson so far and he will need to get into games to help with his progression.
Since being drafted in the second round in 2019, Robertson's development has been nothing short of chaotic. Amid a 55-goal campaign with Peterborough Petes, the season was cut short due to the COVID-19 pandemic. He gained an audition in the bubble before being forced to play in the AHL earlier than planned due to the OHL cancelling the 2020-21 season. Then he suffered injury setbacks and was forced to yo-yo within the organizational depth chart.
Despite finally being fully healthy, Robertson is still barely playing. The only way he is going to make further strides in his growth is by getting into games and remaining a permanent fixture in the lineup, regardless of whether that is with the Leafs or the Marlies. Keefe himself has said that he doesn't like to have young players sitting for too long, and he has to stay true to his words soon because the team needs to prioritize giving Robertson every chance to succeed and allowing him to grow his confidence.
Kyle Dubas and company have to figure out what to do with Robertson and fast because having him remain a healthy scratch and barely getting much ice time is a failure in his development to becoming a mainstay in the lineup.
There are only two options for what the best path forward is for the California native: either he is good enough for the NHL right now or needs more time to develop. If the Leafs think he can be a positive contributor and make the team tougher to play against, then they need to put Robertson in a position to succeed by playing him on the second line alongside John Tavares and either William Nylander or Mitch Marner. If they think he is not ready for that responsibility (as has seemingly been the case), then he needs to be sent back down to the Marlies where he should have no trouble getting into the AHL lineup.
Should they decide to go with the latter route, they should have no problems sending Robertson back down on account that he is waiver-exempt. It is exactly what they have done with Pontus Holmberg, who also does not require waivers, by bringing him up when needed and sending him back down when the opportunities for playing time are no longer present. They can afford to do this because Holmberg is on the fringes of the roster and is not yet ready to become an everyday player. Robertson seems to fall under that umbrella at this time, yet he remains stuck in limbo due to the coaching staff not entrusting him with an opportunity.
This situation is not like what happened with Josh Leivo, but the Leafs run the risk of making Robertson ordinary when he is gifted with extraordinary skills. His shot remains lethal and has demonstrated a great work ethic to retain possession. He still has some things to work on such as his skating and defensive awareness, but those areas will not improve if he does not get the chance to play on a consistent basis.
Robertson needs to get some runway soon for the betterment of his development. The Leafs have to choose a path that will allow him to succeed and stick with it, even if that means sending him back to the Marlies. Otherwise, they are wasting away his skillset and not allowing him to progress into becoming a potential top-six forward.