The Leafs should re-sign Zach Hyman the player, but the contract is probably where we see him part ways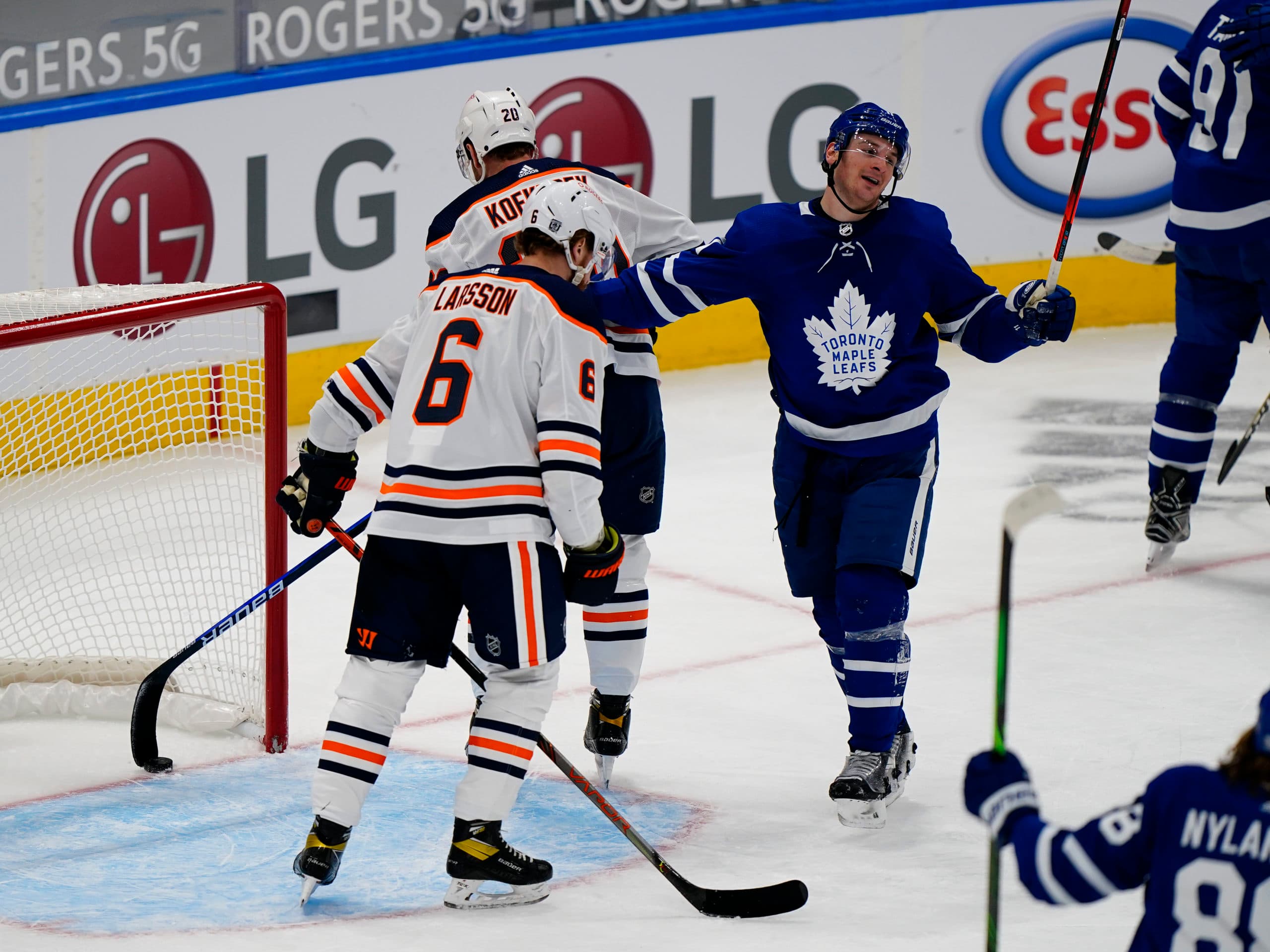 Photo credit:John E. Sokolowski-USA TODAY Sports
I think a season or two ago, if you looked at the Leafs current pending free agents, you probably would have expected Frederik Andersen to be the big fish that the Leafs need to find that cap space to bring back. But, after another rough season from Freddie, and Zach Hyman emerging as a top six forward these past two seasons, it's Hyman that many are scrambling to find a way to bring back next season.
The conversation about bringing back Hyman is probably the most unique one on the team, because there's two completely different factors that can change anyone's answer, and it makes it make sense to both keep him and let him go. He's a great player, but once we start talking the kind of money and term it would take to bring him back, it makes it much harder to do so.
Player Breakdown
Of course, we can't decide whether we want to bring him back if we don't know what kind of player we're bringing back. Of course, there's one thing most Leafs know about with Zach Hyman: he's a very good player, and was valuable on this Leafs team this year.
Before we even dive into the numbers, it was very obvious the kind of impact Hyman brought to the team this year. He was bounced around the lineup a fair bit, most frequently playing on the top line with Matthews and Marner, but he also saw some time on the second line with Tavares and Nylander, and even played a fair amount on the third line in a shutdown role, where we really got to see him do well as a play driver. And he also improved his offensive ability yet again, something we couldn't have even imagined five years ago when he first made his debut.
And that impact shows up in the numbers. Offensively, Hyman had 15 goals and 33 points in 43 games, which ranked fifth and sixth on the team, and would've been good for 28 goals and 62 points in a full season. On a 5v5 per 60 minutes basis, it's pretty similar, ranking sixth in points per 60 behind the big four and Spezza, and sixth in goals per 60 behind the younger three of the big four, Spezza, and Engvall.
Play driving and defense is where he really shines though, and that was very evident this season. Hyman was one of two Leafs to post a 5v5 expected goals share of over 60%, behind only Matthews, a number that ranked 13th among forwards in the league. He also lead the Leafs in 5v5 goal share at 65.9% (22nd in the league), and was 6th in shot attempt share with 53.25%.
From a purely defensive perspective, he was also one of the Leafs best, finishing third in goals against per 60 with 1.78 (tied for 39th in the league) and tied for second with Matthews in expected goals against per 60 with an even 2 (tied for 64th in the league). His shot attempts against per 60 weren't as good, as he tied for 10th out of 16 regulars on the Leafs with a 50.89, but the Leafs shot attempts weren't as good as their expected goals numbers this season due to how often they had the lead.
His impact was definitely clear as well, as he was third among forwards on the team with an 8.2 goals above replacement behind Matthews and Marner, which also tied for 56th in the league. If you isolate his impact using regularized adjusted plus-minus, it shows that he was good at both ends of the ice at even strength, regardless of his linemates or competition. His power play impact not as much, but that's not as much of a priority in his role.
He was also a regular on the penalty kill, getting the most minutes when he was healthy. He was kind of mediocre in that regard, with a 6.4 expected goals against per 60 on the PK and 8.82 in actual goals, but that difference has more to do with bad goaltending behind him than Hyman himself. Still, the underlying numbers still weren't great for Hyman.
He only managed one goal in the playoffs, but when Matthews was basically neutralized by the Habs shutdown line, the pressure was basically on him to try and generate offense out of whatever plays Marner could muster to him. He also didn't look the best coming off a leg injury in that series, but we'll chalk that up to a small sample size more than anything at this point.
Regardless, it's very obvious that Hyman was a valuable player for the Leafs this season. He had a large impact on the team, and from a pure player value standpoint, he's definitely someone they should bring back. It's the contract that makes it dicey.
Contract Projections
The biggest tragedy of the cap era is it takes these loveable underdog players who have a big season and manage to get a huge pay day for it, and turns them into villains because that same pay day is now immensely over the value that player will probably provide for the rest of that contract, especially for players going into unrestricted free agency when they're in the final years of their prime.
Zach Hyman may be the best example of that yet. He's a player that everybody loved on a four year, $2.25 million AAV, but if he signs anything close to his projected four year, $5.325 million AAV on Evolving Wild, or the rumours floating around of a long term deal in the $6 million range, he could very quickly become the villain on this team.
And it's not entirely his fault. If Matthews and Marner take $2 million less on their contract like they probably should have, and William takes $1 million less, it's a lot more affordable. But even then, there are still two glaring concerns with the next Zach Hyman deal: his age and his role on the team.
The biggest red flag for me looking at a future Hyman contract is the fact that he's now 29 years old, which means at best, we're going to get one or two more years of the Hyman we've seen these last couple seasons. That's also ignoring the fact that he just came off a leg injury, and age has never been kind to players that play Zach Hyman's style of play.
The Leafs are in a tough situation, because you either have to raise the cap hit to something they can't afford if you want to make it shorter term (1-4 years) or you have to stretch the term (5-8 years) to get the cap hit down. Even if you look at just his age as the only red flag, handing out term to players 29 years or older has rarely worked out.
This is a list of all the 5+ year deals handed out to players 29 years or older since the 2011 offseason, as well as the outcome of that contract, with the bolded players being players with similar numbers in the year before/leading up to their contract to Hyman's numbers this year. The last five seasons doesn't look nearly as bad since a lot of them are still fresh, but if you look at a lot of the contracts signed between the 2011 and 2016 offseasons, it's not pretty.
Only three players of the 24 contracts expired with the team they originally signed with without any complications (scratches/demotions): Joe Pavelski, Dustin Brown, and Darren Helm. I'm pretty sure Pavelski is probably the only one I'd take there. Even then, 16 of the 24 ended in either a buyout, LTIR/retirement, or a trade as a cap dump. Not an appetizing list, and even some of the newer ones without any problems yet don't look too good either.
Even if you want to just look at Hyman's statistical comparables, it's not great. The best case scenario is a Marchand, Gallagher, or Oshie situation, but for every one of those, there's another two or three that haven't (or probably won't) age well. The most realistic situation of it going well is the Oshie situation, where that deal got signed regardless of the long term ramifications because they wanted to put out the best team next season. It paid off as the Caps finally slayed their demons against the Penguins and won the Cup.
The other problem with signing Hyman long term is that you start to dwell into the murkier waters of trying to maintain a contending team year after year, which is locking up guys who aren't part of the main core. You look at a lot of the Cup winning teams, and their biggest downfall is committing to the guys who aren't key contributors to the team because they were around for the success. Chicago saw it once they locked up Seabrook and Bickell. Los Angeles saw it once they locked up Brown and Gaborik (and Quick for as long as they did and Doughty when he was on the decline). Pittsburgh did it with Hornqvist and Dumoulin. Washington did it with Wilson and Eller. St. Louis didn't with anyone on the actual team, but decided their defense wasn't good enough and brought in Faulk and Scandella and locked them up long term. Tampa even sort of did it with Johnson and Killorn, but managed to avoid paying the price just yet. All of those teams that did though paid hard, as they haven't found themselves out of the first round in the last two seasons.
The Leafs have done a pretty good job of avoiding that so far, especially in the Dubas era. They let Bozak and JVR go in 2018, Gardiner and Kadri in 2019, and Barrie, Kapanen, and Johnsson last season. You look at their player salaries and it's pretty obvious that their main core right now is Matthews, Tavares, Marner, and Nylander up front, and Muzzin, Brodie, and maybe Rielly, depending on the next year. Otherwise, players have been cycled out and replaced by either more optimal pieces outside the team, or prospects within the team.
As valuable as Hyman is to the team, his very much a secondary core piece, and when you start committing to those players, it just leaves less and less cap space to fill the rest of the holes in your lineup, something that has been exposed in their last two trips to the postseason against less skilled Columbus and Montreal teams.
---
In the end, this is a very tough situation to make a clear cut correct decision. Signing Zach Hyman long term makes it hard to improve the depth, but by losing Hyman, you also lose your biggest depth piece after the big four. If Hyman wants to take a massive pay cut to stay in Toronto, then 100% bring him back. But based on the numbers floating around, that's probably not going to happen, and it's definitely not something Zach deserves to do, especially after some of his teammates ran the Leafs for every penny they felt they deserved, only to not really show up in the playoffs.
So, it looks like Hyman's tenure with the Leafs has come down to this decision: does he want to leave the Leafs a hero, or does he want to stay long enough to become the villain. We can say that we won't let him become that, but this is Toronto, it's inevitable.