The Leafs 3 stars of the week: Mitch Marner extends point streak amid poor week, John Tavares breaks goal drought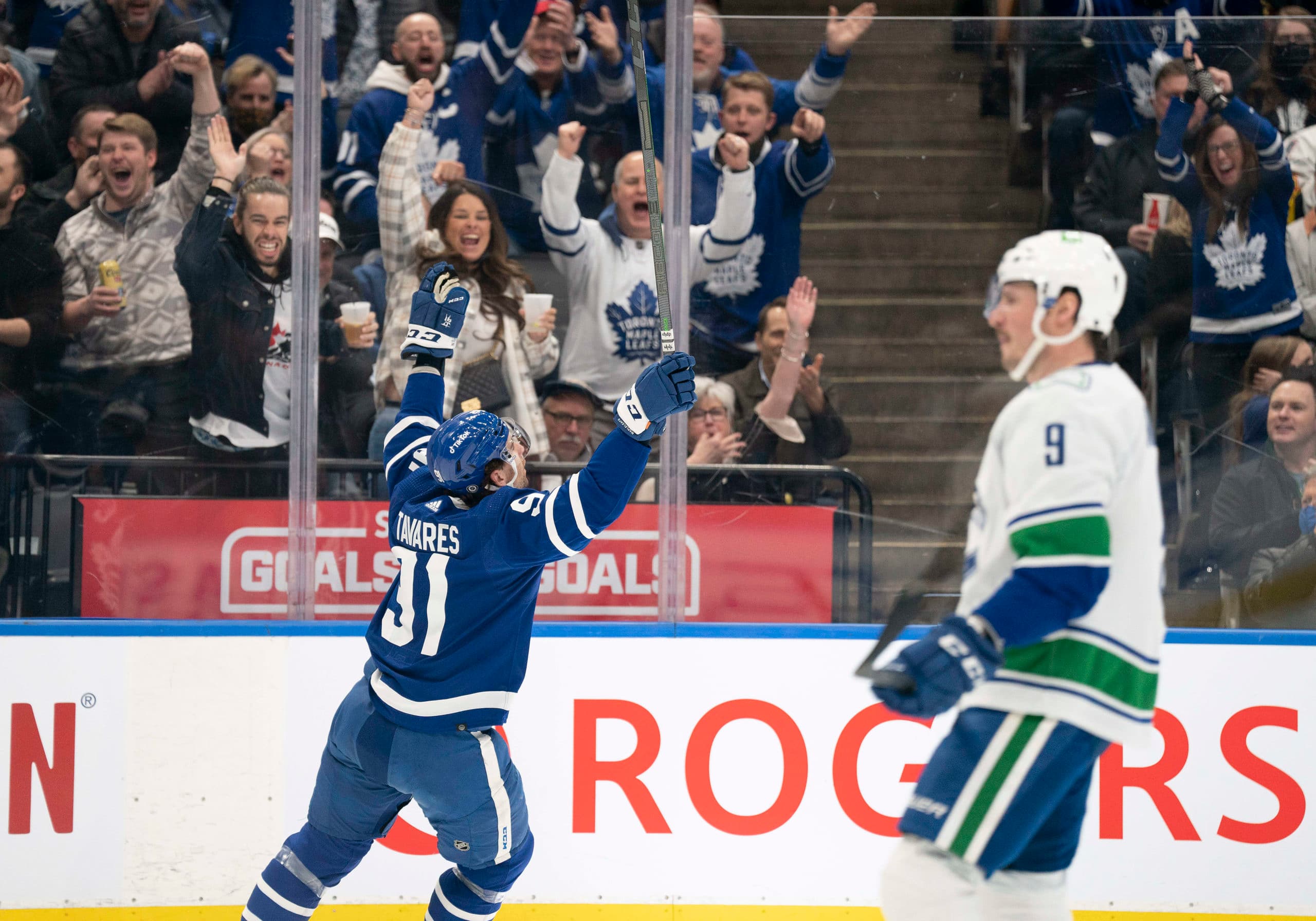 Photo credit:Nick Turchiaro-USA TODAY Sports
After coming off a four-game week where we witnessed some great games and some stressful games, the Toronto Maple Leafs had three games on the schedule last week including a meeting with the Washington Capitals for the first time since October of 2019. Along with their meeting with the 2018 Stanley Cup champions, the Maple Leafs were also set to host both the Buffalo Sabres and the Vancouver Canucks at home.
They began their week on Monday night in Washington for a clash with the Capitals and it was a pretty good game if I'm being honest right now. The Maple Leafs did blow a 3-1 lead but they managed to stick around and get the lead back to ultimately win the game on the road. There were some questions in this game because Washington is such a heavy team to play against and at times when Toronto had puck possession, it felt like the Capitals were bullying Toronto nonstop, especially when Tom Wilson threw down John Tavares, but I guess it was alright given he set up the eventual game-winning goal.
After a great 5-3 win on the road, the Maple Leafs traveled back home to host both the Sabres and the Canucks, and if you're like me and you saw these two games on the schedule, you'd maybe expect four out of four points or at least three points out of four right? Wrong. Toronto displayed a horrific game of hockey against Buffalo and really didn't look like a team that was hungry for the win at any point during that game. I guess one of these games could be a game where you say forget about it and burn the tape, but Toronto just had one of those games not even two weeks ago against arguably the worst team in the league in the Montreal Canadiens. It was unacceptable, and the Maple Leafs ended up getting booed off their own ice after dropping the game 5-1.
They ended their week hoping to bounce back after a poor effort 72 hours prior and also to get revenge against this very same Canucks team who beat them in Vancouver weeks prior. Well, it didn't go totally as planned. They fell behind but then tied the game at one but not until Vancouver scored two straight goals to take the 3-1 lead. However, with a strong pushback in the second period, Toronto scored three straight – which included two from Matthews and Robertson's first career regular-season goal – to take the 4-3 lead heading into the third period. But then as per usual, Toronto blows a third-period lead and this time couldn't come back to get the win as they fall 6-4 for back-to-back losses as their record now stands at 35-16-4 for 74 points.
Record during week 21: 1-2-0 | Season record: 35-16-4 (74 points)
3rd Star: Michael Bunting – 3 GP – 1 G – 2 A – 3 PTS
It was yet another pretty productive week for the rookie Michael Bunting. After coming off a week where he had seven points in four games – including a five-point game against Detroit – Bunting continued that production into last week and had himself another three points in three games against Washington, Buffalo, and Vancouver. We all know Bunting isn't the flashiest player on the ice, but I like to think he's pretty underrated on the skill side of things and he has looked really, really good on that top line with Matthews and Marner. He opened the scoring for Toronto against Washington in the first period which was his 19th of the season and just thinking about how he has 19 goals already as a rookie is pretty incredible if you ask me. On top of scoring against the Capitals, Bunting continued to produce and registered an assist in both of the home losses last week, one on the Sandin goal against Buffalo and then another on Matthews' second goal of the game against Vancouver. If he's not heavy on the forecheck or getting under people's skin, he's simply producing offensively for this team and showing everyone that his contract is currently one of the best bang-for-your-buck deals in the league.
2nd Star: John Tavares – 3 GP – 1 G – 3 A – 4 PTS
It finally happened. John Tavares finally broke one of his longest goal droughts in his career last night and it must've felt amazing for him. Tavares has been getting a lot of hate as of late due to him not being able to score and simply not producing. Well, I know he hasn't been able to score, but Tavares has still been producing and racking up the assists while getting his chances to score. Now, he did finally score and he broke his goal drought, but if you look at his point totals from last week and this season, you wouldn't think he was struggling that much, to begin with, to be honest. Last week in three games he had himself four points – one goal and three assists – and now improved his season point totals to 18 goals and 34 assists for 52 points in 54 games. If I'm not mistaken he is currently on pace to finish the season with 27 goals and 52 assists for 79 points in 82 games. That doesn't sound like a washed-up 31-year-old to me. You may look at his contract and complain, but you also have to remember that he plays second-line minutes most nights and for someone to hover around or be over a point-per-game is still remarkable. On top of his goal last night against Vancouver, Tavares also registered an assist in their loss along with two assists in their win earlier in the week against Washington.
1st Star: Mitch Marner – 3 GP – 0 G – 4 A – 4 PTS
It seems like Mitch Marner can't stop producing offensively as he continues to climb the scoring leaderboard in the league as he has been on an absolute tear ever since returning to the Maple Leaf's lineup on January 15th against the St. Louis Blues. Marner had himself a pretty lengthy goal and point streak a couple of weeks back and was without a doubt arguably Toronto's MVP during that stretch of games along with Auston Matthews. However, he has now found himself back on a pretty lengthy point streak again as he has totaled 13 points in his last six games – four goals and nine assists. But, it's last week, in particular, I want to discuss and show why Marner has earned yet another first-star appearance as he registered four points – zero goals and four assists – in their three games last week. Well, for starters, as I just mentioned, he had himself four points in their three games last week and was once again one of Toronto's better players throughout the week. He notched himself another multi-point game against the Capitals picking up two assists and then in both home losses had a single assist as he has now brought his season point totals up to 58 points in 46 games – 21 goals and 37 assists – which, on an 82 game pace would be 103 points. Pretty incredible. However, it's not just the stuff he does on the offensive side of the puck that amazes myself and others. His play away from the puck and his IQ is just on a whole other level I feel like. He's been a tremendous piece to the team's penalty kill, I think we all know that by now, but also five-on-five he's been good.