The most interesting tidbits from day 5 of Leafs development camp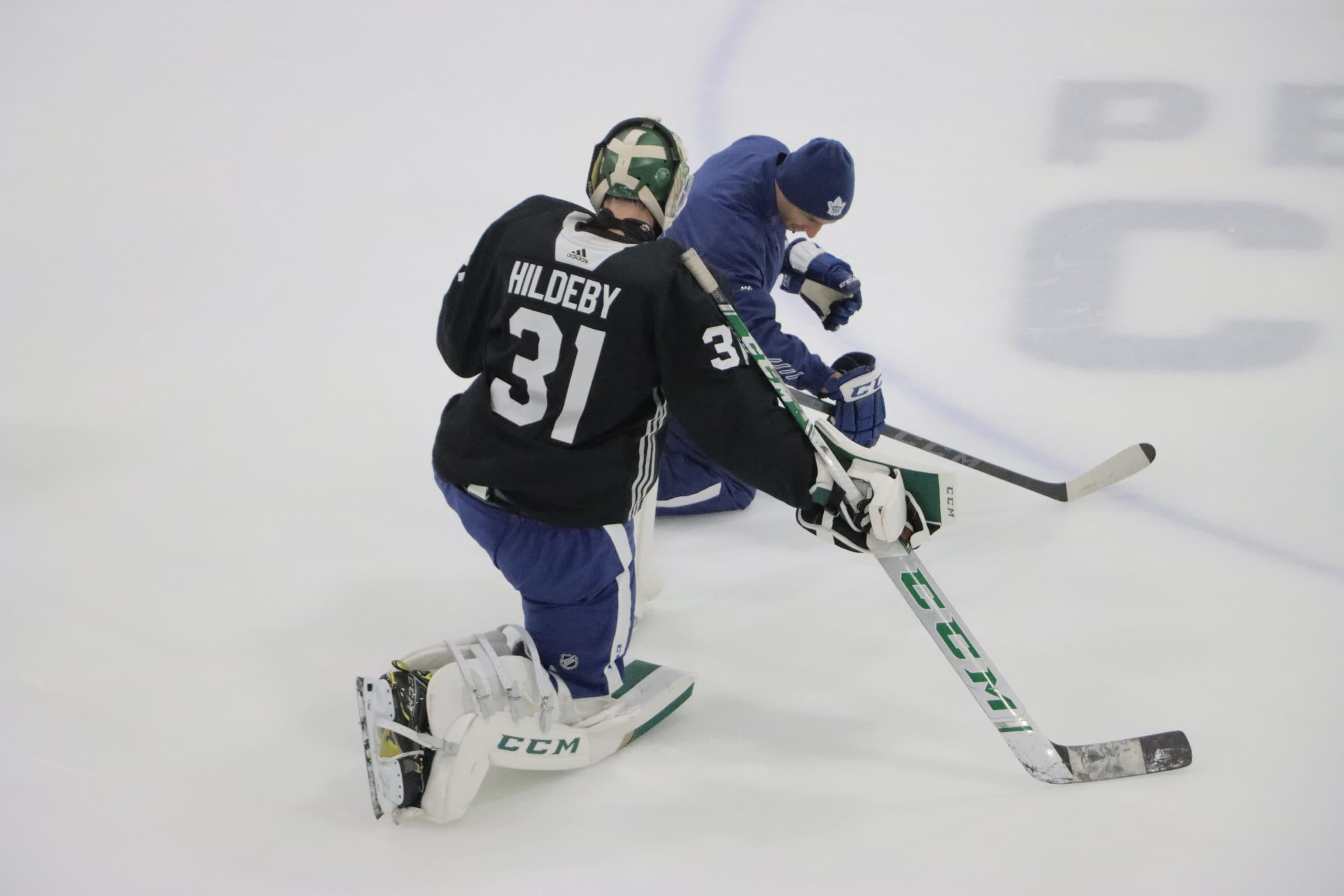 Photo credit:Nick Barden
And so the race begins — after another session of Leafs development camp in the books, one day remains — the second scrimmage.
It was a similar day to Wednesday, where the two groups were separated, skating on different pads. But on the back-half of the two-hour session, both groups were combined and did drills against one another.
Amongst the group was Jeremy Wilmer, who was injured in Tuesday's scrimmage. He slid into the boards hard and favoured his wrist when he got up. He participated in Thursday's session wearing a full-contact jersey.
Graham Slaggert, though, who's beginning a one-year deal with the Marlies this upcoming season, was seen in a red-con contact jersey on Wednesday. I'm not too sure what happened to him throughout the past few days.
Not too much happened today. Once again, the goaltenders were on another rink doing drills all by themselves, only to face shots from the players during scrimmages.
"We've decided with John Elkin and his goalie staff to separate them, put them on a different sheet and really give them one-on-one attentiveness," said Leafs Head of Player Development and Assistant GM, Dr. Hayley Wickenheiser on Sunday when camp began.
All of the goalies looked good throughout the scrimmage on Tuesday, especially newly-drafted and signed goaltending prospect Dennis Hildeby.
The almost six-foot-six netminder brings a lot to the Leafs organization, and it's not just his height. His ability to always be square to the puck while moving around with that size has been something I've noticed early on.
It's quite remarkable that he's able to do all of that while coming off surgeries on both of his hips back in 2021.
Growing up in Sweden, there was only one goaltender that he idolized — Henrik Lundqvist.
What stood out about Lunqvist's game that made him Hildeby's favourite?
"Well, like, he were the top guy (in Sweden)," the 20-year-old said with a grin. "I guess, obvious, his compete level."
There's a number of interesting stories at this year's Leafs development camp, but at the top might be Fraser Minten's piano-playing abilities.
"We had a piano at our house in Vancouver and my dad and mom signed me up for lessons with the same instructor that my dad had when he was a kid." Minten said to the media on Thursday. "I like the piano and the lessons and everything, but wasn't a fan of having to practice all the time for getting through the repertoire.
"But, honestly, I kind of stopped doing that and just play recreationally once in a while. It's been a bit more fun, a bit more of just a passion than an obligation."
The 18-year-old said he's not sure if playing piano helps with his hockey-playing abilities, but said that it obviously doesn't hurt to play it a little bit either.
Minten also noted that he doesn't have a favourite song to play but likes to filter through five or six. One of which is Sonata No. 16 by Mozart — the song he was playing in the video above.
Skills has been a big thing at this development camp — whether it's stealing them from someone on the ice or even learning them off the ice — something Ryan Tverberg did with cooking earlier in the week.
The 20-year-old is headed back to the University of Connecticut for his third year and is living on his own this time around. And while cooking will be a challenge, one thing he doesn't find hard is playing hockey in front of a crowd at school.
"You can't get anything like that," Tverberg said on Thursday. "The rinks that you play at, the barns and how the fans will react, it's just unlike any other atmosphere. And just being around the guys constantly because you're just stuck on campus together, and then you just get to practice together every day, it's just a great environment to be around."
Tverberg was one of the players who's stood out throughout Leafs development camp, but never got on the board in the first scrimmage. Along with him, there are a number of other players who've looked good but didn't produce in the first showing.
Who will come out of their shell and shift the narrative about them on Friday? The final scrimmage awaits.