All-Star weekend: NHL needs to go back to old format and do live fantasy draft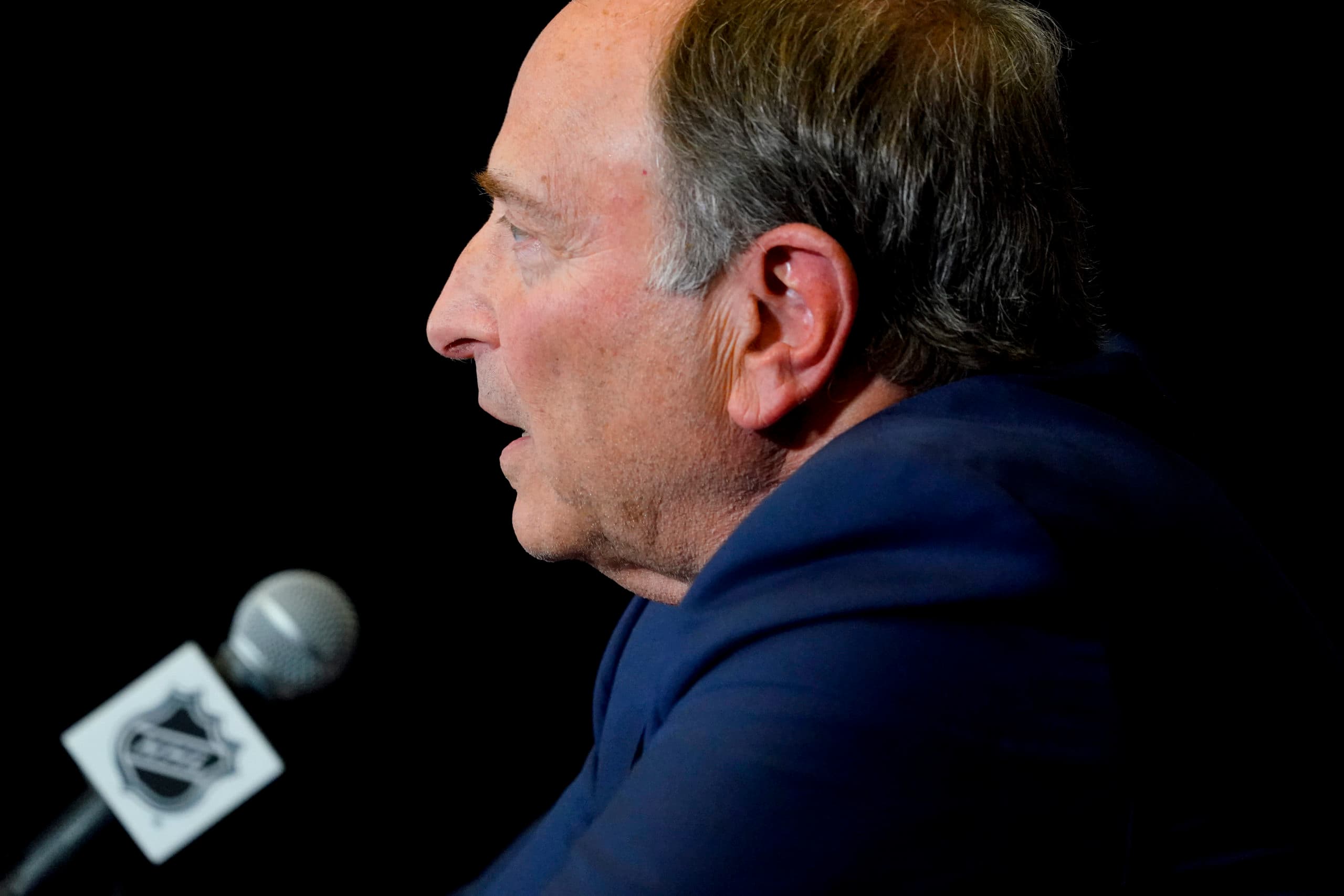 Photo credit:Lucas Peltier-USA TODAY Sports
We're just a couple of weeks away from yet another NHL All-Star weekend, and this time it's down in Florida.
On Thursday, the NHL announced the remaining 12 players (3 from each division) that will represent their divisions down South.
When the remaining 12 players were named, you know it obviously started some debating on who got snubbed from the All-Star weekend and who doesn't deserve to go, and if we're being honest, I agree with some of those takes.
The NHL's current format for the All-Star game is the NHL selecting one player from every team in every division and then putting out a fan voting part where you have the chance to vote for three players from each division (two skaters and one goalie) who you think deserves – or at least who you would like to see – go to the All-Star game.
Here are all the initial players who were selected back on January 5th to go to the All-Star game in Florida. Down below, these tweets show one player from every team (also known as the one player from every team rule) Mitch Marner was the lone Toronto Maple Leafs player selected from the Atlantic division.
Now, don't get me wrong. There's no debating that some highly skilled and deserving players on these four rosters are going to the All-Star game, but there are also some players who are somewhat questionable in my opinion.
You have a handful of players potentially being snubbed out of going to the All-Star game because the one player from every team rule is in place and their only chance at going is in the hands of fan voting. However, the fan voting only allows three players (two skaters and one goalie) to go, so the odds are even slimmer now.
The tweet down below shows the results of the fan voting and I think every player here is deserving of a spot in the All-Star game, but there are still some players who got snubbed and have their spots taken by players who are not quite deserving of it this season.
Auston Matthews was the only Toronto Maple Leafs player who got voted in from the fan vote along with fellow Atlantic division players, David Pastrnak and Andrei Vasilevskiy.
If you look at the initial selections for each division's roster, you'll see the Atlantic had zero defensemen, the Metro had zero, the Central had three, and the Pacific had one. With fan voting, only one other defenseman got voted in, and it was Adam Fox of the New York Rangers who is representing the Metro division.
So if you now look at each division's roster now, here's how it shapes out:
Atlantic: nine forwards – zero defensemen – two goalies – 11 total
Metro: eight forwards – one defenseman – two goalies – 11 total
Central: six forwards – three defensemen – two goalies – 11 total
Pacific: eight forwards – one defenseman – two goalies – 11 total
I know it's just the All-Star game and it's all for fun and it's for the fan's entertainment, but how are you going to have zero defensemen represent the Atlantic division and only one in the Metro, but have four in the West with three of them in the Central? Not to mention Seth Jones is the lone Blackhawks player representing their team. No offence to Jones or the Blackhawks, but this is where the one player from every team rule is dumb in my opinion.
If you look at the Atlantic which has zero defensemen representing their division, you're telling me, Rasmus Dahlin of the Buffalo Sabres is not worthy enough to be selected as an All-Star? I know Tage Thompson was initially selected for the Sabres, and rightfully so, he is having an MVP-type season for his team, but Dahlin ranks second among NHL defensemen in points and goals and ranks third in assists, and he is not an All-Star in 2023? C'mon now.
I understand the NHL would like every team to send one player, but I just don't agree with that. Rasmus Dahlin is just one of a handful of players who got snubbed in my opinion. Another one would be William Nylander of the Toronto Maple Leafs.
Nylander is well over a point per game and is on pace for his best season yet, but guys like Dylan Larkin (DET) and Nick Suzuki (MTL) who are not even a point per game are headed to Florida? I don't get it.
I made a poll on Twitter asking people what they'd rather see come All-Star weekend in the NHL and here are the results:
With everything I've said about the unbalanced lineups with some divisions having zero defensemen and some with four, some players being snubbed and some being selected simply because of the one player from every team rule even though they're not deserving of a selection this season, I think it's time for the NHL to go back to the old All-Star format with the live Fantasy Draft that they used to do in 2011, 2012, and 2015.
Just imagine how fun it would be nowadays for this generation of hockey fans to experience a live Fantasy Draft on TV with some of their favourite players being drafted all over again, but this time, to an All-Star team.
The NHL could choose captains based on the top two leading point scorers in the league at that time and have those two lead their respective teams with the next four players on the scoring list being alternate captains and help their captains fill out the rest of their roster.
Back in 2011, the NHL selected 36 players for the All-Star draft and added 12 rookies along with them for a total of 48 players. In 2023, we have 44 players going to Florida spread over four divisions. However, if you were to take a look at the roster in 2011, 24 players in the East were selected and 24 in the West were selected and for the actual game that was later played, they had two rosters of 21 players each (12 forwards, 6 defensemen, and 3 goalies.)
If the NHL were to do it today, they could do the exact same thing and forget about the divisions as a whole.
With that being said, here's who I would select as an All-Star if the NHL had 42 spots for the actual All-Star game like they did in 2011 (21 East players and 21 West players):
East: 12 forwards, 6 defensemen and 3 goalies
F Nikita Kucherov (TB) (Alt Capt.)
F David Pastrnak (BOS) (Alt Capt.)
F Tage Thompson (BUF)
F Matthew Tkachuk (FLA)
F Jack Hughes (NJ)
F Mitch Marner (TOR)
F William Nylander (TOR)
F Steven Stamkos (TB)
F Alex Ovechkin (WSH)
F Sidney Crosby (PIT)
F Auston Matthews (TOR)
F Brayden Point (TB)
D Rasmus Dahlin (BUF)
D Adam Fox (NYR)
D Brandon Montour (FLA)
D Dougie Hamilton (NJ)
D Brent Burns (CAR)
D Filip Hronek (DET)
G Linus Ullmark (BOS)
G Ilya Sorokin (NYI)
G Igor Shesterkin (NYR)
West: 12 forwards, 6 defensemen and 3 goalies
F Connor McDavid (EDM) (Capt.)
F Leon Draisaitl (EDM) (Capt.)
F Jason Robertson (DAL) (Alt Capt.)
F Mikko Rantanen (COL)
F Kyle Connor (WPG)
F Ryan Nugent-Hopkins (EDM)
F Kirill Kaprizov (MIN)
F Nathan MacKinnon (COL)
F Bo Horvat (VAN)
F Zach Hyman (EDM)
F Elias Pettersson (VAN)
F Pierre-Luc Dubois (WPG)
D Erik Karlsson (SJ) (Alt Capt.)
D Josh Morrissey (WPG)
D Cale Makar (COL)
D Quinn Hughes (VAN)
D Miro Heiskanen (DAL)
D Roman Josi (NSH)
G Connor Hellebuyck (WPG)
G Jake Oettinger (DAL)
G Juuse Saros (NSH)
Obviously, by looking at this list of players that I put together, there are some teams that don't have a player representing their team. The NHL could go this way or if they are very strict on bringing at least one player from every NHL team, then I say expand the rosters a little bit and allow the rightful players who are deserving of a spot to join All-Star weekend as well, whether that's for the actual All-Star game or the All-Star skills competition.
If that's the case, then scrap the four divisions and just do East vs West or do the live fantasy draft as they did in the early 2010s and in 2015 with two team captains.