The Petr Mrazek Dilemma: Buyout or Trade?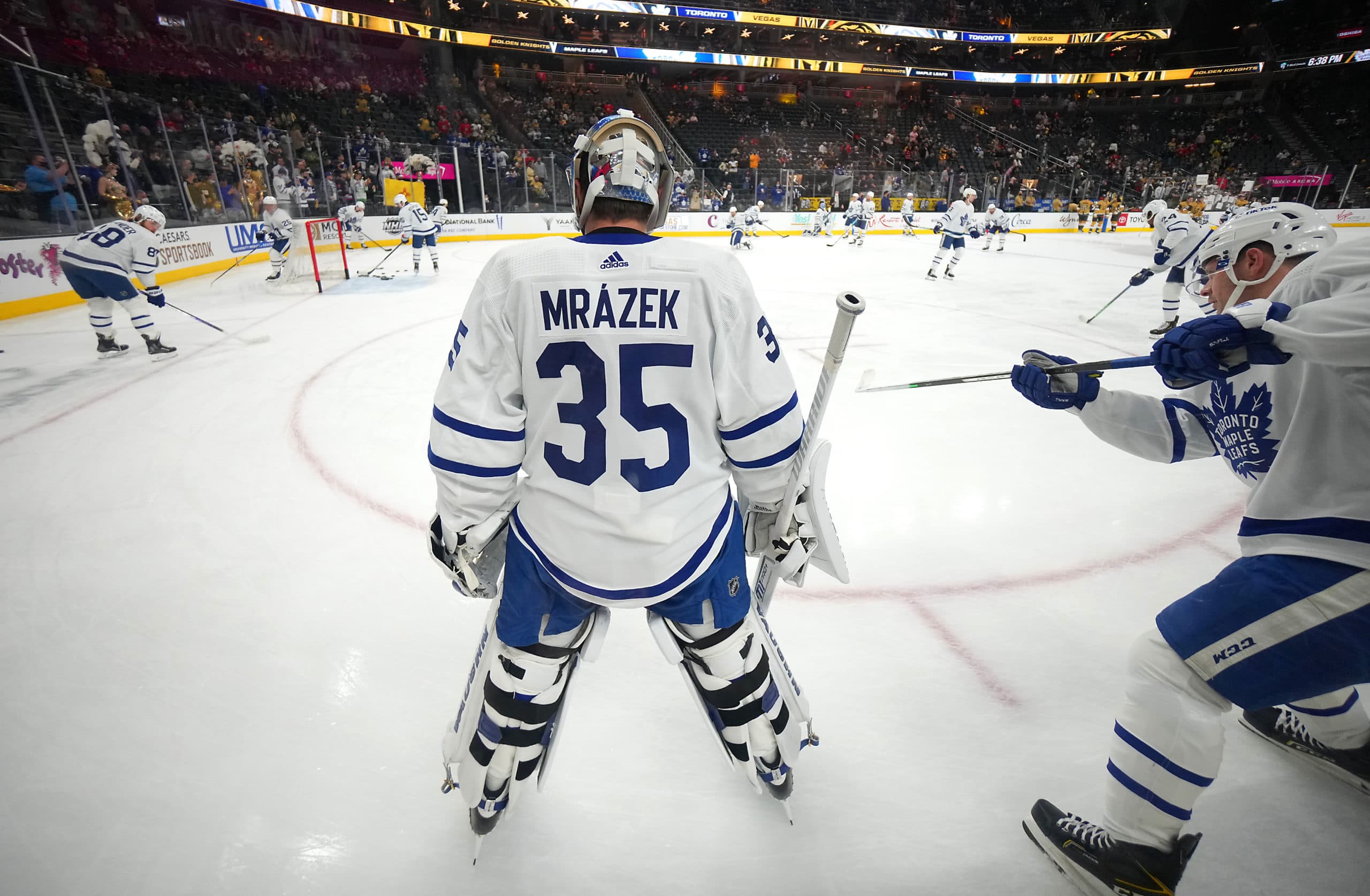 Photo credit:Stephen R. Sylvanie-USA TODAY Sports
@Petr Mrazek was brought in to help provide some stability in the crease and give @Jack Campbell a worthy partner to split starts throughout the regular season and potentially the playoffs.
It was a move that made total sense in theory but backfired in reality.
Mrazek suffered
a groin injury in his debut start
for the Leafs and never really found his groove as he only made three appearances before the calendar flipped to 2022. It didn't help that just seven of his 20 appearances resulted in a save percentage above .900 while only eight of them saw him surrender two goals or less.
In all, Mrazek played in 20 games, went 12-6-0, and registered a .888 SV% and a 3.34 GAA in that span. Not an ideal way to start a three-year contract that pays him $3.8 million a season.
With so much uncertainty regarding the Leafs' goaltending position and the importance of getting a reliable netminder becoming more apparent,
Mrazek has likely played his last game in Toronto
and will be looking for a new home. But his struggles will not make it easy for Dubas to move his salary elsewhere.
So as it stands, Dubas has two options in order to get rid of Mrazek's contract: a buyout or a trade?
Buyout
If the Leafs decided to buyout the final two years of Mrazek's contract,
they only have a 13-day window
starting on July 1st as his cap hit sits below $4 million. It would result in his contract remaining on the books for the next four seasons with his cap charge as follows:
The first two years are reasonable with a combined $1,866,666 million on the books. By contrast, the latter two years are a bit steeper since thy match the buyout cost and don't give the Leafs much wiggle room. While there is no clarity on when the cap freeze implemented because of the COVID-19 pandemic will be lifted, it could likely increase by the third year of the buyout and won't impact the Leafs' salary cap as much as it would should things remain the same by 2024.
In terms of how this impacts their offseason plans this summer, buying him out would instantly open a spot for a replacement, either a free agent (ex: @Ville Husso, @Eric Comrie, @Darcy Kuemper) or
one of their prospects
in the system
such as Kallgren
. This could also give the Leafs more space to meet Campbell's contract demands if they decide to stick with him for next season and beyond. While his reported asking price of $5 million AAV is hefty, freeing up around $2.7 million could be enough to get a deal done if that's the route they choose.
There is definitely some risk involved with going down this path as the need to find a suitable option in the crease will be ramped up, especially with a lot of their future plans riding on how the 2022-23 campaign fares. It is entirely possible Mrazek turn things around in his second season with the Leafs, but that would mean relying on fate and luck to make that a reality.
Buying out the last two years of his contract would create some certainty and allow room for a new option.
Trade
If the Leafs can't stomach the final two years of the buyout or are unable to do so during the window, then the next best option is to find a trade partner that will absorb the entire contract or on retained salary.
Toronto is surely watching the ECF and seeing the importance of having a dependable starting netminder like the Rangers and Lighting have in @Igor Shesterkin and @Andrei Vasilevskiy respectively. Campbell has certainly provided some stability and shown flashes of exceptional play, but it is unclear if he can properly handle the starting role on a consistent basis and there are some question marks for how he will fare long-term.
This past campaign was his first as the undisputed starter and he only appeared in 49 games played because of injuries. He had a stretch in November where he looked like the best goalie in the league and then struggled for two months at a critical juncture. Campbell was able to recover down the stretch and got back on track, but he was yet again the second-best goalie in the team's first-round series against Tampa Bay.
Campbell would
come with some uncertainty
and the aforementioned price tag of $5 million AAV. If the Leafs are unconvinced Campbell will be the goalie that brings the team to the next level, then a trade might be the best path forward. And they can use Mrazek as part of the package to bring in a more dependable option.
@John Gibson
has been speculated
as to the best option for the Leafs to pursue in a trade. While he has seen a dip in his stats over the past three years, the Ducks were also among the weakest defensive teams in that span while in the midst of a rebuild. The fact he was able to keep his SV% above .900 and his GAA fairly consistent speaks to his talent level, and his numbers would improve on a more competitive team such as the Leafs.
Another option could be @Philipp Grubauer, who is coming off his worst season yet and has five more years remaining on his contract. Prior to that, he played a big role in why the Avalanche were one of the top teams in the NHL while posting impressive numbers during the regular season and playoffs. The Kraken appears to be taking the gradual approach in their rebuild and might be looking to shed salary if possible to make room for their young prospects down the line.
Some other targets could include @Jonathan Quick, @Matt Murray, @Tristan Jarry, and @MacKenzie Blackwood. A pie-in-the-sky option would be @Connor Hellebuyck, whom the Jets will almost certainly want to retain despite being on the verge of some drastic changes this coming summer.
Regardless of which goalie the Leafs decide to target in the trade market, Mrazek would need to be part of a package deal since the trading team would surely need to get a goalie back in return. And while his struggles this past season and being placed on waivers might scare some teams away, he has a respectable enough track record that some may be willing to take a chance on the 30-year-old netminder.
Ideally, the Leafs would prefer to remove themselves from Mrazek's salary entirely and allocate the finances to their new option. But it's more likely they would need to retain around $1 million so that his cap hit gets reduced to a more manageable $2.8 million AAV. That would also result in a prospect needing to be included in the package to help make it happen, which include @Filip Kral, @Mikhail Abramov, @Semyon Der-Arguchintsev, @Pavel Gogolev, or @Mac Hollowell.
He would likely not be the main piece going the other way (that would be either the Leafs' first-round pick or a top prospect), but it would help ensure the deal gets done.
The best path forward
As mentioned earlier, Mrazek is all but gone this summer and will likely be playing for a new team to begin the 2022-23 season. But whether the Leafs decide to buy him out or ship him off all depends on how the market shapes up by the time the playoffs wrap up.
They can hold onto Mrazek through the buyout window if they believe they can get a better option through trade and the receiving team can either take on his salary or agree to the Leafs retaining around $1 million for the next two years. Otherwise,  buy him out and prioritize bringing back Campbell or signing someone in free agency like Husso or Comrie.
Regardless of what they choose, it would be in their best interest to end the Mrazek era this summer because there is too much riding on their play next year to leave their faith in an uncertain commodity. It would be a risky endeavour to hope he turns it around cause Mrazek could just as likely continue his inconsistent play, so it's no wonder the signs point to him being gone.
One thing that Dubas demonstrated this past season was his ability to rectify a mistake he made and get something out of it, as
evident by the acquisition
of @Ilya Lyubushkin after @Nick Ritchie failed to make an impact. The signing of Mrazek was a grave error on Dubas' part, and he now has a prime opportunity to turn it into something of value.
Whether that becomes cap flexibility or a shiny new toy, that is to be determined.
POINTSBET IS LIVE IN ONTARIO
PointsBet Canada has officially launched in Ontario! Get a $25 free bet just for 
signing up right here!