The playoff series we've all been waiting for is here: Leafs vs. Habs starts, tonight!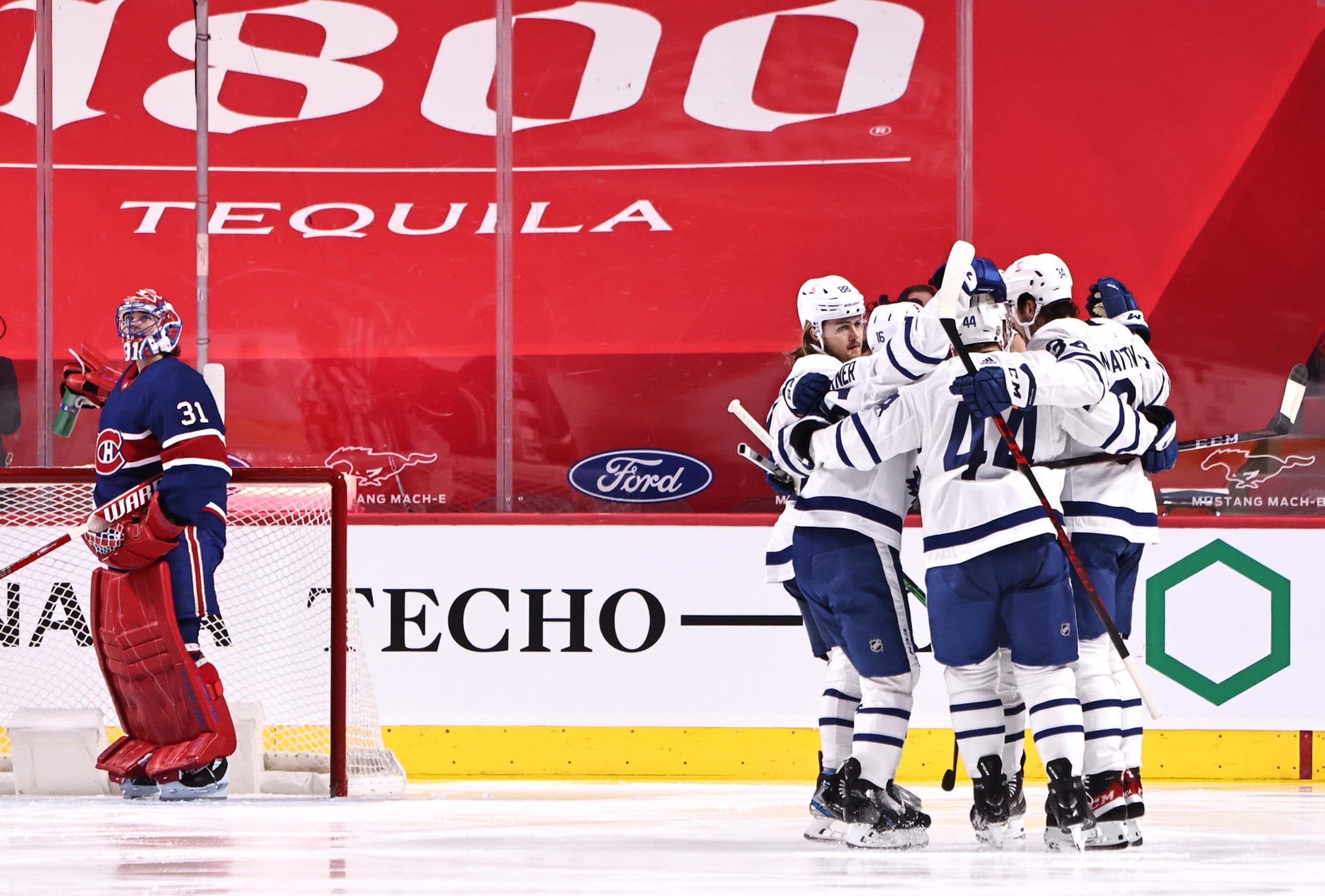 Photo credit:© Jean-Yves Ahern-USA TODAY Sports
Well, Leafs Nation, this is it. The playoffs have arrived, and the long-awaited historic rivalry matchup is upon us. For the next 4 to 7 games, the Toronto Maple Leafs will battle the Montreal Canadiens. It's going to be intense, it's going to be bloody, it's going to be nerve-wracking, and it's going to be so much fun.
My stepbrother sent me a picture of this house from his neighbourhood yesterday, and I think this encapsulates all of our sentiments right now – we are ready!
Of course, Habs fans are ready, too:
And these two tweets basically sum up this rivalry. Leafs fans love to love our team, and Habs fans love to hate our team.
On the Leaf front, some news late last night:
This is great for the Leafs, as both @Zach Hyman and @Zach Bogosian have been instrumental to the team's success this season, and it's exciting to see what @Riley Nash can bring to the group. Having a healthy squad to start the series is definitely a plus.
Meanwhile, in Montreal:
Habs fans on Twitter are a bit perturbed by this news, wondering why their future (current?) star player isn't playing.
For the Leafs, and Leaf fans, this series is exciting and important in a few ways. Obviously the nature of this rivalry is one. The Leafs finishing this season as the number one seed in their division, and having "home ice" (without fans, though) is another. And of course – the pressure to finally, finally, make it out of the first round is immense. Leafs fans are confident but nervous, excited to see what this Leafs team can do, how far they can go.
With Rocket Richard winner @Auston Matthews, and new playoff starting goalie @Jack Campbell, is this the year the Leafs make a real run? We'll find out, starting tonight.
Lineups
Toronto Maple Leafs
Montreal Canadiens
Starting Goalies
Toronto Maple Leafs: Jack Campbell
Well, friends, like I said they would early in the season, the Leafs have done it. Jack Campbell is the starting goalie for the Toronto Maple Leafs in game 1 of the playoffs. Jack had a pretty stellar season with the Leafs, carrying a heavy load in the second half after returning from injury just in time to see @Frederik Andersen placed on IR. With a 17-3-2 W-L | 2.15 GAA | 0.921 SV% record, Jack has earned this spot. He has endeared himself to his teammates and to fans, and I am very excited to see what he can do.
Montreal Canadiens: Carey Price
After coming back from injury and a stint in the minors to get him up to speed, the expectation is that Habs starting goalie @Carey Price will be in net to start the series. Price only played about half the season, with a 12-7-5 W-L | 2.64 GAA | 0.901 SV% record in that time. Long considered one of the best goalies in the league, he has struggled a bit to remain consistent in recent seasons. But playoff hockey is a different animal entirely, so Leafs fans should not be discounting what he can do in net. It's the veteran goalie against the freshman starter – no matter what, it'll be fun to watch!
And finally, to get you as hyped for the series as we all are here at TLN, a video by our own Scott Maxwell:
Catch the action, do not miss it! Tonight, 7:30PM EST, on Sportsnet.