The pros and cons of separating William Nylander and John Tavares in the Maple Leafs lineup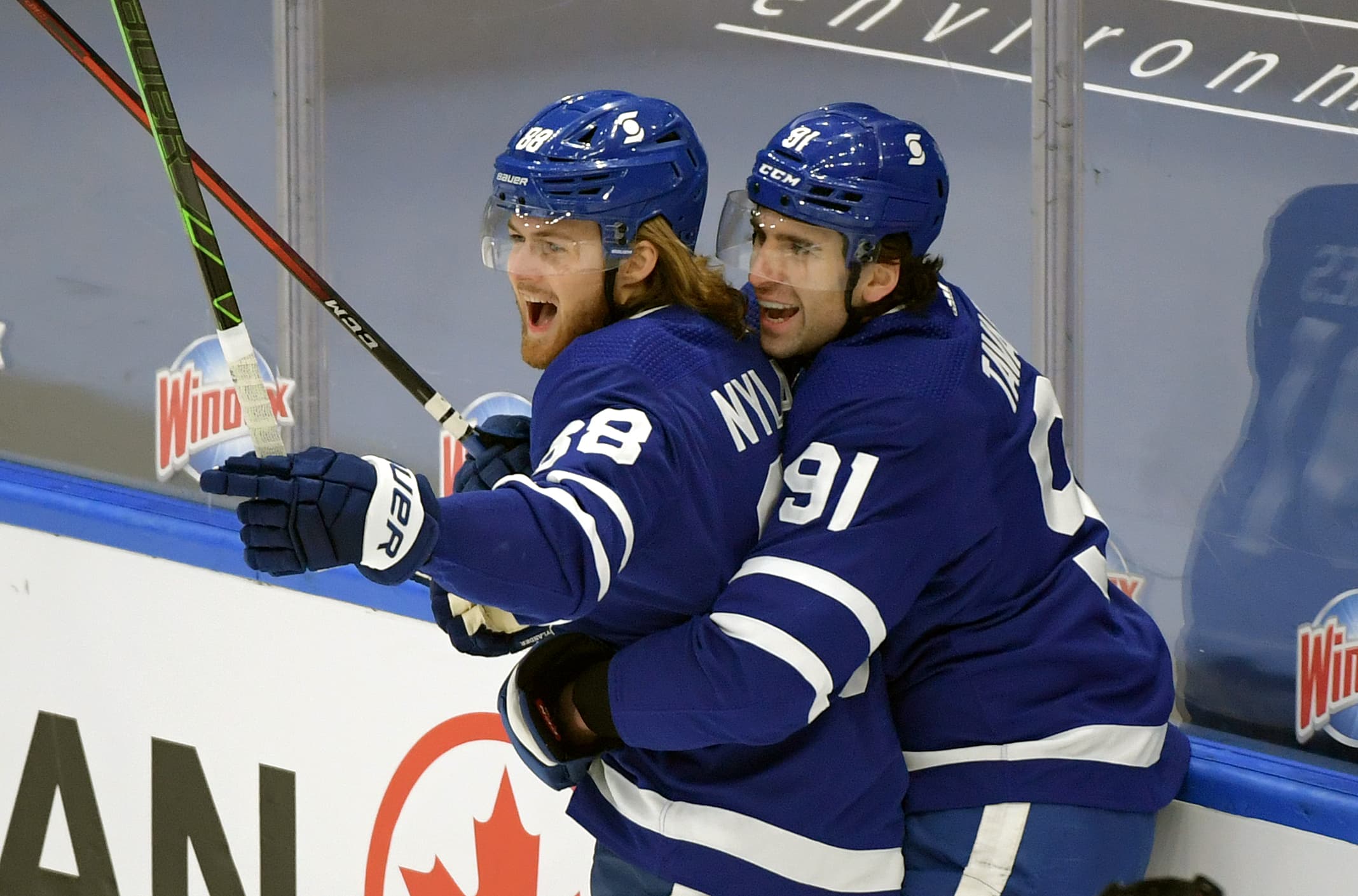 Photo credit:Dan Hamilton-USA TODAY Sports
A brand new season means more narratives to come as the Maple Leafs open training camp in just a few weeks.
There'll be a number of fascinating scenarios to look into including whether or not any of last year's Marlies will make Toronto's NHL roster this year. There's also the topic of who'll be on Auston Matthews' wings once the season opens up on October 12th.
Maybe the most intriguing of them all, though, is whether or not William Nylander will play alongside John Tavares — either in training camp or when the regular season begins.
If you remember back to the playoffs in May, Nylander was on Tavares' wing for about half of the series vs. the Lightning. After a game four that saw the Toronto get dismantled by Tampa, 7-3, Maple Leafs head coach Sheldon Keefe thought it would be best to split the pair up.
Once that occurred, Nylander became a more successful player — skating on the third line with David Kampf and Pierre Engvall. Tavares also went onto have more success centering a line with Alexander Kerfoot and Ilya Mikheyev.
After the split, the Maple Leafs captain had four points in the final three games of the series. In the four games prior, with Nylander by his side, Tavares only had two points. The same success came to the Swedish winger, who had only two points before the split, and five points after the pair broke up.
Now, with a new season upon us, many might be wondering if the two will be reunited for another kick at the can.
For Keefe and the Maple Leafs' sake, I think it might be worth revisiting the pairing — just to see if any magic can come from them playing together again. The likelihood of that being the norm throughout the season, though, might be doubtful.
Although placing Tavares and Nylander on the same line seems like a recipe for success, it was at times the other way around. Having the line intact last season, the two struggled at having a positive GF% at five-on-five.
All of the underlying numbers showed to be positive, but they continued to allow more goals than they scored, which is something you don't want.
| | | | | | | |
| --- | --- | --- | --- | --- | --- | --- |
| Players (with & without at 5v5) | CF% | GF% | xGF% | SCF% | HDCF% | HDGF% |
| Tavares and Nylander together | 54.09 | 44.74 | 55.40 | 55.21 | 56.59 | 36.84 |
| Nylander without Tavares | 53.00 | 47.62 | 56.03 | 56.40 | 52.82 | 37.50 |
| Tavares without Nylander | 50.27 | 55.00 | 51.90 | 54.31 | 56.12 | 56.00 |
In some instances together, the pairing played well — usually when creating chances in the offensive zone. But they struggled in the goal-scoring department at times throughout the year.
As we can see from the chart above, it seems as though Tavares enjoyed better numbers without Nylander by his side during the regular season. Nylander carried similar advanced stats while playing with and without the Maple Leafs' captain.
When looking at the pros and cons of separating the two, it's clear that one pro is that both players still have success, or even become more successful in Tavares' case. Another positive point is that separating the two creates more depth within the Maple Leafs lineup.
Having a first line with Matthews, a second line with Tavares, and a third line that features Nylander — each being almost point-per-game players — will outmatch the depth of almost any team in the NHL.
But spreading out the players like that, while strengthening the depth, also poses question marks too. One of them being who'll be on Tavares' right wing if Nylander is shifted down the lineup?
Last year, you had someone like Ondrej Kase, an effective right-shot who could play up and down the lineup. Coming into this season, that player is Calle Jarnkrok and I'm not too sure he provides the same offense as Kase did.
Speaking of, if you place Nylander on the third line, it bumps Jarnkrok off what might be a potential defensive powerhouse trio with Kampf and Engvall. That wouldn't make much sense.
There could be an instance during training camp or the regular season where we see Nylander swap spots with Mitch Marner. And with how the team is shaped at the moment, I believe that's more likely to happen than moving Nylander to the third line.
Marner could come onto a line with Tavares and help him garner the goal-scoring success he had in his first season in Toronto. Placing Nylander with Matthews could also light a spark that was once had between the two as well.
That, though, is a lot of ifs and if it were me, I'd much rather keep Marner with Matthews because of the accomplishments they've achieved together throughout the last few seasons.
I believe Keefe will examine a few lines at the beginning of the year to see what works before setting anything in stone. That plan could feature Nylander somewhere else within the lineup, or once again beside Tavares on the second line.
If one aspect is clear, though, it's that there's possible success to be had with the two together, or apart.
(Statistics via NaturalStatTrick.com & Hockey-Reference.com)